Located just across the 405 and 710 freeways from Long Beach, the city of Carson shares many characteristics with its larger neighbor. 
For one, the city is extremely diverse in its racial and ethnic demographics. Roughly a quarter of residents each identify as either white, black or Asian, with nearly 40% identifying as Hispanic, regardless of their race, according to 2019 population estimates published by the U.S. Census Bureau.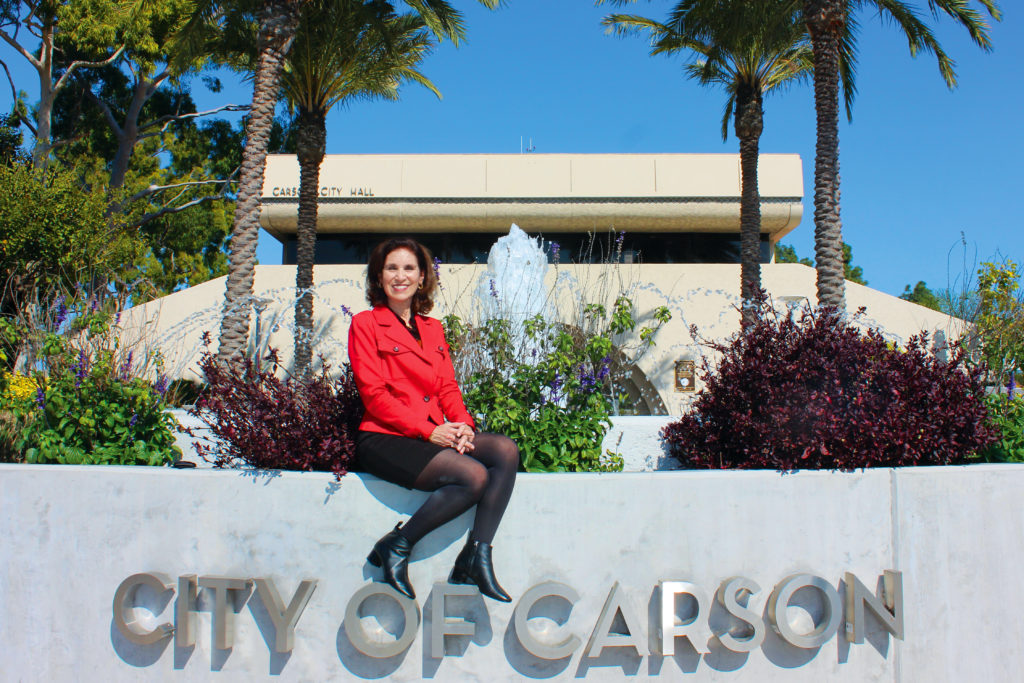 Another characteristic Carson shares with Long Beach is its strong connection to the San Pedro Bay ports. "The ports add so much to the economy of the region, and we're part of that," Carson City Manager Sharon Landers said.
Landers joined Carson's city leadership in the spring of 2019, five months after her predecessor, Ken Farfsing, resigned from office. Previously, she served as assistant city manager of Irvine for 12 years. 
While Irvine and Carson share a similar history, both were originally founded as ranchos under Spanish land grants and incorporated in the latter half of the past century. Landers said she recognizes that the two cities face different challenges.
"Irvine is a planned community," Landers said. Meanwhile, in Carson: "It's a different mix between industrial and residential." 
Want to hear directly from Carson's first female city manager, Sharon Landers? Listen to the latest episode of the Long Beach Business Podcast below.
As an unincorporated area of Los Angeles County, Carson often served as a dumping ground for its larger neighbors, a history that still impacts the city today. "One of the things we have to deal with here are soil conditions," Landers said, "which make it a little bit more challenging, the work we're doing."
The city is also heavily impacted by traffic to and from the San Pedro bay ports. The city is home to a number of logistics and trucking companies as a result of its proximity to the port, and drayage trucks regularly travel its streets. Yet, both Landers and Carson Mayor Albert Robles said the city hasn't received any financial support from the ports to maintain and repair its major thoroughfares, which have suffered under the daily load of port truck traffic.
But that may change soon. City leaders recently met with port officials from Los Angeles and Long Beach to discuss ways in which the ports could help identify and secure funding for infrastructure maintenance and repairs in areas of Carson impacted by port traffic. 
"They're starting to think about these gateway communities, and especially Carson, to help us find funds, federal and state, to maintain our truck routes, which are battered by vehicles that are traveling out of the ports or to the ports," Landers said. 
For a city the size of Carson, the Census Bureau estimated the number of residents to be around 92,000 in July 2018, it can be hard to make its voice heard, Robles said. "Cities our size, that are adjacent to bigger metropolises, we're overshadowed," Robles said. 
Carson deals with many of the same issues its larger neighbors face, such as air pollution, cargo traffic, homelessness. "We're not part of L.A., we're not part of Long Beach, but we're impacted just as much," Robles noted. 
It's this imbalance of visibility between Carson and the county's larger, more prominent cities that has motivated Robles to run for a seat on the Los Angeles County Board of Supervisors, he said. The incumbent in District 2, Mark Ridley-Thomas, is termed out after this year. 
If his campaign for the county seat fails in the March 3 primary, Robles said he would make a bid for the mayoral position once again. 
High turnover at city hall, especially in the city manager's seat, has been a challenge for Carson. Farfsing left the job in November 2017 after serving for three years; before him, the city went through three city managers in less than two years. 
As the new city manager, Landers is hoping to increase consistency and clarity of the city's mission, vision and priorities. To do so, she's planning to bring in a consultant—the city's choice for the contract has not been made public yet—who can help identify and aggregate councilmembers' perspectives.
"I don't really have a guidepost to use in trying to figure out their priorities and I really would like to have that," Landers said. "So I'm going to be bringing somebody in and it's going to be an opportunity to develop their strategic priorities."
This will be especially important as the city tries to tackle a challenging budgeting process. Carson has battled with a structural deficit for years, making up for the difference between ongoing revenues and expenses with one-time funds each year.
"We always manage to balance our budget and I don't have any doubt that we'll be able to balance our budget," Landers said. "But the fact that we have a structural deficit is a concern to me."
One way to address the city's lack of ongoing revenues is to review the fees it collects from local residents and businesses, and make adjustments in accordance with rising costs associated with city services. Carson, like Long Beach, is currently conducting a citywide fee study to do just that.
"It's the smart thing to do. The council should be allowed to make a very thoughtful decision on where they want to subsidize and where they want to raise the fee," Landers said.
Effective workforce development is another important pathway toward more economic activity in the city, and the tax revenues that come with it. Landers said the city is working with California State University Dominguez Hills to ensure residents have access to the education and workforce training they need to succeed in the local economy.
"You want to make sure that your residents are the ones who are getting jobs locally," she said. The campus also acts as a magnet, pulling new residents into the city, Landers explained. "They're building out student housing, which will be really great for them and for us in terms of bringing young people into the city and integrating them into the city, the fabric of the city."
As the city aims to become more of a hub for education and business, leadership is working to modernize its facilities and offer public wifi throughout Carson, starting with city hall and the adjacent Carson Community Center. 
"People were coming here for conferences and they couldn't use wifi. Now they can," Landers said. The city manager also initiated an emergency contract to fix technical issues with the council chambers' livestream equipment and microphones.
More broadly, Landers said she hopes that one day in the not-so-distant future, Carson will be able to truly call itself a "smart city," and she is working with the Southern California Association of Governments to pursue that goal. 
"It will open up the door for us to be more business-friendly," Landers pointed out.