Tucked toward the back hall of pizza joint The 4th Horseman is a new entryway into one of Long Beach's most distinct art spaces: The Dark Art Emporium, a space that mixes exhibited works from some of the world's most macabre and unearthly artists, paired with its permanent collection.
The Dark Art Emporium has moved from the southeast corner of Third Street and Elm Avenue to become a secret gallery space whose main entrance will be connected with the city's sole horrorcore-dedicated food space—a morbidly magnificent match made in hell that will continue its tradition of pushing spooky, "outsider art."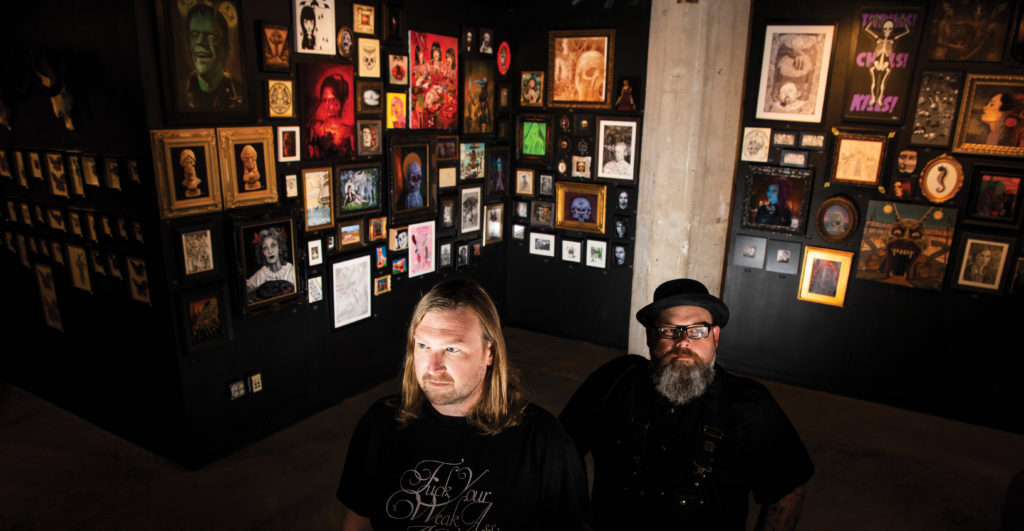 For those who have never been, the Dark Art Emporium is a space filled with the wonders of mummified mammals—lovingly called "Octopig"—paintings created with human blood and sculptures of the grotesque.
And as its popularity grew, it needed not only a larger room but a cleaner, more forward-thinking gallery space. Serendipity happened when a large room, situated behind The 4th Horseman, became available.
A speakeasy—but for art
For Schott, along with Horseman co-owners Ryan Hughes and Martin Svab, the large space inside Downtown Long Beach's historic Walker Building had always been a lure. As to what for, they were uncertain. The Horseman definitely needed more space for storage and another bathroom in the popular pizzeria would be nice.
It was formerly home to a place that sold re-fabbed carpets from China. Once the Trump Administration's massive embargos were put in place, the business had to close. That's when the owner of the Walker called Schott and told him the space was available.
"We walked through and we all thought this would look really cool as an art gallery," Schott said. "The only problem is, there is no street access."
Luckily, Schott was a partial owner of the space in front of it, The 4th Horseman, and what better way to connect a new Dark Art Emporium space than with a restaurant space that celebrates horror and metal?
"So we said: 'Let's do it. Let's tear down a wall and let people walk through,'" Schott said.
And the new Emporium was officially birthed.
The art of selling art
"I wanna sell art," Jeremy Cross, Emporium's gallery manager, said. "That's my number one priority: To sell art to make artists money, to get them more prestige, a wider audience. And in return, they help us grow."
As the Emporium's influence began to grow and more artists desired to end up on its walls, leading to a general uptick in the quality of art displayed, Schott and Cross realized they needed a larger, more appropriate space.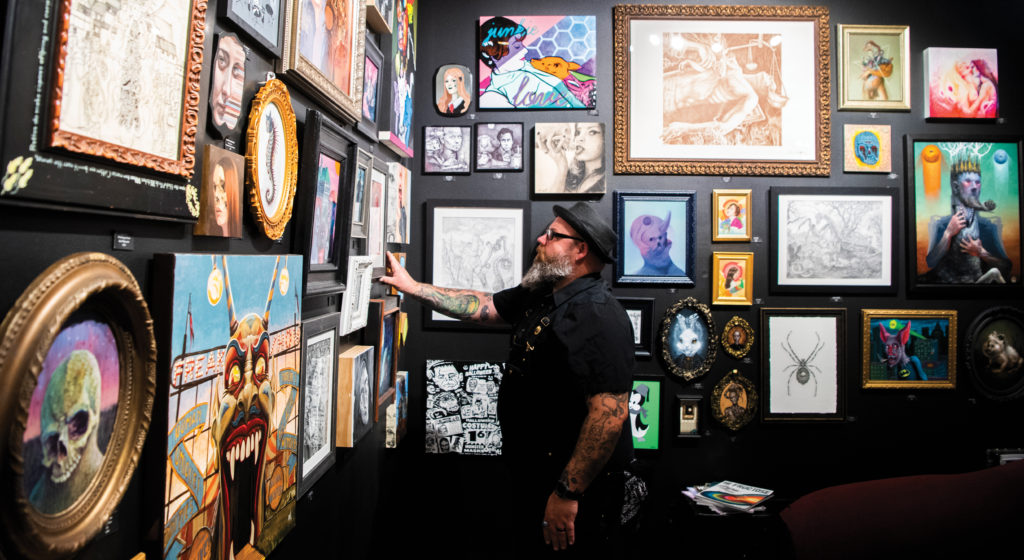 Schott's heartfelt dedication and Cross's drive to benefit artists led to a process of trial and error that taught them lessons about things that go beyond simply selling. It meant learning how to display the art the proper way, including at what height and the spacing between; what is largely considered salon-style. It meant learning to advertise and market. It meant learning the art of selling art—and that is not something that comes with just having pieces.
"The old space we had over on Fourth was," Cross said, taking a pause, "troublesome. We loved the neighborhood, we loved the people, but the building…'"
There has always been one main goal—sell art—but that goal has been anchored by an underlying, philosophical-base: That they elevate this "outsider art," as Cross puts it, to a level of respect. And they knew it simply wasn't possible if they didn't get into a space that respects the art as much as their hearts did.
From marginalized to contemporary
"The pairing of Horseman and the Emporium is so serendipitous," Schott said. "Ryan [Hughes] and Martin [Svab] and myself were always looking with interest into the space. The moment we found out it was available, we hopped on it and immediately wanted it as a gallery space—despite not having street access."
The Emporium's new space inside the Walker Building will be accessible through two avenues. One that will be primarily through its speakeasy-like entrance inside the back hallways of The 4th Horseman and, should someone under 21 want to visit the gallery—the Horseman is 21-and-over—simply call to be buzzed in at the building's Fourth Street entrance between Pine and Pacific avenues.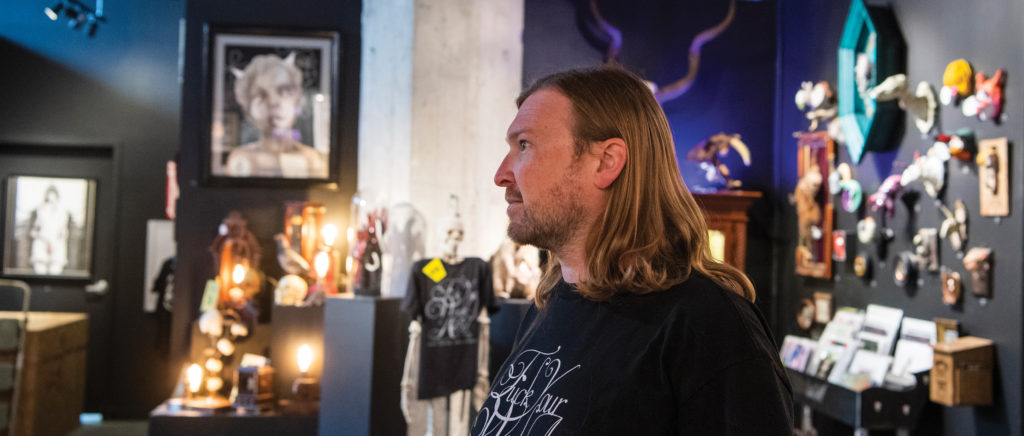 Tearing down a wall to create the connection, the space will not only act as a gallery but also be available to host events.
"There's a cool factor that that was impossible to pass up," Cross said. "A speakeasy gallery that opens up this way through The 4th Horseman? It's gonna blow people's minds."
When Cross says "contemporary and authentic," he means that he and Schott both share a belief in the art they sell. It should be on the respect level that current art experiences in spaces like the Museum of Contemporary Art but it needs to be distinguished away from the art being peddled to investors at gallery spaces across the nation.
Dubbed "blue chip art," the sole point is not to sell art because of what a viewer emotes or thinks about it but, rather, because it is an investment that will likely permit its owner to garner a lot (a lot) of money. Both Schott and Cross firmly believe that art should make you feel or think about something, that experiencing art is deeply personal, and while they can curate a show with their talent and authority, a gallery shouldn't be telling people what to feel nor should art be relegated solely to philosophical statements.
"Plexiglass and neon can do some amazing things in art but sometimes, current art being pawned at galleries are so removed from emotions," Cross said. "The only reason we think it's amazing is because we're told it's amazing, because we're told it can sell for a huge price point. These blue chip buyers aren't buying pieces because they feel something."
When a gallery has the power to tell a buyer that something they buy for $50,000 now will be worth $2 million in five years, it downsizes not just the role and importance of smaller galleries but also fails to let art speak for itself. This is precisely why Emporium has long been so accessible: From $60 pieces to pieces that stretch into the tens of thousands, Schott and Cross want to not only sell art to everyone, they also want to push artists that are largely dismissed from mainstream galleries.
A good example is Meimaro, an artist from Japan whose work in the U.S. has largely been driven by the Emporium. Her solo work will be the face of the new Emporium's inaugural exhibit, opening Saturday, Mar. 14 at 7 p.m.
Meimaro's play with the female body, blood, and organs is perfect to open the new space because, if there is something to be said about why horror is such an underrated, underappreciated aspect of the human aesthetic, it's because it is so powerful. And it is so powerful because though humans differ in what they like, what disgusts them and what recharges them, fear is a fairly universal feeling no one can discount.
And maybe this gallery is a way to face them.
The new Dark Art Emporium is located through The 4th Horseman at 121 W. Fourth St. in Downtown Long Beach.