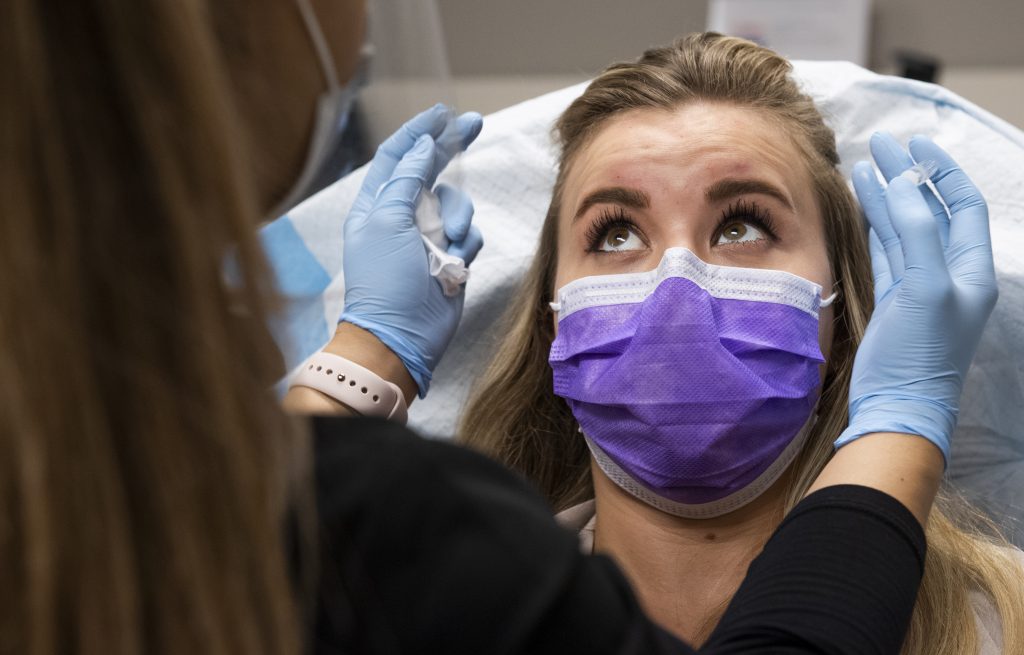 Entering a medical spa, there's an expectation of sterility. Gleaming lacquered surfaces, well-manicured staff in scrubs: none of this is unique to the coronavirus era. 
But even experienced clients coming to the newly opened Skin Spirit spa at the 2nd & PCH shopping mall might be surprised by the elaborate routine of hygiene and safety measures they're greeted with.
Like all businesses eager to stay open and afloat amid a global pandemic, Skin Spirit has had to adapt to the ever-changing rules and regulations that govern all interactions in the coronavirus era. 
For businesses at 2nd & PCH, there's an added challenge: many opened their doors just weeks before the pandemic hit the U.S. or even worse—in the middle of it. Many of the new businesses, from the Boxhaus gym to the Holly & Hudson nail salon have moved their equipment—punching bags, manicure tables and the like—into the center's ample outdoor spaces. 
For the medical spa, this means performing a multi-step check-in process, designed to reduce the risk of infection among staff and clients. 
A table at the entrance, placed close enough to the door to deter anyone from squeezing by, is decked with supplies: hand sanitizer, a box of gloves, a no-touch thermometer, a clipboard with patient questionnaires. Staff are subject to an oximeter reading at the start of their shift, to detect any irregularities in blood oxygen levels.
This strict adherence to safety protocols comes with some limitations. If a patient wakes up with a cough or a sore throat: sorry, please come see us when you feel better. The waiting area, a warmly lit room with stylish decor, a comfy-looking couch and a battery of boxed water, is closed until further notice. 
What the spa loses in hospitality, it makes up for with a sense of security for customers, assistant manager Mackenzie Kelly explained. "That's why our clients come to see us, because we're so safe."
Another factor that has likely helped drive clients to the spa is the "Zoom Effect," said Ann Frossard, chief operations officer of Skin Spirit. 
Staring at their own faces in endless video calls, every perceived flaw highlighted by unfavorable lighting, clients are "seeing things in their face that they didn't see before," Frossard explained. "It does make you say: wow, I really need a facial or a touch up." 
With most facials and other services performed by estheticians still prohibited, neurotoxins like botox and dermal fillers have become the spa's main lines of business. 
Both types of chemicals have a temporary effect lasting around six months, depending on the patient, meaning that many clients were eager to get back into their regular rhythm of treatments once spas were able to once again offer services provided by medical personnel.
"We did see an influx of customers that were trying to get back in," Frossard said. "Considering COVID and considering our limited services, that clinic actually got off to a really good start." Despite opening its doors in the middle of a pandemic, without a local client base to draw from, the spa's nurse practitioners have had full schedules, she added. 
Just downstairs from Skin Spirit, the recently opened BE Fit Modern Pilates studio also benefited from an unexpected side effect of the pandemic, founder Lynn Ahearn noted. With many other gyms still shut down entirely, Ahearn has seen clients travel long distances to get their workout in.
"We have clients who, I expect when things reopen, will migrate closer to home," Ahearn said. "Because the distance they're willing to travel is pretty amazing." For now, the mix of local clients and far-traveling workout enthusiasts has helped the studio get started. 
And it's not just the commute that takes commitment. 
Despite having a fully built out space designed for a comfortable workout regardless of weather conditions, the studio's workout area is currently confined to a few dozen square feet in the adjacent parking garage. BE Fit employs reformers, specially-designed workout benches that use weights and resistance to vary the intensity of the workout, only six of which fit into the fenced-off area.
"We're outside: we have car noise, we may have honking, it may be 90 degrees. Things we can control indoors, we can't control outdoors," Ahearn explained. Clients, the center, her team, everyone has been "flexible," a word Ahearn uses often these days, not just to describe a physique shaped by regular pilates workouts. "That's our keyword: flexible."
Being flexible and adapting to this new reality also means staying up to date with the newest regulatory requirements—and modifying her business practices accordingly. "We are tracking the changes daily," Ahearn said.
Despite the disadvantageous circumstances of BE Fit's opening, Ahearn said she's willing to invest, for example by offering 40 classes a week at severely reduced capacity. This, she noted, is in part thanks to the support she's received from 2nd & PCH's management so far. "We're committed to this long term," Ahearn said.
Much like a good workout, building up a new business, at a new shopping center, as waves of lockdown orders rolled over the city, survival at 2nd & PCH has required endurance.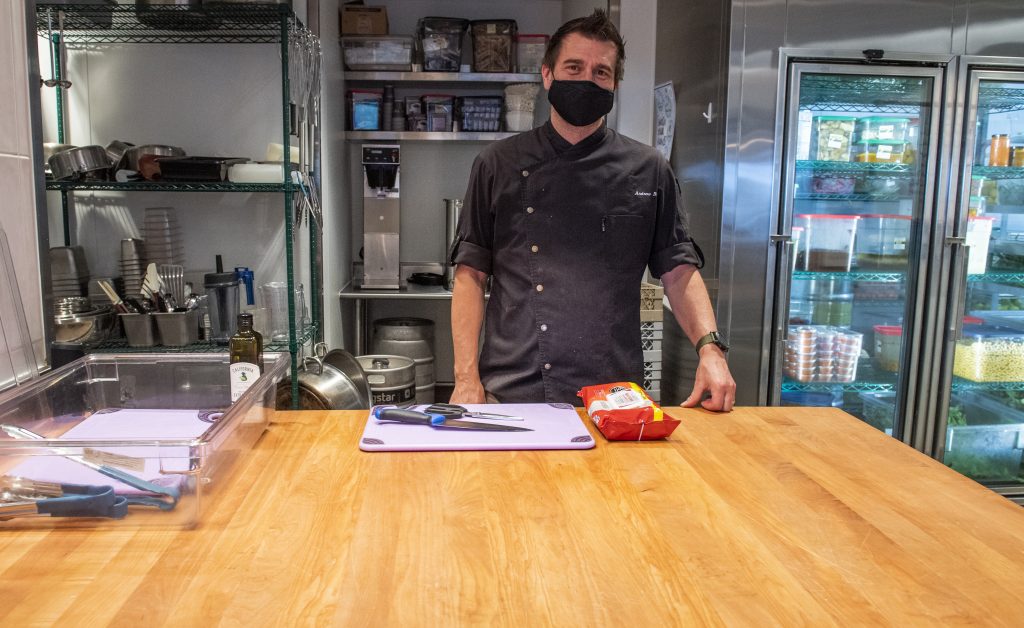 Opening her restaurant just before the pandemic hit, Noble Bird Rotisserie owner Sidney Price knows a thing or two about endurance. 
A mother of two, who runs the allergy-friendly eatery together with her husband Steve, Price has been juggling the responsibilities of parenting and starting a new business during a global health crisis for months. 
"Any business owner navigating these waters is like a little ping pong ball," she said. "It's just been a really tumultuous time."
Many businesses trying to make it at 2nd & PCH during this difficult time have had to find their niche, literally or figuratively, and Noble Bird has been no exception. 
While emphasizing that the restaurant serves a broad clientele, Price said approximately 20% of her customers are people with extreme food allergies, who have to feel confident that their food has been prepared free of the allergens that affect them.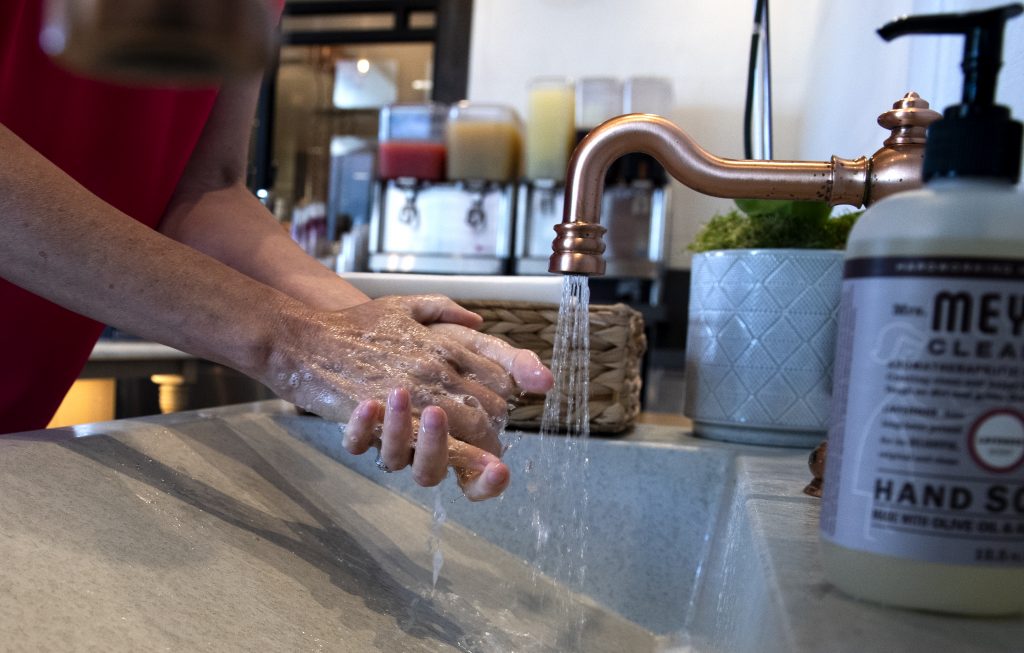 Noble Bird was founded with dietary-restricted diners in mind. Price's two young sons, 4-year old Brixton and 3-year-old Aceyn, suffer from severe food allergies, turning every restaurant visit into a minefield. 
"It was just a really challenging experience to find someone who was familiar, who could understand," Price said. 
So, Price and her husband set out to create a dining environment that would be well-suited to accommodate diners with special dietary needs, by choosing a menu that was designed avoiding common allergens like dairy, nuts, fish or shellfish. Other allergens can be avoided on a made-to-order basis.
"I think the best thing about our restaurant is that the 80% of our guests who do not have those dietary concerns have no idea of this underlying concept," Price said. Once they do learn about it, she added, "I think it carves a special place in their heart for what we're doing."
Because of the restaurant's focus on allergy-conscious cuisine, both the dining space and the kitchen were already designed to avoid cross-contamination with allergens, which has come in handy during the pandemic. "We were built for this," Price said.
The added pressure of the pandemic has forced Price and her team to identify and eliminate inefficiencies more quickly. Her business has had to grow up fast and she doesn't plan to throw in the towel now. 
"Onward we press," Price said.