The San Pedro Bay Ports are the single largest maritime trade gateway in the United States, principally handling the majority of the country's trade with East Asia. As of 2017, the ports' marketshare of containerized imports from East Asia was about 46.4%, according to an analysis by Jock O'Connell, international trade advisor for Beacon Economics. To maintain that marketshare and remain competitive, the ports are focused on operational excellence – ensuring that they remain the gateway of choice by bolstering their efficiency.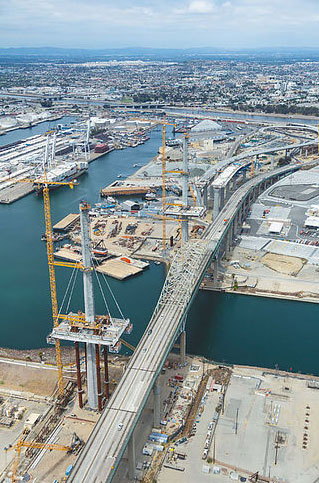 As O'Connell pointed out in his recent analysis penned for the Pacific Merchant Shipping Association's (PMSA) newsletter, the ports of Los Angeles and Long Beach lost about 10% of marketshare of inbound East Asian maritime trade from 2003 to 2010. But Mario Cordero, executive director of the Port of Long Beach, takes issue with 2003 as a reference point for how the ports as faring competitively today.
In 2003, the ports were experiencing double-digit growth in cargo volumes, Cordero noted. This was also several years before the expansion of the Panama Canal was completed, before the expansion of Canada's Prince Rupert Port was completed, and before East Coast ports like those in New York and Savannah had completed infrastructure projects. In other words, it wasn't the same environment as it is today, competitively speaking.
Using 2010 as a baseline, the ports have managed to hold their share of maritime trade, Cordero pointed out. In 2017, the ports handled 35.4% of all containerized cargo coming into the United States, he said, while in 2010, they handled about 36.9%. Cordero characterized this as a "de minimis" differential.
"For me, the message is, in light of all the developments with regard to what other gateways have done, we've done pretty well. Because many believed in 2003 that we would be in a much worse scenario," Cordero said. Moving forward, he said he anticipates the ports will retain current marketshare, with fluctuations in the 1% range.
Chris Chase, business development manager for the Port of Los Angeles, noted that a number of factors, mostly related to cost, play into cargo owners' decisions on where to ship their goods. "The biggest advantage that we have that keeps us incredibly competitive here in Southern California is the amount of warehousing here," he said. "You can do local, regional [and] national distribution and e-commerce out of the same building because of the huge population in Southern California and also because of the incredible connections we had with the railroads and the road network to the rest of the country." He pointed out that nearly all of the Port of Los Angeles' terminals have their own railyards.
"There is no gateway that has the kind of rail infrastructure that we do here in the Southern California region," Cordero said. "I am talking about the rail infrastructure that connects to the inland to the Midwest Ohio Valley." Not to rest on these laurels, the Port of Long Beach continues to invest in rail infrastructure as part of its focus on operational excellence, he noted.
Case in point, the Long Beach Board of Harbor Commissioners, which governs the port, recently approved an $870 million budget for the Pier B On Dock Rail Facility project. The expansion of rail at Pier B will enable 17 trains 10,000 feet in length to leave the Port of Long Beach per day, doubling its current rail capabilities, Cordero explained. It will also help the port move closer to its goal of moving 50% of cargo by rail, thereby decreasing use of trucks.
Chase said that both ports got a jump start on infrastructure investments to become big-ship ready in advance of other ports in the nation. "One of the reasons we are competitive is we have, amongst other ports, a 20- to 30-year head start on a lot of these infrastructure projects – major billion-dollar infrastructure projects," he said.
"From 2015 to 2024, I think our capital plan is about $2.5 billion, much of that centered around modernizing or upgrading facilities," Chase continued. "A big trend in the marketplace here in Southern California has been to put larger and larger ships in. Well, that has a different demand on how the land is used, and the size and strength of wharves that are necessary, and the size of the cranes that need to go on them. So we have to prepare for that."
The Port of Long Beach is in the midst of a $4 billion capital improvement program, the centerpieces of which are the redevelopment of Long Beach Container Terminal (LBCT) in the port's Middle Harbor and the replacement of the Gerald Desmond Bridge. The first and second phases of the Middle Harbor Redevelopment project are complete, and the third and final phase is on schedule for completion in early 2020, according to Cordero. About 172 acres of the terminal, which has been outfitted with automated electric cranes and cargo handling vehicles, are operational, he said.
When completed, "that terminal alone in terms of the capability of moving 3.3 million containers would in effect qualify as the sixth largest containerized port in the United States," Cordero said. "That terminal will have the capability of receiving a 24,000 TEU vessel at some point. I can't tell you when that type of vessel will arrive at the West Coast, but in years to come, the decade to come, I predict that the carrier industry will be moving in that direction."
The new bridge under construction over the entry to the port's inner harbor will expand traffic flow from one to three lanes in each direction. It is also being built higher than the Gerald Desmond, allowing for larger ships to pass beneath. "That is a great endeavor to not only alleviate and create more efficient movement of containers by truck, but it also puts us in a position to receive larger vessels that will be able to come into the harbor and under that bridge," Cordero said.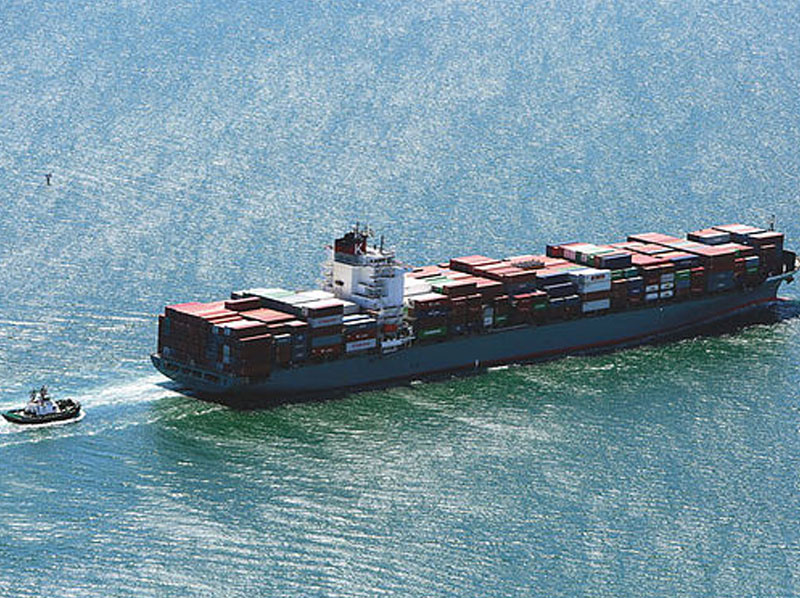 The ports are also investing in technology to boost operational efficiency. Both San Pedro Bay ports have partnered with GE Transportation on a pilot project to test software that tracks cargo as it makes its way through the supply chain – from point of origin to ship to dock, and then to truck or rail. "This industry has not been known to be on the cutting edge of technology on the e-commerce side. So we're starting a project in that direction," Chase said of the endeavor.
Cordero noted that the he hopes to adopt a portwide information portal like the GE system, but a specific program has not been selected.
Also of importance to the ports is the effort to reduce truck turn time – the amount of time it takes for trucks to pick up or drop off a container at a terminal. "The good news is many of our terminals have reduced turn time. You're talking about the average right now somewhere around 70 minutes, as compared to 90 minutes-plus a couple years back," Cordero said.
Dwell time for containers – the amount of time a container sits on the dock before being transported to its destination – has also decreased. "That dwell time, according to some recent studies, more specifically one that was noted by PMSA, is on average here in Long Beach about 2.7 days. And that's down from 3.71 [days] if you go back to July," Cordero said.
Both Cordero and Chase emphasized that their ports are planning for trends decades in advance in an effort to set themselves up for success. As they do so, the main focus is what they can do, as landlords, to improve efficiency of operations throughout the port complex.
"The customer wants the cargo now and doesn't want to wait too long to get it. If we continue on that track, then we'll be very competitive no matter what gateway you are referencing as an alternative," Cordero reflected.