Much like the city as a whole is made up of a collection of neighborhoods and business corridors with their own unique character, Downtown Long Beach itself is home to a number of different districts for shopping and dining, each with a distinct personality.
At downtown's eastern edge is the East Village Arts District, which spans from Long Beach Boulevard to Alamitos Avenue east to west and from 1st Street to 7th Street north to south. The village is named for its history of arts institutions and businesses, and the neighborhood retains a historic flair, with its buildings ranging in date from the early 1900s to contemporary times.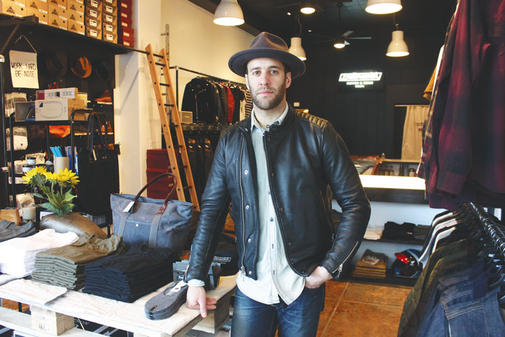 Thomas R. Kerns opened his menswear store, Butterscotch, in August. He focuses on premium clothing meant for daily use, and has an in-store coffee bar. (Photograph by the Business Journal's Brandon Richardson)
Thomas R. Kerns opened his men's boutique, Butterscotch, in August in the heart of the East Village Arts District at Broadway and Linden Avenue. His shop is located across the street from a number of historic buildings, including the Broadlind Hotel – now host to businesses such as the Blind Donkey, a whiskey bar featured in the movie "La La Land," the eatery Linden Public and District Wine, and he is located adjacent to the home goods store ReCircle Home.
A resident of the city for eight years, Kerns said he knew he wanted his business, a dream of his, to be located in the East Village. He described the neighborhood as "curated" and "eclectic." "The East Arts Village is a really great location," Kerns said. "We have a really good mix of everything. We have some vintage, we have some home goods. We have modern, contemporary furniture stores. We have a menswear shop, ladies boutiques," he said adding a number of area restaurants to his list: James Republic, Utopia, and Padre among them.
The East Village has great foot traffic, according to Kerns. He noted that people often stop into his shop after visiting an area restaurant or other shops, or even while waiting to get their hair cut at the barbershop across the street.
Bridging the East Village with the downtown core of Pine Avenue is The Promenade, a strip of restaurants, shops and businesses that run from just south of Broadway up to The Streets, a shopping center that encompasses several square blocks. The Promenade, which is closed to vehicular traffic, features an array of businesses – from the casual beer joints Beachwood BBQ and Congregation Ale House, to the gourmet hot dog eatery Dog Haus, and the old-fashioned cocktail bar, The Stave.
The Promenade North, located on the north side of 3rd Street, recently received a contemporary facelift thanks to an investment by its owner, Shooshani Developers LLC. According to Owner's Representative Tony Shooshani, the vacant retail spots at the refurbished center are 100% leased, with most tenants slated to move in next year. Once they do, the spot may become known as something of a locale for international cuisine.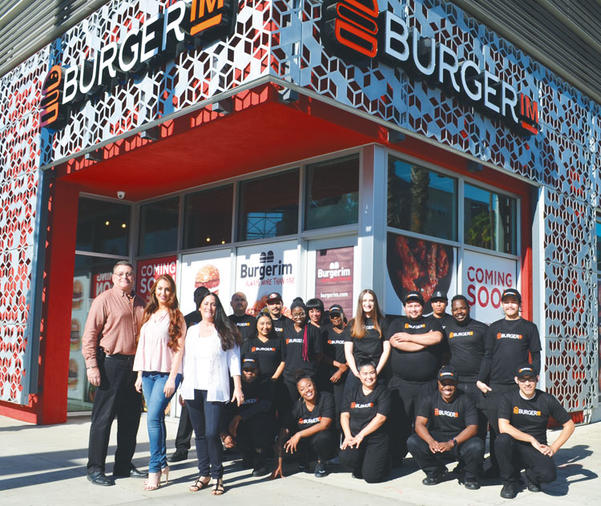 Burgerim, a quick-serve gourmet hamburger restaurant, is opening soon at The Streets on Long Beach Boulevard and 3rd Street. From left, Owners Barry, Stephany and Jaz Estrin are pictured with their staff. (Photograph by the Business Journal's Pat Flynn)
New tenants slated to open at The Streets on The Promenade North and on 3rd Street include: The Thick Shake Factory, an India-based gourmet shake franchise; Loose Leaf Boba Tea Company; Poke Cat, a poke (a Hawaiian raw fish salad dish, pronounced 'po-kay') restaurant; a Lebanese restaurant; Party Monkey, an acai bowl eatery; and Burgerim, a gourmet hamburger quick-serve restaurant.
Table 301, a restaurant by the same owners as Signal Hill's Delius restaurant, is slated to open in January where The Promenade North meets Harvey Milk Park, according to Shooshani, who added that the restaurant will feature outdoor dining right at the park. "That is truly the connection that is going to connect the southern part of The Promenade to the north[ern part]," he said.
Luis Navarro, a local restaurateur, plans to open a restaurant, Willmore Yards Eatery, and a distillery, Portuguese Bend Distillery, across from Table 301 in a building mostly occupied by Retail Design Collaborative and Studio One Eleven.
Shooshani said the mix of tenants moving in next year were curated and "hand-picked." "We wanted to keep it local and keep it more of an international flavor but with a local base to it [in terms of] operators and ownership," he said.
A number of new businesses have moved into The Streets this year, including several along Pine Avenue, such as Pinot's Palette, Romeo Chocolates, Plant Junkie and others, Shooshani noted. Existing businesses, such as King Buffet, Chuck E. Cheese's and Big 5 Sporting Goods, have been doing well, he added.
"This is an exciting time for Long Beach and we just are so super happy to be a part of it," Shooshani said. "And 2018 is going to be a phenomenal year for us because of all of these openings and businesses that are going to come to downtown and come to our project and to The Streets."
South of The Streets from 4th Street to Ocean Boulevard, Pine Avenue is home to an array of business restaurants, including The Federal Bar, BO-beau kitchen + roof tap, George's Greek Cafe, Agaves, Octopus, Shannon's On Pine, Taco Beach and many others. It is also home to retailers like Sheikh Shoes and the artisan collaborative MADE by Millworks, a number of gyms, and many other businesses.
"I think Pine is doing great," Jeff Osborn, manager of The Federal Bar, said. The restaurant is located at Pine Avenue and 1st Street in the historic Security National Pacific Bank building, and features an underground music venue and speakeasy. "I'm excited for all the new housing and stuff that's opening up. There is a lot of construction going on right now, so I think in the next couple of years it's really going to take off."
Osborn noted that The Federal Bar benefits when conventions come to the area. "We had really busy lunches this week because there was a large convention in town," he said.
Past 4th Street, the street is known as "North Pine," an up-and-coming area home to an eclectic assortment of businesses, including Long Beach Vintage Etc, DG Boxing Gym, the offices of the Press-Telegram and Toxic Toast Records.
"Toxic Toast Records opened about three years ago," Owner Andy George said, noting that he and a silent business partner bought the building the business is housed in at 757 Pine Ave. "We have been operating in the black and have been doing a lot to grow our stock and carry more diversity in the genres of music." Toxic Toast is particularly known for its selection of rock and punk rock music.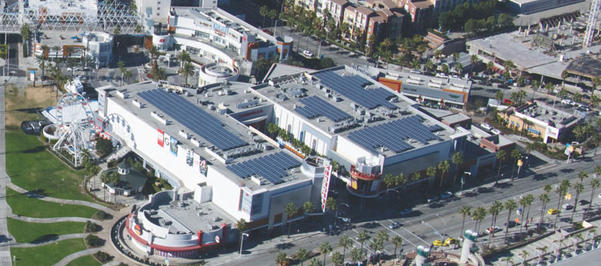 The Pike Outlets In Downtown Long Beach. (Business Journal photograph by Evan Patrick Kelly, December 6, 2017)
George said he chose the shop's location on North Pine because of its proximity to diverse communities. "What's going on with punk rock is like a lot of the younger punks are mostly from the Latino community," George said.
"I feel like the area of North Pine that we're at has a lot of potential to become more revitalized," George said. "It's kind of like a transition area. My business partner and I foresaw the neighborhood getting better, not worse." George added that he is opening a music venue in the same building, which should help bring more traffic to the area. "I want to revitalize the neighborhood. I don't want to gentrify the neighborhood," he said.
There are many businesses located to the west of Pine on Pacific and Magnolia Avenues, which have proximity to the George Deukmejian Courthouse and Long Beach City Hall. Some of these businesses include coffee shops and breakfast joints like the Birdcage Café and the Potholder Restaurant, and chain retailers and eateries like Jimmy John's and Starbucks.
By the water, Shoreline Village and The Pike Outlets provide visitors and locals alike with a myriad of restaurants, national retailers and small mom and pop shops. Shoreline Village, a Cape Cod-style boardwalk, features activities like an arcade and rentals of tandem bikes, Segways and other modes of transit perfect for a ride down the city's beach path. Restaurants like Parkers' Lighthouse and Tijuana Jack's offer waterfront dining. Shoppers at Shoreline Village can find everything from Middle East-inspired home furnishings at Istanbul Home, to comics at Shoreline Comics, to any type of hot sauce they could imagine at Hot Licks, and much more.
The Pike Outlets is another of downtown's larger shopping centers, and is home to about a dozen national brands, including the new Express Outlets, H&M, F21 Red, Gap, Converse, Restoration Hardware and more. It is also boasts about a dozen restaurants, including Islands Restaurant, The Auld Dubliner, California Pizza Kitchen and others. Across Shoreline Drive, there are several restaurants along Rainbow Harbor, including Bubba Gump Shrimp Co., P.F. Chang's, Famous Dave's, The Outback Steakhouse and Gladstones. The Pike Outlets is also home to a Cinemark theater and the Laugh Factory.
"For dining you have got a ton of options, from fresh seafood to Asian cuisine, barbecue, burgers and fries – anything you can think of, you can get here within walking distance," Morgan Erickson, regional general manager for DDR Corp., operator of The Pike Outlets, said. A WaBa Grill is expected to open in the spring, as is a Kay Jewelers, he added.
Visitors to The Pike Outlets are typically a blend of area residents and out-of-town travelers visiting for conventions, he said. "We see a lot of familiar faces who walk over, go to the movies, get dinner. And you do notice people coming in on cruise ships and doing quite a bit of shopping as well," he observed.
"If you just take a walk around town, there is a ton of construction," Erickson said. "City Hall is being redone. There is a new multi-family residential development that is going on right next to our property here. So, I guess what I am saying is, between the Aquarium, the Pike, the Queen Mary and Shoreline Village, it's all very encouraging. There is a lot going on."