If you don't want to tick off Rich Archbold, public editor of the Press-Telegram, don't ask him when he is retiring. And definitely don't go on about "the decline of journalism."
"Why retire? I love what I'm doing. I feel like I'm making a difference," the 79-year-old said in an hours-long interview at the Business Journal's offices. "What could be better than that? I mean, people ask me that all the time, and I think it's maybe a form of age discrimination."
As for the decline of journalism? "The main thing is, I think it's a damn exciting time to be in. That's what I tell young people. And we are certainly not dying," Archbold said. "If I get annoyed at anything, it's when I hear, 'Oh, the decline.' People will say 'the decline of newspapers' like it's the decline of media and the whole industry." This, he said, is the real "fake news."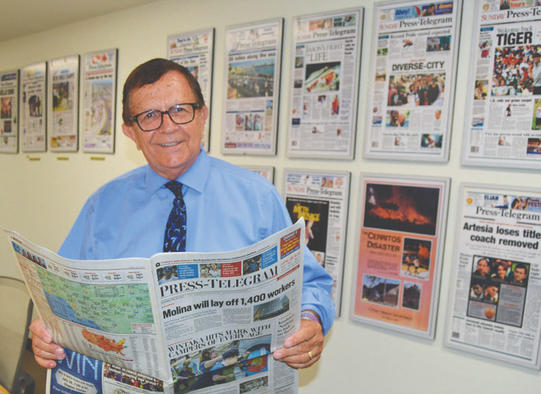 Rich Archbold, public editor of the Press-Telegram, started at the Long Beach newspaper in 1978. The Chicago-area native began his career in the news industry as a paperboy at the ripe old age of six, and hasn't looked back since. (Photograph by the Business Journal's Larry Duncan)
Archbold is one of the longest employees of the Press-Telegram (P-T), the now 120-year-old Long Beach paper that first brought him to the city in 1978 with his wife, Pat, his one-year-old daughter (they later had a second daughter) and their dog, Bubbles. In that time, he has seen the city go through periods of turmoil and rebirth – just as he has within the P-T itself.
Archbold's first industry job was in 1960, when he started as a reporter for United Press International in Lincoln, Nebraska. But, as the seasoned newspaper man will tell you, this was far from his introduction to the industry he has devoted his life's work to.
"Well, I like to tell people that I was born with ink in my veins," he said. "And every once in a while when I get cuts, I show people: 'See that? That's not red. It's black.'"
Archbold was one of eight children raised in a Catholic family just outside of Chicago. After his mother died in 1944 from complications that developed after gall bladder surgery, he and his four brothers and three sisters went to live with his grandparents nearby.
"My hero turns out to be my grandfather, who said, 'We are not going to split those eight kids up. We are going to take care of them,'" Archbold recalled.
He was six years old. "My grandmother, who invented tough love, she had chores for us to do on a metal board in the kitchen. 'Now, Richard, before you go play baseball, you've got to clean your room, clean the basement, cut the lawn.' All that stuff. And she also made me get a paper route."
In the first grade, Archbold became a paperboy, a task which started his lifelong habit of waking up at 4 a.m. each morning. "You know, I was throwing the papers on my little bike, and I did that well. The only tough times were the winter months when [there was] ice and stuff, but that toughens you up," he said.
Archbold graduated from a bike route to stuffing papers and then to delivering bundles for paper routes by car. He grew to love the smell of newsprint.
"But my first real episode in learning about the impact of journalism was in high school," Archbold said. As a freshman, he joined the school paper. "One of my first assignments was to interview the principal, whose name was Fred Biester. And the kids all called him 'The Beast' because he was a big guy. . . . He was probably 6'3" or 4", but to me he was like Shaquille O'Neal."
The Beast turned out to be pretty friendly, Archbold noted. "This is what got to me. When I leave his office, I am surrounded by about 15 or 20 kids who knew I was going in there. And guess what they wanted to know? They wanted to know what was he like. 'What did he say? How did he do it? Did he yell at you?'" he recalled. "And I am thinking, Hey, this is kind of neat. People want to know, from me, this information. And I am the only one who has it. They are all afraid to go in and talk to him. . . . So it was the first time I came into contact with myself kind of being the source of information that I could give to other people."
Archbold graduated as editor of his high school newspaper, an accomplishment that landed him a place at the University of Illinois' newspaper when he arrived there as a freshman in 1956. "I picked three fraternities to rush. And so, the active [members] would always come out of the house as you came in, and they would shake your hands. And this one guy shakes my hand and pulls me aside, and he says . . . 'I see you were editor of your paper in high school.'"
That guy turned out to be Pete Weitzel, city editor for the college newspaper and son of Chicago Daily News columnist Tony Weitzel. Archbold joined both the paper and Phi Kappa Sigma with Weitzel, who became one of his longtime mentors.
Because Archbold was gaining journalism experience working on the newspaper, he never took a journalism course in college, instead opting to major in political science and minor in history. At the paper, he eventually worked his way up to the position of editor.
In his senior year, Archbold drew outside media attention when he published a letter from a biology professor relaying what turned out to be a controversial opinion about a couple of students who were frustrated about not being able to have sex. "And he basically said, 'What is the matter with those stupid students? All you have to do is go down to your neighborhood drug store and get some rubbers.' . . . Now, it was stated a little better than that. He said, 'You have to be responsible.' But his basic point was just get some condoms and there was no stress involved. Nobody is going to get pregnant."
Archbold called up the professor and asked if he really wanted the letter printed. "He said, 'If you have any guts, you will run it.' So, I ran it. And on the basis of that he got fired because a guy . . . sent a letter to the parents of every freshman and sophomore girl at the University of Illinois – which is in the thousands – a three-page letter basically calling him a communist. And [saying] this is what communists do, they destroy the social fabric of the United States and [so on]."
The story was picked up by Chicago's major newspapers, and the Associated Press (AP) and United Press International (UPI). "So I come in contact with AP and UPI, and they both ask me, 'What are you going to do when you graduate?'"
In 1960, Archbold went to work for UPI in Lincoln, Nebraska. While working for the newswire service from '60-'62, he joined the National Guard as a reservist. "I hate to say this, [it was] to escape the draft," Archbold said of the decision. "I joined the National Guard and I took their program of six years as a reservist, six months active duty and then five and a half years of reserve duty. And so, I spent my six months at Fort Leonard Wood in Missouri learning how to shoot and throw grenades."
While at UPI, Archbold broke the news that Nebraska's governor, Ralph Brooks, had unexpectedly died – a break that led him to be hired by the Omaha World Herald in 1962, where he stayed for three years covering the local courthouse and city council.
In 1965, Archbold sent a note to his old fraternity brother Pete Weitzel, who was working at the Miami Herald, to let him know he was looking for a change and to ask for recommendations about where to go. "He ends up saying, 'We got a job at the Miami Herald.' And it was as the metro reporter," Archbold said.
He took the job and drove from the Midwest to the East Coast, where he had never been. "I'm in the snowstorms in Omaha and through the southern states. And when I get to Miami, I go swimming in the Atlantic Ocean. I thought I had died," he said.
"From 1965 to 1977, I'm at the Miami Herald, first as a reporter covering this super government. It was called Metro-Dade [County] government. And then I became an assistant city editor, then government editor and then city editor, and then managing editor in the Broward County bureau, which is [in] Fort Lauderdale."
It was the time of the space race, the Cuban missile crisis, and a Cuban refugee crisis brought on by the regime of Fidel Castro – an exciting time to be in the news industry in Miami, Archbold said. "I at one time sat down at my desk and was in between two Pulitzer Prize-winning reporters. . . . I said to myself, 'You have got to ratchet this thing up a little bit.' You know what I mean? I would read their stories in awe."
It was at the Herald that Archbold met his wife, Pat. "I was in the newsroom, and she worked in HR, which is on-call personnel. And she had the best legs in the building," he recalled. "That would have been around '69 maybe or so. I am thinking, God she is good-looking. But I couldn't do a lot because I'm in the newsroom and I am really busy." Eventually, Archbold finally asked her out. "She went home, she told me later, and tells her roommate, 'I just met the man I'm going to marry.'" And they did – in 1972.
Long Beach And The Press-Telegram
In 1977, Archbold received a call from Larry Allison, then-editor of the Press-Telegram, who wanted to see if he would be a fit for managing editor at the Long Beach paper. This was a year after the Los Angeles Times published an article calling the ethics of the Press-Telegram into question for links to local politics. At the time, this was about all Archbold knew of the paper, which, like the Miami Herald, was owned by Knight Ridder.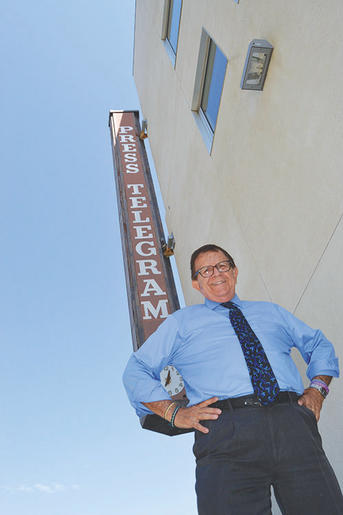 Public Editor Rich Archbold will mark his 40th year at the Press-Telegram in 2018. He is pictured at the former headquarters of the P-T on Pine Avenue, where a sign still resides. The woven bracelets on his wrist are mementos from past retreats with Leadership Long Beach, a local nonprofit organization near to his heart. (Photograph by the Business Journal's Larry Duncan)
"Long story short, Miami, our corporate headquarters, they send a guy out to investigate [the allegations by the Times]. And they discover that, yeah, some of it was BS but some of it was stuff being done that we probably shouldn't have done," Archbold said. "They basically cleaned house."
The paper paid to fly Archbold out to Long Beach to meet with Allison about the job – an offer he said he fully expected to turn down. But after a few meetings, sightseeing and a Dodger's game, Archbold was sold. "I ended up coming because I figured it was a bigger job – a little bit [of a] smaller pond but a bigger job. And we came out and never looked back."
When Archbold arrived, Long Beach was enduring some challenges. "It was terrible. Pine Avenue had all those crappy stores, and the porn theater was still there," he said. Prior to his arrival, Pine Avenue had lost many of its major retailers and auto dealers to the cities of Lakewood and Cerritos, he noted.
As the city struggled to a degree, the Press-Telegram began having its own difficulties as the "golden age" it had experienced in the '50s faded. "Anyway, the revenue fell to the point where Knight Ridder sold the Press-Telegram in 1997. They put us on the auction block. Singleton bought us," Archbold said, referring to William Dean Singleton, founder of MediaNews Group. "I looked on that as saving the damn paper."
Singleton had a reputation for buying papers that were not performing well financially and then cutting costs. "Let's see, that was '97. You know, the Navy base was closing. McDonnell Douglas was in trouble. There was huge upheaval going on. And some of his advisors we found out later were telling them, 'Don't buy Long Beach. It's a pain in the ass.'"
During a meeting with Singleton and other MediaNews Group executives, talk turned negative, Archbold recalled. "Larry [Allison] raises his hand – he can't take this anymore. He gave one of the most eloquent speeches I have ever heard about the future of Long Beach," Archbold said.
"And he says, 'I can't believe what I am hearing here. We are talking about a city that is on the Pacific Ocean. It has 10 miles of beach. It has got beautiful weather every day of the year.' . . . He basically was saying this is one hell of a place to produce a newspaper," he recalled. "And Dean will tell you, he will tell you to this today, that it was because of Larry's speech that he bought the Press-Telegram."
Allison was the person in Long Beach that Archbold looked up to the most, he noted. "I don't want to say we were like brothers, but I guess we almost were. He is just this wonderful guy who taught me all kinds of stuff. He was smart. He had a great sense of fairness. A great sense of newspapering and local news coverage. So, he is number one."
When MediaNews Group took over the P-T, the atmosphere at the paper was one of nervousness, Archbold recalled. Everyone re-interviewed for their positions, and nearly all of them were re-hired. Some had their pay cut. Archbold became executive editor and was able to assist in making some of those decisions, a role he said was tough.
"I mean, I didn't use the argument, 'Be glad you got a job.' But it sort of bordered on that. It was sort of like, 'He is keeping this paper alive.' Which he did then, for many years," Archbold reflected.
The P-T is now part of the Southern California News Group, formed in 2016 after Digital First Media and its Los Angeles News Group acquired Freedom Communications. Digital First Media formed as the result of a merger between MediaNews Group and the Journal Register Company in 2011.
Archbold became the P-T's public editor, a title he selected, in 2013. In this role, he writes editorial opinion pieces and a weekly column for the paper's editorial page, as well as handling readers' letters to the editor and op-ed opinion articles. He also represents the paper around town at events and forums.
In his time in Long Beach, Archbold has seen quite a few highs and lows for the city. The lows: the closing of the Naval base, the loss of tens of thousands of aerospace jobs, and the shuttering of Boeing's C-17 Globemaster III program. "All those people – all those Douglas people, the Naval people – [were] loyal to the Press-Telegram," Archbold said. "But it wasn't just because of the impact on the paper. There was a huge devastating impact on the city."
Now, Archbold said the city is experiencing a true rebirth, citing new buildings underway throughout the city (including the civic center), the success of Douglas Park, revitalization in the downtown area and a low unemployment rate.
Still, there are matters of concern. Gentrification is an issue at hand in Long Beach at the moment, and along with it, issues of affordable housing, rent control and more, Archbold noted.
In 20 years, Archbold expects all print media will have gone digital. While some argue that online advertising is not viable to sustain such a model, Archbold pointed out that digital media is still relatively new.
"There is no question that online digital advertising revenue so far has not kept pace with the old print. But with the old print, we had over 200 years of experience and businesspeople who grew up with print," Archbold said. "We will deliver the news anyway we can, and I think we're doing a hell of a job there. . . . It's an evolution that is going to take some time."
Archbold hasn't lost any passion for journalism through the decades. "One, to me, it's a daily miracle. I have always called the newspapers where I have worked – Omaha, Miami, but especially in Long Beach – a daily miracle in the sense that what we're putting together is almost miraculous," he said. "If you look at the hundreds of thousands of times just in one edition, the opportunities to make an error, and we don't. I mean to me, that's a miracle, for God's sake," he added.
"What I feel like every day when I get up – and this is no BS – I feel like I've got this blank canvas to work on. Like I am Michelangelo or somebody like that. Da Vinci. And it's like, 'What am I going to paint today?'" he said. "I mean, I really can't think of a better job."