After about a month and a half on the job, Long Beach Parks, Recreation and Marine Director Gerardo Mouet continues to familiarize himself with the 170 parks, 26 community centers, 5 golf courses, 2 tennis centers, miles of beaches and marinas, and the city's Animal Care Services Bureau that are now all under his purview. The new head of parks hails from the City of Santa Ana, where he oversaw a smaller parks department that also included the city's libraries and zoo.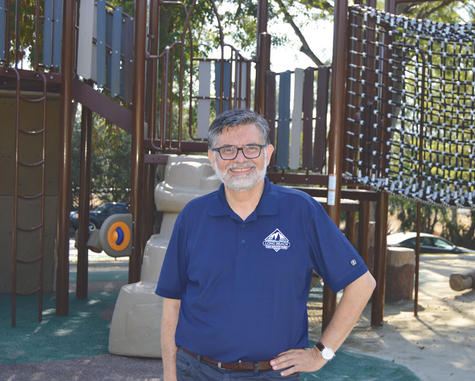 Gerardo Mouet is settling into his new job as director of the Long Beach Parks, Recreation and Marine Department. He is pictured at Los Cerritos Park just before the grand opening of its new playground, which was funded by Measure A sales tax revenue. (Photograph by the Business Journal's Anne Artley)
As he settles in to working in Long Beach, Mouet is focused on ensuring that his department's programming, accessibility and future priorities are in line with the needs of the community.
"I feel very blessed that I have this opportunity. I am thrilled," Mouet told the Business Journal in an interview at Los Cerritos Park just before the grand opening of a new playground funded by Measure A. "I think of public service as a noble profession. I see it as something that is very meaningful work."
A native of Mexico who grew up in San Diego, Mouet served as director of Santa Ana's parks department for 14 years, and as a city employee for 28. "Santa Ana is landlocked. It is 27 square miles. This is 52 square miles," he said, comparing his old position to his new one. "This is wonderful. Over there are 50 parks; over here, 170 parks. Over there, a $22 million annual budget; over here, $52 million." This is also Mouet's first time overseeing a department with beaches, marinas, and an animal care services bureau.
In Santa Ana, Mouet's department included about 400 employees. The Long Beach Department of Parks, Recreation and Marine employs about 1,000 people, Mouet estimated. He called his new staff "wonderful" and "very caring," noting that they have a deep knowledge of the Long Beach community. He often taps them as resources for community information as he continues to familiarize himself with the city.
Although Mouet and his family still live in Santa Ana, he has made a point to explore Long Beach's parks and attend local events even on weekends. "It's a beautiful city, and I am just having a ball. I am exploring different restaurants and businesses, and just having a great time bringing some of my family over," he said.
Interacting with the community is a great way to find out how to get more residents to use the parks, Mouet noted. "When we program parks, or we add amenities to them, it is important to engage the community to make sure that we understand how to program the park," he explained. "It's always good to communicate with the parks users, because what was of interest to them three years ago might be different today."
Mouet intends to revisit the department's strategic plan, a document outlining the vision, goals and objectives for the department. "I am very interested in reviewing the department's strategic plan. It's about 15 years old," he said. "I have read it, and I think it's kind of due to get some fresh eyes and get input from the stakeholders, because things have changed in 15 years."
For example, Long Beach's senior population is growing, Mouet noted. "Planning ahead with regard to serving the senior population in Long Beach is a good thing," he said. Sports programming may be another area to reassess, he added, noting that the popularity of certain sports tends to shift over time.
The next version of the strategic plan may also need to address the increased likelihood of drier weather, Mouet pointed out. "There is the water challenge, for example. That might be something that's worth thinking about, because maybe it will be a recurring challenge. . . . We should have strategies."
The city's proposed budget for Fiscal Year 2019 includes $1.2 million in one-time funding for additional parks watering, according to Mouet. "That's because of the possibility and anticipation of having another dry year," he said. Watering not only helps keep grass alive, but it also helps care for the parks' many mature trees, which provide shade and coolness and attract wildlife, he explained.
"It's very difficult to measure, but a park can add so much value to the local economy, to the property owners," Mouet said. "Studies have proven that. Of course, they have to look good. They have to be safe so that you can use them."
Mouet has met with Police Chief Robert Luna to discuss park safety and get to know the police department. "There are certain areas that are more challenging than others, and that's very common," he said. "You develop strategies. . . . I do know that, in order to deter negative behavior, you don't leave a park without programming." He added, "The whole idea is for outsiders who may be looking for trouble to see that park as busy and active."
As for the city's beaches, Mouet said he is focused on ensuring that they remain an economic engine. "How can we make sure that there is a fine balance of [beaches being] great for business and at the same time great for the public to use?" he queried.
Measure A, a sales tax increase approved by voters in 2016, continues to fund improvements to parks, such as replacing and creating new playgrounds, repairing community centers and more. Long Beach parks may also benefit from Proposition 68, a bond measure passed by California residents this year, according to Mouet.
The new parks director said he plans to purchase a bus pass to see for himself how easy it is to access different parks, recreation and marine facilities from various parts of the city. "I am going to, from time to time, go and take public transportation from Park A to Park B just to see how wonderful [the experience] is, or not," he explained. "Access is very important."
When it comes to the Animal Care Services Bureau within his department, Mouet said he looks forward to convening an "animal care visioning task force" established by Mayor Robert Garcia. "We're trying to schedule the first meeting to be able to come up with ideas to help with strategic planning," he said.
Mouet said that parks bring joy to people's lives, including his own. "If you live in an urban setting, how cool is it for families to be able to come to a park and get a little taste of the outdoors, a little taste of nature?" he said. "You see some animals and you see some birds. You have a picnic. You might play some tennis. You might throw the frisbee. I love it when I see families doing things together, because you know, one of the challenges for all of society all over the world is not to be stuck too much to your smart phone, for people to go outside."