Does the Long Beach Parks, Recreation and Marine Department (PRM) provide balanced park programming to all of its city residents? Last year, 1st District Councilmember Lena Gonzalez was not certain it did.
In the summer of 2017, Gonzalez expressed dissatisfaction with what she considered an imbalance of park programming, noting that there were more "contract classes" scheduled in parks on the eastern side of the city than in the west. Contract classes are those in which instructors pay a fee to PRM to host activities in city parks.
Gonzalez asked the department why College Estates Park, located in East Long Beach, hosted 50 hours of weekly contract class programming in summer 2017, while Cesar Chavez Park in Downtown Long Beach had zero hours of weekly contract class programming. At the meeting, then-PRM Director Marie Knight noted that, while her department tried to interest class instructors in underutilized parks, instructors chose which parks they preferred to contract with.
Gonzalez, sponsored by Vice Mayor Dee Andrews and Councilmembers Roberto Uranga and Rex Richardson, requested that PRM deliver a report on how hours and funds of PRM programming are divided up across the city.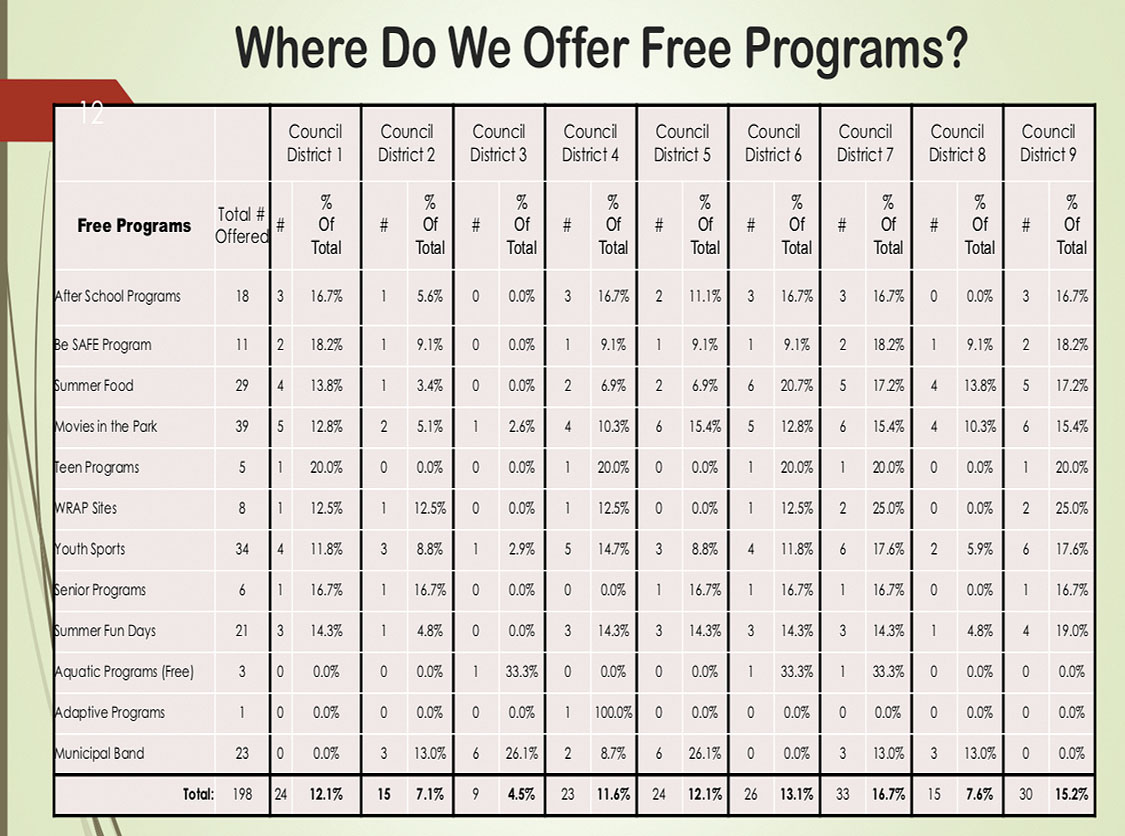 In January of this year, PRM released a report that addressed each of the councilmembers' concerns about city parks. Among them: hours and funding expended in each park location, the basis of prioritization for free and funded programming in each area, overall suggestions for more equitable programming, and suggestions on policies and processes that could be reviewed.
City council pushed their review of this report to February 20, which was Knight's last day on the job before transitioning to director of community services for the City of Huntington Beach. According to Parks & Recreation Commissioner David Zanatta, Knight was undaunted. "She was committed, and she and the department did a thorough job," Zanatta told the Business Journal.
PRM's exhaustive report answered in detail each of the council's questions, in particular Gonzalez' request that "a fair and equitable system" be found "that guarantees every resident the same opportunities to thrive, regardless of zip code."
PRM directly answered this request on page two of its report, pointing out that Gonzalez' initial assessment of inequality "mainly focused on PRM's contract class program." This is only one aspect of the broad range of the department's programming, the report stated, "and one that is fee-based in nature." To properly address the issues set forth by Gonzalez and her fellow councilmembers, PRM noted that "it is critical that all programming be examined to determine if there is an inequity in the programming offered, and whether changes are required."
In its report, PRM articulated that it offers two kinds of programming: free programs (such as afterschool programming, movies in the park, youth sports and recreational swimming) and fee-based programs (contract classes, day camps, adult sports and some aquatics and nature center programs).
PRM explained that the department experienced significant budget cuts during the Great Recession and again from 2010 to 2012. In response, PRM prioritized free programming to areas it determined to be most in need: the southwest, west, central and northern areas of the city. To achieve this goal, it reduced and eliminated programs in the east and southeast areas of the city. A regional approach was adopted, the report states, that concentrated limited resources to where a "greater economy of scale existed from a staffing perspective." The report further elaborated on its methods, explaining that certain council districts received less of PRM's free programming due to those districts having fewer facilities to host them in.
"I think what came out of it was an education, more than anything," Zanatta said, speaking on the scope of PRM's report. "The report came back and said that the department was – is –  doing a lot. And most of it was doing it at the direction of former city councilpeople."
Approximately 66% of PRM's free programming was offered in the southwest, west, central and northern areas of Long Beach, according to the report, where the majority of its indoor facility space is located. There are certain council districts that received less of the free programming that was offered, "but those districts have less facilities in which to offer them," the report explained.
Approximately 64% of contract classes were offered in the east and southeast areas of the city, the department reported, "where residents typically have a greater ability to pay for contract classes."
PRM's total funding for programming was reported as $6,380,463, which included more than 65 full-time and 661 part-time staff, plus supplies, marketing and program-related costs. About 64% of this investment was spent on programming in the city's southwest, west, central and northern areas of the city.
The lengthy report concluded by addressing the council's request for overall suggestions for more equitable citywide programming. "The data clearly demonstrates that the majority of the city's investment for park programming, as well as capital improvement investment, is made in the areas of Long Beach that are of the greatest need," the report stated. It further elaborated that multiple classes have been offered over the years, "particularly in the southwest and western areas of the city," but had been cancelled due to a lack of registration. PRM continued to look for ways to focus offerings in these areas, it said. One example was by asking new contract class instructors to start their relationship with the city by offering classes in these underutilized areas.
"The majority of the funds were actually being spent on the west side," Zanatta said. "The programs on the east side and some other places are actually programs that are funded by that council person or neighborhood associations or other groups."
Zanatta commended Gonzalez for initiating the review of PRM programming. "What Lena [Gonzalez] was doing, I thought, from a commissioner's standpoint, was healthy," he said. "It was bringing . . . to the city council table an education as to what really is out there, what was being done. The department really can't do anything other than what the council dictates for them to do. So, they were actually doing it. It wasn't being perceived as so, but they were, and they were actually doing it in a very equitable way."
A Second Report Is Requested
Despite PRM's thorough analysis of its programming, Gonzalez declared a motion for the department to return to the council in four to six months with "a more profound report." Eight councilmembers voted yes, with Andrews abstaining.
Due to budget hearings and other city council business, PRM did not meet with the city council again on this topic until October 9. In his report to the council, new PRM Director Gerardo Mouet wrote that, "Striving for park equity will be an ongoing and long-term process that has begun with the new department strategic plan."
Prior to Mouet's meeting with the council, this plan was approved to receive $70,000 of the Fiscal Year (FY) 2019 budget, contingent on the availability of a surplus from the general fund. The intent of this plan, Mouet wrote, is to "offer PRM opportunities to engage with its users and stakeholders around service, programming, maintenance, and park/open space needs."
According to Mouet, PRM has been working since February on several new initiatives, including the addition of new classes at sites that had no classes in spring and summer 2017, offering professional development and job skills workshops and adding specialized STEAM (science, technology, engineering, arts and mathematics)-based classes and experiential learning trips. The city council has also approved the creation of a new Community Engagement and Partnership Bureau, he wrote, "to enhance [the] department's capacity to more accurately assess community needs, grant success rate, park planning and partnership development."
On October 10, Gonzalez sent out an e-mailed newsletter that stated the 26 community centers, six miles of beach and four community pools overseen by PRM "were not promoted and programmed in a way that was both fair and equitable." She then praised the "great work" that PRM is now doing related to the park equity issue she raised in 2017, with the creation of STEPS, or "strategies toward equity in park services."
STEPS, Gonzalez continued, "is a park system for all" that "has already seen amazing results and many more to come." Gonzalez's top example included a near tripling of contract classes offered on the west side.
Other results of the STEPS program for FY 19 include one-time allocations from the general fund of $100,000 for additional senior programming; $200,000 to continue Be Safe programming at new parks; and $40,000 to enhance PRM volunteer operations.
Overall, Zanatta considered the new PRM plan a good thing for the department. "We got funding from the mayor's office and the budget oversight committee allocated funds in this year's coming budget to actually begin the process of a new strategic plan – which we haven't had in 15 or 16 years," he said.
"To date, because of what Lena requested and what the department did in putting together a comprehensive report back, Parks and Rec is really working directly with the councilpeople that had issues in trying to address what's really needed to go forward," Zanatta continued. "And a lot of that is intel from the council offices themselves on what they think is needed and what they are looking at as far as equity programs."