It was 1970, and famed race car driver Parnelli Jones was hurtling along the Riverside International Speedway in a yellow Boss 302 Mustang, competing for Ford in the Trans-Am Series alongside teammate George Follmer. The race would end up being one of his toughest, and proudest, victories.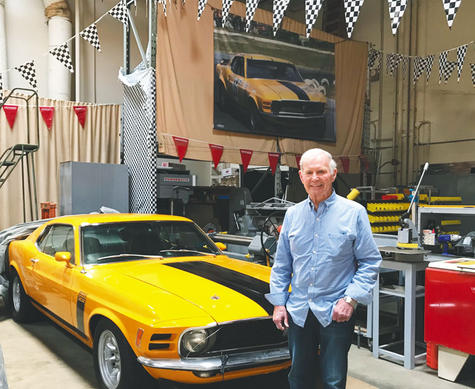 Parnelli Jones is pictured in his garage in front of a photo of that race. Although the car in his garage is similar to the vehicle he drove to the win in 1970, Jones said it doesn't have the same power. (Photograph by the Business Journal's Samantha Mehlinger)
"I was the fastest qualifier at Riverside," Jones recalled in an interview with the Business Journal at his office in Torrance. "I started lapping a back-runner car. And as I went underneath him, he was looking in his mirror at another car because he was defending himself. And when he did, he didn't make the turn. . . . And he ran in the side of me, knocked me off the course." Jones got back on the track with a damaged spoiler and caved-in door. But the car wouldn't turn.
"Because it wouldn't turn, I'd have to hit the curbing and get the car on two wheels to make a turn," Jones said. For the duration of the race, Jones had to bounce his car off the wall at every turn. Despite the odds, he pulled out of eighth or ninth place, passed his teammate, and won the championship for Ford. "I always said it was one of my best races that I had ever run. . . . It's one of the toughest races I ever drove."
Jones has a soft spot for that Mustang, and he'll soon see it again racing through the streets of downtown at the Toyota Grand Prix of Long Beach's newest event, the Historic Trans-Am Challenge, held during race weekend on April 14. The classic car will be up against other Trans-Ams of the 1970s era of racing, driven by their current owners. Jones said he'll be there, watching – and hoping he doesn't see the classic vehicles get banged up.
"The competition in the 1970 series was really tremendous," he said. At the time, the Trans-Am series was a manufacturers' competition rather than a drivers' championship, he noted. "We had a lot of top name race drivers. You know, Dan Gurney . . . Mark Donohue, who was a real threat."
Trans-Am vehicles were the "stock car version of a pony car," Jones said. "They were called pony cars because they were smaller and more set up for road racing, as opposed to oval racing high-bank [courses] like NASCAR runs." Because the Trans-Am series was popular in the '70s, the cars that raced in the series at the time have become quite expensive. Racing them along the course of the Grand Prix track could be risky – if a car spins out, it'll crash into a wall, Jones noted. "It's kind of like renting a real expensive car and crashing it," he said with a chuckle.
Jones won the Indianapolis 500 in 1963 and would have won it again in '67 had his car not quit on him with just a few laps left to go. "But right before it quit, I was thinking winning again was not going to be as exciting as it was the first time," he said with a laugh. "So I made a decision at that time to quit running open cockpit cars, which meant IndyCars. That's why I started doing the stock cars and off-road and Trans-Ams – cars that had a roll cage over my head," he recalled. Jones also married in '67, and having a family played into his decision to race in safer vehicles.
Jones has competed in several series and won in all of them. A native of Arkansas and transplant to Southern California, Jones famously sold his horse as a teen and used the money to buy his first hot rod. He started out in jalopy races under the pseudonym "Parnellie" Jones (his real name is Rufus Parnell Jones), so that his parents wouldn't find out. The nickname was bestowed upon him by a friend who teased him about a crush he had on a girl named Nellie. The name stuck (although the e was dropped), his parents found out, he dropped out of high school, and he made a name for himself at jalopy races all over Southern California throughout the 1950s.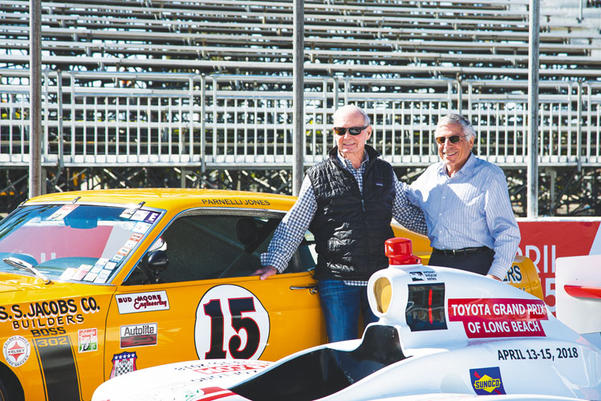 Famed race car driver Parnelli Jones joins Grand Prix Association President & CEO Jim Michaelian to kick off track construction for the 44th Annual Toyota Grand Prix of Long Beach. The vehicle pictured, a Boss 302 Mustang, was driven by Jones in the 1970 Trans-Am Series. (Photograph by Liezl Estipona/City of Long Beach)
Jalopy racing gave way to glory in sprint car, stock car, off-road and midget car racing. Among his many racing accolades, Jones won the 1963 Pikes Peak International Hill Climb, and broke the stock car speed record in the same year. He won five of nine midget car events, including the Turkey Night Grand Prix, in 1966. He won the Mexican 1000 off-road championship in 1968 and in 1973. He boasts six IndyCar race wins, four wins in 34 NASCAR starts, 25 midget car wins and 25 sprint car wins.
"They're all tough. Everybody wants to win," Jones said, when asked what series was the most challenging. "A lot depends on your personality, too. I know a lot of race drivers are good race drivers, and they're just lacking that little bit of desire at the end. I've always carried myself as not so much talent as desire. I couldn't stand to lose."
In 1970, Parnelli and business partner Velko Miletich established Vel's Parnelli Jones Racing and won the Indy 500 as car owners with Al Unser driving in 1970 and 1971. It was as an owner that Jones became involved in the Grand Prix of Long Beach, running Al Unser and Mario Andretti in the inaugural Formula 5000 race in 1975.
Jones said he attends the Grand Prix every year. "I have always wanted to help the Long Beach Grand Prix as long as I could because it's not only valuable for Long Beach, in my opinion, but it's invaluable for IndyCar racing, period. Because next to Indianapolis, it's our second largest crowd," Jones said.
"I am real proud of the Long Beach people not catering to Formula One, because Formula One usually prices themselves out of the market. And they're not good for the long run," Jones noted, referring to the decision by the Long Beach City Council last year to continue allowing the Grand Prix Association of Long Beach to host the race as an IndyCar-centered event, rather than going with another organizer pitching Formula One.
Jones reflected, "I'm behind the Grand Prix 100%. Have been from the get-go."