You might think the top public executive in charge of one of the largest cities in California would be tacitly serious, as the weight of world – or at least, a sizable chunk of Los Angeles County – rests on his shoulders. But anyone who has met Long Beach City Manager Patrick West (who, as of September 20, is now the former city manager), knows him for his jovial demeanor. As stoically as he can rattle off budget numbers whilst enduring endless questions from city councilmembers into the wee hours, he is more often seen about town smiling and laughing with colleagues, community members, and, yes, even the local press.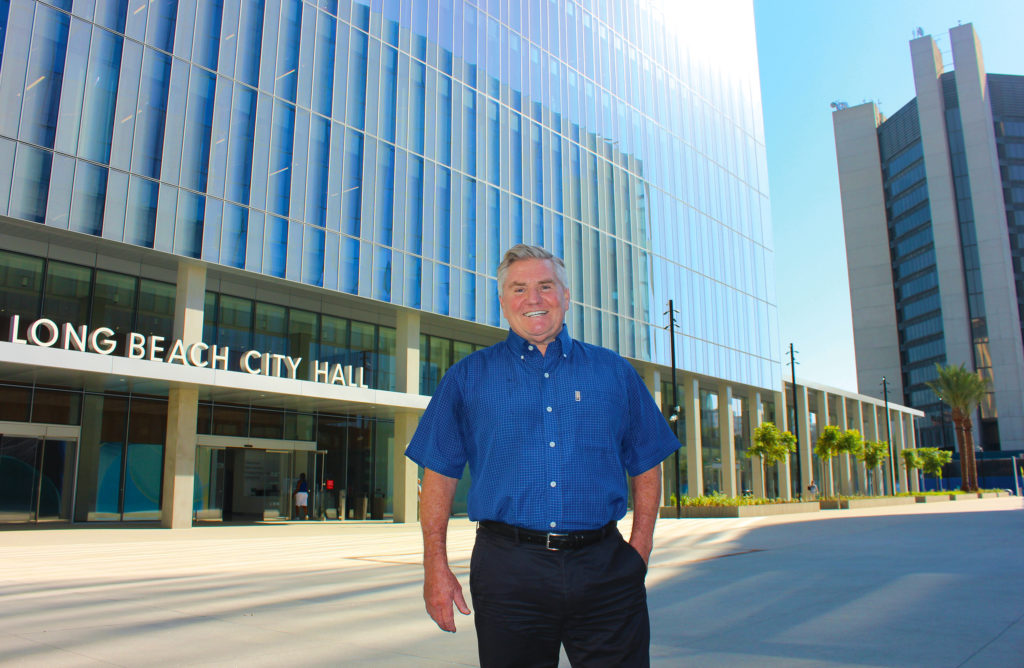 "This is a fun job. You shouldn't have these jobs if you're not having fun," he told the Business Journal during his last interview with us as city manager. West sat at his desk at the new Long Beach City Hall, the largest public development the city has seen in decades, and reminisced about his time leading the city – which, by the way, he had a spectacular view of both from his desk and from his personal bathroom, jestingly dubbed "the West Room."
West first joined the City of Long Beach as executive director of its redevelopment agency in 2005, before being appointed city manager in 2007. Prior to that, he had worked for 25 years for the nearby City of Paramount. Highlights during his career in Long Beach include 13 consecutive balanced budgets, the development of a new civic center, a $3.5 billion development boom, and an increase in livability and mobility initiatives, among many others.
For West, the most fun aspect of his job as city manager revolved around his passion for improving livability and mobility for city residents. Under West's purview, Long Beach has made strides in an effort to become the most bicycle-friendly city in America with an array of improvements citywide – protected bike lanes, roundabouts for safer maneuvering, and better bicycle infrastructure connecting North and Central Long Beach to the city's beach. "Everybody should be able to ride their bike to school, to a park, to go grocery shopping," he said. "We have done so much with mobility. We're going to be well placed as more density comes to the city. People will be able to be active and healthy, and be outdoors and stay out of their cars if they want to."
As much as West has had fun in his position, he has also helped the city weather some tough times – he became city manager just before the Great Recession – and has also, despite pushback, succeeded in pushing improvements to the city that have ultimately been widely accepted by residents and visitors alike. Chief among them – the transformation of Long Beach Airport.
"I would say probably the most rewarding [accomplishment] was the Long Beach Airport," West said, referring to the construction of a new concourse featuring a variety of local vendors. Prior to its completion in December 2012, travelers had to shuffle through portable trailers to get to their flights. "It was a long haul to get that project going. I just can't be more pleased with how it turned out. We're constantly ranked as one of the best airports in America," West noted.
While any changes to the airport are typically received with some degree of controversy, particularly from residents who do not appreciate the noise it creates, West noted that the improvements are perhaps the most popular project undertaken during his tenure. "The folks who were suing us, they still don't like airports. I'm going to make that clear. They still don't like the noise over their homes," West said, referring to a number of lawsuits levied against the city as it attempted to move forward with the project. "But they universally like what we did at the airport. Even though you may not like the noise over your house, you're still going to use the airport because it's so much more convenient. . . . The airport itself just turned out beautifully and it's a wonderful asset and a great place to be. We get so many accolades on the airport. It's a huge asset for our community."
While the airport improvements were the most popular initiative during West's time as city manager, the update to the Land Use Element in 2018 was the most controversial, he said. The Land Use Element dictates requirements for land use and density, and is a required component of any city's General Plan, per the state government. When allowances for increased density were proposed in various areas of the city during the planning process to update the Land Use Element, there were strong reactions – many negative – from residents during a series of highly-attended community meetings.
"We updated the Land Use Element to prepare ourselves for what's going to happen in 20 or 30 years, when more people are going to be coming to the Southland and to Long Beach. We want to direct that growth," West explained. "The community time and time again has told us the density is OK in the downtown, [but to] keep the density out of the rest of the city, except along the transit corridors with the Blue Line . . . and in some corridors by shopping centers," he added. This is ultimately how the document ended up.
West noted that adequately planning for growth is key to a city's future. "If you look at some of the cities in crisis around the world today, they are cities that haven't planned for density," he said. "I am so proud of this city council and this mayor for not ignoring it, and going forward. . . . At the end of the day, everyone did the right thing, and I think everyone is very proud of what we did. But it was a rocky road to get there, of course."
Working With Three Mayors
Prior to being appointed city manager in 2007, West served for two years as the head of the city's redevelopment agency. At the time, Beverly O'Neill was mayor. He has since served as city manager alongside two mayors – Mayor Bob Foster and Long Beach's current mayor, Robert Garcia.
Asked to use a word to describe each of them, West started with O'Neill. "I worked very closely with her and [former City Manager] Jerry Miller for at least two years, and I am very close with her now still. I would call Beverly, in this community, 'beloved,'" West said.
"I can't go one word for Bob Foster. I'd have to say, "fiscally minded," because he was the financial guy," West said. "It was great to have someone who was fiscally minded, because he led us through the Great Recession."
Next up: Garcia. "Robert Garcia would have to be 'consensus builder.' He is the great communicator," West said. "He has been listed as one of the top 10 social media mayors in America [because of] the way he uses social media for the city's advantage." West added that the way Garcia communicates with city staff and all nine councilmembers has been helpful to him as the city manager. "Knowing that the mayor is going to collaborate and work with all nine councilmembers makes it so much easier for me and [Assistant City Manager] Tom Modica."
Looking Forward
Now that he's leaving his position to pursue consulting work in the private sector, who would West like to see step into his shoes? Perhaps it's not a hard guess to make.
"Let me preface that by saying city managers don't pick their successors. . . . That's totally 100% up to the city council," West qualified when asked the question. "That said, I think the entire city council knows that I would support [Assistant City Manager] Tom Modica."
A national search is underway for a replacement, and, in the meantime, Modica is stepping in as acting city manager.
During West's tenure, the city went through one of its most challenging times – the Great Recession. He is leaving at a much more prosperous time for Long Beach, when unemployment is low, and a surge of public and private investment continue citywide. Asked what advice he would give to his successor about navigating similar ups and downs, West said, "There are ups and downs and things to navigate every single day here, every single week. . . . You think you're going to have a calm afternoon, and boom – no, you're not."
If there is an iceberg up ahead, West said, you don't stay the course and go down with the ship. You turn. "Call an audible after you've communicated with the staff, the community, the city council so that you can do the right thing," he said, referring to a football play in which the quarterback calls out a new play to his teammates at the last second.
"Also, have faith in your staff. We have some of the best department heads on planet Earth," West said. "I would recommend whoever succeeds me to just trust those folks. And when you hire, make sure you hire the best of the best, because the city deserves that."
Strong communication skills are also key, he noted. "Communication is the biggest issue facing any city manager. How well can you communicate with your staff? How well can you communicate with the community? And how well can you communicate with the elected officials?" West reflected. "It's so important that we communicate with a councilmember so that they know what's happening immediately on the street, so they can communicate with their neighbors and their constituents, and they're not going to be blind-sided," he added. Councilmembers, he noted, typically earn around $30,000 a year for their work, despite working up to 80 hours a week on top of a separate full-time job and family obligations. "The worst thing we could do is not communicate with them if there is a homelessness issue that just occurred or say a public safety issue, and the councilmember learns about that through a blog, from a neighbor, through the newspaper."
As for West himself, he plans to continue being active in the Long Beach community. "This is where I hang out. This is where I swim. This is where I bike. This is where I paddle. This is where my wife and I dine. This is where we go shopping," he said. "I cannot imagine me ever leaving the Long Beach area. . . . It's one of the best cities in the world. It's just a fascinating place to be."
Asked if he wanted to add anything in closing, West said, "I am incredibly thankful and appreciative of the Long Beach community and all my city councilmembers and mayors I have worked with over the 12 years to give me this opportunity, to be a cog in the wheel, to take Long Beach to the next step."
Serving as the city manager of Long Beach has been rewarding and "a fantastic ride," West reflected. "It's a crazy job. It truly is crazy. In the morning you're dealing with a multi-million-dollar financial issues, and then in the afternoon you're dealing with chickens. I have loved every minute of it. Well, almost every minute. I am thankful, because not everybody gets a chance to sit in this chair and be able to help guide this beautiful city and meet with all the wonderful people in this community – the nonprofits, the businesses, the neighbors. Everybody has got a story to tell, and all those stories are just fascinating. I love it. I am thankful to the council, the mayor, the [city] staff and the community for helping me sit here for 12 years and allowing me to do it."