Philanthropies serving the Greater Long Beach area and some of the major companies that support them report that corporate giving has ranged from stable to increasing over the course of the past five years, both in terms of monetary giving and the donation of time and resources.
The Memorial Medical Center Foundation, which supports MemorialCare Long Beach Medical Center and Miller Children's & Women's Hospital Long Beach, receives between $7 million and $15 million in donations from individuals, companies and other entities each year, according to Yair Katz, CFO of MemorialCare's three Long Beach hospitals.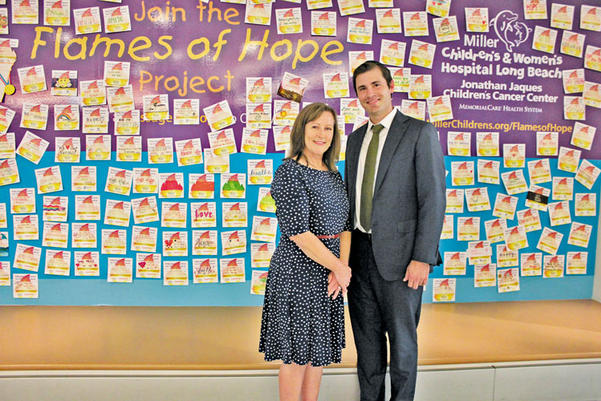 Long Beach software company Laserfiche gives back to the local community in many ways, including by volunteering with and supporting the MemorialCare Medical Center Foundation. Laserfiche's head of human resources, Laura Victoria, is pictured with Yair Katz, the CFO of MemorialCare's three Long Beach hospitals, at Miller Children's & Women's Hospital Long Beach. Behind them are inspirational cards for children signed by community members, including Laserfiche employees, for the Flames of Hope project. (Photograph by the Business Journal's Brandon Richardson)
One of the foundation's major focuses is providing funding for unreimbursed health care costs, Katz said. "Some of those things are psycho-social programs where they are really helping the patient and their family through whatever their crisis is. We also have a strong focus on clinical research as well as survivorship groups and community outreach," he said.
Some of the foundation's major corporate supporters include Wells Fargo, Ralphs, Food For Less, Toyota and Mattel, according to Katz. Some Long Beach institutions that support the foundation include Laserfiche, Farmers & Merchants Bank, P2S Engineering, the Port of Long Beach, the International Longshore & Warehouse Union, and Keesal, Young & Logan.
Katz said that corporate giving has remained stable over the past five years.
Laura Victoria, human resources director for Laserfiche, a Long Beach software company, said that her firm partners with the MemorialCare Medical Center Foundation for its Team Spirit 5K benefiting breast and ovarian cancer support programs. About 20 employees run in that event each year, she noted. Laserfiche employees also participate in the Flames of Hope Program, in which they fill out cards with inspirational messages that are placed for children to see throughout the hospital.
"In terms of monetary donations, one of the organizations that we have supported consistently throughout the years is the YMCA of Greater Long Beach," Victoria said, noting that the organization was near to the heart of the firm's founder, Nien-Ling Wacker. "Many years ago, we actually built the Fairfield YMCA's fitness gym for them, to the tune of $150,000," she noted. Each year, the firm matches employee donations to the Fairfield YMCA's Camp Oaks program for kids, and ultimately pays for about 10 kids to go to camp, she added.
Victoria said Laserfiche employees have volunteered to serve meals at the Long Beach Rescue Mission and Long Beach Ronald McDonald House in the past year. "We feel that Long Beach has done so much for us and given a lot to us in terms of the talent we have recruited," she said. "We want to give back to our local community. I think it's also because we have a very young, dynamic, passionate, engaged workforce, and that's something that is really important to them: philanthropy and giving back."
Cheri Bazley, executive director of the Long Beach Ronald McDonald House, said that overall corporate giving to the organization has remained stable over the past few years. The nonprofit provides a place to stay for families of critically ill child patients undergoing care locally.
"We are very fortunate to have several, [although] not as many as we would like, but several long-time corporate partners," Bazley said. "That said, they have been very good to us. They have been consistent in their giving."
Some companies have been increasing their giving, while others have had to pull back a bit, she said. One corporate sponsor recently moved some of its operations to an out-of-state facility, and as a result had to pull back, she explained.
"In addition to their financial support, we also are grateful for their teams' involvement. For instance, they provide volunteer support to several of our big events," Bazley said of the house's corporate sponsors. "They come with employees and prepare meals for our families. Their benefits are far reaching, over and above the monetary support we receive." Bazley noted that companies often participate in the philanthropy's annual fundraising events, the Walk For Kids and the A Few Good Men Gala.
Some long-time corporate sponsors of the house include Valero, P2S Engineering and TABC, Bazley noted. "We are looking to increase our involvement and identify new corporations [and] large businesses that would like to have a philanthropic partner," she said.
The Assistance League of Long Beach, a nonprofit membership organization with a variety of philanthropic programs, receives about 27% of its funding from individual, corporate and foundation donations, according to Executive Director Annette Kashiwabara. The league has a corporate partnership program to get area companies involved directly with its programs.
"When we [first] went out seeking corporate support it was specifically for Operation School Bell. It's one of our largest programs," Kashiwabara said, referring to the league's program that outfits local school children with uniforms and school supplies. The organization also receives corporate support for its program that provides orthodontic services to local youth, as well as its youth mentorship program, she said.
"We have corporate sponsorships that range anywhere from $500 up to $10,000-plus," Kashiwabara said. Larger donations typically come in the form of grants, she noted. "Usually, if you want to write for larger grants then that's when you write to their foundations. Let me give you a few examples: UPS, Union Pacific, Ronald McDonald House Charities of Southern California, Andeavor," she said, adding that another big corporate supporter is The Boeing Company.
Kashiwabara noted that companies large and small give back to the league by donating time and resources, such as giving to the organization's book drive, or by volunteering. "To tell you the truth, without their help I don't think we would be able to clothe the 10,000 children that we do every year," she said of area companies whose employees volunteer for Operation School Bell.
Andeavor, formerly known as Tesoro, has been increasing its philanthropic activities and donations in the Greater Long Beach area since it established its foundation in 2015, according to Tiffany Rau, director of government and public affairs.
"When we established the foundation in 2015 it was really a game changer for us and we have increased funding every year," Rau said. Last year, the foundation gave $3.75 million to Southern California organizations and institutions. This year, it has thus far given nearly $5 million, she said.
Andeavor gives to organizations that support three focus areas, including environmental sustainability, public safety and science, technology, engineering and mathematics education. Some benefiting Long Beach organizations include the YMCA of Greater Long Beach, the Long Beach Boys & Girls Club, the Long Beach Education Foundation, the American Red Cross – Long Beach, and the Long Beach Symphony Orchestra, among many others.
The oil firm also encourages volunteerism among its employees through its Dollars for Doers program, in which the company donates money back to organizations where its employees volunteer.
"We have been growing. Financial performance is increasing, and therefore so is our community investment," Rau said.
Wells Fargo is another major philanthropic presence in Long Beach, having donated about $2 million to support local organizations over the past five years, according to Gregg Sherkin, vice president and senior community relations manager for the bank. "This year, we have done about $450,000 in contributions so far," he said.
"We really do have a strong affinity for Long Beach as we do for all the other communities where we work. But there are some really good organizations in Long Beach," Sherkin said. "We have a history of supporting the Tour of Long Beach with the MemorialCare [Long Beach] Medical Center. We have supported Cal State Long Beach and their foundation for teacher development programs [and] investment scholarships. We have done quite a bit of support this past year with the Museum of Latin American Art in Long Beach. And one program that we recently funded that we are very excited about is the Conservation Corps of Long Beach," he listed.
Sherkin said Wells Fargo's contributions to Long Beach groups have been "fairly consistent" in recent years.
Both through monetary gifts and volunteerism, a recent point of focus for Wells Fargo's community giving has been addressing housing needs, he noted. "We are trying to work with the community in Long Beach to make sure that people who are currently unhoused are able to find safe, decent shelter, making sure that there is access to food," he said. He said the bank is also looking to partner with organizations that provide affordable housing.
"We have got a long history of volunteering in Long Beach and other communities where we work. In 2016, we have had our team members donate over 1,300 hours to support various initiatives in the Long Beach area," Sherkin said.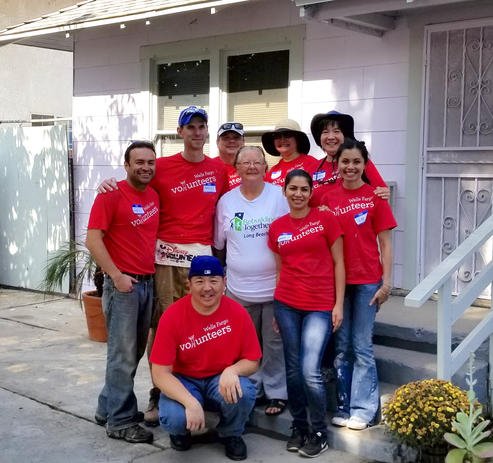 Wells Fargo employees recently volunteered to help Long Beach resident Laura Hill (center) make improvements to her 90-year old home. The widow, who has a heart condition, needed assistance getting her home up to code by painting, removing debris and replacing the roof. Volunteers also beautified her landscape. Pictured with Hill, from left, are Wells Fargo employees: Luis Gonzalez, Gregg Sherkin, Edmund Choo, John Kades, Marcia Choo, Jeanette Diaz, Susan Choo and Linda Nguyen. (Photograph courtesy of Wells Fargo)
Long Beach-based Environ Architecture is another firm that is dedicated to affordable housing. "Probably one of the first things we did was start a charity called the Long Beach Affordable Housing Coalition. That was founded back in 1993," Alan Burks, Environ president, said. "I was the founder of that organization. I was president for many years and have served on the board for many years after that. It is an organization that provides affordable housing to residents within Southern California."
Many of Environ's employees are involved in local philanthropic organizations, including Vice President Willetta McCulloh, who is a member of the Rotary Club of Long Beach. "Environ makes lots of allowances and sacrifices so that I can be active in that. And it's such a good fit for me because it's a service club that has organized their activities for humanitarian good," she said.
"Most of our employees are Long Beach residents and they do participate in community organizations," Burks said. "We encourage them to participate . . . . And, as a company, we actually seek out local charities to help."
Environ has donated its design services pro bono or at reduced costs to local groups like community garden The Growing Experience and Habitat for Humanity, Burks pointed out. "There are [also] lots of donations," Burks said. "We support Mental Health America, the Guidance Center, Power for Youth, the Long Beach Library Foundation – these are charities we support pretty regularly, usually with small donations."
Molina Healthcare, a Fortune 500 company based in Long Beach, is also big on local volunteerism, according to Ruthy Argumedo, associate vice president of community engagement. Molina gives back to organizations that address one or more of five focus areas, including caregiver support, homelessness, food, literacy and healthy living, she said.
One such organization is the Long Beach AIDs Food Store on Retro Row. "They provide a weekly food distribution for either individuals who have AIDS or have very low means and are very underserved," she explained. "Through our employee volunteer program called Helping Hands, Molina goes in there and we are there moving boxes [and] filling out these bags and making sure that every individual not only gets a bag of groceries, but also has the opportunity to have an interaction."
Molina Healthcare has also held book drives, health clinics, and other events in Long Beach to support underserved communities, according to Argumendo.
One way the firm gives back monetarily is through its Community Champions Awards Dinner, in which it recognizes individuals who have made a difference in the community and grants each of them $1,000 to donate to the charity of their choice, she noted. Molina's giving continues to increase, she said.
SCAN Health Plan, a locally based nonprofit provider of Medicare plans, not only supports local programs and services that serve seniors and their caregivers, but also runs its own philanthropic programs to serve the community.
One of the major ways SCAN supports the local community is through grants to organizations that provide direct services to seniors, according to Jacqueline Lauder, community giving manager for SCAN. For example, last year the organization gave a $5,000 grant to Ability First to provide warm water therapy to arthritic senior patients, she noted. SCAN regularly sponsors fundraising events for local groups focused on senior care, she added.
SCAN also directly provides services to the community. "Annually, we provide 2,500 meals out in the community on Thanksgiving Day to isolated seniors who would not have a Thanksgiving meal otherwise," Lauder said. The organization also operates Independence at Home, a program that provides low-cost services as well as a support network to seniors in need, according to Lauder.
Additionally, SCAN's Volunteer Action for Aging program recruits local volunteers to help community organizations dedicated to senior care, Lauder said, noting that, overall, SCAN's philanthropic efforts in the community continue to increase.