It's Friday afternoon and the small conference room on the third floor of Long Beach's soon-to-retire city hall is brimming with laughter. Around the long conference table sits a diverse group of people, immersed in chatter, cracking jokes, as attendees continue to trickle in.
The participants of this lively meeting are at city hall to celebrate their graduation from the city's GROW Long Beach pilot program, an initiative designed to help entrepreneurs of color grow and expand their businesses. Spearheaded by the city's economic development department and led by GROW Long Beach Consultant Vivian Shimoyama, the program seeks to connect business owners with resources and help them develop a vision for the future growth of their companies.
"For our pilot, we wanted to select businesses that were committed to growth, based in Long Beach and they're all minority-owned businesses," Shimoyama said. As the City of Long Beach creates programs to support the priorities laid out in its Economic Blueprint, inclusion has emerged as a crucial target point. "What [we did is seek out] these individuals, to make sure that they were at the table and we could help them grow their business, Shimoyama said. "So we were looking at not only economic inclusion, but racial equity."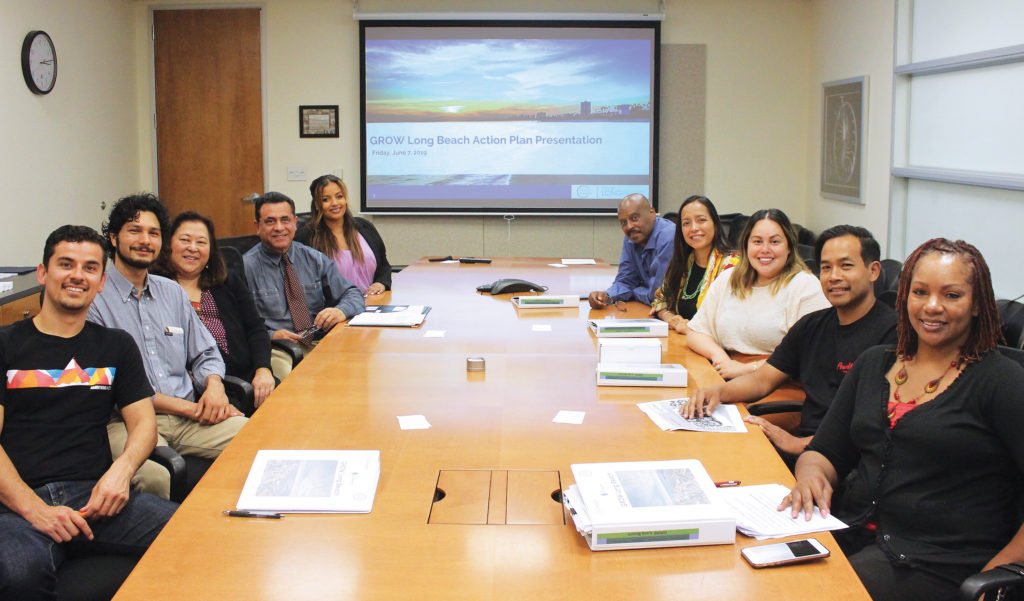 The pilot program is part of a larger initiative to empower business owners of color funded by the Citi Foundation and Living Cities. "While the impact of small business growth on the U.S. economy is widely appreciated, the potential of minority-owned small businesses is often overlooked," Ed Skyler, Citi's executive vice president for Global Public Affairs and chair of the Citi Foundation, said in a press release. "These cities recognize this untapped potential and are coming together to rethink how they work with minority-owned small businesses to help them grow and create high-quality jobs." In total, the initiative awarded $500,000 in grant funds to programs in Atlanta, El Paso, Long Beach, Newark and Rochester in 2018.
Once in the program, entrepreneurs interviewed by the Business Journal said, the racial and ethnic composition of the cohort didn't play a significant role for them. What they found most valuable about the group was the sense of community it created as they all faced tough questions about the future of their businesses.
"Everyone supports one another, everyone helps lift each other up and gives advice," program participant and owner of Pow Wow Pizza Maurice Yim said. "Before that, I was just going through this alone and I felt alone, like I didn't really have anyone to turn to. So just meeting all these other people that were like-minded, but also wanted to see me succeed and help each other succeed, it was great. It motivated me to work even harder."
Yim, who used to work as an office network administrator, started his culinary career in 2010. He continued working in his day job, but started taking culinary classes in his spare time and eventually left his job in IT for a position at the Nordstrom Bistro and Cafe at the Los Cerritos Center Mall. From there, he worked his way up through local kitchens, from the James Republic restaurant at the Courtyard Marriott in Downtown Long Beach, to the Sir Winston's Restaurant and Lounge on the Queen Mary and eventually the Terranea Resort in Rancho Palos Verdes. Then, six months ago, Yim started his own business, Pow Wow Pizza.
"This is a whole new world to me. I've worked in kitchens before, as a sous-chef, where I was in charge of doing scheduling and ordering produce, stuff like that. But this added a whole other layer on top of that," Yim said. Tackling the challenges he now faced as a business owner is what led him to the GROW Long Beach program. "My objective was to get a better understanding of how to run a business. This is my first business and I pretty much do everything on my own."
Looking back at the 12 hours of educational programming he received through GROW Long Beach and toward the mentorship phase ahead, Yim said he's already achieved a lot. "Now that I have things in perspective, I have something that I can work towards. It makes things a whole lot easier and more fulfilling as well," he explained.