New office and retail tenants are filling up space quickly in Bixby Knolls, where a budding dining scene is taking shape and commercial developments are set to transform the neighborhood-oriented business district.
Blair Cohn, executive director of the Bixby Knolls Business Improvement Association (BKBIA), said numerous new restaurants are slated to open up this year at commercial corridors along Atlantic Avenue and Long Beach Boulevard with potential for more on the horizon.
"We're pretty optimistic," he said. "We know there's a number of other restaurants sniffing around looking for places to open, so we're very excited about that."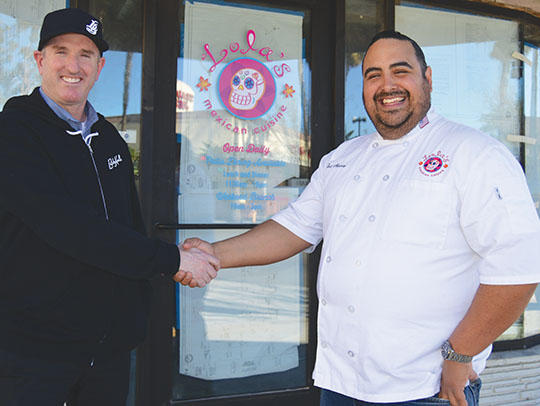 Blair Cohn, left, executive director of the Bixby Knolls Business Improvement Association (BKBIA),welcomes Luis Navarro, owner of Lola's Mexican Cuisine to the neighborhood. Navarro, who owns two popular restaurants on 4th Street's Retro Row – Lola's Mexican Cuisine and The Social List – is opening another Lola's at the site in Bixby Knolls that formerly housed Le Yen Chinese restaurant  (Photograph by the Business Journal's Larry Duncan)
A major development moving forward this year is a project slated for the corner of Long Beach Boulevard and Bixby Road in which developer and general contractor Howard CDM is partnering with local design firms to repurpose shipping containers into a multi-tenant commercial park to be called SteelCraft.
Considered the first of its kind in Los Angeles County, the complex is expected to house several eateries, a craft beer taproom for Torrance-based Smog City Brewery, public gathering space and a local produce stand, among other amenities. Cohn said the project is to be completed in May.
A few blocks north, Trader Joe's is planning to relocate from its Atlantic Avenue location to a site formerly occupied by Ralph's at Long Beach Boulevard and San Antonio Drive.
Also moving to the shopping center, which is being renamed "The Knolls" and is undergoing an overhaul, are Chipotle, Jersey Mike's Subs, Crunch Fitness and Pet Food Express, Cohn said. The center's landlord, Red Mountain Retail Group, is still looking for two more tenants, he said, adding that the project should be completed in early April.
Meanwhile, at a small shopping center between Wardlow Road and 36th Street, The Pan Restaurant, which serves breakfast all day in Gardena, is opening a third location at 3550 Long Beach Blvd. by the end of next month, he said.
At the same shopping center, new owners of Liquorland are remodeling the space to make it more upscale, adding a new restaurant called The Green Olive, which serves Mediterranean food, Cohn said. He said the BKBIA plans to help with façade improvements, including new paint, lighting, landscaping and signage.
At the Bixby Knolls Shopping Center at Atlantic Avenue and 45th Street, a new Smart & Final extra! store is opening this year, taking up a portion of the building formerly occupied by Orchard Supply Hardware (OSH), which closed three years ago.
In addition, ALDI, a German-based discount grocery store chain, plans to open its first Long Beach store at the shopping center at 4580 Atlantic Ave., replacing the Bixby Knolls post office. ALDI, which hopes to break into the organic food market, currently operates 1,400 stores in 32 states and is opening its first stores in California this year.
The shopping center, owned by Glendale-based Gaska Inc., is getting a complete makeover as well this year, Cohn said, adding that some façade improvements are already finished. He said Massage Envy has opened up next to Marshalls as well.
Several new retailers are also moving to the Atlantic Avenue corridor, Cohn said.
Lola's Mexican Cuisine on 4th Street's Retro Row is expected to soon open its second location at 4140 Atlantic Ave., replacing Le Yen Chinese Family Restaurant, which closed last year after being in business for 45 years.
Cohn said that a new Chick-fil-A is slated to be built on a lot at 33rd Street and Atlantic Avenue.
Also recently expanding to Bixby Knolls from 4th Street is boutique Twig & Willow. Other new retailers moving to Atlantic Avenue are The Better Half Boutique and Share And Do Good, opening its second location from Fullerton.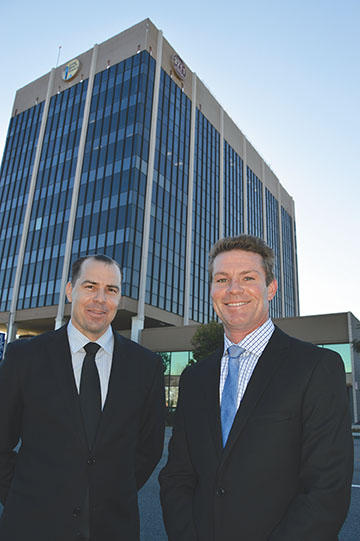 Hoyt Hochman, left, president of Hoyt Realty & Investments, and Brendan Morris, senior associate of Hoyt Realty & Investments, are leasing the agents for Long Beach Towers, located at 3711 Long Beach Blvd. and pictured in the background. They also represent the  Meadows office park at 3701 Long Beach Blvd. The commercial real estate agents have leased more than 30,000 square feet of office space in the past six months. (Photograph by the Business Journal's Larry Duncan)
Hoyt Hochman, president of Hoyt Realty & Investments with listings in Bixby Knolls, said an undisclosed regional retailer is negotiating a deal to take up a space at 3630 Atlantic Ave., where a 98 Cents Plus Toys store is closing, with other offers coming in as well.
"There's strong activity on the property and it just shows that the demand for retail space in Bixby Knolls is only getting stronger," he said. "What I'm seeing now is as soon as a site goes vacant or even before it gets listed, people are contacting the owner trying to see if they can get in."
Hochman said office space is also filling up fast in Bixby Knolls.
In the last month, two law firms signed deals to take up an entire floor of about 12,000 square feet at the multi-tenant office building at 3711 Long Beach Blvd. One of the law firms is relocating from Downtown Long Beach's Catalina Landing building, he said.
Office users are attracted to Bixby Knolls by its proximity to upscale neighborhoods, local freeways and retail options in addition to lease rates that are lower than downtown or near the airport, Hochman said. He added that medical users are also expanding out of Long Beach Memorial's campus, taking up space along Long Beach Boulevard.