A representative for the Association of Long Beach Employees (ALBE), a local labor union comprised of trash haulers and workers in other city departments such as harbor, water, and gas and oil, said there is a "very good possibility" the union will strike after reaching an impasse with the Long Beach City Council regarding pay increases.
"We've already given the city a warning that they can expect one," Attorney Wendell Phillips said. Phillips is serving as ALBE's general counsel. The union's membership totals around 750, he said.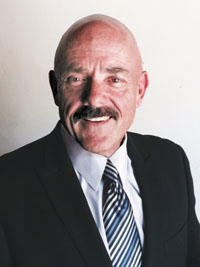 Attorney Wendell Phillips is the counsel for the Association of Long Beach Employers (ALBE) union. He said there is a "very good possibility" the union will strike after reaching an impasse with the Long Beach City Council regarding pay raises.
Ken Walker, the city's manager of labor relations, said a backup plan is in place for trash collection in case the group decides to strike, although he is "optimistic" the union will accept the city's terms.
The city council voted to impose its last, best and final offer at the October 3 council meeting, which amounted to a 6% raise over three years, according to a city press release. ALBE had requested a 9% raise over the same time period.
"We couldn't afford that request," Walker said. The city's offer was consistent with the salary increases awarded to similar bargaining groups, according to Walker.
"They're now on a level playing field as other miscellaneous groups," Walker said. "They also got an increased higher class pay and standby pay that the International Association of Machinists and Aerospace Workers (IAM) did not get." ALBE is a group of employees who split from this union in 2016.
Higher-class pay is awarded to workers who perform duties above and beyond their classification, Walker explained. The city agreed to raise it from 80 cents per hour to $1.60 per hour, he said.
Standby pay was increased from $1.50 to $2.00, Walker said. ALBE also received an increase to the safety boot replacement program.
ALBE sought terms similar to those of the city's public safety unions, which include the police and the fire department. Seventeen out of ALBE's 750 members voted to accept the city's offer, Phillips said.
"Our people have died on the job too," Phillips said. "They do very dangerous work on the harbor. When you're boring holes in active gas lines to set up new gas services, that's a pretty dangerous job."
Phillips claimed many ALBE members are under-compensated, especially compared to the large salaries of city officials.
"We have a lot of members that make so little they qualify for food stamps," he said. "That's just ridiculous in a city that pays its city manager $356,000 (including benefits) per year. It's unforgivable."
ALBE has started a political action committee to replace Mayor Robert Garcia, who is up for reelection in March 2018.
"We've had quite a bit of contact after we ran an ad in the Press-Telegram," Phillips said. "A lot of citizens are unhappy with city government. We would like the council and the mayor to start doing what they say they do. They're supposedly on the side of the working poor and minorities, and yet 200 of our members work without benefits."
Phillips also accused the city of implementing compulsory overtime, and refusing to consider a system where employees could volunteer for it instead.
"The city purposely understaffs because it's cheaper to pay overtime than it is to hire employees and pay them benefits," he said. "They use compulsory overtime to try and fill the holes."
The ALBE website claims that Garcia is using his office as a "stepping stone," to pursue a seat in the state senate, and that he is not invested in the long-term future of the city.
"We think Long Beach deserves a mayor who's going to be here for a while," Phillips said. "Garcia's on his way up. He doesn't have Long Beach in mind."
ALBE is also seeking to replace councilmembers with fresh faces who will "stand up to greedy politicians like Robert Garcia," the union's website stated. Incumbent councilmembers in Districts 1, 3, 5, 7 and 9 are all seeking reelection to a second four-year term next April.