The upcoming holiday season of laughter and joy can quickly turn into one of coughing and sneezing if individuals do not exercise good caution in preventing the spread of influenza, according to local medical experts. In the workplace, where employees are in constant contact with each other, experts emphasize proper hygiene and the importance of the flu vaccine.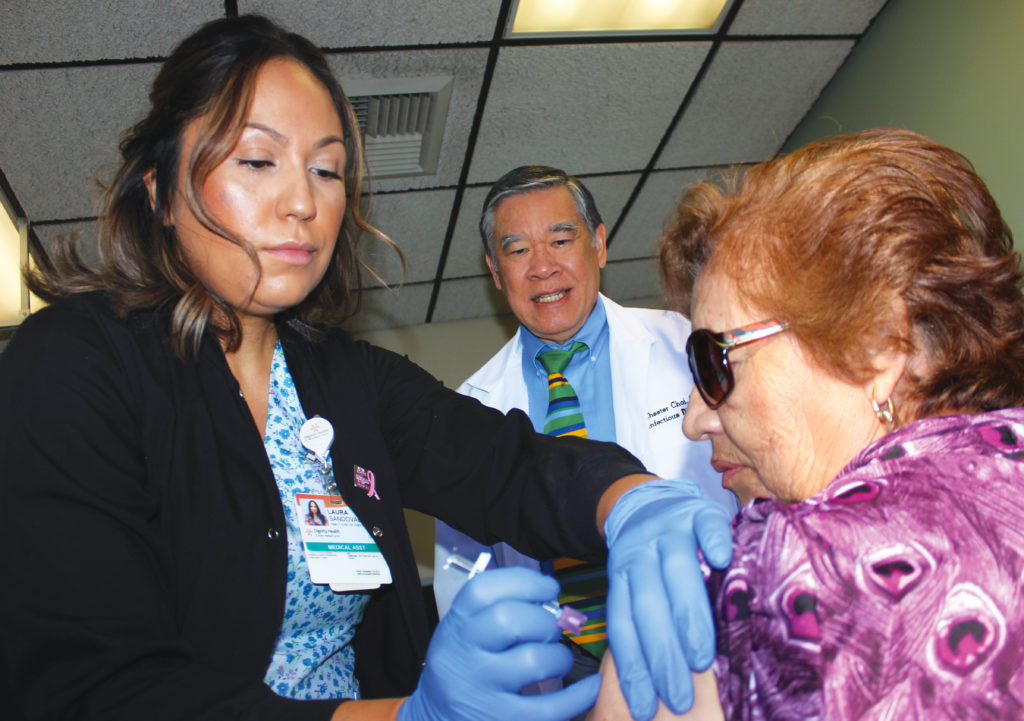 Dr. David Michalik, infectious disease specialist at MemorialCare Long Beach Medical Center and Miller Children's & Women's Hospital Long Beach, told the Business Journal that the flu season's potency reaches its climax between December and February. As of October, there was one flu-related death this season in Los Angeles County, Michalik said.
This flu season is expected to be moderate, but it's all dependent on different strains of the virus, according to Dr. Chester Choi, the academic chair of medicine at Dignity Health St. Mary Medical Center. The flu can be unpredictable, and Choi advised taking the appropriate measures to protect oneself and others from getting sick.
Choi emphasized the importance of the flu vaccine, citing the Centers for Disease Control and Prevention's data from last year on the vaccine's 40-60% efficacy in preventing the illness. Most people dismiss the flu vaccine as unnecessary, he noted.
"Nothing is 100%, but 50% efficacy is an awful good thing," Choi said. "You have to think of it in terms of not only protecting your health. . . . Even if you may be immune to a particular strain of influenza, you can put all your coworkers and people you come in contact with – your customers, guests and others – at risk of getting sick. When you're talking about flu in the workplace, that's a big concern."
Michalik agreed, noting that most individuals assume they will never get sick or that facing the flu head on will simply enhance their immune system for future iterations of the virus. However, such behavior is an unnecessary health risk, he said. "We as health care providers definitely emphasize getting the flu shot, and that's for anybody six months of age or older," he noted.
The disease also spreads through subtle forms of contact, Michalik said, highlighting how most people subconsciously touch areas of their face. "Make sure you avoid touching your nose, mouth or eyes with your fingers or hands," he said. "Oftentimes, we're also coughing or sneezing into hands, and then we take that hand and touch a lot of things in the workplace, such as telephones, door handles, staplers, et cetera. We've essentially just passed a virus onto that surface for the next person to come along and touch, as well."
When coughing or sneezing, always try to keep a tissue handy, Michalik advised. An alternative is to cover the impending cough or sneeze with the inside of one's arm. "Sneezing can lead to drops of particles appearing several feet away from an individual," he said. "So, you want to avoid the spray of infectious particles as much as possible. If you do sneeze into your hands, wash them right away." Choi also advised washing hands after using the restroom and wearing a protective mask if needed, as it reduces the distribution of germs.
Good nutrition, proper rest and moderate physical activity are excellent ways to prevent illness, Choi said. "Those who are in general good health, even if they do get influenza, it tends to be a minor case of it," he said. "If you're someone who has lung disease or asthma, all of these things can be worse with influenza. You have to be sure to take the measures to control your basic underlying diseases."
Local software company Laserfiche, located at 3545 Long Beach Blvd., conducts a health fair every September for its employees, according to Laura Victoria, senior director of human resources at Laserfiche.
As a prevention measure, the company's annual health fair intentionally takes place months before the flu season begins, Victoria said. During the event, employees receive flu shots, blood-pressure tests, cancer screenings and more – all a courtesy of the health insurance offered through the company.
Hand sanitizers are located around the Laserfiche offices to promote good hygiene, Victoria added. "We also encourage our employees to go home when they are sick, because it doesn't make any sense to have them here spreading any illnesses," she said. "Our managers know to send sick employees home so they can rest and get better."
Laserfiche promotes a healthy environment for its employees, Victoria said. Resources include complimentary yoga classes, sports clubs like tennis and basketball, a co-pay for local YMCA memberships and more. The company also caters free lunches, with fruits and vegetables, every workday, she added.
"I think the culture here helps keep employees healthy, so they're not overly stressed and working long hours," Victoria said. "There's a work-life balance component to staying healthy, as well."
Amira Mulcahy, the head of human resources at engineering consulting firm P2S, Inc., located at 5000 E. Spring St., said the company provides a variety of amenities, such as healthy snacks and an onsite fitness center, to ensure employees are taken care of. For instance, the company offers optional biometric screenings, which are used to gather statistical analysis such as height and weight. This service is offered to full-time employees to assess their well-being, Mulcahy said. "[It's a] useful starting point in addressing any health concerns and improving overall health," she said.
P2S also has a safety team that works to prevent accidents by addressing employee concerns about health and safety. "They carry out inspections and solve safety and health issues that may arise in the office," she said.
In addition to outfitting the office with hand sanitizers and maintaining cleanliness, Mulcahy said the company has an employee assistance program that offers counseling and advice. "Life is stressful, and sometimes the constant challenges can become overwhelming, which can take a toll on mental and physical health."
Molina Healthcare also educates its employees about mindful habits to prevent illness, such as receiving the flu vaccine or getting tips from its wellness application, Elevate, according to Danielle Smith, communications specialist with Molina Healthcare.
Choi advised employees to be honest with their supervisors if it seems like they may have the flu. "If your work is not essential at that point in time, maybe your employer needs to understand that productivity may be improved by actually keeping that sick person at home," he said.
Michalik agreed, adding how most employees strive to avoid taking time off in fear of wasting sick days or putting extra work on a fellow coworker. "One of the main things to emphasize to minimize flu in the workplace is that if you are sick, stay at home," he said. "There are a variety of symptoms for the flu – fever, coughing, fatigue, a sore throat, body aches, nausea or vomiting. If any of those symptoms arise, the best advice I can give is . . . to just stay at home until the symptoms are gone. You need to be mindful of yourself and others."