Most women-owned firms in America are small businesses, according to Julie Weeks, research advisor for American Express (Amex) OPEN. In fact, nine out of 10 women-owned firms have no employees except the owner, she notes. So American Express OPEN's recent Small Business Growth Pulse, which indicates that 72 percent of small business owners in the U.S. are prioritizing growth, is particularly applicable to women-owned businesses.
The priorities of women business owners based in Long Beach and Signal Hill reflect those outlined in the Small Business Growth Pulse. Billie Gentry and Karen Quimby Lobo, for example, are currently most focused on the growth of their boutique, Twig & Willow, by opening a second location. Nancy Sowinski of Sunset Marine Labs is also contemplating how she can expand her business by getting into new markets.
"Women are much more likely to say they are taking the bull by the horns and focus on growth," Weeks says. While just 22 percent of male business owners surveyed by American Express OPEN say they would take an aggressive approach to growth, 28 percent of women say the same. The majority of small business owners, like Frances Lyon of Lyon Art Supply, take a more pragmatic approach to growing their businesses, Weeks notes. Lyon merged with another art supply business in 2009 as an avenue to strengthen her business.
Amex's 2015 State Of Women-Owned Businesses report indicates the number of women-owned businesses has grown at one-and-a-half times the rate of businesses as a whole. It's a trend Weeks expects to continue. "In fact, it may even pick up and be even higher than it has been," she says of the growth rate of new women-owned businesses.
"For minority women-owned businesses, there is phenomenal growth," Weeks points out. "The growth in the number of firms owned by women of color back in 1997 was one out of every six women-owned firms was owned by a woman of color. Now it is one out of every three. So that is pretty amazing." Catrina Carter, who owns Expressions Hair Lounge in North Long Beach, was at the forefront of this surge in growth, first going into business around 30 years ago.
Each of the women profiled in this section seized upon unique opportunities to start their businesses. Driven by a desire for independence and passion for their fields, they remain focused on growth and continued success.               (Photographs by the LBBJ's Larry Duncan)
Catrina Carter
Expressions Hair Lounge
1067 E. Artesia Blvd., Long Beach
562/422-4400 • www.expressionshairlounge.com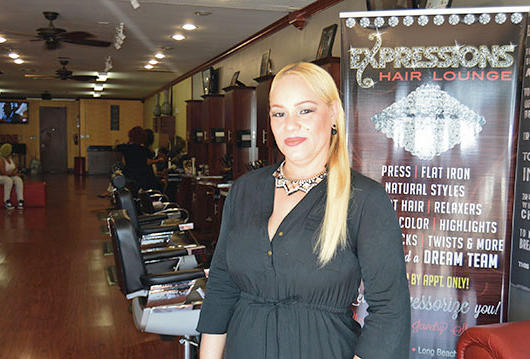 After 30 years in the hair industry, Catrina Carter almost retired – but instead, she put down roots in Long Beach, opening a new hair salon about two years ago on Artesia Boulevard.
Carter's entrepreneurial spirit first emerged in high school, where she started offering to style her classmates' hair and pluck their eyebrows for a small fee. As a student at an all-girls Catholic school, she had plenty of customers.
"Some kids I went to school with were dealing with different types of [challenging] situations at home," Carter recalled. "We had young ladies that came to school who didn't even comb their hair." Driven by "a passion that women should always look good," Carter began bringing styling supplies to school to help out her classmates.
"I already had a business forming in school. I was charging them like $2 to $3 to do their eyebrows," she said. "I kept a line [of customers] every day," she said with a laugh.
After graduating, Carter wasted no time in starting up a business. At the age of 19, with help from her husband and parents, she  purchased an existing salon in North Long Beach. Deciding to focus on managing the business rather than becoming a stylist, Carter's first priority was putting together a team made up of "the most talked-about hair stylists in the city."
As a young business owner, "every day there was a new challenge," Carter said. As is the case for many new business owners, "The great business didn't just come overnight," she said. "I really had to plan to make things work."
After five years, Carter closed her Long Beach salon and opened a larger location in her hometown of Compton. The larger salon enabled her to create 30 workstations, more than doubling her team of stylists. While she brought some staff with her from Long Beach, she said she formed a mostly new team of "serious people who had the drive to really take their career to the next level."
It had always been Carter's intention to retire after she reached 30 years in business, but a couple of years before hitting that milestone, she decided that the change she really needed was another move.
She spotted an empty storefront on Artesia Boulevard in North Long Beach, but didn't call on it for months because she assumed the rent would be beyond her budget. "I had designed the whole salon before I even made the phone call. It sounds so crazy," she said. She ended up getting the location, and two years ago she opened Expressions Hair Lounge. "Business is wonderful," she said. "It's everything I imagined doing 30 years ago."
Frances Lyon
Lyon Art Supply
441 E. 4th St., Long Beach
562/435-5383 • www.lyonartsupply.com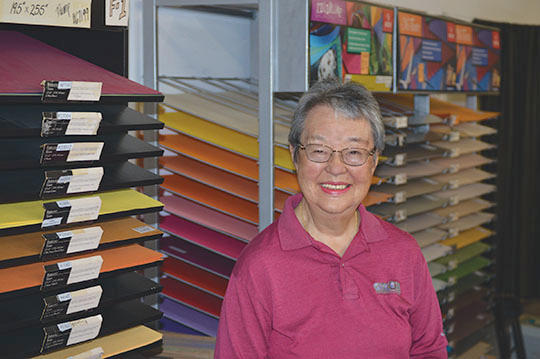 Lyon Art Supply has been a staple in the East Village Arts District for 25 years. So it might come as a surprise to some that the store's namesakes, Frances and Bill Lyon, didn't know the first thing about art supplies when they started the business in 1990.
At the time, the Lyons were both retired. Bill had owned a business in the past, and Frances was recently retired from running the medical library at Long Beach Memorial Medical Center, which she had done since the hospital was built. One day, a couple of years into their retirement, Bill returned from a homeowners association meeting with a business opportunity.
"Bill came home from a homeowners meeting and said, 'What do you think about buying an art supply store?'" Frances Lyon, who now runs the business on her own, recalled. "And I said, 'What do we know about art supplies?' . . . . He said, 'Nothing, but it's a good opportunity to learn.' And we certainly did learn a lot."
The Lyons purchased an existing business, Saylor Art Supply, from the owner.
When asked why they decided to come out of retirement and start a new business, Lyon said, "Well, we weren't bored or anything like that. It was just a new opportunity that presented itself."
Starting a business in a field they knew little about "was a constant learning curve," Lyon said. "There were two or three key employees who were with the Saylors who came on with us," she said, explaining that those employees both helped the Lyons learn about art supplies and assisted with making cold calls to potential new customers. "This was also a learning experience for us because I had never made a cold call in my life," Lyon recalled.
Lyon Art Supply truly began as a family store, with Lyon's brother-in-law taking over the picture framing aspect of the business and her sister taking charge of finances.
Lyon quickly discovered that her experience as a librarian translated well to the business in that she was helping to match individuals with the resources they needed – it was just art supplies instead of documents. As a business owner, she found she most enjoys "the interface with so many different people from the public who I never would have met in my regular day-to-day life."
In 2009, Lyon Art Supply merged with Graphaids, a Culver City-based art supply business. The opportunity allowed Lyon to move her business across the street to a newer building. She called the decision "a good business move."
One of Lyon's challenges in running her business is contending with rising prices. "We have to pass the prices along to our customers," Lyon said. "So we really have to do a good job of explaining to customers why what they're buying is the best for their buck."
Looking forward, Lyon said she has a simple goal for her business. She reflected, "Like anybody in retail, it is to be able to survive and stay in business."
Nancy Sowinski
Sunset Marine Labs
2248 N. Obispo Ave., Ste. 206, Signal Hill
562/453-7786 • www.sunsetmarinelabs.com
When Nancy Sowinski began a small business growing jellyfish in her kitchen about 19 years ago, the concept of displaying these marine animals in commercial settings was little known. Now, jellyfish are fixtures in hotels, casinos, nightclubs and even private homes.
Sowinski's journey to jellyfish maven began when, after graduating with a degree in physics from Texas Christian University, she joined the crew of a marine research vessel for a two-year stint at sea. "I got a wonderful job after college on a research ship going off to the Caribbean to do coral reef research alongside the Smithsonian," she said.
Without any relevant experience, Sowinski was accepted aboard the vessel in part because she was a candidate for a famed experiment in Arizona in which scientists and researchers lived in an enclosed biosphere. Aboard the research vessel, Sowinski collected samples of corals and fish to deliver to the biosphere, eventually working her way up to the position of scientific director.
After two years, the biosphere experiment was cancelled. "The contract with the ship ended and I was still very gung-ho about continuing with marine biology," Sowinski said. Shortly thereafter, she began working at Cabrillo Marine Aquarium in San Pedro as an aquarist.
Around the same time, the Monterey Bay Aquarium debuted a successful large-scale exhibit of jellyfish, which had not previously been attempted due to logistical difficulties such as bulky tanks, according to Sowinski. "Cabrillo got some lovely little polyps, which is the dormant beginning stage of a jellyfish, from Monterey to start our own breeding program and have our own exhibit," she said.
Jellyfish were in high demand among aquariums, but few people had the knowledge to properly breed and care for them. "My coworkers at Cabrillo suggested I start growing jellyfish because other aquariums needed them for exhibits," Sowinski said. "So I took some polyps home and I started growing my own in my kitchen."
In addition to breeding and growing jellyfish, Sowinski developed a simpler, leaner tank system than the kind that had been used since the 1960s. The project naturally grew into her business, Sunset Marine Labs, when aquariums began referring private entities interested in obtaining jellyfish to Sowinski.
Among her first clients was the Mandalay Bay Casino in Las Vegas. After that, having jellyfish on display in commercial settings such as nightclubs and restaurants became trendy, and Sowinski's business grew. "We do an on-site consultation, design the tank, supervise the installation, and then train service companies to take care of it," she explained. "We supply the jellyfish and the food from there on out."
Billie Gentry and Karen Quimby Lobo
Twig & Willow
3740 E. 4th St., Long Beach and 4130 Atlantic Ave., Long Beach
562/433-8944 • www.twigandwillow.com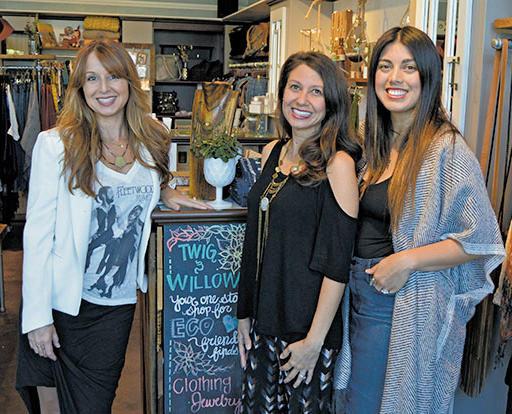 From left, owners Billie Gentry and Karen Quimby Lobo with 4th Street store manager Cassie Malone.
Six years after opening Twig & Willow, a boutique in Belmont Heights, co-owners Karen Quimby Lobo and Billie Gentry are preparing to open a larger, second location in Bixby Knolls on November 6.
Twig & Willow came about when Quimby Lobo, a friend and neighbor of Gentry, saw a retail location open up next to a Belmont Heights breakfast staple, The Coffee Cup. It was a location she had been eyeing for some time.
Just a day after Gentry's daughter, Violet, was born, the space became available for rent. "I went over to her house that day and I said, 'That little spot next to The Coffee Cup opened. Do you want to open a store?'" Quimby Lobo recalled.
"I had left my career in advertising to be a mom and I was looking for my next adventure while I raised my family," Gentry recalled. She said yes, and the two immediately got to work. "She strapped her little baby infant on to the front of her and we opened the store in five weeks," Quimby Lobo said.
"The process was crazy and chaotic," Quimby Lobo said with a laugh, recalling the early days of Twig & Willow. "It was literally trial and error and just learning as we went . . . We are constantly learning and growing and changing," she continued.
The pair said their differing skill sets make them a great business team. In the 1990s, Quimby Lobo owned a boutique in San Francisco, and she still maintains a freelance career in product development. "She focuses on all the creative design, marketing and buying," Gentry said.
Gentry's marketing background and experience managing large budgets translates well to her role managing the business end of Twig & Willow. "I focus on the business operations, employee management and financials," Gentry explained.
"I leave her alone when it comes to business, she leaves me alone when it comes to creative, and we just make sure we have a lot of communication," Quimby Lobo said.
Twig & Willow carries clothing and gifts from local designers and artisans. "It's one of those stores where a mother and a daughter can come and shop and both of them will find something," Quimby Lobo said.
The new Twig & Willow in Bixby Knolls is opening on the sixth anniversary of the first location. "You are not going to have the same experience in both stores," Quimby Lobo said. Unique to this store will be a men's section and larger children's and home goods section than at the original Twig & Willow.
Right now, the biggest challenge Gentry and Quimby Lobo face is opening the second location. Finding enthusiastic staff members with flexible schedules to meet the needs of their growing business is also challenging, Quimby Lobo said. She and Gentry are passionate about employing local college students, but that sometimes makes for scheduling challenges due to class schedules.
The partners frequently discuss plans to grow their business further. "We are always brainstorming about developing a branded product line and opening up more Twig & Willow's along the coast," Gentry said.