About 100 high school students from the Long Beach Unified School District (LBUSD) will arrive at the Long Beach Convention & Entertainment Center on Friday, April 13, for a day of work-based learning experience courtesy of a partnership between the school district, the Grand Prix Association of Long Beach (GPA), Banc of California and Catalina Express.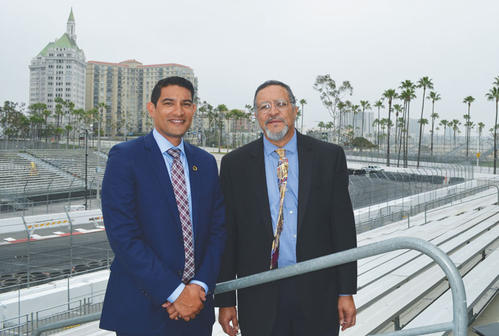 The Grand Prix Association of Long Beach teamed up with the Long Beach Unified School District (LBUSD), Banc of California and Catalina Express to give 100 high school students a work-based learning experience at the 2018 Toyota Grand Prix of Long Beach. Pictured at the Grand Prix track along Shoreline Drive is Banc of California Community Reinvestment Act Vice President Chris Garcia, left, with the school district's Assistant Superintendent of High Schools Pete Davis. (Photograph by the Business Journal's Pat Flynn)
"This is one of the best examples of work-based learning experiences we can offer students because they not only get to hear about someone talk about an industry, but they get to literally see it, hear it and feel it," Pete Davis, assistant superintendent of high schools at LBUSD, said. "Us being able to do that for 100 kids at one time is pretty amazing. Opportunities like this don't come along every day."
When students arrive at the convention center, they will be split into groups of 25, Davis said. These groups will tour the various paddocks, including those for the IndyCar and IMSA series, as well as the Historic Trans Am Challenge race. Students will have the opportunity to interact with drivers and GPA staff about all aspects of the racing world. The 11th and 12th graders will also have an opportunity to speak with members of the California State University, Long Beach Society of Automotive Engineers, which allows students to work together on designing, analyzing, manufacturing, testing and racing two vehicles every academic year at the university.
Banc of California has maintained an outstanding community development rating, which emphasizes its commitment to the communities it serves, explained Chris Garcia, Community Reinvestment Act vice president for the bank. He noted that the majority of the bank's financial literacy events are aimed at young people to provide building blocks for their financial futures. During the student's lunch break at the event, bank staff will present a program on financial literacy.
"The curriculum will be building blocks for their adult life as they go into college and beyond – the importance of credit, savings, budgeting," Garcia said. "It's meant to provide them with a broad perspective on financial education and how that's going to apply to their adult lives."
The GPA has been a client of the bank for eight years and two years ago asked if it would like to sponsor the annual race, according to Samantha Haugh, senior vice president of marketing at Banc of California. She said the bank saw the type of work King Taco was doing with the Grand Prix in terms of community outreach and was inspired to do the same. Talks between the GPA and the bank regarding student involvement began last year, Haugh explained.
"It's pretty impressive what [the GPA] does with its small staff and how it impacts Long Beach. It's a huge city and has lots of pockets of lower income areas. I love the fact that they go into those areas," Haugh said. "This is part of who they are – they are putting on a race, but they are also about the community and the kids and empowering. So it's great to partner with somebody that has that same focus and that same commitment."
Following the lunch-and-learn program, students will have the opportunity to watch practice laps from the promenade outside the convention center, Davis said. Also during this time, students may speak with GPA staff about all the facets of putting on the race, from the planning process to the checkered flag.
Schools participating in the field trip are Cabrillo, Jordan, Long Beach Poly, McBride, Millikan and Sato high schools. Many of the students attending the event were part of a program with Greenpower, an England-based company who provided schools with kits for students to build and race single-person electric cars. The Greenpower races have previously been held on portions of the Grand Prix track. Other students invited to participate include those in education pathways focused on engineering, business, entrepreneurship, and hospitality and tourism, Davis said.
Catalina Island's Avalon High School is also sending five students with the assistance of Catalina Express, which offered to sponsor students by transporting them to the mainland and back free of charge.
Catalina Express President Greg Bombard heard GPA President and CEO Jim Michaelian give an update on the Grand Prix during a Long Beach Area Convention & Visitors Bureau board meeting, Bombard told the Business Journal. After the meeting, he approached Michaelian and offered his services to get Catalina Island students involved.
"It's always good for the kids to get off the island, especially for a school function like this," Bombard said. "I was born on the island and raised there, and I know it's a good thing when you get the opportunity to get out of there and meet people on the mainland. It's something that just doesn't come up that often and you end up on the island most of the time."