Whether dealing in advertising or financial management, professional service providers in Downtown Long Beach all agree: it's better there.
The professional services field includes knowledge-based occupations such as law, accounting, computer services, architecture, marketing and engineering. According to a recent report from the Center for a Competitive Workforce, a collaborative project of Los Angeles colleges and the L.A. Chamber of Commerce, this field is predicted to add 14,000 new jobs to the L.A. Basin by 2021. Much of its job growth has been driven by the growing role of technology and technical consulting. In Long Beach, downtown's proximity to the port, diverse business environment and pool of local talent were all cited as major reasons why businesses locate to the city.
Founded in 1926 by William Norment Windes, the Windes accounting firm has been a stalwart member of the city's professional community for 92 years, surviving through the Great Depression and the 1933 Long Beach Earthquake. In nine decades, the firm has changed locations three times, all within roughly a quarter mile of each other. "We haven't gone very far," Managing Partner John Di Carlo told the Business Journal. "Not planning on going anywhere or anywhere else anytime soon."
Windes provides accounting, tax planning and business consulting services for privately held businesses, nonprofit organizations and high net worth individuals. Based in Long Beach, its market reach has grown over the intervening years from Los Angeles to San Diego County. "There's still a lot of Long Beach that we serve, but our geography has expanded rather substantially outside of the city," Di Carlo said. That includes international expansion. As an independent member of Baker Tilly International, an accountancy and business advisory network, Windes' reach extends across 147 territories and more than 960 offices around the world.
Di Carlo, who grew up in nearby San Pedro, has been associated with the firm for 37 years. He said the growth of Long Beach from a Navy town to a bustling center of commercial and residential development has been "interesting" to see. "I remember as a kid driving through Long Beach," he said. "Ocean Boulevard had its share of bars and tattoo parlors and other places that sailors might think about going to enjoy themselves. It's been quite a transformation."
Di Carlo said that, with its international reach, Windes intends to bring more business in and around the harbor, "Either with foreign companies coming in or expansion of domestic work," Di Carlo said. "We'll continue to see some business growth in that area."
Today, Windes employs about 110 workers in its Long Beach office. Chief Marketing Officer Craig Ima estimated that its members hold about 65 seats on boards throughout the city. "We're helping out non-profits and are extremely involved with the community," he said. "It's not just all about business for the firm."
Wealth advisory firm Halbert Hargrove has been headquartered in Long Beach almost as long as Windes. Since 1933 it has remained on the same street, Pine Avenue, and even kept its same phone number. In the words of its President and Chief Operating Officer JC Abusaid, the firm "provide[s] fiduciary investment management and wealth advisory services to the quietly wealthy." This includes financial and retirement planning, insurance reviews, estate plan overviews "and just about any other service that helps mitigate financial risk to our clients," Abusaid said.
Halbert Hargrove employs 42 associates in offices across the country and was recognized this year by InvestmentNews as a "Best Places to Work" for financial advisors. Abusaid called Downtown Long Beach "the perfect venue for our headquarters."
"The recent surge and development of downtown and The Pike, along with the [new] housing, has provided a lot of convenience for associates to live close by," he said. "We have now several associates who walk to work, which is incredible in this day and age."
Though not headquartered in Long Beach, accounting firm Holthouse Carlin & Van Trigt (HCVT) has done steady business in the city since 1993. "With us sitting by the largest port complex in the country, we have a lot of food-related companies, a lot of transportation-related clients, and we have a bit of an international flavor," HCVT Partner Blake Christian said of the firm's Downtown Long Beach office.
HCVT's primary service is tax planning and preparation for corporate entities and high net worth individuals. The company's revenue is in excess of $150 million this year, Christian said, and its steady growth is matched only by its need for new, skilled employees. "We hire over 100 people a year and [we're] still looking for people," he said.
The wide diversity of the Long Beach branch makes it unique among HCVT's 12 offices, Christian said. "We have, I think, every ethnicity, and people that speak about seven different languages in the office. Again, with the proximity to the port, we're as international as the community."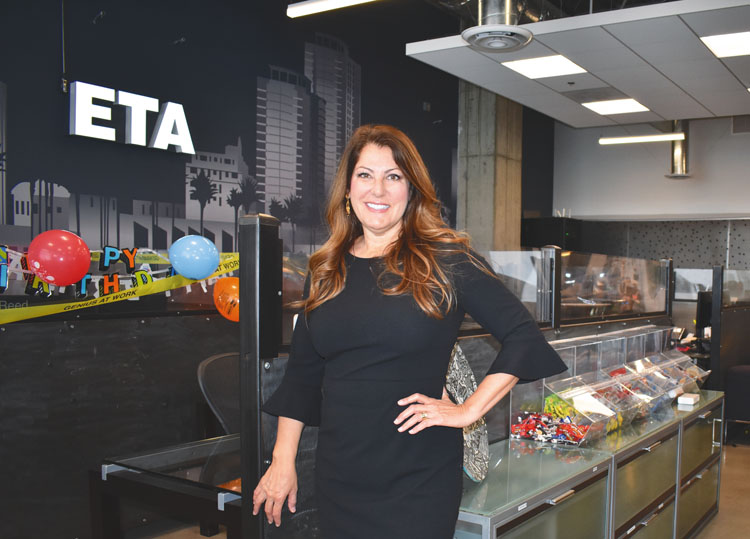 Cindy Allen, founder and president of advertising firm ETA Agency, has been part of that community for nearly her entire life. After moving from Kentucky as a young woman, Allen grew up on the west side of the city, attended Long Beach City College and California State University, Long Beach and served as a Long Beach Police Department officer for 10 years before sustaining an injury in the line of duty. Launched in 2005, her full-service ad and marketing agency provides everything for its clients in house, from creative to branding to messaging and full production campaigns.
ETA has been recognized several times by the American Advertising Awards, one of the industry's largest creative competitions. Last year the agency earned an ADDY Award for its campaign to promote EZparkLB, a free real-time mobile parking app provided through the Long Beach Public Works Department. In 2016, the agency earned two awards for its MissionH2OLB campaign, which encouraged Long Beach residents to conserve water on behalf of the water department. This year, the agency won two more ADDYs for water conservation campaigns in the cities of Rowland Heights and Redlands. "We tend to do really well in the government sector," Allen said. "Anything that's . . . environmentally friendly, water or sustainability, those kinds of things are what we're really interested in."
Allen has continued to work with Long Beach government, most recently launching the new website for Long Beach Transit. "We've been getting a lot of good feedback on that," she said. "I definitely see transportation as a big industry that we'd like to do more of."
After starting her company by herself, Allen now has a team of 24 employees and reported steady growth year after year. "It seems like every five years we're on a mission to find a bigger office," she said. "I really like where we're at now."
For Allen, the City of Long Beach has furnished not only great clients but also a reliable workforce. "There's so much talent here," she said. "I'm surprised there aren't more creative companies in Long Beach . . . because I have such a pool of people to pull from. I can hire right here in our backyard. Heck, half of my employees ride or take public transportation, which is beautiful because they live so local."
Wells Fargo employs about 200 team members at its 111 W. Ocean Blvd. location in downtown. Natasha Mata, bank president of Wells Fargo's Greater Central Los Angeles Area, said there are more than 500 Wells Fargo team members that either live or work in the Long Beach area. "Long Beach is such a wonderful city," Mata said. "Being located in the hub of such a thriving, bustling location allows us to be engrained in the community while meeting their personal, business and financial needs." Mata added that Wells Fargo team members volunteered over 1,900 hours serving more than 42 local non-profits in 2017. This year, members volunteered approximately 1,400 hours and supported 121 organizations.
In addition to personal banking services, the bank's Downtown Long Beach location offers business banking, wealth management, financial advising, business payroll services and mortgage lending. "Our customers have commented that they appreciate us being located downtown near their businesses," Mata said. "Our convenient location provides easy access for businesses to do their banking." Mata said the bank looks forward to continuing to support the Long Beach community and helping its residents succeed financially.
The appeal of the downtown community has not gone unnoticed by Fabian Geyrhalter, founder and principal of branding agency Finien. After working in Santa Monica for some 15 years, Geyrhalter said that he and his wife "fell in love with Long Beach." Multiple factors persuaded the couple to move south, not least of which was the increasing density and traffic snarls in the Downtown Santa Monica area. "The entire west side [of Los Angeles] has become very difficult to get in and out [of]," he said. "We used to live in Malibu, which added to the complexity of traveling on [Pacific Coast Highway]."
The cost of living in Long Beach is comparatively more affordable than Santa Monica, Geyrhalter said, which is better for both his family and his employees. "It just made sense all around," Geyrhalter said. "You get more for your buck."
Finien has been operating out of the top floor of the Farmers & Merchants Bank building in Downtown Long Beach for four years now. "Just looking at the developments in downtown over the last four years is mesmerizing," Geyrhalter said. "I could not have been happier to move here at this time because I love seeing that change."
Though a small agency, Finien works with clients regionally, nationally and internationally – from fledgling startups to Fortune 500 companies – creating a brand name and then crafting an entire identity around them. "We wanted to have a place that is strategically located between Orange County, L.A. and the Pasadena Valley area," Geyrhalter said. "And I have all the airports to fly in and out of that I could possibly need."