In recent months, climate change and environmental concerns appear to be coming under attack at the national level. Several media outlets reported the webpage regarding climate change was removed from the official White House website hours after President Donald Trump's inauguration.
In the days since, a review of the Environmental Protection Agency's (EPA) website was begun to ensure its contents reflect the new administration's policies, and employees were instructed to refrain from sending out press releases, publishing blogs or posting on social media. The agency was also instructed to freeze grants and contracts, which may affect state-led climate research and local efforts to improve air and water quality, as the EPA awards more than $4 billion in grants and assistance annually, according to its website.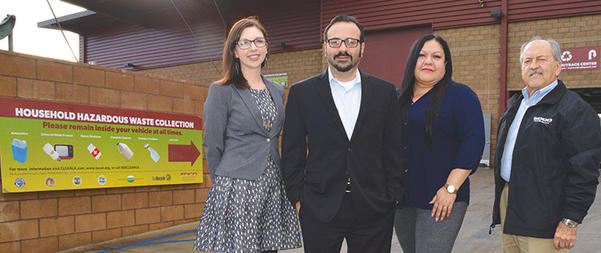 Every second Saturday, EDCO Recycling & Transfer hosts a household hazardous waste collection event at its facility in Signal Hill. The program is a partnership between the cities of Long Beach, Signal Hill and Los Angeles. The groups plan to expand the program to include a second event every month. Pictured from left: Leigh Behrens, recycling specialist for Long Beach Environmental Services Bureau (ESB); Diko Melkonian, manager of ESB; Elisa Calderon, recycling specialist for ESB; and Efrain Ramirez, vice president and general manager of EDCO, which is located at 2755 California Ave. (Photograph by the Business Journal's Larry Duncan)
Despite the uncertain future of nationwide environmental programs and funding, Long Beach continues toward its goal of being a leader in reaching the ambitious goals set by Gov. Jerry Brown to create a greener state. The latest effort is a proposal for the expansion of a program designed to allow local residents to dispose of household hazardous waste (HHW) safely and responsibly.
"Household hazardous waste refers to any chemical or product that can be found in the home that, if used correctly, used to the label, it doesn't cause any harm. But if it's improperly stored or improperly disposed of, it can cause a serious health hazard or environmental threat," Leigh Behrens, recycling specialist for Long Beach Environmental Services Bureau, said. "This includes items such as paint, cleaners, automotive fluids and things like that."
The program began in March 2013 and is a terrific example of a multi-agency, public-private partnership, according to Diko Melkonian, manager of the Environmental Services Bureau. Long Beach partnered with the Los Angeles County Department of Public Works, the L.A. County Sanitation Districts, the City of Signal Hill and EDCO Recycling & Transfer, which has a facility located at 2755 California Ave. in Signal Hill.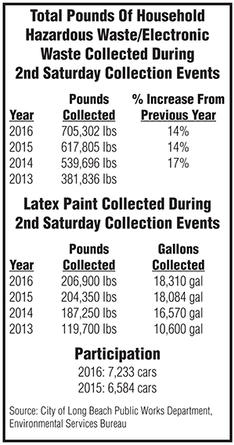 Prior to the current program, Long Beach held two HHW roundups per year at Veterans Stadium at Long Beach City College. Now with 12 collections per year, the program is averaging around 600 people per event and has seen about a 15% increase of use each year.
Since opening, the program has also expanded to accept electronics, medications, batteries and tires – basically anything that cannot go in with regular trash and recyclables – averaging a total of 59,000 pounds of items collected at each event. Latex paint is one of the most collected materials, according to Behrens. In good condition, paint can be reused as is; otherwise, it is batched by color for industrial use, and oil-based paints are mostly converted into fuel.
Every second Saturday of the month from 9 a.m. to 2 p.m., EDCO has a long line of residents waiting for their HHW materials to be unloaded from their cars free of charge; hence, the proposed expansion to a second event every month, for a total of 24 events per year. Behrens said each event costs approximately $32,000, funded by L.A. County Public Works.
"I would say that at present, with the number of cars and the amount of materials coming in, that our second Saturday event is pretty close to capacity, especially during the summer months and in the fall when we see the highest usage," Behrens said. "So expanding the site to a second day per month is meant to even out the capacity so that everyone who wants to use this site is able to do so."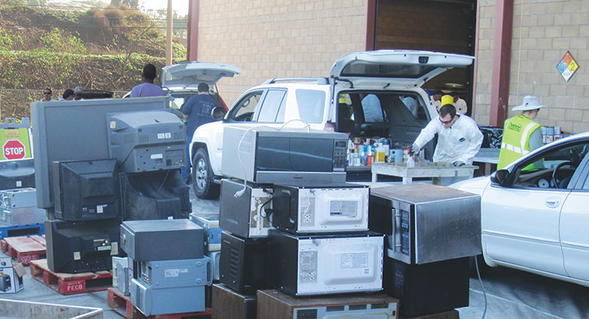 (Photograph by EDCO)
When talking about the proposed expansion, Melkonian added, "We don't anticipate an immediate doubling of the usage. We anticipate a smoothing of the Saturday and an increase to go with it. The number of people who are using the facility is a clear indicator of the need that was in the area."
Around 30 people work the event, including employees from EDCO, Long Beach, Los Angeles and a third party vendor, which handles the actual removal of items from resident's vehicles and the packaging and transportation of the hazardous materials.
Prior to the partnership, Long Beach was awarded around $400,000 by the California Department of Resources Recycling and Recovery (CalRecycle) for the development of an HHW collections facility – a venture with a price tag around $3 million. Shortly thereafter, the city learned of EDCO's plan to build its facility in Signal Hill and approached the company about combining efforts.
"When we heard that EDCO already had this going, we went back to CalRecycle and said we'd like to redirect this money to do a little redesign on the original plans on how this was set up and all the equipment and materials needed to actually run the center. And they agreed to let us change the purpose because, at the end of the day, it is the same solution," Melkonian said.
Aside from the HHW collections, EDCO's Signal Hill facility offers residents the ability to dispose of their regular trash and operates as a recycling buyback center for standard recyclables, making it a three-stop shop, according to Efrain Ramirez, vice president and general manager of EDCO.
"It's beneficial to the environment. We generate these materials that need safe disposal, and having the outlet has removed all of these materials from the trash stream," Ramirez said. "Years before this facility was in place and before the county had this program, all of these materials ended up in the trash and then in a landfill. In order to help the environment, we have to provide residents the outlet to safely dispose of these materials."