As technology advances and life expectations evolve, many argue that society, specifically major cities, must evolve too. During the 2017 West Coast Urban District Forum, hosted by the International Downtown Association, the California Downtown Association and the Downtown Long Beach Alliance on March 14-16, keynote speaker Gabe Klein spoke to that topic in his presentation titled, "Shared Mobility, Housing & Prosperity in the 21st Century Downtown."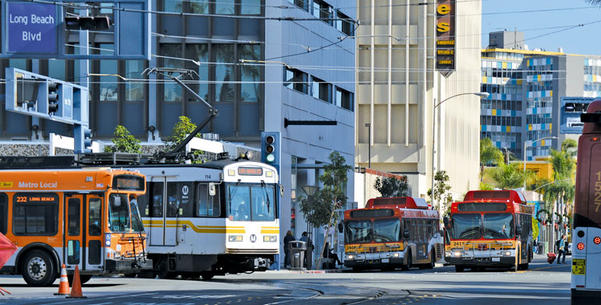 Urbanist Gabe Klein believes the future of transportation in downtowns will begin to focus less on cars and start emphasizing public transit, such as rail and bus lines. He also said that downtowns would see a return to pedestrians rather than automobiles ruling the streets. (Photograph by the Business Journal's Larry Duncan)
Klein is no novice when it comes to innovative and out-of-the-box thinking regarding urban development, having served as commissioner of Chicago and Washington, D.C., departments of transportation. He has also published books and magazines on the topic, served as vice president of ZipCar and is the co-founder of CityFi, a consulting firm that helps community leaders understand the city of the future.
"Downtowns are so crucial for so many reasons," Klein said. "What kind of cities do we want to live in – particularly with all this technology coming – and why are our policies so often at odds with what we know we need? Some of it is because we are human beings and we have an aversion to change."
Downtowns are vital to regions and serve as economic engines, living rooms and a breeding ground for tolerance, Klein explained. He said that the many challenges faced by society, and the planet as a whole, are paired with an incredible number of opportunities.
Before diving into current hurdles facing downtown, Klein launched into a brief history lesson, arguing that the basic form of cities has not changed for thousands of years. However, in the last 115 years, Klein explained that the population has increased 350% and consumes at a much higher rate than before, a trend that needs to change.
One of greatest follies of the 20th century, according to Klein, was the auto-centric focus of development once cars became widely accessible to the public.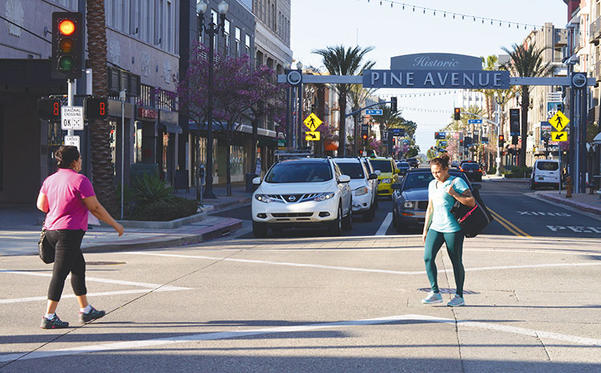 (Photograph by the Business Journal's Larry Duncan)
"When you look at streets before automobiles owned the street, who owned the street? People," Klein said. "You don't need to be smart or an economist to know that a lot of feet on the street means business. It's good for retail, and people got around by streetcar."
Klein pointed out that before cars ruled the road, people crossed where they pleased, walked or biked as a primary mode of transportation and, at one point, enjoyed neighborhood connectivity through various streetcar systems throughout the country.
After World War II, president Eisenhower pushed the National Highway Defense Act, which Klein said had the admirable goal to facilitate interstate commerce and connect Americans state to state. However, eventually highways were being driven right through cities. At the same time, tract housing was being built and streetcars removed. So dawned the age of auto-centric development.
One of the greatest challenges, according to Klein, is climate change. Coastal cities have the issue of sea level rise, and Klein pointed out that just because a $3 million penthouse is built on the beach in Florida doesn't mean the base of the building won't be underwater by the end of the century.
Klein noted that for the first time since 1980, the biggest contributor to carbon dioxide emissions is the transportation sector, not power plants. Coupled with 1.24 million deaths annually on roadways worldwide, Klein said downtowns have a once-in-a-lifetime opportunity to promote change to bring those numbers down.
"Let's talk about parking, because up to 30% of our downtowns are devoted to parking. We don't even know how many spaces we have," Klein said. "The conservative estimate is 500 million parking spaces. Some estimates are up to 2 billion. So we don't even know how we are allocating our space."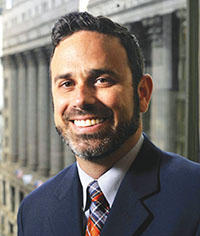 Gabe Klein is an entrepreneur, author, investor and former transportation Official.
Providing parking in an urban, downtown setting increases rent by 62.5%, according to Klein. This is a burden on residents that, paired with the cost of owning a car, is pushing them into poverty. Klein argues that the future of downtowns will see less car ownership and more walking, bike and car sharing, and utilization of bus and rail public transit systems.
For this to become a reality, cities must begin to develop with people in mind, rather than cars, Klein said. "More people are working at home, aging in place. We need to give people everything they need within a five- or 10-minute walk. And if they need to get on a train, they can. When you talk to young people, that's what they tell you."
Klein explained that the American dream is changing and is no longer the white picket fence, two cars and a swimming pool. Simplicity is where society is heading – being able to walk out your front door and experience things rather than own them.
Fewer cars means fewer parking spaces are needed, which would leave massive parking garages underused or obsolete. However, Klein pointed to the 500,000 people who are homeless in the U.S. Then he noted the average micro-unit is 350 square feet, while a parking space is around 330 square feet. He said some companies are already looking to retrofit parking garages into homes.
"You're talking about pretty big profit margins for developers. And current interest rates could give people a place to live for $358 per month in our downtowns," Klein said. "So I encourage you to really think about this once-in-a-lifetime opportunity we have to convert parking to people space."
Bikeability and walkability are two avenues to help lessen urbanites' dependence on cars. Adding lanes to streets and highways increases congestion problems and is an extreme waste of large sums of money, according to Klein. He said lowering the number of lanes, creating shared lanes for cyclists and cars, bikeshare programs, rail systems and independent bus lanes lessen congestion by providing residents more transportation options. Additionally, these alternatives are far less costly than adding lanes to streets and highways and can even utilize public-private partnerships to offset funding.
"So there's finally a backlash against unnecessary stimulus projects where we are literally just spending money for no reason – bridges to nowhere, extra lanes to nowhere," Klein said. "They destroy real estate value, make people unhealthy and create environmental problems."
Biking and walking could also have the added benefit of changing many Americans' lifestyles by getting them outside and active. Klein noted that from 1960 to 2013, average adult weight has increased 24 pounds, despite the number of gyms popping up nationwide. He said people could skip the gym if they simply changed how they traveled to and from work.
Another symptom of putting the automobile before people is declining public health. More and more children are diagnosed with chronic asthma every year, which can be traced back to being located near busy highways. Additionally, life expectancy is on the decline, as the U.S. is not keeping pace with other countries that are becoming healthier.
Technological advancements such as 3-D printing, online shopping and autonomous vehicles have already had an impact on society but are only just beginning, according to Klein. He noted that ports might start shipping fewer manufactured goods because stores will be printing them in-house upon request, and fewer people might be driving because the car will do it for them.
Cars that can operate independently inches from other cars would reduce traffic congestion and the need for so many vehicle lanes, Klein said.
"Just imagine if we cut traffic by 70% to 90% – we have one shared lane, one car lane and a lot more space for people," Klein said. "That's an incredible opportunity that we have to make our cities, our downtowns, more livable. There's a lot of concrete, but we could have more grass and trees."
Other changes brought on by technology that will change city living include shifts away from oil and gas as primary sources of power, instead opting for solar and wind, which are becoming increasingly affordable. Also, Klein said a transition away from STEM (science, technology, engineering and math) learning is imminent, and future career paths will lean more toward creativity, problem solving and social skills, since machines will be handling the technical aspects.
"To get where we need to go, just like alcoholism, we need to admit that there's a problem. We have to admit failure, that we've totally screwed up," Klein said. "If you're in business, we've got to start taking a triple bottom line to business and stop being lazy capitalists. Here's the good and the bad news: We have to make this change. We do not have a choice."