With the failed recall effort behind her, 2nd District Councilmember Jeannine Pearce looks toward the future and implementing her priorities for the city. Some of these include improving the climate for small businesses, providing more resources for mental health and bettering the overall living conditions for her constituents.
On June 20, the Long Beach City Clerk's office found the petition to recall Pearce was insufficient, as a significant number of the signatures were from people who lived outside the district or who were not registered to vote.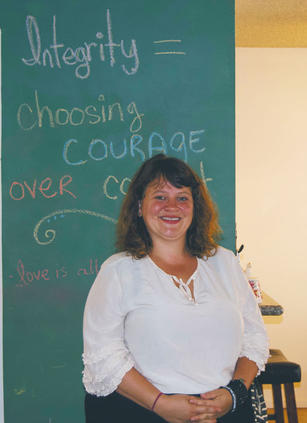 Second District Councilmember Jeannine Pearce is pictured in front of her "integrity wall" at her home.  (Photograph by the Business Journal's Anne Artley)
"They say you can really only forgive a process or a person when you can say thank you," Pearce reflected. "It's taken a lot for me to say, 'thank you for the process,' but I learned a lot about myself and my community. I've also learned about resilience, about courage and governing. Since none of us get into office by ourselves, everybody has an opinion on what you should do."
Pearce said one of her main goals is ensuring Long Beach is a business-friendly city, not only for big businesses but for smaller entrepreneurs as well. In December 2016, Pearce brought an agenda item before the Long Beach City Council to streamline the city's conditional use permit (CUP) process. A CUP allows a business to operate in an area not necessarily zoned for that use, provided it meets certain special conditions. "[The item] came back through the planning commission last week," she said. "We're going to bring back the committee that worked on it, and look at it before it comes back to council."
According to Pearce, it costs Long Beach businesses between $5,000 and $10,000 to obtain a CUP. "When I was campaigning, we talked to a lot of small businesses that [expressed] how expensive it was to open their doors," Pearce said. "They talked about how tedious the process was. . . . Hopefully, we can reduce the cost to the $1,000 range." Another one of Pearce's goals is ensuring Long Beach is a thriving city for entertainment. This includes loosening the regulations regarding street performers.
In the following year, the councilmember would like to work with the health department to provide training to city employees in dealing with trauma. "The majority of calls I get outside of city hall are people who've experienced some kind of trauma," Pearce commented. "And we're not equipped. There's no orientation binder of how to deal with constituents who might've gone through a traumatic experience, whether it's their car being towed, or rape."
That said, Pearce expressed her approval on crime prevention in the city. "I found out yesterday that, in the 2nd District, this is the first time in over 30 years that we haven't had a murder in 12 months," she said. "Our crime rate is extremely low, which is creating safer streets for people to feel like they can thrive."
Pearce said she will continue to work towards other quality of life issues, such as classifying truck drivers operating within the Port of Long Beach as employees rather than as independent contractors, and pushing for cleaner air.
"We've got two different life expectancies in my district," Pearce explained. "On 10th Street, the life expectancy is six years less than those who live on Ocean Boulevard. When you see a six-year difference in life expectancy within two miles as a result of poverty, crime, poor air quality and asthma rates, these are problems I'll continue to deliver on."
Overall, the recall effort has reaffirmed the councilmember's connection with her district. "When you have people spend this kind of money, when you have the old guard in Long Beach fight you tooth and nail to try to unseat you and they can't even get the signatures, I think it really demonstrates that the 2nd District has made their choice. Not for the first time, but for the second time, that I'm the person they want in this seat."