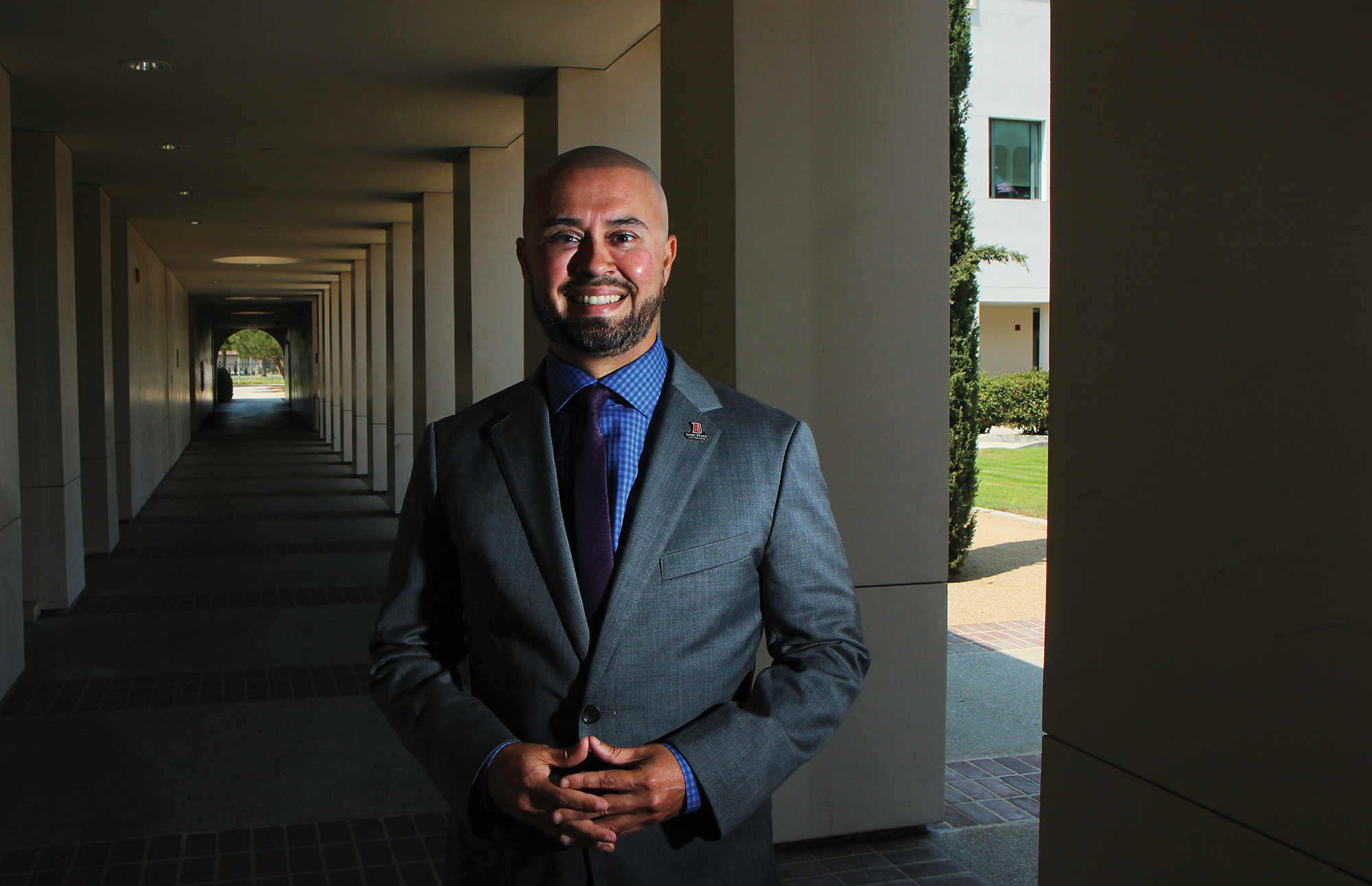 Long Beach Business Journal reporter Brandon Richardson sat down with Long Beach City College Interim Superintendent-President Mike Muñoz to discuss the impacts of the COVID-19 pandemic on the institution, the college's work on social equity, ongoing construction projects and more. Muñoz previously served as vice president of student services and assumed his current role in March.
After this interview was conducted, Muñoz announced that LBCC will require proof of COVID-19 vaccinations or regular testing for students, faculty and staff this fall.
BRANDON RICHARDSON: Students have not been in person since last spring. Correct?
MIKE MUÑOZ: We have had some courses that have been offered face-to-face, what we call our essential courses, essential labs. So that would be nursing, allied health, some of our trades—culinary, welding—everything that's been approved by public health orders to be able to meet the essential workforce needs. This fall, we will be increasing our face-to-face course offerings. We're looking at somewhere between 30-40% of our courses being face-to-face this coming fall, with hopes that spring 2022 will be at pre-pandemic levels. But that's all contingent upon public health orders.
BR: For the majority who have not been on campus in over a year, what are the impacts on the students and the college? 
MM: One of the things that we've really done well is … build systems and responses that would limit some of the negative impacts. For example, we were quickly able to identify that there were students who were dealing with technology barriers. So we built a student aid application. When students log on, there's a widget where they can identify themselves in need of additional support. They can identify whether they need technology support, transportation support, housing support, food support as well as mental health support. We were quickly able to scale—we're talking thousands of students—to connect students with grocery gift cards and with housing support. We've also been able to support students with hotspots and Chromebooks.
I love talking about the faculty and the staff and everything that the people did. We had people driving sewing machines and dropping them off at students' houses so they could get through the course. If you don't own a sewing machine, and those are very expensive to go out and purchase, how are you going to be successful? We saw this as well in culinary, where we used some of our CARES [Act] funds. We were buying all the cooking supplies and materials that would have been very expensive.
I think it's fair to say when you look at our data and see that our enrollment has only declined 3% this last school year and other schools are down close to 20%, we're doing something right.
BR: Graduation and transfer rates, did the pandemic impact those at all?
MM: Believe it or not, our graduation rates and transfer rates are actually up this past year compared to the previous year. One of the things I did in my previous role as vice president student services is implement what's called completion counseling. We identify students who … are really close to completion and give [them] some additional support. We connect them with a counselor who does a grad check and says, 'this is all you need to do to complete.' If they have other barriers, then we make sure we support them.
We're also using a case management approach that's race conscious. We know that we have some equity gaps with our African American and Latinx students, especially our African American male students. So we were really thoughtful that as we were doing case management that we were really prioritizing our Black male students, making sure that they were getting services … and connecting them with any additional support they might need to make sure that all of our students were successful in getting through the school year.
For the '19-'20 year, we saw 2,109 degrees with 10,349 certificates. When we compare that to '18-'19, that was 1,973 degrees with 9,231 certificates. When we look at this 2021 school year, we're still tallying the final totals. I don't have the final numbers yet … but what I can say is we don't anticipate any sharp decline. In fact, we may even finish higher.
BR: Looking at the fall, how's enrollment looking?
MM: I'm gonna be totally transparent, we're struggling a little bit. We're seeing the cumulative effects now of the pandemic because we're three semesters into this. We are down this fall compared to the previous fall in terms of registration. We're going to be working really hard between now and the start of the fall semester to shore that up. We're going to be implementing a very aggressive reengagement campaign, where we're going to be packaging a holistic set of services—pre-approval for a Chromebook, for a hotspot, for a book voucher.
BR: What is the school's budget looking like? And are there challenges the institution still needs to overcome?
MM: The state's budget was a very great budget for us, I'm not gonna lie. So that's positive. We're seeing funds for some deferred maintenance that we haven't seen in a while and with the HEERF dollars we're able to do things that will help promote campus safety. We're in a situation right now, thankfully, where we're able to meet the needs of the campus facilities.
BR: There's a lot of construction on both campuses. How has the pandemic impacted that work?
MM: Because of the limited presence of students on campus, we've been able to move more quickly through some of our building program. The kinesiology lab and aquatics center is a few weeks away from wrapping up. It's an amazing facility. The sand volleyball courts are already in, they're about to pour the concrete in the olympic-size pool. The two NCAA-regulated soccer fields are ready to be turfed, our softball field has already been turfed—it's spectacular and it rivals anything you would see at a four-year university.
Our M Building is on track and under budget, the PCC parking structure finished early, the auditorium is now completed. When we reopen, the students are going to return to a campus that's vibrant, that's clean and that's thriving.
BR: Can you tell me why these renovations, the new construction, the upgrades are important.
MM: It's critical for our students to have a 21st-century learning experience and a big part of that is the facilities, the technology and the infrastructure. There's so much more to learning than just the four walls.
I was recently hiring … a faculty member for welding. In the interviews, all the candidates commented on our facilities and our equipment. These are people who work in industry full time and they all said they don't even have access to this. It's a little intimidating. It's amazing that our students are getting access to this type of technology and equipment, so when they're going into the workforce, they're really prepared.
BR: Can you tell me a little bit about what students returning in the fall will look like? What precautions are you taking?
MM: At this time, we have reduced face-to-face class sizes. We're looking at the capacity in the room and reducing the number of bodies to about 50% to help with social distancing. Currently, we still are requiring students and faculty to wear masks [regardless of vaccination status per county and state masking mandates]. Our cleaning protocols are in place, we have contact tracing and we have a system in place for students to submit a questionnaire that basically says they don't have any symptoms before coming to campus.
There's a discussion of whether or not colleges should require vaccines and we haven't made any decisions on that yet.
BR: In your role as the interim superintendent president, what are your goals and focuses? What do you hope to achieve?
MM: In leadership, you have to be able to address the urgent but also the important. There are two things that I think are really urgent: one is, obviously, reopening the campus safely. So managing the pandemic and the impacts of the pandemic is key. For me, it's … bringing folks together, dialoguing and getting perspective, so we can make sound decisions and move the campus forward.
The other thing that's very urgent for us is accreditation. We have an accreditation site visit this coming February. So … we're really working on our institutional self-evaluation report that all colleges have to prepare [every seven years]. It's a very lengthy report and process where we go through every standard and self-reflect and self-evaluate.
One thing I think is important, because I can't just focus on the urgent for the long-term success of LBCC, is we're starting our process this fall for updating our strategic plan. The strategic plan will guide the college for the next six years. It's our North Star. It's really important because the strategic plan should drive all other planning processes for the college. We have a strategic plan task force that's been formed for fall semester.
And finally, an area I'm really committed to is advancing our racial justice and equity work. We have the framework for reconciliation and we recently received $30 million from philanthropist and author MacKenzie Scott for our work on racial justice and equity. We've had some significant gains in the last three or four years and we've done some very innovative things. We were recognized with a Seal of Excelencia for our equity work in serving Latinx students.
Many of us experienced the racial awakening in the wake of George Floyd and Breonna Taylor, and we're really committed to addressing some of these long-standing barriers that many of our students of color have faced.
BR: Where's the school at in the process of finding a permanent superintendent-president?
MM: The college will be moving forward with a nationwide search. I will potentially be a candidate so I'm not engaged with the hiring process. That's something that will be handled by human resources and the Board of Trustees.
BR: Over the past two years, there have been very public tensions among some of the Board of Trustees, as well as between certain board members and your predecessor, Reagan Romali. What impact do those tensions have on the institution?
MM: I do feel like we're in a much better place. If you've followed our recent board meetings, I think we've seen some of those tensions decrease. In the last few months our board took some bold steps and adopted a set of board meeting rules. I facilitated a very honest conversation with the board about how we can work better together. And I think we've seen that—our meetings aren't going to 11 p.m. anymore. Even when there's disagreements amongst the board members, it doesn't feel as intense as in previous months. I think that they're really starting to come together and be cohesive.
BR: Is there anything that we did not touch on that you would like to add?
MM: For so long, so many people have worked so hard at this college without a spotlight. When you work at LBCC, you see passion, you see people … bring their entire heart and soul to the institution, and they work so hard every day to create this amazing student experience.
Editor's note: This story has been updated to say the Board of Trustees, not just the board president, will take part in the permanent superintendent-president search. Muñoz misspoke during the interview.