Mayor Garcia Unveils Waterfront Visioning Plan
At the end of his August 28 Building a Better Long Beach forum held in partnership with the Business Journal, Mayor Robert Garcia announced a visioning process for the city's waterfront and all downtown land south of Ocean Boulevard.
"When you think about California, when you think about the country, there are few great downtowns that are on the water," Garcia said. "The water is an asset for Long Beach and we've got to do a better job of embracing and developing our waterfront. Our waterfront, while beautiful in many ways, is in need of a vision to connect itself to the rest of the downtown and its relationship to the water."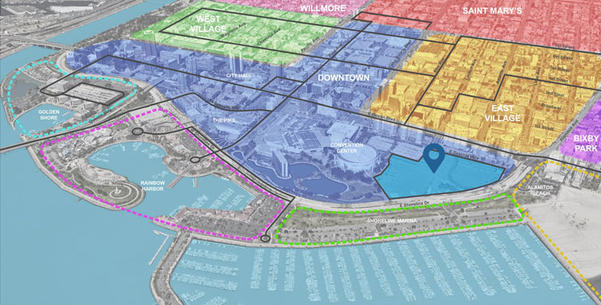 Long Beach Mayor Robert Garcia announced plans to begin a visioning process for all city land south of Ocean Boulevard to better connect and utilize the waterfront. The vision will include discussions about the development of the large parking lot to the east of the Long Beach Convention & Entertainment Center. (Image courtesy of Long Beach Development Services)
The property at the heart of the mayor's vision is the large parking lot to the east of the Long Beach Arena, commonly referred to as the Elephant Lot. The space is utilized by the convention center for overflow parking, as well as numerous events such as the Long Beach Grand Prix, Long Beach Lesbian & Gay Pride, music concerts and festivals, and more. Garcia emphasized that Long Beach residents, stakeholders and partners, such as the Long Beach Area Convention & Visitors Bureau, the convention center management and the Downtown Long Beach Alliance (DLBA), would take part in the visioning process.
The Elephant Lot is large enough to accommodate an entertainment complex the size of L.A. Live, or a sports stadium, or an "enormous amount of commercial or housing opportunities," Garcia noted. Any plans that result from the visioning process won't take place for many years because the lot will host several events when the Summer Olympics come to Los Angeles in 2028.
"We need, as a community, to begin thinking about what should be on that site," Garcia said. "Because I'll tell you what it shouldn't be. It shouldn't be a parking lot."
The Elephant Lot operates as the IndyCar paddock during Long Beach Grand Prix weekend, according to Grand Prix Association of Long Beach President and CEO Jim Michaelian. The association is going to be part of the visioning process, Michaelian said, adding that his goal is to be able to retain the race in its current location with a similar track configuration. He noted that this could still be possible if the site is developed in the future.
Michaelian noted that since the first Long Beach Grand Prix race in 1975, the downtown area has undergone drastic changes in terms of development, including the addition of The Pike Outlets, the Aquarium of the Pacific, Shoreline Village and the expansion of the convention center. New projects and the desires of residents and city officials have changed the track configuration in the past, but the race has endured.
A 2018 Beacon Economics analysis found that the Long Beach Grand Prix generates $63.4 million in regional economic output annually, $33.7 million of which benefits Long Beach. The event creates 351 year-round jobs in Long Beach and 606 in the region as a whole. Tax revenue generated by the race is $1.8 million for the region, $700,000 of which benefits Long Beach.
Michaelian said the 44-year partnership between the city and the grand prix association has been "truly remarkable," and that he has every intention of working with the city to achieve the mayor's objective.
Charlie Beirne, general manager of the Long Beach Convention & Entertainment Center, echoed Michaelian's sentiment, adding, "I think it's a great opportunity, to be quite honest. I'm looking forward to being part of that planning with some input from us. It could give us more access to better and newer facilities, and I think it'd be a plus."
To make up for lost parking, Beirne said that a parking structure is one element that could potentially be considered. However, he added that if additional parking is not included, the convention center will adjust and adapt.
The concept of developing a vision for the waterfront area is not new. In 2014, the DLBA commissioned the Urban Land Institute to study the waterfront area and make recommendations on how to create stronger pedestrian connectivity within the area, as well as with the rest of the downtown, according to Sean Warner, DLBA placemaking manager. The short- and long-term recommendations included the following:
• Advocate for a PD-6 (Waterfront) visioning process
• Reconfiguring Shoreline Drive
• Activating the vacant lot on the southeast corner of Ocean Boulevard and Pine Avenue
• Creating pedestrian wayfinding to create a seamless user experience
• Extending the urban fabric of downtown's historic neighborhoods towards the waterfront
• Reconfiguring Marina Green Park into a true waterfront park with active uses to attract residents
• Adding pop-up plazas and vendors along Pine Avenue south of Ocean to help connect the downtown core to the waterfront attractions
• Improving connectivity as part of the Shoemaker Bridge/Shoreline Drive project
• Updating Victory/Santa Cruz Park Design Guidelines
• Creating a governance structure that can address a long-term vision for the waterfront area
"We need to do ourselves a favor and have a sincere discussion in this visioning process," DLBA President and CEO Kraig Kojian said. "I think with the creativity and the resources that we have in our community, we're going to be able to find the right use, and certainly be able to look at those alternatives to find a better use than what it currently exists."
When asked what he would like to see developed on the Elephant Lot, Kojian said it would be unfair to provide his personal opinion. He explained that he does not want the visioning process to be overshadowed by his or anyone else's opinion, but rather to be a collective vision that best serves the city. The best project will rise to the top, he added.
"The waterfront is critical to connecting the city to our coast. We have an opportunity to rethink what and how and where things should go in our waterfront," Garcia said. "It's time for us to think big."
Oceanfront Hotel/Condo Project To Break Ground Early Next Year
The long-awaited boutique hotel-condominium on Ocean Boulevard at Cherry Avenue project by Silversands Properties USA is expected to break ground in April, according to Chen Hou Lau, managing principal at Tricertus LLC, a company recently retained by Silversands to manage the project.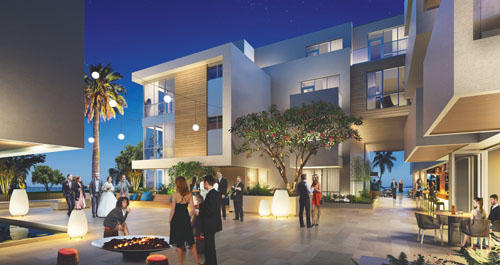 Construction is expected to begin in April 2019 on Silversands Properties USA's long-awaited hotel and condominium project located at 2010 E. Ocean Blvd. at Cherry Avenue, according to Tricertus LLC Managing Partner Chen Hou Lau. The project includes 40 hotel rooms and 56 condominiums. There will also be 168 parking places. (Rendering courtesy of Studio One Eleven)
"This is one of the last few beachfront hotel and condominium projects that could be built in Southern California where the tenants and guests could actually walk right out onto the sand and enjoy Long Beach," Lau said. "The property itself, in the sense of location, provides something very unique to the whole Los Angeles area."
Located at 2010 E. Ocean Blvd., the project will be four stories from street level. On the beach side, the building will be seven stories, Lau said. Development plans include 40 hotel rooms, 56 condominiums and 168 parking stalls. Most of the rooms and homes will have large decks or balconies, many of which will overlook the ocean and the Queen Mary, he added. Guests and residents can also utilize an on-site gym and swimming pool.
The general public, along with guests and residents, will have access to two full-scale restaurants, including a lounge area, as part of the development, Lau said. Plans also call for a beachfront café, he added.
The project was approved by the Long Beach City Council and the California Coastal Commission in fall 2011. However, in 2013, Silversands took ownership of the project and attempted to re-entitle the site with a new design, including 72 hotel rooms and 33 condos.
UNITE HERE Local 11 appealed the project, which was ultimately denied by the commission in September 2014. Silversands eventually opted to continue with the already-approved project.
"There is a shortage of new condominiums available in the Long Beach market. And adding more hotel rooms to prepare for the Olympics in L.A.," Lau said, about why he thinks the project will be successful. "Being on the sand, we'll offer something to customers that doesn't exist in the market."
Long Beach Airport Phase Two Improvements Revealed
Renderings released by Long Beach Airport staff reveal the future look of the airport with nearly $59 million of improvements in the pipeline. Improvements include a new ticketing lobby, a consolidated baggage claim area, relocating rental car facilities to inside the historic terminal building, pre-security area concessions for those awaiting arriving passengers, ground transportation upgrades and wayfinding signage improvements.
Contracts for the improvements were approved by the Long Beach City Council on May 8 with Long Beach-based architectural and urban design firm Studio One Eleven, VCA Engineers of Alhambra, Dallas-based Corgan Inc. and San Francisco-based Swinerton Builders. The project may be completed as early as fall 2021.
Airport-Adjacent Hotel Breaks Ground
InterContinental Hotels Group and YHB Hospitality celebrated the groundbreaking of its newest Long Beach hotel, Staybridge Suites, on September 6 near the northeastern corner of Lakewood Boulevard and Willow Street. The new six-story, 150-room hotel is replacing 50 Holiday Inn rooms that were located in a two-story building adjacent to the 13-story Holiday Inn Long Beach Airport tower, which will continue to operate throughout the construction process. Aside from increasing the site's room count by 75, the new hotel will bring an additional 3,000 square feet of meeting space and two boardrooms. Staybridge Suites is meant for families and business people staying in the city for an extended period of time, according to Holiday Inn General Manager Mooyon Kim. Full kitchens with full-sized refrigerators are included in the studio, one- and two-bedroom suites. The hotel lobby will feature a marketplace for guests to shop for food and other goods. Guests will also have access to a state-of-the-art fitness center. Construction also includes upgrades to the pool and deck area, which will be shared by Staybridge and Holiday Inn guests. The hotel is expected to open in December 2019, Kim said. This is the second "dual-concept" hotel in the city, with Hampton Inn and Homewood Suites by Hilton Long Beach Airport having opened at Douglas Park in November of last year.
Kinnery's: Long Beach's Newest Brokerage And Property Management Firm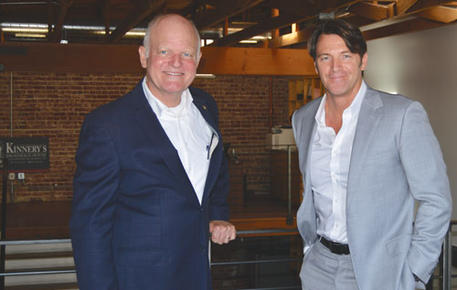 Cameron Jacques and Brian Russell have teamed up to create Kinnery's Brokerage House & Elite Property Management Inc. Jacques started the boutique company earlier this year and serves as president, while Russell joined the company in August and serves as vice president. The firm focuses on multi-family and commercial investing, Jacques said. Both Russell and Jacques previously served as vice presidents at Coldwell Banker Commercial BLAIR WESTMAC. Through their work as agents, they noted a lack of good property management and saw an opportunity. "I own multi-family investments and I couldn't really find a property management company that knew as much as me when it came to where rent should be, where the market is heading, utilities, expenses – all those kinds of things," Jacques said. "Nobody ever really seemed interested or educated – property management didn't go that far." Jacques said the team's background as real estate agents gives them a fresh perspective on property management. The firm recently purchased an office at 425 E. 4th St., Suite D, and is in the process of building it out. The duo recently conducted interviews to bring on a third staff member. "When you manage an asset, you're managing your client's quality of life," Jacques said. The income derived from the asset may be putting food on the table, paying for children's education, health expenses and retirement. This is something we take very seriously." (Photograph by the Business Journal's Anne Artley)
Real Estate Transactions
The following is a list of transactions closed during the month of August by agents at Centennial Advisers and Marcus & Millichap's Bogie Investment Group:
• Centennial's Doug Shea facilitated the $1.6 million sale of a 2,881-square-foot owner-occupied office located at 296 Redondo Ave. The space is occupied by Jeannette Architects. The transaction closed on August 23.
• Centennial's Tom Watkins represented the buyer in the $1.1 million purchase of a five-unit residential complex at 1642 W. 259th St. in Harbor City. The sale closed on August 28. "Tom's knowledge of the buyers who pay the highest price helped us get this closed in 30 days in spite of four out five units vacant at closing," White said.
• Bogie Investment Group Founder Steve "Bogie" Bogoyevac and Senior Associate David O'Keefe were the listing agents of an eight-unit apartment complex located at 4134 E. Fountain St. The $2.025 million transaction closed on August 24. Hiu Chan of Marcus & Millichap's Long Beach office was the selling agent on the deal. Bogoyevac and O'Keefe were also the listing agents on a six-unit apartment complex located at 909 Locust Ave. that closed on August 7 for $1.23 million.
• Lonnie McDermott and Brandon Evans of Marcus & Millichap's Encino office were the listing agents for a land sale at 437 E. 5th St. that closed on August 6 for $1.495 million. Bogoyevac was the selling agent on the transaction.