Housing Project For Homeless Families And Veterans Opens
On November 6, Century Housing Corporation, along with the City of Long Beach and the Long Beach Community Investment Company (LBCIC), celebrated the grand opening of Anchor Place. The 120-unit project is a supportive housing development for homeless families and veterans.
"Long Beach remains dedicated to ensuring that all veterans who have served our country have access to quality housing," Mayor Robert Garcia said in a press release. "Anchor Place is a testament to our commitment to ending homelessness and supporting our veterans."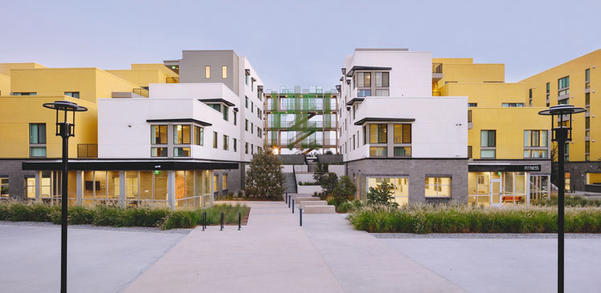 Anchor Place
The five-story project includes 75 units for veterans experiencing homelessness and 45 units for extremely low-income residents. Located within the Century Villages at Cabrillo community, the development features one-, two- and three-bedroom units, open space and recreational areas.
Residents of the complex also have access to on-site support services, such as case management, physical and mental health services, employment services, life skills training and counseling. Anchor Place rent is subsidized by Veterans Affairs Supportive Housing vouchers for $720,000 annually, a subsidy that is ensured for an initial 15-year period.
"Century is very proud of Anchor Place and what has been created in the larger Century Villages at Cabrillo community, Ronald Griffith, president and CEO of Century Housing said. "We are grateful for the investment and contributions of our many partners that have created this special community where lives are being transformed."
Funding for Anchor place was provided through a loan from the LBCIC; construction financing from Wells Fargo Bank; an Affordable Housing Program loan, a Mental Health Services Act loan; financing from the Affordable Housing and Sustainable Communities Program; grants from the County of Los Angeles Community Development Commission, the Ahmanson Foundation, the Home Depot Foundation and the 11th Hour Foundation; a permanent loan from the California Community Reinvestment Corporation and an equity investment by Wells Fargo through the California Tax Credit Allocation Committee.
"It gives us great pride as a company to invest in an affordable housing project that supports so much of what we value," Lesley Milovich, head of community lending and investment at Wells Fargo, said. "Anchor Place will provide safe, affordable housing for those who have sacrificed for our country and we're thrilled that it will benefit veterans and their families for generations to come."
For more information on Century Villages at Cabrillo, visit www.centuryvillages.org.
Updating The Streets
The redevelopment and rebranding of City Place as The Streets continues as new businesses open and are announced. The 350,000-square-foot mixed-use district has already seen new businesses open, including King Buffet, Romeo Chocolates, The Plant Junkie and Creative Crepes along Pine Avenue. Additionally, Retail Design Collaborative and Studio One Eleven opened their creative office space headquarters at 3rd Street and Promenade North. Burgerim and Table 301 should be opening soon on 3rd Street and a new distillery called Portuguese Bend by Luis Navarro, owner of Lola's Mexican Cuisine, has also been announced. Lease agreements have also been signed with Habibeh, Loose Leaf Boba Company, Party Monkey, Pinot's Palette and Poki Cat. Two projects moving forward include a parklet dining area in front of Milana's New York Pizzeria, Mitaki Japanese Restaurant and Fresh Kabobs on 4th Street, and another parklet on Pine Avenue in front of The Pie Bar and several surrounding retail locations. Earlier this year, a partnership was formed between The Streets' developer Shooshani Developers LLC and California State University, Long Beach, to develop "CSULB Village," a student and faculty housing project to include retail and gallery space on 4th and 5th streets between Promenade North and Long Beach Boulevard. Construction on the project is estimated to begin fall 2018.
Five-Story Development Approved For Midtown
During its October 19 meeting, the Long Beach Planning Commission approved a mixed-use development that includes 95 affordable housing units in Midtown at 1900-1940 Long Beach Blvd, dubbed The Spark at Midtown.
"Long Beach is committed to expanding quality, affordable housing for communities of all incomes who want to call this great city home," Mayor Robert Garcia said in a press release. "The Spark will provide greater housing access for families and promote the revitalization of the Long Beach Boulevard corridor."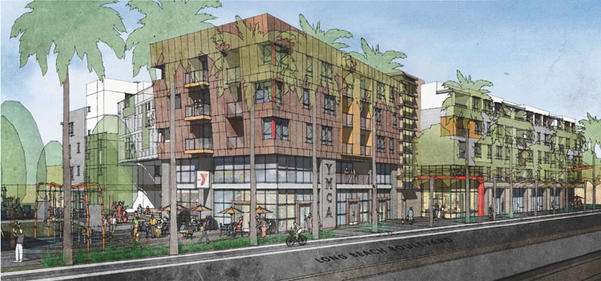 The Spark In Midtown
The development is adjacent to the Metro Blue Line and will consist of a one-, two- and three-bedroom units. The units are reserved for individuals or families earning between 30% and 60% of the area's median income. Forty-seven of the units are to be reserved for those experiencing homelessness.
The ground floor of the project will include 12,388 square feet of commercial retail space, a new YMCA office and support services. On October 18, the Long Beach Community Investment Company (LBCIC) approved a $3 million loan to LINC Housing Corporation for the construction of the project.
"The Long Beach Community Investment Company is working to bring forward high quality residential projects along transit corridors, offering greater mobility and access to job centers," LBCIC Chair John Thomas said. "It is essential to support every segment of our community by providing increased housing opportunities in thriving neighborhoods."
6.8-Acre Carson Site Sold
Illinois-based CenterPoint Properties announced its purchase of the 6.8-acre site at 16627 S. Avalon Blvd. in Carson earlier this month. "This site is a strategic asset, located in the heart of the South Bay submarket," Ryan Dunlap, senior vice president of investments at CenterPoint, said. "Given its proximity to Los Angeles' dense population, we are excited to acquire this property in a thriving e-commerce region." The purchase includes 84,620 square feet of building space fully leased, as well as 121 car parking stalls and 150 bus and trailer parking stalls. Daniel Reaume and Rustin Mork of Realty Advisory Group Inc. represented CenterPoint in the transaction.
Marcus & Millichap Completes Multi-Family Building Sale
Kevin King, senior managing director of investments in Marcus & Millichap's Long Beach office represented King and Ryan Gonzalez LCC in the sale of the Heights Apartments located at 500 Ximeno Ave. "As a larger asset on the east side, located within a historically strong rental market with virtually no new development, the property presents new ownership with a great opportunity to enhance value and increase revenue through common area upgrades," King said. "Approximately half of the units have been upgraded with new kitchens, baths, flooring and lighting." The 1965 building includes 74 units with a mix of studios and one-, two- and three-bedroom apartments. The property also features a swimming pool, a barbecue area, an elevator, storage units, on-site laundry and a gym.
Stepp Commercial Completes Multimillion Dollar Sale
Stepp Commercial Principal Robert Stepp represented Redempta Catolica Trust in the $3.05 million sale of East 7th Street Apartments located at 2307 E. 7th St. The buyer, Tam Trust, was represented by Buckingham Investments. "This property is extremely walkable and is situated on a highly visible corner location at Raymond Avenue and East 7th Street," Stepp said. "We marketed this asset as a value-add opportunity for the new ownership to renovate and bring rates up to market rates as leases expire. This property is within the Rose Park Historic District, which is a rapidly improving area due in large part to the newly renovated neighborhood shopping center across the street from the property." Built in 1922, the property includes 12 residential units, including six one-bedroom apartments and six studios. The location also includes 10 retail spaces.
New Korean BBQ In Lakewood Village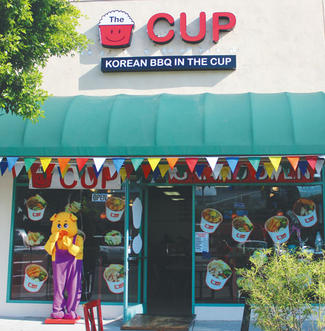 The Cup, a new Korean barbecue joint opened its doors on November 13, with dishes served in a cup. Located at 4501 E. Carson St. just off of Norse Way, The Cup is open Monday through Saturday from 10 a.m. to 3 p.m. and 5-9 p.m. For more information, call 562/420-1772.
Baskin-Robbins Reopens
The Baskin-Robbins located at 510 Long Beach Blvd. celebrated its grand reopening November 11, featuring a DJ, a prize wheel and live entertainment. Store hours are Monday through Friday from 9 a.m. to 10 p.m. and Saturdays and Sundays from 10:30 a.m. to 10 p.m. For more information, call 562/901-3330.