Development News
Demolition To Begin This Week On 2nd & PCH Project
The final appeal filed against the 2nd & PCH retail development was withdrawn October 20, allowing the project to move forward immediately, according to Steve Shaul, senior director of development for CenterCal Properties LLC.
"We are looking to break ground next week," Shaul told the Business Journal on Friday, October 20. "It will just be the oil well abandonment and the removal of the hotel now through December. We will be doing a formal groundbreaking ceremony in January."
Two formal appeals were filed against the development project, with one being withdrawn several weeks ago. At the time of publication, it was not clear if a settlement was reached or if the appellants withdrew their appeals on their own.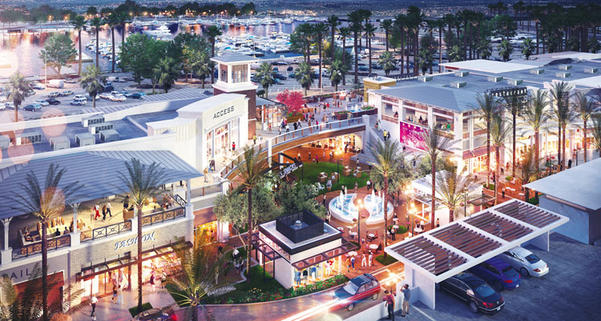 2nd & PCH project, Southeast Long Beach. (Rendering by CenterCal Properties LLC)
The site of the defunct SeaPort Marina Hotel is to be transformed into a 245,000-square-foot retail center on the southwest corner of 2nd Street and Pacific Coast Highway. The project includes numerous retail and waterfront dining options and is anchored by a 55,000-square-foot Whole Foods, which is relocating from its current, nearby location in the Marina Shores Shopping Center. Overall, the site will consist of 95,000 square feet of retail space, 70,000 square feet of restaurant space and 25,000 square feet of fitness and health space.
"We're trying to hit a summer of 2019 opening. It's a good day here. We're excited to move forward," Shaul said. "It's such a significant and well-known site and it's going to be pretty dynamic when it's done. It's been a long time coming."
This is the second attempt by property owner Raymond Lin to redevelop the hotel site. In 2011 a proposal was submitted to  the city for a $320 million retail, hotel and residential complex. Controversy over building heights ultimately led to the proposal being denied by the city.
With max building heights around 35 feet, the forthcoming project falls within all zoning and land use regulations. The development includes 1,150 parking spaces, most of which are rooftop parking above the commercial space.
CenterCal has developed numerous retail centers in California, Oregon, Utah and Washington since forming in 1998. Brands often appearing at CenterCal projects include Anthropologie, J. Crew, Crate & Barrel, Saks Fifth Avenue OFF Fifth and Apple. Plaza 183 directly across from Los Cerritos Center is a recent redevelopment project by CenterCal.
Shoreline Gateway Announcement
Develops Ledcor Properties Inc., Anderson Pacific LLC and Qualico and Lantower Residential announced the groundbreaking of Shoreline Gateway is slated for early 2018.
"Since 2004, Anderson Pacific proposed a vision for this site which was enthusiastically shared by the community and the City of Long Beach. Overcoming the numerous challenges resulted in the construction of The Current beginning in 2014," Jim Anderson, chief executive officer for Anderson Pacific, said. "At long last, we are beginning the truly iconic tower that has been envisioned all these years, that will become a bona fide gateway into Downtown Long Beach from the east, as well as a wonderful anchor to the East Village Arts District and surrounding community."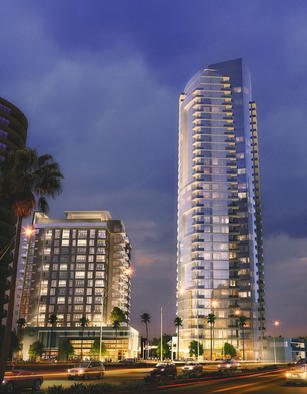 The 35-story Shoreline Gateway development is set to become the tallest building in Long Beach with a groundbreaking slated for early 2018, according to development partners Ledcor Properties Inc., Anderson Pacific LLC and Qualico and Lantower Residential. (Rendering courtesy of Shoreline Development Partners LP)
The 35-story, mixed-use luxury apartment complex is set to replace the World Trade Center as the tallest building in Long Beach. The project features 315 ultra-luxury residential apartment homes, including studio, one- and two-bedroom apartments, and 6,700 square feet of commercial space. Five levels of subterranean parking will include 467 stalls, while a 33rd floor community room will offer 180 degree panoramic views of the Pacific Ocean, the downtown area and Orange County.
Additional amenities include a rooftop pool on the 34th floor, spa and dining deck, a large fitness center, and dining and a fire pit lounge on the 3rd floor. A 10,000-square-foot plaza will activate the retail and residential amenities, while connecting the project with The Current.
"We are very excited with the design that our team has been diligently advancing with the City of Long Beach planning staff," Pat Patterson, chief operating officer of development for Ledcor, said. "The design intent is to create a true eastern gateway to the City of Long Beach, complementing the success of The Current, and completing the urban campus that was envisioned 13 years ago."
New Houghton Park Community Center Plans Unveiled
On October 18, the City of Long Beach unveiled renderings of the new Houghton Park Community Center. The project is replacing the current facility, which was originally constructed in the 1930s, with additions made in the '80s.
"After almost 100 years, Houghton Park is finally getting the community center it deserves," Vice Mayor Rex Richardson said in a press release. "The building will set a new standard for design, complementing our new Michelle Obama Neighborhood Library and Fire Station 12, and will serve as a central gathering place for our community for many years to come."

On October 18, the City of Long Beach unveiled renderings for the new 6,450-square-foot Houghton Park Community Center. The project includes two multipurpose rooms, a central area for restrooms and reception and two park-facing exterior public restrooms. (Rendering courtesy of the City of Long Beach)
The 6,450-square-foot building will house two multipurpose rooms and a central area for restrooms and reception; two park-facing public restrooms and incorporate electric vehicle parking, bicycle parking and school bus loading and unloading zones. The project was designed to be sustainable and energy efficient, earning it a Leadership in Energy and Environmental Design (LEED) Silver rating.
The development is being funded with $4 million from Measure A and $3 million from fiscal year 2014 one-time funds. Groundbreaking for the project is expected in early 2018.
Willow Springs Park Wetlands Restoration Project Grand Opening
The grand opening of the Willow Springs Park Wetlands Restoration project was held on October 21. The 12-acre project is within the 48-acre Willow Springs Park located at 2755 Orange Ave.
"This restoration will allow the public to experience the historical, natural surroundings of Long Beach," Mayor Robert Garcia said. "From hiking to nature exploration to educational experiences, this project will provide enhanced recreational activities and much needed open space for residents."
The restoration project features a 2,400-square-foot walking loop, 43,000 square feet of restored seasonal wetlands, a spring meant to mimic "the original artesian spring that provided water to early Long Beach," a water retention basin to clean and divert water from the Los Angeles River and an outdoor classroom for environmental education.
The project required the removal of non-native trees and damaged piping to make way for the planting of 200 native and riparian tree species and 6,440 native drought-tolerant plants. The restoration included the construction of 43,000 square feet of ponding areas, 1,700 square feet of bioswales and the installation of more than 209,000 square feet of irrigation.
"The city has worked to transform this area from an inaccessible rugged landscape to a wetlands and recreational area," 7th District Councilmember Roberto Uranga said. "I am eager for the public to enjoy the views and the opportunity to relax and enjoy nature."
A majority of funding for the project came from the California Natural Resources Agency through Proposition 84 and the Urban Greening for Sustainable Communities Grant program. Long Beach was awarded $924,000 in June 2014.
AES Battery Storage Facility Appeal Denied
At its October 10 meeting, the Long Beach City Council voted to unanimously deny an appeal of the proposed 300 megawatt battery storage facility by AES California. The appeal was filed by Warren Blesofsky, president of Long Beach Citizens for Fair Development. Blesofsky noted the development's proximity to residents and potential negative impacts to the surrounding environment, including water sources and wetlands. The $1 billion project located at 690 N. Studebaker Rd. is meant to store excess electricity produced by solar and other renewable sources if production is exceeding consumption, thereby maximizing the benefits of renewable energy sources. The development is one of the largest lithium-ion battery storage facilities in the world, according to AES.
Retail News
Bob's Furniture Opens First West Coast Locations
Since opening in 1991, Bob's Discount Furniture has expanded to include 89 stores in 15 states on the East Coast and in the Midwest. Earlier this month, the company announced it would open six new stores in the Los Angeles area, including one in Long Beach at 7440 Carson Blvd. in the Long Beach Towne Center. "Bob's Discount Furniture was founded on the principles of honesty and integrity," Co-Founder and President Emeritus Bob Kaufman said in a press release. "Our growth into the Los Angeles market marks an exciting new chapter for Bob's. We are looking forward to changing the way customers experience furniture shopping." The other stores are to be located in West Hills, Valencia, Baldwin Park, Huntington Beach and in Los Angeles Midtown.
Dickey's Barbecue Pit Opens Downtown
The newest location of Dickey's Barbecue Pit opened at 421 W. Broadway, Suite 521, on October 20, kicking off four weeks of specials and giveaways, including free barbecue for a year for three customers. "The Dickey family welcomes Roy Wen to the Dickey's Barbecue Pit team," Laura Rea Dickey, CEO of Dickey's Barbecue Restaurants Inc., said in a prepared statement. "We look forward to the opening of his new location and the success of his store in Long Beach." The special offers include Thirsty Thursdays, where guests receive a free cup for free refills all day; Philanthropy Fridays, where guests can donate to the company's charitable foundation, Barbecue, Boots & Badges, and receive a gift, while uniformed first responders receive 50% off their meals; Giveaway Saturdays, where guests can enter for a chance to win free barbecue for a year; and Kids Eat Free Sundays with an adult purchase of $10 or more. "I am excited to open my first location and serve the members of my community Dickey's slow-smoke, Texas-style barbecue," Wen said.
Ironfire To Open Shared Worked In East Long Beach
On October 16, Ironfire, a shared work, meeting and shared space provider for freelancers, entrepreneurs and small businesses announced it will be located at 4195 N. Viking Way in Northeast Long Beach. According to a press release, the space will operate mostly on a membership basis and provide comfortable seating, high-speed WiFi, unlimited locally sourced coffee and other amenities to make independent work life easier and more enjoyable. Long Beach area resident Josh Rencher is behind the concept. "We have an emerging ecosystem of startups and entrepreneurs right here in Long Beach," Rencher said. "There's no reason they shouldn't have access to the same benefits and resources that coworking offers in other cities." He explained that his space would be more cost effect than its Downtown Long Beach competitor WeWork, which opened last year. A Kickstarter campaign to crowdfund some of the startup cost was started by Rencher and has received over $2,800 of the $25,000 goal. A soft launch of the location is anticipated for mid to late November. For more information, visit www.ironfire.co.