Development News
Commission Approves Site Plan For Last Major Douglas Park Development
At its October 5 meeting, the Long Beach Planning Commission voted unanimously to approve the site plan review for Pacific Pointe Northwest, the last major entitlement at Douglas Park.
Located directly to the west of the Long Beach Exchange retail development, the Pacific Pointe Northwest proposal by Irvine-based real estate development, investment and management firm Sares-Regis Group includes four light-industrial buildings to be built on the 21.1-acre site south of Carson Street, to the north and south of McGowen Street, and between Worsham and Brizendine avenues.
The proposal includes the creation of four separate parcels with separate parking configurations so that each site acts as an individual development. Building 12 would be 83,823 square feet with 145 parking spaces. Building 13 would be 90,607 square feet with 151 parking spaces. Building 14 would be 134,109 square feet with 229 parking spaces. And Building 15 would be 70,701 square feet with 144 parking spaces, which is six more than the minimum required, making it the only building with a surplus of spaces.
"Pacific Pointe Northwest is envisioned as a walkable work environment that enjoys the complementary uses of Douglas Park," Patrick Russell, senior vice president of commercial development for Sares-Regis, said during the meeting. "The entire project follows the vision of the Douglas Park Pacific Plan to ensure quality, compatibility and cohesive development."
While addressing the commission, Russell noted that all buildings would be LEED certified and include environmentally sustainable and energy-conscious design. He explained the project will comply with California's Title 24 building efficiency standards and promote renewable energy generation potential.
During a presentation, city staff member Quinton Jackson noted the proposal adheres to the design standards and guidelines set forth for Douglas Park, including outdoor space, vehicle circulation, facade articulation, appropriate accent materials, and access to pedestrian, bike and transit amenities.
"The challenge with each new project within Douglas Park has been to comply with those uniform standards to make every building look cohesive, while at the same time giving every project its own unique identity," Jackson said. "Staff believes that this goal has once again been accomplished."
Jackson said features such as meadow entry canopies, accents, variable roof heights and other elements create visual interest. Additionally, he said loading areas were mostly shielded from public view. There was no public comment or in-depth commission discussion regarding the project.
According to Sares-Regis, the project is being constructed speculatively and the buildings will be for lease. The company estimates project build-out will cost between $25 million and $30 million, with construction beginning in spring 2018.
Cal State Dominguez Hills Breaks Ground On New Building
California State University, Dominguez Hills (CSUDH) broke ground on a new $82 million Science and Innovation building on September 28.
"A facility of this quality and potential will significantly elevate our university's standing as a comprehensive and inclusive teaching and research institution, while our faculty, students, and the teachers and young learners in our partner schools reap the benefits of all it has to offer," CSUDH President Willie J. Hagan said. "With Toyota's generous gift and HGA's beautiful and highly functional design, this ultra-modern instructional and research facility will pay dividends to our local communities and industries for generations to come."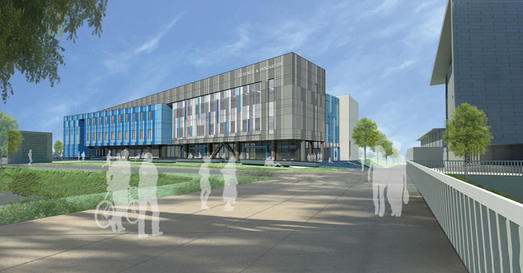 California State University, Dominguez Hills broke ground on an California State University, Dominguez Hills broke ground on a new $82 million, 91,000-square-foot Science and Innovation building on September 28. (Rendering courtesy of CSUDH)$82 million, 91,000-square-foot Science and Innovation building on September 28. (Rendering courtesy of CSUDH)
The three-story building designed by HGA Architects and Engineers includes research and classroom facilities for the school's physics, biology and chemistry programs. A third-floor roof terrace will feature open-space work areas.
The Toyota USA Foundation gifted the school $4 million toward the project for the creation of the Toyota Center for Innovation in STEM Education, which is a makerspace fabrication laboratory.
The building is on track to be LEED Gold Certified and will be partially constructed using recycled, regional exterior materials. The architects also incorporated courtyards and outdoor workspace to integrate the building into the surrounding campus.
Construction on the 91,000-square-foot building is expected to begin in late fall.
LBCC Celebrates Grand Opening Of Two Buildings
On October 4, Long Beach City College celebrated the grand opening of buildings QQ and RR at its Pacific Coast Campus.
"Thanks to our local voters, Long Beach City College has been able to modernize our electrical technology facilities to provide a more robust education and training program for this high-demand industry," Reagan Romali, LBCC superintendent-president, said. "In addition, the new Lifetime Learning Center will allow us to expand and provide high-quality programs to more seniors in our community."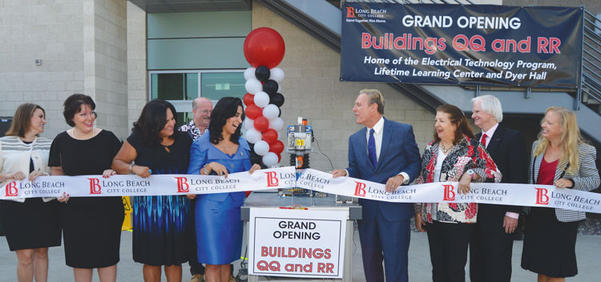 Long Beach City College (LBCC) officials celebrated the grand opening of buildings QQ and RR at the college's Pacific Coast Campus on October 4. The ceremonial ribbon was cut by an Epson/Seiko RT3200, in honor of the new home of the Electrical Technology program. Pictured from left: Liz McCann, LBCC Foundation Executive Director; Reagan Romali, LBCC superintendent-president; Vivian Malauulu, LBCC Trustee; Sunny Zia, vice president of the LBCC Board of Trustees; Jeff Kellogg, president of the LBCC Board of Trustees; Virginia Baxter and Doug Otto, LBCC Trustees; and Ann-Marie Gabel, LBCC vice president of administrative services. (Photograph by the Business Journal's Larry Duncan)
The $20.3 million project was financed by Measure E bonds, which voters approved in 2008 and granted $440 million for capital projects at the college. The 7,667-square-foot Building RR was renovated and is dedicated to the electrical technology program. The new 24,454-square-foot Building QQ is shared between electrical technology and the Lifetime Learning Center, which offers senior studies programs utilizing new computers and upgraded technology.
Features of the buildings include:
• 7 electrical classrooms: transformer motor, Cisco/networking, active learning (AutoCAD), 2 active learning (tab arm), Lab-Volt, motor control.
• Specialized labs: motor control and PLC (programmable logic controller) lab, Cisco networking and building automation lab, building lighting and automation lab, robotics lab. (LBCC will be one of first community colleges in the state with a dedicated building lighting and automation lab, which was built to California's highest levels of energy efficiency standards.)
• Outdoor work yard for solar panels.
• Nearly full-size traffic signal intersection workstation for traffic signal technicians.
• Full automation wing that will include robotics, electro-hydraulics and pneumatics.
"Previously located at the Liberal Arts Campus, the Electrical Technology program now joins other Advanced Manufacturing programs at the Pacific Coast Campus, including welding, computer aided design, metal fabrication and computer numerical Control," according to a press release. "LBCC is now the only community college in the region to offer such a high number of Advanced Manufacturing programs on one campus. This array of related disciplines will allow faculty and students to collaborate across departments."
RC Construction began work on the HPI Architecture-designed project in April 2016.
Affordable Senior Housing Opens In Former Church
On September 29, the City of Long Beach, in partnership with Thomas Safran & Associates (TSA) and Clifford Beers Housing Inc., celebrated the opening of Immanuel Place, a project which converted a church to low-income senior housing.
"Long Beach is working to meet the vital need for affordable housing for seniors to support the vibrant and diverse communities of this city," Mayor Robert Garcia said. "This development not only provides additional housing opportunities for seniors with limited-income but also gives a historic building new life."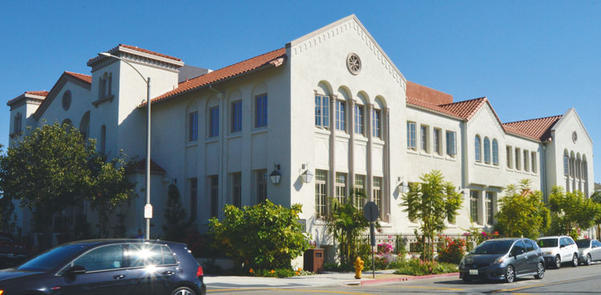 The City of Long Beach celebrated the opening of Immanuel Place, a 24-unit development for low-income seniors. The development is an adaptive reuse project of the Immanuel Church located at 3215 E. 3rd St. (Photograph by the Business Journal's Larry Duncan)
The adaptive reuse project is located at 3215 E. 3rd St. and saw the conversion of the historic Immanuel Church to 24 one-bedroom units for low-income seniors, including 15 set aside for those experiencing or at risk of experiencing homelessness. The project also includes one manager's unit.
The three-story redevelopment features solar thermal water heating panels, high-efficiency lighting and appliances, low-flow fixtures and sustainable finishes, which meet Build It Green's Platinum GreenPoint Rated New Home Multifamily certification standards. Historic details, such as exterior facades, stained-glass windows and the Aeolian-Skinner pipe organ, were restored during the conversion.
Funding sources for Immanuel Place included a loan from the Long Beach Community Investment Company, an Affordable Housing Trust Fund loan from the Community Development Commission of the County of Los Angeles, an Infill Infrastructure Grant from the Department of Housing and Community Development, an Affordable Housing Program loan from the Federal Home Loan Bank of San Francisco, and an equity investment by Union Bank through the Tax Credit Allocation Committee.
"The Long Beach Community Investment Company is proud to invest in the adaptive reuse, preservation and restoration of Immanuel Place, which provides the building new purpose and serves the community," John Thomas, LBCIC chair, said. "This much-needed project will offer our seniors safe, affordable housing and a greater quality of life."
The project is receiving the 2017 Vanguard Award from the National Affordable Housing Management Association for its "major rehabilitation of a non-housing structure into affordable rental housing." The award is to be presented during a ceremony in Washington, D.C., on October 23.
Designed by Long Beach architect W. Horace Austin, Immanuel Church was originally constructed in 1922. The building was vacated in 2012 but previously housed traditional American Baptist Association worship services and operated as a community center. TSA purchased the building from the Immanuel Center for Conscious Living.
Andrew Gross, president of TSA, said, "It's been an honor to work with the City of Long Beach and our partners to restore and revitalize this important cultural site to provide much-needed affordable housing in Long Beach that will improve and enrich the quality of living for seniors."
Long-awaited Project Maps Approved
The Long Beach City Council approved the final tract map for a condominium and hotel development project at 2010 E. Ocean Blvd., the former site of the Beach Plaza Hotel, at its October 3 meeting.
The project proposed by Silversands Properties USA Inc. includes a four-story, 56-unit condo complex with 40 hotel rooms and was initially approved by the planning commission on September 6, 2007. However, after approval, the company amended the project to include a luxury 33-resident condo complex featuring 72 boutique hotel rooms. Ultimately, the California Coastal Commission nixed the second proposal in 2015.
"The economy has shifted. First, the economy was pretty slow, and now, the construction costs are just escalating so fast. It's just hard to pencil out a small hotel," Studio One Eleven principal and Design Director Michael Bohn said when asked why the project has been delayed 10 years from the initial approval. "We're just trying to figure out the economics of it."
"It's a very special site," Bohn said. "It's unique because you have access to sand and you have direct access to a park, which are really great amenities. And the importance of tying into those will be great."
Demolition of the Beach Plaza Hotel took place about eight months ago, according to Bohn. He added that a timeline has not been set for the construction of the new development and that further details are not available at this time.
Long Beach Commercial Real Estate Council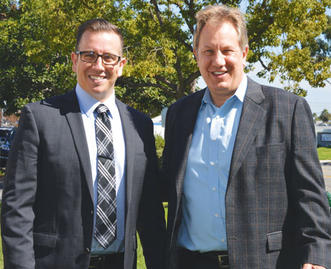 Adam Carrillo (left), the economic development manager for the Downtown Long Beach Alliance, is serving as president of the Long Beach Commercial Real Estate Council. Pictured with him is Past President Randy Jones of Spectrum Commercial Lending, who is serving as the organization's treasurer. In recent months, the council's monthly breakfast meetings, which are open to non-members, have nearly doubled in attendance. The next meeting is Friday, October 13, from 7:30-9 a.m. at The Grand, 4101 E. Willow St. The topic of discussion is the City of Long Beach 2040 General Plan; Land Use & Urban Design Element Update. For more information or to register, visit www.lbcrec.com. (Photograph by the Business Journal's Larry Duncan)
Real Estate & Retail News
Two Long Beach Multifamily Portfolios Sold
Marcus & Millichap's Matt Kipp, vice president of investments, and Tyler Leeson, senior managing director, represented the seller in the sale of two multifamily portfolio transactions earlier this month.
"These portfolio transactions exemplify the high level of interest investors have in Long Beach. It is one of the most affordable coastal submarkets in Los Angeles County and offers more value-add opportunities than other beach cities," Kipp said in the statement. "The East Wardlow Road portfolio had been owned for over 50 years by the original developer. New ownership plans to implement an extensive interior and exterior renovation program to unlock additional value."
The East Wardlow Road portfolio was built in 1965 and is comprised of 45 units in the California Heights neighborhood, within three miles of Long Beach Airport, a Walmart Supercenter and Lakewood Golf Course. The Chestnut Avenue Portfolio properties were built in 1922 and 1927 and are comprised of 52 units near the site of the new Long Beach Civic Center downtown.
Kipp and Leeson also procured the buyer for the East Wardlow Road property sale.
County Assessor Releases New Resources For Real Estate
On September 29, Los Angeles County Assessor Jeffrey Prang released web-based resources for real estate professions. Dubbed the Real Estate Professionals Toolkit, the resources feature educational information regarding the property assessment system and informing "clients of opportunities and challenges associated with purchasing and owning property" in L.A. County.
"Knowledgeable real estate professionals are critical when purchasing and owning real estate in the County of Los Angeles. The Office of the Assessor can be a valuable resource to better educate these professionals, who are also great message carriers for the programs and services we provide," Prang said in a press release. "Creating a stronger partnership with real estate professionals helps the County, the real estate industry, and most importantly the tax-paying public."
To view the Real Estate Professionals Toolkit, visit assessor.lacounty.gov/real-estate-professionals-toolkit.
Traffic Circle Chick-fil-A Grand Opening October 12
A new Chick-fil-A restaurant location at 4401 E. Pacific Coast Hwy. near the traffic circle is celebrating its grand opening on Thursday, October 12, bringing 110 new jobs to the area. In honor of the store's opening, the first 100 people in line will receive free Chick-fil-A for a year. Based on previous events, representatives expect fans of the chain to begin lining up 24 hours in advance of the opening. During the event, Chick-fil-A will collect books and pack 10,000 meals for local organizations.