Development News
'Innovative' Housing Concepts Underway By Alamitos Bay Partners
Three urban town home (UTH) developments are coming to Long Beach with more in the pipeline. Alamitos Bay Partners – a joint development venture between Scott Choppin, founder and chief executive officer of Urban Pacific Multi-Housing LLC, and private investors Neal Thompson and David Sazegar – is behind the projects.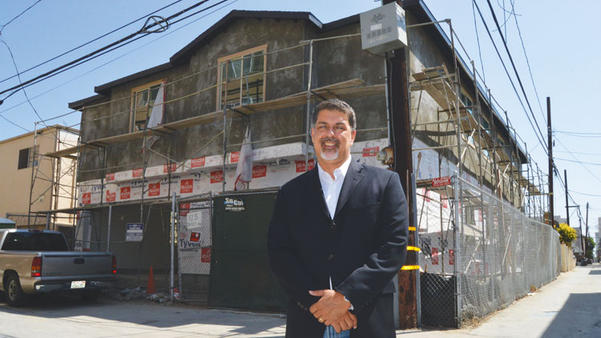 Alamitos Bay Partners, a joint venture that includes Scott Choppin, pictured, founder and CEO of Urban Pacific Multi-Housing LLC, is creating urban town homes that Choppin describes as an innovation in Long Beach residential development. (Photograph by the Business Journal's Larry Duncan)
"This UTH offer was specifically designed to house large, dual and multi-generational urban families. Many of these families that are attracted to this housing type are already living as an economic unit," Choppin said. "It's going to be somewhere between two and four wage earners and somewhere between two and five young people."
Rents for a five-bedroom town house could range from $2,600 to $2,800 per month, which normally would not place the unit in the "moderate" column in terms of pricing. However, with the model of targeting large, multi-income families, Choppin argues the units will be affordable for what they are offering.
Long Beach has a higher percentage of urban family renters than most cities in the state, according to Choppin. He said the city also has one of the highest percentages of small apartment properties in the state. Taking these two facts into consideration, Choppin explained that his urban town homes fit with the city fabric and fill a niche that has not been available in Long Beach before.
The project located at 325 Daisy Ave. is nearing completion and features two four-bedroom, three-bathroom units. The building is 3,400 square feet, and each unit has a two-car, direct-access garage. The other two projects will be located at 1719 Cedar Ave and 538 Golden Ave. The Cedar project consists of four five-bedroom units in a 7,400-square-foot building, while the Golden project consists of three five-bedroom units in a 5,700-square-foot building. All seven units include 3.75 bathrooms and two-car, direct-access garages.
"They are demonstration projects to prove the concept. This is a true innovation," Choppin said. "Nobody else is making this offer, and this is a really radical solution to providing moderate-income housing to middle class families."

The Daisy project is scheduled to be completed by the end of the month, according to Choppin. Cedar is expected to break ground next month, while Golden is scheduled to break ground in December or January.
Currently, the joint venture expects another 5 to 10 deals to be announced in the next 18 months in Long Beach, according to Choppin. In the near term, he said the group is aiming for 8 to 10 deals per year, bumping up to between 50 and 70 deals per year within the next three years. Within five years, Choppin said the group hopes to expand the concept to markets in the Bay Area, San Diego, Portland, Seattle and Denver.
Within a 10-mile radius of the Urban Pacific headquarters in Long Beach, Choppin said the group is monitoring over 500 land sites that it has identified as fitting the zoning characteristics and size needed for urban town homes.
"This housing innovation was created in Long Beach, and we are serving this innovation first to the needs of the City of Long Beach and the population of people that live here. I'm motivated by that," Choppin said. "We're a gateway city. We're a city of immigrants, and everybody that comes here will need the capability to find good housing. This provides that."
Single-Family Community Riverdale Unveils Model Homes
On Saturday, Brandywine Homes and Integral Communities unveiled model homes for tours as part of Riverdale, a joint venture residential development. The project includes 131 detached single-family homes as part of a gated community located at 4747 Daisy Ave., once the site of the Will J. Reid Boy Scout Camp.
"There are virtually no new residential developments located in the South Bay, which is a prime area for families looking to live in a place with easy freeway access and low commute times to both L.A. and Orange County," Dave Barisic, principal in charge of sales and marketing at Brandywine, said. "This exclusive gated neighborhood is designed to appeal to growing and established families with children, as well as empty nesters. A perfect community to call home."
Riverdale includes homes with three or four bedrooms ranging from 1,900 to 2,250 square feet. Each home will include two-car garages, patios, master suites and eco-friendly features. The community also includes a resort-style clubhouse with a meeting room, a junior Olympic-size pool and spa with cabanas, outdoor dining areas and a tot lot. Home prices start in the low $600,000s.
As part of city approval, the project included the development of the C. Molina Park on 3.3 acres located at 4951 Oregon Ave. The park features a turf soccer field, playground, restroom facilities, a walking path, parking and landscaping.
New Hotel Opening Delayed By One Month Due To Weather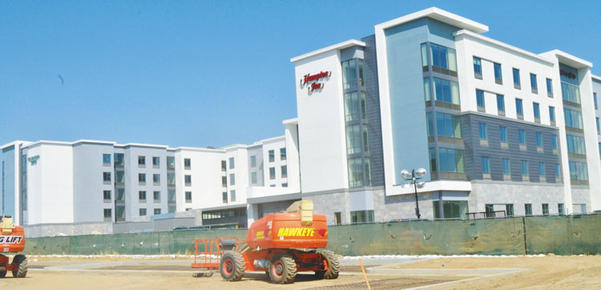 After projections of a mid-September opening, the Hampton Inn and Homewood Suites dual hotel project by Nexus Development Corporation is now expected to open in mid-November, according to Stephanie Zachan, marketing manager for Nexus. "Unfortunately, the record rainy season of 2017 slightly delayed our construction schedule," Zachan said in an email to the Business Journal. Evolution Hospitality will oversee operations of the new hotel and has named Jef Lawrence general manager. Lawrence, originally from Salt Lake City, has lived in Long Beach since 2014. "This is the first time in my 20-year career in hospitality working directly in the community where I live. So I am very excited to be able to provide opportunities for people to work, learn, grow and give back to the community right here in Long Beach," Lawrence said in an e-mail to the Business Journal. "Furthermore, I am very much looking forward to partnering with other members of the local business community, the hospitality industry and the chamber of commerce as well as the convention and visitors bureau in developing relationships and welcoming more people to this amazing city." Lawrence was previously the general manager at Hyatt House in El Segundo.
City Action
At its meeting on September 7, the Long Beach Planning Commission voted unanimously to approve the construction of a 6,000-square-foot addition to the Little Owl Preschool, which requires the demolition of a two-story apartment building located at 3426 and 3470 Linden Avenue. A conditional use permit was also approved for a 1,839-square-foot Coffee Bean & Tea Leaf located at 5865 Linden Ave.
At its September 12 meeting, the Long Beach City Council will consider permits for sidewalk dining at the following restaurants: La Traviata Restaurant Lounge and Bar, located at 301 Cedar; Foundation Sandwich Shop, located at 160 The Promenade North; Starling Diner, located at 4114 E. 3rd St.; and The Pie Hole, located at 5277 E. 2nd St.
Real Estate News
Westin Long Beach Hotel Sold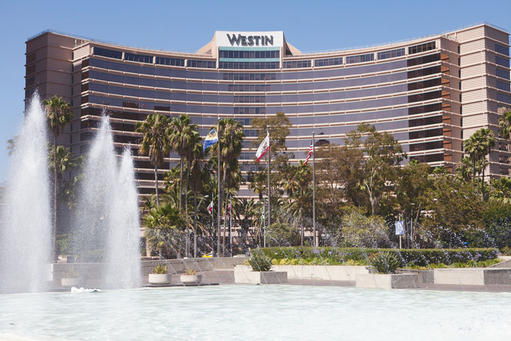 Last month, Boston-based real estate investment firm Rockpoint Group bought The Westin Long Beach for $84.8 million. The 460-room hotel is located at 333 E. Ocean Blvd., across the street from the Long Beach Convention & Entertainment Center. Highgate, a New York-based hospitality management company retained by Rockpoint to operate the facility, named John Ault managing director of the hotel. Negotiations regarding pay, benefits and work conditions are set to begin between management and hotel employees to resolve a years-long labor dispute, which resulted in countless early morning pickets of the hotel. Labor union UNITE HERE Local 11 was behind the picketing and protests, as it pushed for, and now achieved, union recognition at the downtown hotel. (Business Journal photograph)