Development News
Historic Downtown Building Sold
The Security Pacific National Bank Building located at 110 Pine Ave. has been sold, commercial real estate services firm CBRE Group Inc. announced on June 8.
Laurie Lustig-Bower and Kadie Presley Wilson of CBRE represented seller Grand Pacific 7-28 LLC, a local private investor. John Buckley Gordon of Irish Commercial Brokerage and Barry Beitler of Beitler Commercial represented the buyer, an LLC comprised of several private investor entities that wished to remain anonymous.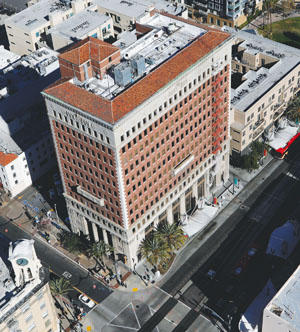 The Security Pacific National Bank Building at 110 Pine Ave. was sold to an unnamed buyer. The former office building is currently entitled to be converted into 118 residential units; however, it is unclear if the buyer will follow through with those plans. (Business Journal photograph)
"This property is entitled to be converted into 118 residential units, but the buyer has not yet revealed their exact plans for the building," Lustig-Bower said. "The new project will offer both ocean and city views. In addition, this property is an ideal location to take advantage of all the growth and the best Long Beach and this area has to offer."
The 13-story property was built in 1925 and most recently served as an office building, but it is currently vacant except for the ground floor and basement level. The Federal Bar, a Knitting Factory Entertainment company, is a restaurant, speak-easy and live entertainment venue that occupies 16,000 square feet of the building. The facility will continue operations through the renovation process.
The purchase includes a 150-space parking structure located on 1st Street. According to Gordon, once entitlements go through, the buyer will release more details regarding the sale and future plans for the site.
Mayor Garcia Announces CSULB Village Downtown
During a presentation on new development in the City of Long Beach, Mayor Robert Garcia announced a new housing tower for California State University, Long Beach (CSULB) students and faculty, dubbed CSULB Downtown Village.
"Long Beach is quickly becoming a model city for strategic development that supports a more livable, innovative and sustainable future," Garcia said. "The proposed CSULB student village is a homerun for the city and the university. Student and faculty housing will activate our downtown core with new economic opportunities and academic partnerships."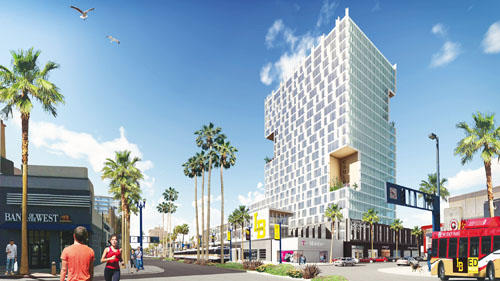 A rendering of the proposed CSULB Downtown Village located between Long Beach Boulevard and Promenade North from 4th and 5th streets in the former City Place area. The 22-story project would include 800 student beds, 50 units for faculty and staff, 16 meeting rooms, a 5,000-square-foot Innovation Incubator, a 10,000-square-foot art gallery and museum space, and 45,000 square feet of ground-floor retail space.  (Rendering courtesy of the City of Long Beach)
Located between Promenade North and Long Beach Boulevard from 4th and 5th streets in the former City Place, the proposed project would house more than 1,000 CSULB art students and faculty. The 22-story project includes 800 student beds, 50 units for faculty and staff, 16 meeting rooms, a 5,000-square-foot Innovation Incubator, a 10,000-square-foot art gallery and museum space, and 45,000 square feet of ground-floor retail space, according to project developer Shooshani Developers.
"The location, innovation, diversity and vibrancy of the city mirror our own aspirations as a university. Developing the downtown as a place where our students, staff and faculty live along with offering art, learning experiences and other campus cultural events in Downtown Long Beach is an additional way for us to add to the natural synergies we already have," CSULB President Jane Conoley said. "We are already close partners in education and hope to add more of our most precious asset, our people, to the downtown renaissance. We are better and stronger together."
"The 'CSULB Village' is a gigantic win for the downtown core and will further activate the six-block area. This is the vision that we've long had for this site," Tony Shooshani, principal at Shooshani Developers, said in a statement. "We have been working with CSULB representatives for many years on possible projects in the area. The 'CSULB Village' will expand the University's presence in the city and offer workshops, housing and additional amenities that will be an asset to the community."
The mayor's presentation also highlighted the development of 5,000 residential units in various stages, from completed to conceptual, as well as $500 million invested in affordable housing over the last decade. Garcia attributed growth and development to the planning and economic development efforts.
Beacon Apartments Breaks Ground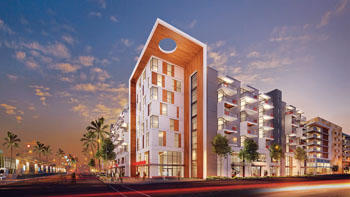 Located in Central Long Beach, the Beacon Apartments broke ground earlier this month. The first phase consists of 39 units for low-income veterans. (Rendering courtesy of JR van Dijs Inc.)
On June 12, construction on the first phase of Beacon Apartments began at 1201-1235 Long Beach Blvd. Phase one, Beacon Place, will consist of 39 units of support housing for extremely low-income veterans who are homeless or at risk of homelessness, with an estimated completion of spring 2019. Phase two, Beacon Point, which is not yet under construction, will provide 121 one- and two-bedroom rental units for low to extremely low-income seniors over the age of 62. "Beacon Apartments is yet another example of the city's commitment to meet the critical need for additional high-quality affordable and workforce housing in Long Beach," Mayor Garcia said in a press release. "The city is working to implement new housing policy recommendations adopted by the city council, and a number of affordable housing developments for veterans, seniors and families are ready to break ground in the near future." Century Housing is developing the project.
Another Step For New Fireboat Stations
At its June 12 meeting, the Long Beach Board of Harbor Commissioners approved engineering design services for fireboat stations 15 and 20. In addition, baseline budgets of $50.1 million for station 15 and $51.6 million for station 20 were approved. "These fireboat stations will safeguard the port and our customers in this new era of big ships," Port of Long Beach Executive Director Mario Cordero said. "They will provide the best waterside response possible, maximize landside firefighting coverage and serve as a home for our new, state-of-the-art fireboats. With ships more than doubling in size in the last decade and cargo traffic breaking monthly records, this is a needed upgrade to port safety." Station 15 will be located on the main channel and is scheduled for completion in 2020, while station 20 will be located in the inner harbor and is scheduled for completion in 2021. Each station proposal includes living quarters, a garage for firefighting apparatus and full waterside wharf with an enclosure for the fireboat. The proposals also include water-saving technology, energy-efficient appliances, natural ventilation and other environmentally friendly features.
Seaside Way Development Underway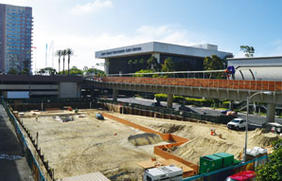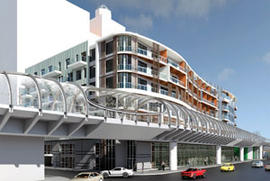 Construction is underway on Ensemble Real Estate's five-story development at 207 Seaside Way, behind The Breakers. The project includes 113 residential units and 2,000 square feet of retail space. Also pictured is the construction of a pedestrian bridge connecting The Promenade along Pine Avenue to the Long Beach Performing Arts Center. (Photograph by the Business Journal's Larry Duncan)
Construction has begun on Ensemble Real Estate's five-story, mixed-use development project located at 207 Seaside Way. The project will include 113 residential units and 2,000 square feet of retail space. The development is located adjacent to a new 605-foot-long pedestrian footbridge, which will connect the convention center walkway near Pine Avenue and the Performing Arts Center.
Real Estate News
Stepp Commercial Completes Two Multimillion-Dollar Sales
Principal Robert Stepp and Vice President Michael Toveg of Stepp Commercial represented Pacific Palisades in the $4.65 million sale of a 16-unit property located at 1175 E. 2nd St. A private investor from Orange County was the buyer. "This property offered the buyer an excellent rental location in Alamitos Beach and a nice mix of recently renovated units securing strong rents, as well as the opportunity to upgrade the remaining units to add more value as leases expire," Toveg said. The three-story property was built in 1964 and includes six one-bedroom units, 10 two-bedroom units, a central courtyard, eight private garages and a laundry facility. Eight of the units were recently fully renovated.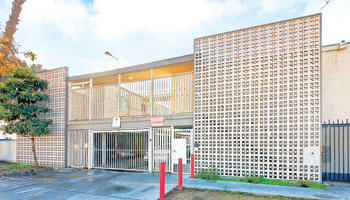 30 W. 49th St. (Photo courtesy of Stepp Commercial)
Stepp and Toveg also represented PS Realty Holdings LLC in the $2.4 million sale of Forty-Ninth Street Apartments located at 30 W. 49th St. to a private investor from Los Angeles. "Forty-Ninth Street Apartments provides the buyer with an ideal opportunity of adding value to the asset by upgrading the units and bringing rents up to market rates. It is one of the nicest properties in the neighborhood." Stepp said. Toveg added, "What many Los Angeles-area apartment investors may not know is that Long Beach is a non-rent-controlled market which provides the opportunity to realize a solid return by upgrading older product, as compared to other areas in the region that are limited by rent control restrictions." Built in 1963, the two-story property includes one one-bedroom unit and 11 two-bedroom units.
City Council Calls On Vacant Lot Owners
At its June 13 meeting, the Long Beach City Council approved the creation of the Urban Agriculture Incentive Zone (UAIZ) program and the establishment of a Vacant Lot Registry. Owners of vacant lots will now be obligated to register their properties every year and adhere to stricter maintenance standards. According to Vice Mayor Rex Richardson, the registry will allow the community to access a publicly available database to become informed about vacant land opportunity sites that could be utilized for specific community-serving uses. Richardson said one such use could be the UAIZ program, which will give tax breaks to property owners who allow their vacant lots to be used as community gardens or urban farms.
Retail News
Bixby Knolls Update
Blair Cohn, executive director of the Bixby Knolls Business Improvement Association, provided the Business Journal with the following update on new business activity in the Bixby Knolls area:
• 4047 Long Beach Blvd. – Summerjax, a design and branding studio, has already moved in and is currently renovating the building with an expected completion in August.
• 4310 Atlantic Ave. – Niky's Sports, a specialty soccer store with multiple locations, will do some minor work to the building and hope to open by August.
• 4121 Long Beach Blvd. – The Merchant, "a modern twist on a country general store" featuring artisan breads, coffees and provisions, opened in mid-May.
• 4121 Atlantic Ave. – Edgar & James, a Goodwill specialty store and donation center, is undergoing major construction at the former Trader Joe's location, with an estimated opening in August or September.
• 3803 Atlantic Ave. – Bixby Trading Post, "a group-owned marketplace for handmade and locally sourced goods," described as a "general store meets the farmers market," opened on May 5. Also opening May 5 at  3803 Atlantic Ave. – Sister LB, a women's clothing store.
New Suit Store In North Long Beach
Suit City By Sorento is now open at 5536 Atlantic Ave. The business operated for 10 years in the San Fernando Valley before moving to Downtown Los Angeles where it operated for the past 15 years. The business relocated to Long Beach to expand and opened the 2,000-square-foot store at the end of May. Store manager Arash Kashani said they chose Long Beach because the space is nice, with a storefront and walking traffic. For more information, call 562/422-0399.