Salvation Army Sells 12-Story Downtown Office
Building; Moving Headquarters To Rancho Palos Verdes
The Salvation Army has sold its 199,156-square-foot office building at 180 E. Ocean Blvd. to an affiliate of Thrifty Oil Co., a Santa Fe Springs-based company, Cushman & Wakefield announced on August 23. The building has served as the Army's Western Territorial Headquarters since 2000. The new headquarters will be located at the organization's Crestmont Campus in Rancho Palos Verdes in the fall.
"With the phased departure of The Salvation Army from the building, this property offers a rare repositioning opportunity of one of the most recognizable office assets in Long Beach," Jeffrey Cole, Cushman & Wakefield's Vice Chairman, stated. "180 E. Ocean Blvd. was sold at a significant discount to replacement cost and proved an ideal investment for the buyer."
Cole, along with Cushman & Wakefield's Robert Garey, Ed Hernandez and Nico Napolitano, represented the seller. The transaction represents the largest Class A office building sale in Long Beach this year, according to a press release. The office building offers ocean and city views, as well as walkable amenities such as restaurants and entertainment, features lending well to a live-work environment.
"We are excited to participate in the revitalization of Downtown Long Beach," Moshe Sassover, co-CEO of Thrifty Oil, stated. "The revitalization is well underway with substantial investments by the City of Long Beach, addition of numerous quality retail and restaurant establishments, as well as the ongoing construction of thousands of new residential units."
Territorial Commander Kenneth G. Hodder announced the headquarters relocation in April through the organization's newspaper, New Frontier Chronicle. He stated, ""This is not a move back; this is a move forward for our territory. It is not only a move for increased financial stewardship, but one that will allow greater exchange in a campus environment. The possibilities for interdepartmental collaboration will only improve the delivery of services that Territorial Headquarters offers in service to the territory."
The article went on to say, "The decision comes on the back of a wide-ranging study designed to assess the financial strength of the territory. Known as Project 180, the three-year, three-prong effort aims to reduce costs, increase income and develop ministry. Due to high maintenance costs associated with the current THQ facility, the Board of Directors determined the headquarters move would be an appropriate cost-saving measure to reduce administrative costs without impacting effectiveness."
All Orchard Supply Hardware Locations To Close
On August 22, Lowe's Companies Inc. announced that it would close all 99 Orchard Supply Hardware (OSH) locations by February 1, 2019. An exact closing date for the location at Long Beach Exchange (LBX) in East Long Beach, which opened in March, has not been announced, according to Scott Burnham, founder and CEO of Burnham USA, the company behind LBX.
"The lineup of retailers at LBX is impressive to say the least, and the tenants are achieving very formidable numbers in sales," Burnham said in an e-mail to the Business Journal. "This pending vacancy has nothing to do with the LBX location or Long Beach itself, but rather has all to do with Lowe's corporate strategy to close OSH stores altogether. Thus, the OSH closure provides for an incredible opportunity for another great tenant."
The 40,000-square-foot space is likely to be filled by another full-building occupant, Burnham said, adding that his company would work closely with Lowe's to facilitate the changeover. The decision to close OSH locations came with a report of Lowe's second quarter sales and earnings results. In the announcement, Lowe's President and CEO Marvin Ellison said the company's goal is to focus on retail fundamentals by limiting projects and initiatives.
"The decision by Lowe's to close all [OSH] stores made for national news, and I know that retailers across the country are already evaluating the entire OSH portfolio of stores," Burnham said. "The LBX store is a very strategic location that will undoubtedly receive much attention."
City Council Approves Housing Tract In
Northeast Long Beach; 40 Single-Family Homes Planned
During its August 21 meeting, the Long Beach City Council approved the final tract map and accepted the environmental impact report for a gated, single-family residential community development at 3655 N. Norwalk Blvd. in northeast Long Beach. Michigan-based Pulte Home Company LLC plans to build 40 single-family homes on the 5.8-acre parcel as part of the housing community, dubbed Dorado. According to the company's website, the project includes three floor plans ranging from 2,465 to 2,901 square feet. The homes are already available for presale and range in price from $903,990 to $974,990. Each floor plan has four to five bedrooms, three to four bathrooms and a two-car garage.
Marcus & Millichap: Long Beach Apartment Rental Rates Increased Nearly 5%
The average rent for apartments in the South Bay and Long Beach increased to $2,175 per month in June, a 3.8% increase year-over-year, according to a third quarter market report released by Marcus & Millichap. Long Beach rents increased 4.9%. According to the "Multifamily 2018 Outlook," the combined average rent for Long Beach and the South Bay is $2,217, a 3.8% year-over-year increase. The outlook also anticipates a vacancy rate of 3.4%. The outlook for average rents in Downtown Los Angeles is $2,565, up 8.5% over last year, while average rents in Westside cities such as Beverly Hills and Santa Monica are estimated to reach $3,163, up 7.4%.
New Signal Hill Restaurant Coming To Former Delius Site
Big E Pizza owner Jimmy Eleopoulos is opening a second concept in January at the site of the now-defunct Delius Restaurant in Signal Hill, he told the Business Journal. The new eatery at 2951 Cherry Ave., dubbed "Jimmy E's Sports Bar & Grill," will be a sports lounge with a family-friendly environment, Eleopoulos said.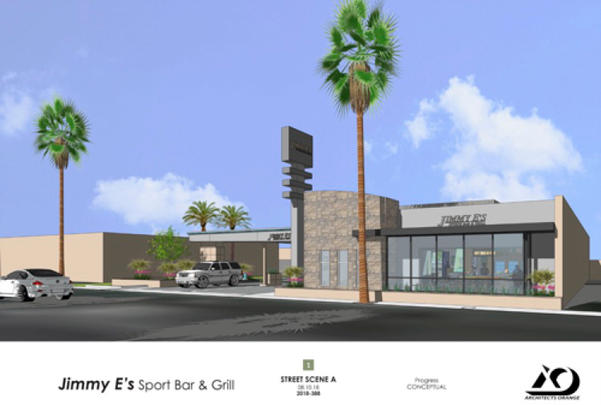 "I believe family dining is the new trend. It'll be a more open feel. I'll get away from the bar feeling," Eleopoulos said. "Even though we'll have a bar, we're focusing on more seating."
The menu will include steaks, seafood and gourmet burgers, as well as pastas, sandwiches, salads and calamari. Eleopoulos said he is involved with the new Port Town Brewing Co. in San Pedro and plans to feature the brewery's craft beers on tap.
Delius Restaurant, which operated at the location for 11 years before closing its doors in June, focused on the dinner crowd with a prix fixe menu. Eleopoulos said the location is not ideal for upscale dining, and that his new joint will be better suited to serve the surrounding community – from workers on their lunch break to families at dinner time.
"The City is very happy that Jimmy Eleopoulos will be opening a new restaurant at the former Delius location. His Big E restaurant is well known for its pizza and Italian food – my favorite is the lasagna," Signal Hill City Manager Charlie Honeycutt stated in an e-mail to the Business Journal. "Jimmy has a successful track record, has always been a stellar member of the Signal Hill community, and his new restaurant continues the trend of Signal Hill being the place to open new and cool places to eat and hang out."
Sports is an important part of Eleopoulos's concept, and TVs will be mounted throughout the restaurant, including on the outdoor patio, he said. Despite having a bar, Eleopoulos said the restaurant will close at a "decent hour." He has owned and operated Big E in Signal Hill for 32 years.
Recent Transactions
Following is a list of real estate transactions that were closed in the last month by local agents:
• Outlook Resources Clark Avenue Holdings LLC purchased the Marco Plaza retail property located at 1710-1772 Clark Ave. from Parker Family Trust for more than $6 million. Lee & Associates' Shaun McCullough, Jeff Coburn and Jeff Bischofberger represented the buyer.
• R.O.A.D.S. Community Care Clinic signed a new lease at 4800 E. Los Coyotes Diag. Automobile Club of Southern California owns the 7,002-square-foot office space. The 10-year lease is valued at $2.389 million. Lee & Associates' Shaun McCullough, Jeff Coburn, Jordan Mannisto and Gary McArdell represented the landlord, while Paul Forman of Forman Associates represented the tenant.
• Keller Williams Coastal Properties renewed its lease for 11,762 square feet of office space at 6621 E. Pacific Coast Hwy. The lease is valued at $1.835 million. Lee Associates' Shaun McCullough, Jeff Coburn and Scott Romick represented the tenant, while George Thomson of Newmark Knight Frank represented the landlord.
Information about local transactions is welcomed and may be e-mailed to: brandon_richardson@lbbj.com. Please provide complete information, including names of buyer/seller, lessor/lessee, square footage, cost, names of agents handling transaction, etc.