Construction Underway On Harvey Milk Park Renovations
Construction began last month on the $700,000 "re-envisioned" Harvey Milk Park on 3rd Street and The Promenade. The 500-square-foot park is being transformed into an outdoor public space that encourages collaboration and connectivity, while celebrating Harvey Milk and the local LGBTQ+ community.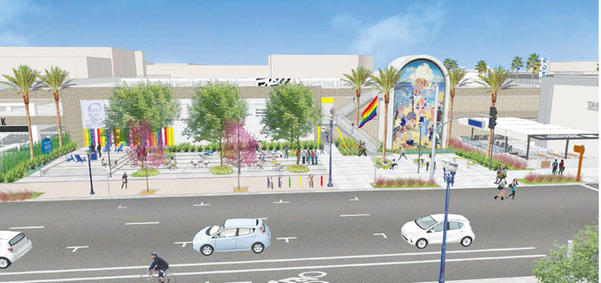 (Rendering provided by the City of Long Beach)
"We created Harvey Milk Park when I represented the downtown [as 1st District councilmember] on the city council, and it has become an important gathering place for the public and to honor so many LBGTQ leaders in our city," Mayor Robert Garcia said. "I'm excited about the investments and improvements coming to the park."
Improvements include new landscape and hardscape, a stage for events, an improved honor wall for local LBGTQ+ leaders, a mural honoring Harvey Milk, charging stations, shade and seating. Americans with Disabilities Act (ADA) and pedestrian accessibility work is also being done to the adjoining City Place Parking Garage C as part of the project, as the garage has an exit into the park.
Funding for the project is as follows:
• 25% from grant funding
• 40% from city collected permit fees
• 15% from Transportation Funds for the bus stop area
• 20% from Measure A funds for ADA improvements and garage accessibility
Extensive community outreach was conducted by city staff to understand residents' needs. As part of a Long Beach Innovation Team campaign, community members voted on various types of furniture and technology solutions they wanted in the park.
"The transformation at Harvey Milk Park not only represents a new opportunity for residents to connect with each other in a public space but it highlights the importance of the LGBTQ+ community in Long Beach," said Councilwoman Lena Gonzalez. "I am so thankful to all of our Harvey Milk Park Equality Plaza Committee Members who helped to design this park as a constant reminder of the fight for equal rights in Long Beach and throughout our nation."
The project is scheduled to be completed before the 2018 Long Beach Lesbian & Gay Pride Festival & Parade on May 20.
Panel Discussion April 13 On Alamitos Bay Waterfront Vision
The Long Beach Commercial Real Estate Council is hosting a panel discussion on the Alamitos Bay Waterfront Vision on Friday, April 13. Third District Councilmember Suzie Price is giving the panel kickoff address and Sergio Ramirez, deputy director of the Long Beach Economic Development Department, is serving as moderator. Panel members include: Christopher Koontz,  advance planning officer for the City of Long Beach; Scott Choppin, founder & CEO of The Urban Pacific Group of Companies; Whit Latimer, president of Bancap Commercial Real Estate Services; and Steve Shaul, senior director of development for CenterCal Properties. The event is 7:30-9 a.m. at The Grand, 4101 E. Willow St. To register: http://lbcrec.com/upcoming-events/.
Local Landlords Being Tapped To Help End Homelessness
The Housing Authority of the City of Long Beach (HACLB), in partnership with the Housing Authority of the County of Los Angeles (HACOLA), hosted an outreach event in an attempt to tap local property owners to help end homelessness.
During the event, more than 120 landlords learned about the Homeless Incentive Program (HIP), which offers financial incentives to landlords who partner with the city, county and nonprofit service providers to end homelessness in the area.
"The Homeless Incentive Program is a great opportunity for landlords to get involved with combating homelessness in Long Beach. We recognize that housing this vulnerable population can come with challenges, and we are optimistic that this program will offset some of those challenges," Vice Mayor Rex Richardson, Housing Authority Commission chair, said in a press release. "I am excited about the opportunities this program provides for both landlords and tenants."
The program is comprised of three major components, according to the press release:
• One month payment to hold the rental unit while a tenant is referred.
• Move-in assistance to individuals experiencing homelessness such as money for the security deposit and utility connection fees.
• Financial assistance to landlords to mitigate damage caused by tenants during their occupancy.
The HACOLA initiated the HIP program last year, though it has been hosting similar events since February 2016. The HACLB began its own program last month. Landlords interested in participating the city or county programs may visit www.haclb.org or www.hacola.org.
"Only by working together can we begin to address homelessness within our City," said Mayor Robert Garcia. "I encourage those who own property to learn more about the incentives available to help landlords be a part of the solution."
Supermarket To Open At Long Beach Exchange April 25
Whole Foods Market 365 is opening the doors of its eighth store nationwide at Long Beach Exchange on April 25. Located at 3881 Lakewood Blvd., the 28,000-square-foot store will be the third Whole Foods Market 365 in Southern California, with others in Santa Monica and Silver Lake.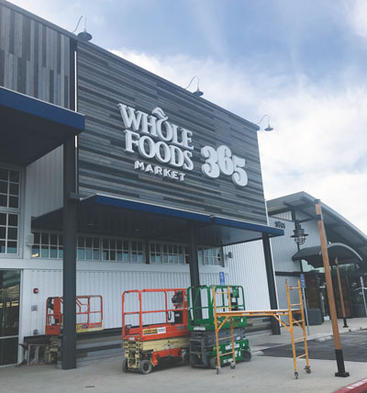 "We are very excited to serve the Long Beach community with this new Whole Foods Market 365 store," Jeff Turnas, president of Whole Foods Market 365, said in a press release. "Customers will find a fun and modern take on the neighborhood grocery store, with great deals and convenient shopping options."
All products sold in the store will be free of artificial flavors, colors, sweeteners, preservatives, hydrogenated fats and high-fructose corn syrup. The store will carry organic products, GAP 5-Step Animal Welfare rated meet, sustainable seafood, and fresh grab-and-go items.
(Photograph by the Business Journal's Anne Artley)
The store will also have a restaurant by Yellow Fever and a cafe by Groundwork Coffee, as part of the store's Friends of 365 program that partners outside chefs, food and lifestyle brands to bring shoppers additional in-store experiences.
Baja Sonora Bixby Knolls Location Permanently Closed
In an April 2 Facebook post, local restaurateurs Mary Sophiea and Mike Mendelsohn announced the Bixby Knolls Baja Sonora located at 3502 Atlantic Ave. would not reopen for business after shutting down in late February for remodeling. "One of the reasons is it was going to cost well over $100,000 to fix everything," Sophiea said in an e-mail to the Business Journal. "The parking lot is in such bad shape we were worried for our customers." The business partners' other Long Beach Baja Sonora location at 2940 Clark Ave. remains closed but Sophiea said she expects to reopen sometime this month.
Two New Breweries Prepare To Open In Bixby Knolls
The long awaited Liberation Brewing Co., a new craft beer brewer in Bixby Knolls, is set for a soft opening event April 19 from 5 to 8 p.m. for members of the Bixby Knolls Business Improvement Association (BKBIA). Located at 3630 Atlantic Ave., the brewing of the first batch of beer began on March 22. According to BKBIA Executive Director Blair Cohn, Liberation will be open for regular business hours on May 3, though hours have not been announced. A second addition to the Bixby Knolls craft beer scene, Ambitious Ales, should begin its build out of 4019 Atlantic Ave. soon, with an opening around late summer, Cohn said.