Pacific Court Complex Sells For $84.2 Million
Commercial real estate investment services firm Marcus & Millichap announced the $84.2 million sale of Pacific Court, a 211-unit luxury mixed-use community located at 245, 250 and 270 Pine Ave. in Downtown Long Beach.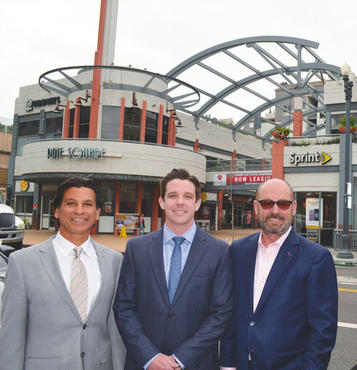 The team at Marcus & Millichap's South Bay office announced the sale of Pacific Court at 270 Pine Ave. for $84.2 million. Pictured from left: Marcus & Millichap's Stephen Soqui, who represented the seller; and Shane Young and Steve "Bogie" Bogoyevac, who represented the buyer. See story on Page 4. (Photograph by the Business Journal's Pat Flynn)
"The sale suggests continued confidence in the Long Beach housing market as development is underway on nearly 2,500 new units, most of which will come online during 2018," the company said in a press release. "With new product in Downtown Long Beach achieving rents upwards of $3 per square foot, Pacific Court's new owner is presented with the opportunity to implement a strategic value-add program and push rents to peak market rates."
Marcus & Millichap's Shane Young and Steve "Bogie" Bogoyevac represented the Orange County-based institutional buyer, while the seller, a private investor, was represented by Stephen Soqui, also with Marcus & Millichap.
Primary construction of Pacific Court was done in 1992, except for 69 lofts that were built in 2016. The development also includes 34,251 square feet of retail space occupied by nine tenants. The residential complex has seven floor plans and amenities such as in-unit laundry, private balconies, central heating and air conditioning, electric appliances and more. Community amenities at the complex include a fitness center, a recreation room and two courtyards with gas barbecues.
Medical Office Building In Bixby Knolls Sold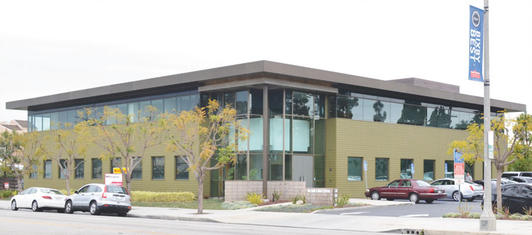 The medical building located at 3918 Long Beach Blvd. recently sold for $7.7 million. (Photograph by the Business Journal's Pat Flynn)
International commercial real estate firm NAI Capital announced today the $7.7 million sale of a medical office building located at 3918 Long Beach Blvd. Senior Vice President and Director of Healthcare Services Sonya Dopp-Grech, Senior Vice President John Manion, Vice President Steven Lewallen, Senior Associate Ryan Dopp and Associate Jeanene Stolrow of the company's Irvine office closed the sale of the two-story, 18,733-square-foot building. The seller was Pepper Lane-Long Beach LLC and the buyer was Salt Holdings LP. "This medical building is well suited for an owner/user to locate their practice in a prime location in the heart of Bixby Knolls. The property is a true pride of ownership property," Dopp-Grech said. The property was 47% occupied at the time of the sale and the new owner plans to occupy the remaining space. "Medical office buildings for sale are hard to find in this market," Manion said. "My client was thrilled to purchase this distinctive, modern architecturally designed building."
Big News For San Pedro: Development Plans Unveiled & Possible SpaceX Operation
Last week, The Ratkovich Company and Jerico Development unveiled plans for the San Pedro Public Market (SPPM), as part of the Port of Los Angeles's vision to "re-energize the area," according to a press release.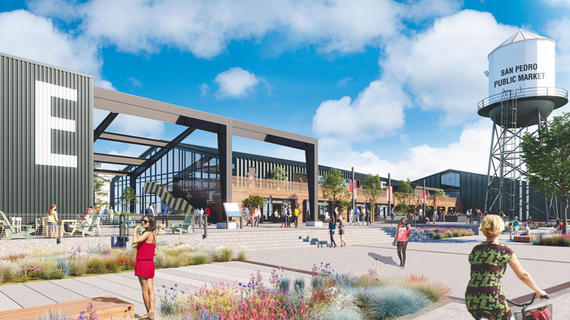 A rendering of the San Pedro Public Market, a development by The Ratkovich Group and Jerico Development. The development will include family-friendly shopping, dining and entertainment, as well as a 30-foot-wide promenade. (Rendering courtesy of The Ratkovich Company)
"Our mission is to produce an economically sustaining development that improves the quality of life for the Los Angeles Waterfront communities," Wayne Ratkovich, the company's president and CEO, said.
Plans describe an environmentally friendly and sustainable development, which will include family-friendly shopping, dining, entertainment and a 30-foot-wide waterfront promenade. The announcement comes the day after SpaceX entered into preliminary negotiations with the Port of Los Angeles for the 10-year lease of an 18-acre site to manufacture "large commercial transportation vehicles," according to the Los Angeles Times. In an e-mail to the Business Journal, a spokesperson for The Ratkovich Company said the SpaceX announcement "underscores the importance of SPPM in the bigger picture for the SoCal region."
David Galullo, CEO and chief creative officer with Rapt Studio, which is designing the project, said, "Our concept is to create a genuine sense of place and a one-of-a-kind experience for SPPM visitors and retailers alike. The design plays off of the landscape and is reminiscent of the fishing sheds that may have once peppered the waterfront, all the while being a modern expression of civic gathering and a new kind of retail/dining/entertainment space."
Redondo Avenue Post Office Moves To New Location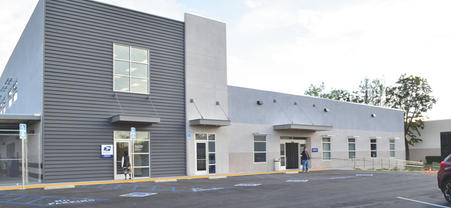 The new post office at 2371 Grand Ave. (Photograph by the Business Journal's Pat Flynn)
The retail post office located at 2300 Redondo Ave. closed on March 16 and reopened at its new location, 2371 Grand Ave., on Monday, March 19. The new space includes full retail services, acts as a carrier delivery center and has a passport center. The PO box lobby is open 6 a.m. to 7 p.m. Monday through Saturday, with the retail window and passport center operating 8:30 a.m. to 5 p.m. Monday through Friday. The passport center will also be open 7 a.m. to 2 p.m. on Saturdays. The new office will not have self-service kiosks until May.
Signal Hill Housing Community Now Open

On March 23, Zinnia, a 72-unit housing development located at 1500 E. Hill St. in Signal Hill, celebrated its grand opening. (Photograph by the Business Journal's Pat Flynn)
The 72-unit Zinnia housing development located at 1500 E. Hill St. in Signal Hill celebrated its grand opening on March 23. The project was developed by Los Angeles-based Meta Housing Corporation in partnership with the City of Signal Hill and the Signal Hill Housing Authority. The community includes a playground, community center, police substation and open space. Upon opening, the apartments were fully leased.
New Shared Workspace Provider Comes To Long Beach
Irvine-based Premier Business Centers announced that it signed a 5.5-year master lease with Milan Capital Management for the entire second floor of Park Tower at 5150 E. Pacific Coast Hwy. "We are happy to bring this East Long Beach landmark back into our portfolio." Premier CEO Jeff Reinstein said in a press release. "The Park Tower location allows us to expand our footprint within Long Beach." The lease is for 17,274 square feet that includes 58 private offices and mini-suites, three conference rooms, a kitchen and breakroom and a reception area. Offices and meetings rooms are available by the hour, day or week.
LBCC Breaks Ground On Auditorium Renovations
Long Beach City College (LBCC) broke ground March 8 on a $29 million renovation project of the auditorium at its Liberal Arts Campus, 4901 E. Carson St. "Long Beach City College is celebrating our 90th anniversary. We're extremely committed to academic excellence in a variety of ways, including providing our students state-of-the-art learning facilities," LBCC Superintendent-President Reagan Romali said. "When we return here for our grand reopening, we will be standing in front of a renovated auditorium that will look very similar from the front, but will be far improved inside. And it's going to be so much more than just the LBCC auditorium. It will be a premier venue for theater, dance, award-winning shows and lecture series." Voter-approved Measure E and Measure LB bonds are funding the renovations, which will maintain "much of the architectural integrity of the original 1957 design, while adding a new dance studio, a new costume shop and updating the audio-visual systems," according to a press release.
Stepp Commercial Sells $10 Million Multi-Family Property
Stepp Commercial Principal Robert Stepp represented the seller, a private trust, in the $10 million sale of an apartment property at 1625 Redondo Ave. "The Circle Area neighborhood is within convenient walking distance of California State University, Long Beach," Stepp said. "The buyer will benefit from the value-add property's prime location and rental upside potential." Built in 1971, the four-story, 36-unit apartment building consists of 12, two-bedroom, two-bath units with patios, 18 one-bedroom, one-bath units and six studios.
New Craft Ramen Joint Coming To Bixby Knolls
Irvine-based HiroNori Craft Ramen is expanding with a new location at 610 E. Carson St. in Bixby Knolls. The restaurant will emulate its Irvine flagship in serving up Japanese and vegan food, including craft ramen rice bowls, salads and more. The Long Beach location is scheduled to open in mid-April.
Construction Costs Increasing, New Tariffs May Continue Trend
The producer price index, a measure of goods and services used in construction projects, rose 0.6% in February, after a 4.2% increase in 2017, according to the Associated General Contractors of America. From 2016 to 2017, the producer price index for aluminum, steel and copper products rose 11.6%, 4.8% and 10%, respectively. New tariffs introduced by the Trump administration could increase construction costs further, "making many projects unaffordable," according to a press release. Associated General Contractors of America CEO Stephen Sandherr released a statement on March 8 in opposition of new steel and aluminum tariffs imposed by the Trump administration. "These new tariffs will cause significant harm to the nation's construction industry, put tens of thousands of high-paying construction jobs at risk, undermine the President's proposed infrastructure initiative and potentially dampen demand for new construction projects for years to come," Sandherr said. "Firms that are already engaged in fixed-price contracts may be forced to absorb these costs, forcing them to cut back on new investments in equipment and personnel.
New Greenbelt Park Opens In 3rd District
The City of Long Beach hosted the grand opening of the Red Car Greenbelt Park at the northwest corner of 4th Street and Park Avenue on March 24. The new park includes a pedestrian path that extends to Ximeno Avenue just south of 7th Street. "The new Red Car Greenbelt is a wonderful example of an unused area being transformed into much needed recreational open space," 3rd District Councilmember Suzie Price said. "This new park connects last year's Red Car Greenbelt built in Greenbelt Heights all the way down to the Colorado Lagoon. Residents can walk, bike or just relax in the beautifully landscaped setting creating a much-needed community park with one of the last undeveloped spaces in the district. I am so thankful for the community involvement and input that has led to this fantastic new neighborhood park." The park features pathway lighting, trail boulders for seating, trash receptacles and doggie bag dispensers, wood grain texture concrete fencing at the entries and decorative concrete pedestrian trails.