Development News
Alamitos Beach Concession Stand
During its special meeting on November 30, the Long Beach Planning Commission approved the replacement of the existing Alamitos Beach concession stand and café located at 780 E. Shoreline Dr. The project entails replacing the current concession stand and café with three buildings, an outdoor recreation area and improvements to on-site surface parking.
Building A will house the concession stand and restaurant totaling 4,315 square feet with a maximum height of 27 feet. The first floor includes a modern restaurant, with an indoor kitchen and restrooms, while the second floor provides outdoor seating. The sale of alcoholic beverages is proposed for the site.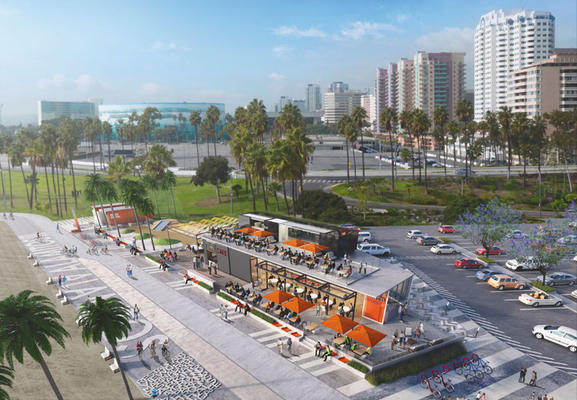 The Long Beach Planning Commission approved a project to replace the existing Alamitos Beach concession stand along Shoreline Drive. The project includes three buildings, which feature a modern restaurant and cafe, recreational equipment storage, outdoor recreation areas, restroom facilities and improvements to existing parking. (Rendering courtesy of the City of Long Beach)
Building B will include restrooms and storage space for use by patrons and beach visitors, and totals 817 square feet with a maximum height of 12 feet. Totaling 430 square feet with a maximum height of 12 feet, Building C will store recreational equipment for beachgoers.
The play space includes concrete seating, a grassy mound, a scramble wall, a slide and a pedestrian pathway. The recreation area includes outdoor games and ping pong tables.
The new project is required to provide a total of 40 parking spaces based on the square footage of restaurant and other space. The proposal calls for the improvement of existing surface parking from 146 to 155 parking spaces, with electric vehicle stations being moved closer to the drop-off area, and regrading existing disabled-accessible parking spaces. Twenty-five bicycle racks are also to be included in the project.
Because the proposed site is in the California Coastal Zone, it falls under the jurisdiction of the California Coastal Commission, which must also approve the project.
Long Beach State Sports Clubhouse
The Long Beach State athletics department announced plans for a new women's soccer and softball clubhouse facility during a press conference on November 30. Located between George Allen Field and the school's softball complex, the $3.5 million project includes team lounges and locker rooms. The university matched a $200,000 donation by Doug and Sandra Leafstedt, while Deputy Athletics Director Cindy Masner made a challenge gift of up to $50,000.
Up Next On The Planning Commission Agenda
At this Thursday's, December 7, meeting, the Long Beach Planning Commission is considering addendums to the Midtown Specific Plan Programmatic Environmental Impact Report and General Plan amendments to allow for the construction of two affordable housing developments. A five-story, 48-unit development proposed at 1836-1852 Locust Ave. requires a change from moderate density residential and traditional retail strip commercial designations to a mixed use designation on 11 lots. A five-story, 102-unit development, including 3,938 square feet of commercial space, located at 1795 Long Beach Blvd., requires the same designation changes for 13 lots.
The approval of 205,060-square-foot warehouse space located at 1901 W. Pacific Coast Hwy. within the California State University Research and Technology Center is also on the commission's agenda.
Marcus & Millichap Multifamily Housing Report
On November 30, Marcus & Millichap released its 4th quarter multifamily market research report, including information on the Long Beach and South Bay area. According to the report, in the 12 months since the end of 3rd quarter 2016, the number of units built was 350, with 156 in Long Beach's Edison luxury apartment building. Currently, more than 1,400 units are under construction in Long Beach, for a total of almost 2,500 units in the South Bay area. The report notes that the vacancy rate for multifamily has increased from a cycle low to 2.9% in Long Beach. The South Bay's vacancy rate rose to 2.8%. Vacancy rates below 3% support rental rate increases, the report states, as South Bay average monthly rents increased 5.6% to $2,013, while Long Beach "remained affordable" despite a 7.3% increase to $1,795 per month.
Long Airport Parking Structure A Reopens
After closing for renovations in January, Long Beach Airport officials celebrated the reopening of Parking Structure A with a ribbon-cutting ceremony on November 22. The $5 million renovation included a new glass elevator, an outdoor stairwell, a dual-lane exit, LED lighting, the addition of 80 Clean Air Vehicle parking spaces and a fresh coat of paint.
Raintree-Evergreen Sales Price Reductions
At tomorrow's, December 5, meeting, the Long Beach City Council is considering the approval of two price reductions for city-owned properties currently in escrow with Raintree-Evergreen LLC. The sale of the property located at 127-135 E. Broadway at The Promenade North was originally approved for $8.2 million. During the entitlement process, it was determined that a dedicated alley would be required to develop on the site. Also, a portion of The Promenade will remain under city ownership, as it was included in a previously approved project. The initial sale was for 45,280 square feet, now reduced to 37,962, bringing the new sales price to just over $6.87 million. The sale of the properties located at 125-133 N. Long Beach Blvd and 234-248 E. Broadway were originally approved for $7.3 million. The entitlement process indicated a dedicated alley and corner cut were necessary to develop the property, reducing the parcel size by 1,268 square feet. The requested sales price is just under $7.1 million. According to city documents, the reduced prices are still the highest offered and provide the best value for the city.
Retail News
Rite Aid
The new Rite Aid located at 4525 E. Pacific Coast Hwy. at the Traffic Circle had a soft opening in mid-November. Now serving customers, the store is hosting an official grand opening and ribbon cutting early next year.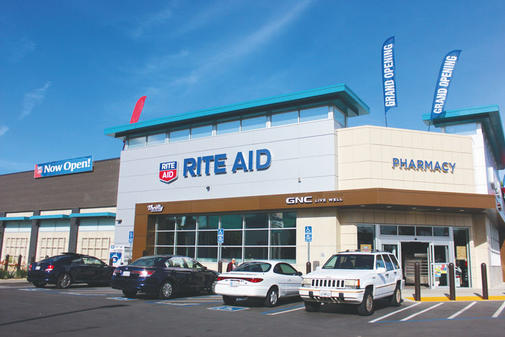 (Photograph by the Business Journal's Brandon Richardson)
The Pie Hole Coming To Belmont Shore
On December 9, The Pie Hole is opening two new locations, including a Long Beach store at 5277 E. 2nd St. in Belmont Shore. The local store will feature new Pie Hole menu items including pear cranberry double crust, peppermint chocolate chip and eggnog custard pie with gingersnap crust. The store is giving away free pies and coffee, merchandise and gift cards to the first 60 people in line. The new stores bring the company's Southern California locations to eight, with another store in North Carolina and two in Tokyo. All locations open at 8 a.m.
Residential Property News
Stepp Commercial
Stepp Commercial Principal Robert Stepp represented Seaward Road Enterprises LLC in the $2.65 million sale of the Redondo Avenue Apartments to Teddy 48 LLC through Chris Eto with Stasia America Properties. "Belmont Heights remains one of the best residential and lifestyle submarkets in Long Beach, popular for its independent spirit and artistic culture," Stepp said. "Its location near Retro Row on 4th Street and its vast array of merchants offer a truly urban lifestyle, and the property's below-market rents and non-rent controlled status offers a 20% rental upside over time." Located at 362 Redondo Ave., the two-story, 1964 building includes seven two-bedroom units and one four-bedroom unit. The property also includes renovated kitchens, hardwood flooring and private garages. n