Shaun R. Lumachi Business Innovation Center Breaks Ground Downtown
The City of Long Beach, in partnership with Long Beach City College (LBCC) and creative office space developer BLANKSPACES, broke ground on the Shaun R. Lumachi Innovation Center at 309 Pine Ave. in Downtown Long Beach on January 22.
"We strive to move our city forward economically by equipping and empowering entrepreneurs," Mayor Robert Garcia said. "Our partnership with Long Beach City College and BLANKSPACES enables us to support Long Beach's new and existing business ventures and help grow the local entrepreneurial ecosystem."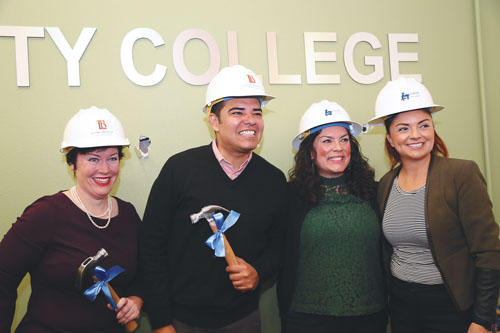 On January 22, in partnership with Long Beach City College (LBCC) and BLANKSPACES, the City of Long Beach broke ground on the Shaun Lumachi Innovation Center at 309 Pine Ave. Pictured from left: LBCC Superintendent-President Reagan Romali; Mayor Robert Garcia; Deziré Lumachi; and 1st District Councilmember Lena Gonzalez. (Photo and rendering courtesy of LBCC)
The partnership was finalized on December 5, 2017, and plans began to renovate the two-story, 4,888-square-foot building, which is currently occupied by LBCC's Small Business Development Center (SBDC). Once completed, the center will continue to be the home of the SBDC, which focuses on delivering programs and support services for entrepreneurs and job training to support the region.
Improvements to the space include a new facade, elevator restoration and co-working and meeting space designed, developed and managed by BLANKSPACES. The workspace includes rentable private offices and hot desks (desks shared by multiple users on a scheduled basis) at an affordable price to assist entrepreneurs and students who may not be able to afford office space otherwise.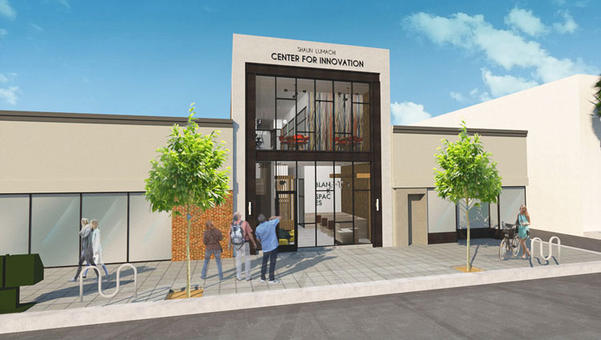 A rendering of the Shaun Lumachi Center For Innovation
"This is the future of entrepreneurship, and LBCC is thrilled to be a part of it," LBCC Superintendent-President Reagan Romali said. "Today marks a new chapter in our partnership with the City of Long Beach, and a significant step toward a thriving entrepreneurial ecosystem."
The city is investing $250,000 in the project, with a portion of the center's proceeds to be used to reimburse for the initial capital outlay. The innovation center is scheduled to be fully operational by spring.
Douglas Park Update
On January 22, Irvine-based real estate development, investment and management firm Sares-Regis Group announced a June groundbreaking for the company's final development of its premier master-planned Douglas Park. Dubbed Douglas Park Northwest, the development includes four company headquarter buildings totaling more than 390,000 square feet at the intersection of Carson Street and Worsham Avenue.
Building 14 will be 86,000 square feet and include 142 parking spaces; Building 15 will be 93,200 square feet with 147 parking spaces; Building 16 will be 136,300 square feet with 234 parking spaces; and Building 17 will be 74,200 square feet with 142 parking spaces.

Sares-Regis Group announced a June groundbreaking for its final development within the Douglas Park master plan. The project includes four company headquarter buildings totaling 390,000 square feet at the intersection of Carson Street and Worsham Avenue. (Rendering courtesy of Sares-Regis)
Adjacent to the new development site is the 265,000-square-foot retail center Long Beach Exchange, or LBX. On January 16, Orchard Supply Hardware was the first store to open its doors at the highly anticipated center. According to a project spokesperson, other brands slated to open include PetSmart on April 23, Whole Foods 365 on April 24, T.J. Maxx by the end of April and Nordstrom Rack on May 10.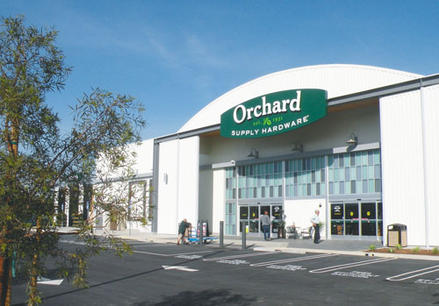 Orchard Supply Hardware opened its doors for business on January 16 at Douglas Park's Long Beach Exchange (LBX) near the intersection of Lakewood Boulevard and Carson Street. According to a project spokesperson, several other business openings are scheduled, including PetSmart on April 23, Whole Foods 365 on April 24, T.J. Maxx at the end of April and Nordstrom Rack on May 10.
On January 12, LBX announced ULTRA Beauty, Images Luxury Nail Lounge and T-Mobile as the latest tenants to join the retail center. Previously announced tenants include Dunkin' Donuts, In-N-Out Burger, MOD Pizza, AT&T, Orangetheory Fitness, Ra Yoga and GritCycle.
Out-Patient Clinic Development Planned For Downtown
Commercial real estate developer Meridian announced its $2.45 million purchase of five parcels for the development of an ambulatory, out-patient clinic in Downtown Long Beach on January 16.
"There are currently over 1,000 residential units and 700,000 square feet of commercial space either in the planning phases or under construction in the area," Meridian CEO John Pollock said. "We felt this was a great time to build this clinic, which will provide life-saving treatment to patients in the area who desperately need this service."
Meridian plans to spend $3.1 million on the project located at 1078-1090 Atlantic Ave., across the street from Dignity Health's St. Mary Medical Center. Three buildings currently occupy the parcels, with two to be demolished. The third, a two-story, 8,280-square-foot building, will be repurposed into a 9,200-square-foot Type V-A single-story building that meets OSHPD 3 requirements.
"By working in collaboration with the City of Long Beach and surrounding community, Meridian was able to provide a comprehensive real estate solution for its end user in a dense, urban-infill submarket," R.J. Sommerdyke, senior acquisitions manager at Meridian, said. "We specialize in unlocking difficult sites to provide patients and communities with access to care away from the traditional hospital setting. We are actively pursuing health care opportunities in the western region of the U.S., from Denver west."
Upon completion, which is expected by the end of the year, the estimated value of the project will be $8.4 million. Becky Blair, president of Coldwell Banker Commercial BLAIR WESTMAC, represented Meridian in the sale, with Dan Weil, vice president of Colliers International, representing the seller, a local private investor.
CSULB Completes Infrastructure Improvement Project
After two years of work, California State University, Long Beach (CSULB) announced the completion of its $22 million infrastructure improvements on January 22.
"As with many Cal State campuses, Long Beach was due for some infrastructure repairs," Director of Design and Construction Mark Zakhour said. "Age and use had resulted in a deteriorating infrastructure. In addition to upgrading our electrical distribution system and two of our heating/hot water supply 'loops,' we had to do a lot of work in the West Campus Circle."
The project included enhancements to a transit hub, better disabled access, flood protections, new lighting, and landscaping. Zakhour said the West Campus Circle heavy rains would have likely triggered flooding in traffic turnarounds and overflows, resulting in costly water damage to surrounding facilities, including Brotman Hall.
"Because it's a main drop-off hub, we wanted to make the new version more student-friendly," Zakhour said. "We installed ADA upgrades, we're providing Wi-Fi in the waiting areas, added seating, shade trees over the seating, and new lighting so it's safer at night."
While students may overlook these improvements, it is impossible to miss the six-foot-tall, 2.5-ton yellow concrete letters spelling out the campus motto, "GO BEACH." Located in the West Campus Circle area, the university's press release said the eye-catching slogan is "destined to become 'selfie central.'"
"The GO BEACH letters were not part of the original upgrade plan but, as we were looking at replacing a wall, we realized we could put that money instead into a unique branding experience," he added. "Working with marketing and communications – together with student input – the idea of the letters became a reality. So far, the feedback has been very positive."
City Seeks Developer For Shuttered Library
Earlier this month the City of Long Beach released a request for proposal (RFP) for the purchase and redevelopment of the former North Long Beach Neighborhood Library at 5571 Orange Ave. The RFP is seeking a buyer to develop the property into "an architecturally significant project appropriate to the urban setting," with the city having a say in the development. The 6,800-square-foot former library was closed in 2016 and was replaced by the 24,500-square-foot Michelle Obama Neighborhood Library at 5870 Atlantic Ave. The former library space is currently being utilized as a homeless shelter.
Fully Entitled Residential Development For Sale
Los Angeles-based real estate company CBRE Inc. is seeking offers on The Residences at Linden, a fully entitled mixed-use development project at 125 and 135 Linden Ave. Located within Long Beach's East Village Arts District, the project is entitled for the development of 82 apartments – one and two bedroom units, as well as lofts –and 4,000 square feet of retail space on the ground floor. The announcement boasts the area's 97 walk score and 86 bike score, and noted that the property is four blocks from the Metro Blue Line 1st Street Station. The project is not subject to the new Affordable Housing Linkage Fee, nor is it within the Coastal Zone. Offers are due by Friday, February 16 at 5 p.m.
Famous Fried Chicken Comes To Wrigley
Gus's World Famous Fried Chicken opened its doors at 2580 Long Beach Blvd. on January 15. The restaurant serves up Southern-style favorites, including spicy fried chicken, greens, mac & cheese, slaw and sweet potato pie. The chicken joint also dishes out fried appetizers, including pickles, green tomatoes and okra. The restaurant has seating for about 60 customers and is open seven days per week from 11 a.m. to 9 p.m.. For more information, including the full menu, visit www.gusfriedchicken.com/long-beach.
Aaron Hill Promoted To President Of Bixby Land Company
Aaron Hill, an 11-year veteran of the Newport Beach-based Bixby Land Company, has been promoted to president. He most recently served as executive vice president and chief operating officer. The 120-year-old real estate firm, which has a longtime Long Beach legacy, is an operator and investment manager with a portfolio of industrial, office and R&D properties of approximately $1 billion. Bill Halford, who has served as president/CEO since 2006. retains his CEO position.