Work Has Begun On New Industrial Campus
Real estate and development firm Pacific Industrial announced the groundbreaking of its 425,000-square-foot industrial campus – dubbed Pacific Edge – at 2300 Redondo Ave. on June 18. CBRE's John Schumacher and Bret Quinlan are marketing the project.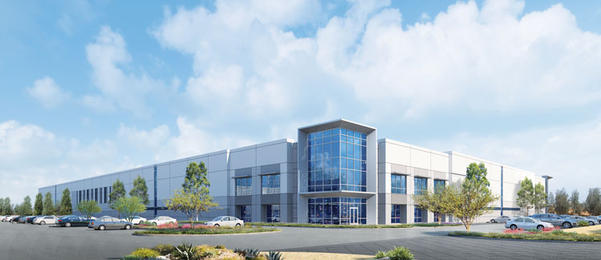 Pacific Industries broke ground on its 425,000-square-foot industrial campus, Pacific Edge, on June 18 at 2300 Redondo Ave., the former site of a major United States Postal Service distribution center. The 20-acre site will include three light industrial buildings and more than 600 parking spaces. (Renderings courtesy of Pacific Industries)
"Understanding the current and future needs of our customers is critical," Neil Mishurda, co-founder of Long Beach-based Pacific Industrial, said. "As consumer habits evolve and user dynamics shift, we are dedicated to designing projects that will not only provide best-in-class features today but will remain relevant throughout many business cycles. Whether it be a surplus of employee parking, above-standard EV charging station counts, or impressive glass tower lobby entrances, we are providing forward-looking features that are rare in industrial projects."
The project includes three light industrial buildings with 638 parking spaces on the more than 20-acre site. Building 1, located at 2300 Redondo Ave., totals 205,530 square feet with 286 parking spaces. Building 2, located at 3200 E. Burnett St., totals 113,800 square feet with 175 parking spaces. Building 3, located at 3600 E. Burnett St., totals 104,720 square feet with 177 parking spaces. Each building will feature a 135-foot-deep truck court and an optional 10,000-square-foot mezzanine for office use.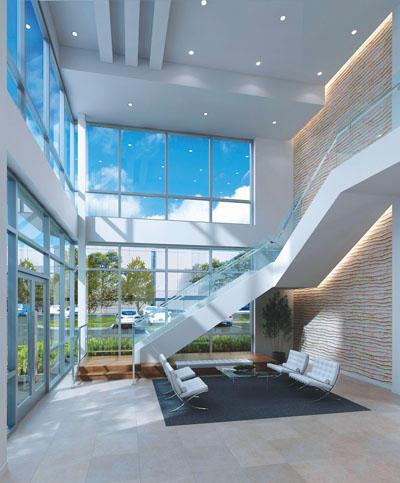 "The project is already attracting the interest of major users," said Schumacher. "Pacific Industrial's overarching design coupled with this irreplaceable location makes it stand out from the rest of the market. The project is destined to set a new standard in industrial product."
The site is scheduled for completion in spring 2019.
Sale Of LBCC Property Approved
The Long Beach City College (LBCC) Board of Trustees approved the sale of 6.3 acres of land to Seal Beach-based residential developer The Olson Company. The deal is in escrow for $16,625,000 and includes the properties at 3320 and 3340 Los Coyotes Diag. and 3325 Palo Verde Ave. One of the properties is a vacant lot, while medical office buildings are located on the other two. LBCC Associate Director of Public Relations and Marketing Stacey Toda said the district does not ask for intended use. She added that the school does not support or oppose any potential use for the site, which was declared a surplus property. According to its website, The Olson Company is "a leader in providing affordable urban housing throughout California." The company declined to comment at this time on its plans for the site.
Downtown Residential Project Approved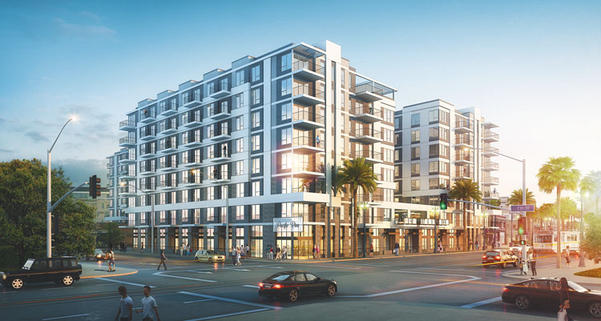 The Pacific-Pine residential project was recently given the green light by the Long Beach Planning Commission. Located on the 600 blocks of Pacific and Pine avenues, the project includes 271 rental units.
The Long Beach Planning Commission approved a 271-unit residential project with a unanimous vote (three commissioners were absent) at its June 21 meeting. The project, dubbed Pacific-Pine, is located at adjacent sites on the 600 blocks of Pacific and Pine avenues. The development will include two eight-story buildings, with 1,305 square feet of retail space and 341 parking spaces. The Pacific Building will be on six parcels, two that currently serve as parking lots, two that are currently occupied by residential buildings, one that is occupied by a mixed-use building and one that is vacant. The Pine Building will occupy three lots, two of which are vacant and one that is occupied by a commercial user. The project includes 93 studio apartments, 94 one-bedroom apartments, 66 two-bedroom units and 18 three-bedroom apartments. Unit sizes will range from 499 square feet to 1,423 square feet. Sixty-two percent of the units will feature private balconies and patios ranging from 38 square feet to 115 square feet.
An Update On The Long Beach Exchange
Though a grand opening is not expected until at least September, businesses have gradually been opening their doors at Long Beach Exchange (LBX), Burnham-Ward Properties' newest retail center development. Located at the southeasternmost corner of the Douglas Park center, In-N-Out Burger quietly opened its doors to the public on June 28. The day before opening, hundreds of family and friends of the new In-N-Out were invited to a private event to socialize and enjoy free meals.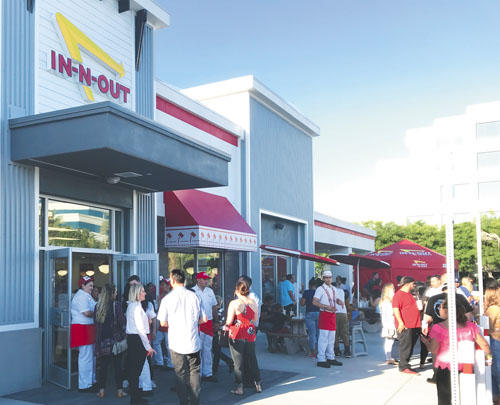 Prior to opening on June 28, the In-N-Out Burger located at the Long Beach Exchange retail center at Douglas Park hosted a private event for hundreds of family members and friends of its new employees to enjoy a free meal. (Photograph by the Business Journal's Brandon Richardson)
Ra Yoga, 3860 Worsham Ave., Suite 310, is scheduled to open on July 9 and has experienced record membership enrollments, with the company already recording more than 500 account sign-ups.
"Ra Yoga is so excited to be joining the Long Beach community. The interest in our special promotions, class packs and unlimited membership programs has been far better than anticipated," Co-Owner Robert Kittleman said. "The volume of inquiries has been astonishing, and many of the people who have shared excitement about our Long Beach location have never visited our studios in Orange County. We didn't expect to be so well received even prior to opening."
Indoor cycling studio GritCycle has also reported a high volume of pre-sale packages in advance of its grand opening sometime this month. Orangetheory Fitness, a national boutique fitness studio, opened at LBX on June 6 with an opening membership level higher than any other of its regional locations, according to Marc Thomas, LBX studio owner and area developer for Orangetheory. He said locations typically open with around 400 members but that Long Beach far exceeded that.
"Long Beach has been underserved when it comes to boutique fitness concepts like GritCycle," Jill Yasuda, the Long Beach studio manager, said. "There is a strong demand for boutique fitness in this area, and GritCycle is filling that demand and helping to bridge the gap between South Bay and Orange County when it comes to innovative, exciting fitness concepts."
For more information on LBX, visit www.longbeachexchange-lbx.com.
What's New In Bixby Knolls
Bixby Knolls seems to be an ever-changing tapestry of small businesses and experiences. The following are some of the recent changes to the area:
• Construction continues on the former Orchard Supply Hardware location at 4480 Atlantic Ave. The newly renovated building will house a Smart & Final, which is expected to open in September, and several other retail stores or restaurants, according to Bixby Knolls Business Improvement Association Executive Director Blair Cohn. He said the property owner has given tours of the locations but no leases have been signed.
• A tenant has signed a lease at the former Baja Sonora location at 3502 Atlantic Ave. Though the tenant name is unknown, Cohn confirmed that it is another Mexican restaurant.
• O Paloma Mexican Restaurant opened its doors at 4262 Atlantic Ave. about one month ago. This is George Mitri's second restaurant in the area as he also owns Baba Ghanouj.
• The corporation that owned DRNK Coffee + Tea sold the location to a local private owner who had been looking for a coffee shop to purchase in the area for quite some time, Cohn explained. The new owners changed the name of the business to Bixby Joe.
• George's 50's Diner celebrated its grand re-opening on June 23. The eatery had been closed since it sustained smoke and fire damage during a two-alarm fire in 2016.
• Specialty shoe store L562B opened its doors on June 21 at 3932 Atlantic Ave. The store features Adidas, Supreme and Nike, as well as its own brand of shoes and clothing, Cohn said.
Real Estate Firm Announced New Long Beach Location
JohnHart Real Estate announced its ninth Southern California office location will be located in Downtown Long Beach's World Trade Center Tower. The announcement was made on June 29, only a few months after the company announced its eighth office in Northridge. The Long Beach location is 2,400 square feet with six private offices, 10 standing/sitting desks, a large conference room and a communal lounge. According to a statement, JohnHart already has several "large" Long Beach agents on board with its expansion. The company is also interviewing interested agents for the location. "Since day one our goal has been to lighten the load on the agents so that they can do more deals, without having to sacrifice any quality of service," John Maseredjian, vice president at JohnHart, said. "We handle all of their contracts, marketing, escrows, and most of the laborious tasks involved with selling properties such as sign installation, pictures and coordination, in order to create more time for our agents to work more closely with their current clients and take on new clients."