Pacific6 Making Big Moves Downtown
Pacific6, a company of local investors including former Molina Healthcare CFO John Molina, purchased the historic Ocean Center building at 110 W. Ocean Blvd. on April 18 for $18 million. The 197-foot-tall building formerly consisted of 200 office suites, a 160-car parking garage, several rooftop terraces and a retail area that featured a penny arcade and indoor miniature golf course as part of the Pike Amusement Zone.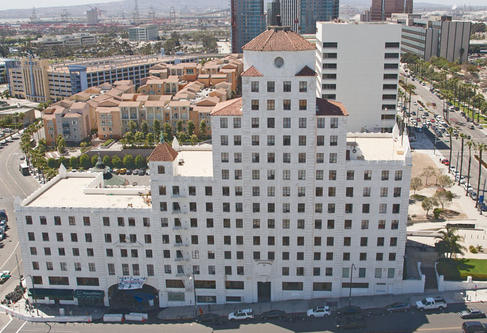 Local investor company Pacific6 recently purchased the Ocean Center building at 110 W. Ocean Blvd. for $18 million and announced plans to convert the space to a residential building with between 70 and 80 units, plus some retail. This photo, looking west with Pine Avenue in the foreground, is from 2007. (Business Journal photograph)
"It really wasn't part of our core plan but the opportunity came up that the previous buyer fell out of escrow, and, when we started looking at the purchase price and the fact that we already had a team working on historic renovations [that] we could utilize, then it started making a lot of sense to go after it," Molina said. "We were able to close quickly, which is what the seller wanted. It just made a ton of sense for us."
Pacific6's plans for the 14-story, 1929 building include 70 to 80 housing units and retail. Previous owners of the building intended to transform the space into a boutique hotel, having already taken care of much of the demolition work for the Pacific6 team. Michael Bohn of Long Beach-based Studio One Eleven, in partnership with David Gray Architects, designed plans for the reuse of the building for the previous owners. Based on these designs that included much of the preservation planning, Molina said the "renovation roadmap" will expedite their own design phase. There is no timeline for the completion of the renovations.
The Ocean Center purchase comes on the heels of Pacific6's acquisition of the historic Breakers Hotel at 210 E. Ocean Blvd. with renovation plans announced in January. The Breakers project includes transforming the former assisted living facility to a hotel with around 175 rooms, according to Molina.
"We're moving. We've got the architects and the builder on board. So we are doing schematics, going through cultural heritage commission and doing all that," Molina said. "We're hoping and have a target of opening it in the first half of 2020. We did a study session at cultural heritage commission and have to go back one more time [before a vote]. We are excited to be able to take what was an underperforming asset and turn it into something really special."
Pacific6 recently announced that the Sky Room and rooftop Cielo bar will be closed as of May 1 for renovations but will reopen. The Sky Room will retain its name upon reopening, but it is undetermined if Cielo will keep its name, according to Molina.
"When we formed Pacific6, we didn't necessarily have any particular targets in mind and so we're just very fortunate that these opportunities came our way and we're going to do everything we can to capitalize on those," Molina said. "Most importantly, we want to leave behind something that everyone can be proud of."
Negotiations Approved For LINC Housing Development

Long Beach-based LINC Housing Corporation was recently awarded an exclusive negotiation agreement for the purchase of land and development of a 55-unit affordable housing development at 469 W. 17th St., 1720-1770 Magnolia Ave. and 469 W. Pacific Coast Hwy. (Rendering courtesy of the City of Long Beach)
The Long Beach Community Investment Company (LBCIC) voted during its April 18 meeting to approve an exclusive negotiation agreement (ENA) with Long Beach-based LINC Housing Corporation for the development of a residential project at 469 W. 17th St., 1720-1770 Magnolia Ave. and 469 W. Pacific Coast Hwy. The proposal submitted by LINC Housing consists of a 3-story building with one two-bedroom onsite manager unit and 55 one-bedroom units for people who are experiencing, or are at risk of, homelessness. Residents of the facility would pay not more than 30% of their income for rent. The ground floor would feature 2,400 square feet of recreational and community -serving amenities, such as resident service staff, case managers and supportive services programs. The ENA will have a six-month term with the option to extend it another six months if needed to determine if the project is physically and financially feasible. According to city staff, LINC Housing will begin work on the design phase with the planning bureau staff of the Long Beach Development Services Department during the ENA so that, if and when an agreement is made, the LBCIC board can consider authorizing the finalized concept. Once funding for the project is assembled, the LBCIC will convey the property to LINC Housing for development, and construction would begin shortly thereafter, city staff said.
Airport Terminal Project
The Long Beach Planning Commission and Long Beach Cultural Heritage Commission voted unanimously at their respective meetings earlier this month to approve the proposed phase two of the Long Beach Airport's Airport Terminal Improvement Project. The proposal includes relocating the baggage security screening facility from the west side of the terminal building and situating it south of the TSA security checkpoint, along with a new baggage make-up area. The historic terminal building, which currently houses ticketing counters, would be converted to a car rental facility, while a new 14,310-square-foot facility would be constructed just 40 feet south of the terminal building. The removal of the current car rental modular buildings will allow the parking lot beside Parking Structure A to serve as the new ground transportation area, including valet parking. The project also includes outdoor concession stands in an expanded courtyard and the Little Brass Cafe Express inside the terminal building. The $65 million to $75 million project is already fully financed by the Airport Fund, requiring no General Fund dollars. Airport staff expects the proposal to go before the council for consideration in May or June, with an estimated completion in fall 2021. Phase one of the project saw the renovation of the airport's two concourses, which opened to the public in December 2012.
New Soccer Field And Gymnasium By Salvation Army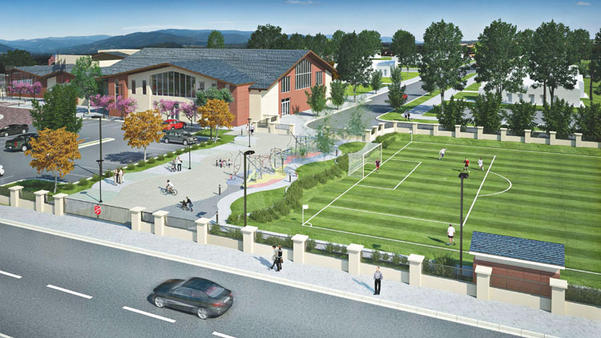 The Long Beach Planning Commission voted to approve a new two-story gymnasium, a youth soccer field and a 70-space parking lot at the Salvation Army Campus at 3012 Long Beach Blvd. during its April 19 meeting. (Rendering courtesy of the City of Long Beach)
The Long Beach Planning Commission voted to approve a development by The Salvation Army at its Citadel Campus located at the northeast corner of Long Beach Boulevard and Spring Street. The project is the third phase of the Salvation Army's redevelopment of the 3.6-acre property and includes the construction of a two-story gymnasium and a youth soccer field. The 22,931-square-foot gymnasium will have a contemporary design and include a fitness center and activity room. The standard-sized soccer field will include a concession stand and landscaping buffers from the streets and residential homes to the north, and a pedestrian path connecting the new 70-space parking lot to the existing chapel. The field will not have lights, as youth games will not be held at night. Phase one began in 2014 and included converting existing retail space into a social services office without food distribution at 3092 Long Beach Blvd. The second phase included converting a hardware store into a 299-seat chapel, constructing a new 3,200-square-foot lobby, a 43-space parking lot and the demolition of a two-story building.
Belmont Shore Business Activity Remains Strong
Business in Belmont Shore continues strong after recent beautification investments along the 2nd Street strip, according to Legends Restaurant and Sports Bar owner and Belmont Shore Business Association (BSBA) Boardmember Eric Johnson.
"From our perspective and what I see on the street, I think it's still very active and it's very attractive. Our numbers are right on target from last year and those were up from the previous year," Johnson said. "So, in terms of just general business and flow of people, it's still very, very strong. There has been some turnover on some locations but I think that's pretty normal."
Recently, longtime 2nd Street beer bar Acapulco Inn closed its doors, as did nearby 2nd Street Pizzeria. Jones Bicycles, which has been operating in Long Beach since 1910, shuttered its doors on April 11, according to the store's website. Bill Lorbeer, the owner of the Jones property, said he is actively working with brokers to fill the space with another bicycle shop.
Women's boutique Laurenly announced its closure and Children's Place shuttered its doors several weeks ago. Brix at the Shore closed its doors several months ago but was quickly replaced by Theory Cafe. Several property owners in the area told the Business Journal that they have interested tenants for vacant (or soon-to-be vacant) spaces but that it is too early in the process to make any announcements.
"There are a whole lot of reasons why tenants and businesses fail. It's easy to blame the greedy landlords and rents. But if you compare rents in Belmont Shore to other surrounding areas, you're going to find it's cheaper," Lorbeer said. "Go look at Pasadena, Santa Monica, Venice, any other area with a pedestrian-centered retail zone and you're going to find that rents are twice, maybe three times what they are in Belmont Shore. That's just what they are. But this is home for me and this is where I invest my money and do business."
Lorbeer noted that some businesses do in fact fail because they are unable to afford increasing rents. However, he said the most common reason for failure is a business model that cannot adapt to a changing market. He used a former Blockbuster Video located in Belmont Shore as an example, saying the company didn't fail because people stopped watching movies but rather changed how they watch them. If companies do not adapt to changing markets, they will not succeed, Lorbeer said.
In terms of bringing more bodies to the area to help businesses succeed, Johnson said the business association is focused on its events, both tried and true, and some that are new. He said the events in Belmont Shore bring tens of thousands of people to the area, which creates plenty of foot traffic for the retail shops, restaurants and services.
"There's a lot of interest in new businesses coming in, which is typical of what's historically happened over the years in Belmont Shore," Belmont Shore property owner and former BSBA president Frank Colonna said. "It's everybody's favorite place to want to open up a business."
An Update On The Streets
Work continues on the repurposing and repositioning project at The Streets (formerly City Place) in Downtown Long Beach. Already in 2018, The Streets welcomed ThickShake Factory at 335 The Promenade N. and Burgerim at 295 E. 3rd St. Throughout the remainder of the year, the center that is bounded by 3rd Street, 6th Street, Pine Avenue and Long Beach Boulevard expects at least seven more businesses to open their doors – Habibeh, Loose Leaf Boba Company, Party Monkey, Pinot's Palette, Poke Cat, Portuguese Bend Distillery and Table 301. Last year, the project saw the opening of Retail Design Collaborative and Studio One Eleven, King Buffet, Romeo Chocolates, The Plant Junkie and Creative Crepes. The Streets now offers more than 40 retail stores, specialty shops, entertainment venues and dining establishments, according to Cameron Andrews, owner of Pier Communications and a spokesperson for The Streets. Currently, two parklet dining areas are under construction at The Streets: one on 4th Street in front of Milana's New York Pizzeria, Mitaki Japanese Restaurant and Fresh Kabobs, and a second on Pine Avenue in front of several retail locations including The Pie Bar.
Virgin Orbit Expands Douglas Park Footprint
Virgin Orbit, a branch of Sir Richard Branson's Virgin Group, expanded its footprint in Douglas Park in March by taking on additional space at 3880 McGowen St. The three-year lease includes a 43,782-square-foot building on a 101,930-square-foot lot. The company's facility at 4022 Conant St. consists of a 150,701-square-foot building, bringing the total building space to 194,483 square feet. Virgin Orbit develops and builds the LauncherOne, a small satellite launch vehicle, at its Long Beach headquarters. Though Virgin's lease rate was not disclosed, the general lease rate for industrial space at Douglas Park has been around 90 cents per square foot, according to Lee & Associates Principal Brandon Carrillo.
Additional Leasing Activity In The City Includes:
• A new 10-year lease for Pizza Press at Shoreline Square, 301 E. Ocean Blvd. (2,800 square feet).
• A new 10-year lease for Jersey Mike's at Shoreline Tower, 301 E. Ocean Blvd. (1,588 square feet).
• Halbert Hargrove & Co. renewed its lease at Landmark Square, 111 W. Ocean Blvd. (13,175 square feet).
• Mutual of America renewed its lease at Landmark Square, 111 W. Ocean Blvd. (6,373 square feet).
• Carroll, Kelly, Trotter, Franzen, McBride & Peabody renewed and expanded its lease at Landmark Square, 111 W. Ocean Blvd. (29,817 square feet).
Cushman & Wakefield's First Quarter Office Market Survey
Cushman & Wakefield's Office Market Survey, released by its Long Beach office on April 12, indicated that asking rental rates for office space in Downtown Long Beach (DLB) were up 0.05% during the first quarter of the year, while suburban Long Beach (SLB) office space rates were up 3.3%.  The city's overall office vacancy rate stood at 15.8%, with DLB at 18.5% and SLB at 10.1%, according to the commercial real estate services firm. The report listed the following "significant lease transactions" during the quarter:
• State of California – State Lands & Coastal Commission – 39,284 square feet at Shoreline Tower, downtown.
• Children's Institute – 20,069 square feet at 1500 Hughes Way, 405/710 interchange.
• State of California – Department of Conservation – 23,925 square feet at Kilroy Airport Center.
• Novagradac & Company – 15,285 square feet at 211 E. Ocean building, downtown.
• Twining Labs – 12,500-square-foot renewal at 2883 E. Spring St.
• Premier Office Centers – 17,272 square feet at Park Tower, Clark and Pacific Coast Highway.
The Cushman & Wakefield report also listed the following "significant sales" for the first quarter:
• 249 E. Ocean Blvd. sold to Rockwell Properties LLC for $21,918,000 ($200.50/sf)
• 1501 Hughes Way sold to 1501 Hughes IKG, LLC for $13,500,00 ($172.44/sf)
• 4130 Cover St. at Douglas Park sold to Samaritan Medical Center for $15,000,000 ($371.51/sf)
• 3918 Long Beach Blvd. sold to Salt Holdings, LP for $7,700,000 ($411.04/sf – medical building)
Strong Momentum Continues For California Housing Market
Existing single-family home sales in California increased to 423,990 in March, up 0.3% from February and 1.6% from March of last year, according to the California Association of Realtors. The association also reported the state's median home price reached an eight-month high at $564,830, up 8.1% from February and 8.9% from March of last year. The median number of days it took to sell a California single-family home remained low at 16 days in March compared with 23 days in March 2017.