City's First Solar, All-Electric New Home Neighborhood Celebrates Grand Opening
On September 18, Irvine-based developer City Ventures and the City of Long Beach celebrated the grand opening of the city's first new home neighborhood built in the downtown core in over a decade – The Huxton.
"We've always said that 'every additional home is a great home,' whether that's a market-rate, for-sale home, a unit being rented or an affordable home," Long Beach Mayor Robert Garcia said during the event. "What I'm most excited about is almost everyone that's purchased their home in this project is from Long Beach. These are Long Beach families and people that are currently renting their homes and wanted to buy and put their roots down here in Long Beach."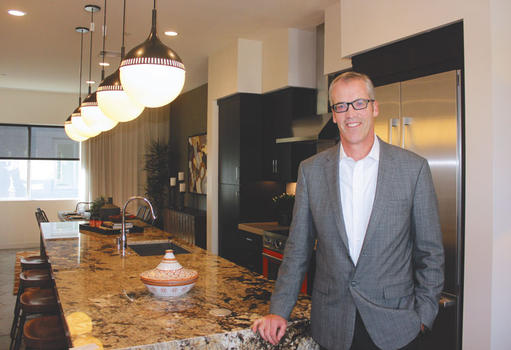 City Ventures and the City of Long Beach celebrated the grand opening of the first phase of The Huxton at 227 Elm Ave. on September 18. The project is the city's first new home community built in the downtown core in over a decade. Of the initial 13 homes, 12 have already been sold. City Ventures Homebuilding CEO Philip Kerr is pictured in the kitchen on the second floor of the model home. (Photograph by the Business Journal's Brandon Richardson)
Located at 227 Elm Ave. between 3rd Street and Broadway, the project consists of 40 for-sale townhomes, with prices starting in the high $600,000s. The first phase of the project includes 13 homes, 12 of which have been sold, according to City Ventures Homebuilding CEO Philip Kerr. The homes are nearly completed, with City Ventures allowing buyers to select their homes' final finishes. The four-story townhomes range in size from 1,254 to 2,025 square feet and include two or three bedrooms and 2.5 or 3.5 bathrooms.
The ground floor of each unit has a one- or two-car garage and entryway staircase leading to the second floor. The second floor of each unit consists of kitchen, dining and living areas with multiple floorplans available. The third and fourth floors of the homes have a mix of bedrooms, bathrooms and living areas, depending on the chosen floorplan. For the largest homes, bedrooms are located on the third floor, each with its own bathroom, while the fourth floor consists of a second living area. Each home has a roof deck on the fourth floor.
"We've worked with over 90 cities throughout Southern California, but we have always been in conversations with Long Beach about finding a great site in the downtown to build on," Kerr told the Business Journal. "This is a former redevelopment site that [the city] did an RFP for that we responded to. We work very closely with the city on identifying sites that are voided or in need of redevelopment and then help target those sites to build homes on."
Solar panels and electric vehicle charging capabilities come standard in each home at The Huxton. Additionally, each unit is equipped with all-electric appliances, LED lighting, windows with ultraviolet coating, energy- and water-efficient plumbing, a "smart" thermostat and more. These features create a home that is good for the environment, while saving owners money on their electric bills, Kerr said. Solar panels are standard for City Ventures projects, Kerr noted.
"We try and balance the lifestyle for folks and build a home that people want to be in, while simultaneously building a dense project that's in the downtown," Kerr said. "This living style where you have your bedrooms separated from your kitchen, living and dining is just a great way to live and we've seen a lot of demand for it."
The second group of homes will be available for presale on September 29 and are expected to be completed by the end of the year, according to City Ventures Vice President of Sales and Marketing Natasha Zabaneh. The third and final phase of homes is anticipated to be completed during the first quarter of 2019, she added.
Planning Commission Green Lights Two Residential Projects
During its September 20 meeting, the Long Beach Planning Commission unanimously approved two residential development projects totaling 217 units. The first vote approved the site plan review and lot merger for the construction of an eight-story mixed-use development with 120 residential units and 4,997 square feet of retail space located at 1101-1157 Long Beach Blvd. The second approval was of a site plan review for the construction of a seven-story multi-family residential building with 97 units located at 1112-1130 Locust Ave.
City Seeks Globemaster (Former C-17 Site) Corridor EIR Input
The City of Long Beach is seeking public input related to the scope and content of the draft environmental impact report (EIR) for the Globemaster Corridor Specific Plan, which includes the former Boeing C-17 manufacturing site. The plan would guide land uses for 438 acres and create a policy framework for developments and improvements on the land adjacent to Long Beach Airport along Cherry Avenue from Carson Street to the 405 Freeway. The city is hosting a meeting on Wednesday, September 26 from 6-8 p.m. at Howard Hughes Middle School, 3846 California Ave., to present the proposed project and receive input from the public. Input may also be e-mailed to craig.chalfant@longbeach.gov. The public commenting period ends October 11 at 4:30 p.m. Under the first proposed scenario, projects within the corridor would be subject to base height requirements. A second scenario would allow for taller structures in exchange for specific uses, including 4.7 million square feet of office space, 4.3 million square feet of industrial, 463,600 square feet of retail, 84,500 square feet of restaurant and 178,600 square feet of hotel. The plan area also anticipates approximately 16 residential units. The draft EIR will include guidelines for project aesthetics, air quality, cultural resources, water quality, land use and planning, noise, population and housing, public services, transportation and traffic, utilities and other items.
City Staff Reveals First Wave Of Short-Term Rental Ordinance Options
In March 2017, the Long Beach City Council directed city staff to collect and study data on short-term rentals (STRs), homes and units for rent on sites such as Airbnb. Since then, staff has conducted stakeholder interviews, a community workshop and roundtable, and an online survey. Staff also analyzed STR regulations in San Francisco, Sacramento, Santa Monica and Newport Beach. On September 10, Long Beach Development Services staff sent a memorandum related to STRs to City Manager Pat West to be distributed to the mayor and all councilmembers. The following are summaries of three options for an STR ordinance outlined in the memorandum:
Option 1 – STRs must be registered with the city and include a local, 24-hour contact. STRs are prohibited in income-restricted units and student housing. A 24-hour hotline would be created by the city to resolve issues and create a record of complaints.
Option 2 – Includes all the features of Option 1. Additionally, Long Beach residents may operate two STRs, or three if one is a primary residence. The number of non-primary residence STRs in multi-family buildings would be limited to 25% of the total units or up to six STRs, whichever is fewer. One non-primary residence STR would be allowed in two- or three-unit buildings.
Option 3 – Includes all features of Options 1 and 2, but un-hosted STRs could be prohibited in designated areas by a vote of area residences.
An economic feasibility study is underway for each option, according to the staff document. The assessment includes estimated revenue from the transient occupancy tax (which STRs are not currently subject to), fees and fines, as well as uses for those funds. A public review workshop is scheduled for Wednesday, October 10. City staff will refine the proposed options based on community feedback before presenting them to the city council in November. For more information, contact Lisa Fall, manager of administrative and financial services at 562/570-6853 or by e-mail at lisa.fall@longbeach.gov.
Traffic Circle Development Update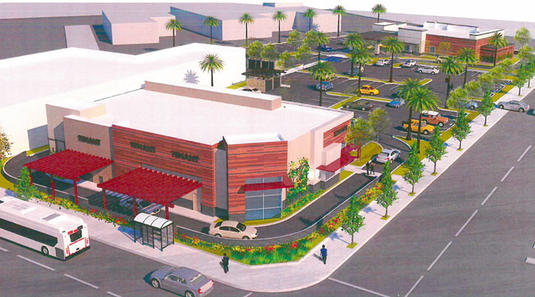 Construction is underway on two buildings on the corner of East Atherton Street and Ximeno Avenue in the Traffic Circle area. The buildings total 10,286 square feet and include four tenant spaces. Starbucks and an unidentified fast food restaurant are set to occupy two of the spaces, each with its own drive-thru. The development also includes a 1,700-square-foot outdoor dining area. "I am incredibly pleased with the retail renaissance at the eastern edge of the traffic circle. We will have a total of seven new stand-alone retail buildings and many new businesses," 4th District Councilmember Daryl Supernaw said in an e-mail to the Business Journal. "This in an area where some of the old buildings had been abandoned for years. As an added bonus, the relocation of Rite Aid to the corner of PCH & Ximeno will actually add a new business; Planet Fitness will be going into the former Rite Aid location in the Vons Circle Center." (Rendering courtesy of the office of Councilmember Supernaw)
All Homes Purchased In Newest Northwest Long Beach Community
Earlier this month, Brandywine Homes announced that all 131 single-family homes in its Riverdale community in Long Beach have sold, with many homes still under construction. "It is a testament to the City of Long Beach that demand for homes at Riverdale was so high that it has been one of the fastest-selling communities in all of Southern California this year," Brandywine Principal Dave Barisic said in an e-mail to the Business Journal.
"From jobs and proximity to industry, to entertainment, arts and food, Long Beach has what homebuyers are looking for." To date, 71 homes in the Northwest Long Beach gated community have been completed and are now occupied. The remaining 60 homes are expected to be completed by January, according to Barisic. Homes range in size from 1,925 to 2,242 square feet, with prices starting in the low $600,000s. Riverdale is the company's largest project to date, Barisic stated.
Three New Tenants Announced For LBX At Lakewood And Carson
Last week, Burnham-Ward Properties announced three new tenants for its Long Beach Exchange (LBX) retail center, including two restaurants and an optical retailer. Quarters Korean BBQ, a fast-casual restaurant, is set to open later this year inside "The Hangar" – a 17,000-square-foot food hall that will feature 14 artisanal food vendors and boutique retailers. Slated to open in spring 2019, The 908 is a new Long Beach-based restaurant concept that will specialize in "American classics and comfort cuisine with a modern bar offering," according to the announcement. Optical retailer For Eyes, which has 110 locations nationwide, is expected to open in early October. The retailer offers eye exam services, as well as eyeglasses, sunglasses and contact lenses.
LBX is located on the southwest corner of Lakewood Boulevard and Carson Street. "The community has been so welcoming to Long Beach Exchange," Steve Thorp, Burnham-Ward Properties partner and director of acquisitions, stated. "We are extremely grateful to have received such positive feedback and support from Long Beach residents, office tenants and visitors, and are proud to be able to continue to bring more great retail and dining options to the area."
2nd Street: New Age Store Leases Former Rubber Tree Location
After more than two decades as the sex boutique The Rubber Tree, the Belmont Shore storefront at 5018 E. 2nd St. is slated to become the new home of New Age retailer House of Intuition. The company was founded by Alex Naranjo and Marlene Vargas in 2010 and sells crystals, candles, tarot cards, oils and more. The Long Beach location is the company's fifth in Southern California, with other stores located in Echo Park, West Hollywood, Santa Monica and Highland Park. A Pasadena store is also coming soon, according to the company's website. Catherine Morris, vice president of William Morris Commercial (WMC), handled the lease. House of Intuition is expected to open in the next 30 to 60 days, according to Toliver Morris, president of WMC.
Belmont Shore Bar And Eatery, Quinn's Pub & Grill, Reopens
After closing for renovations on June 14, 2017, Quinn's Pub & Grill reopened its doors at the beginning of the month. Due to a lack of data regarding earthquake retrofitting for the 1926 building, owner and chef Jason Rabenn, who has owned the pub since December 2009, said the space had to be completely gutted. "Nothing changed but everything changed. We used solid mahogany to finish the place off . . . and large windows to take advantage of the breeze, view and light," Rabenn said. "For the interior we kept a lot of the key design elements that naturally occurred in the old Quinn's, like the location and shape of the bar, colors, textures – the overall warmth of the place." Rabenn added that Quinn's is currently the "most sophisticated pub or restaurant around" in terms of incorporating state-of-the-art electronics and equipment such as in the brand new kitchen.
The menu is relatively unchanged, Rabenn said, having only added a green salad, a dessert and fish 'n chips. The pub has 34 beers on draft, 24 of which rotate to bring new offerings to patrons, along with 12 to 15 different bottled beers and ciders. He said the pub continues to be known for its burger special – a burger with an angus beef, chicken or veggie patty, fries and a pint of domestic beer for $12.50. Rabenn was born in Hollywood and raised in Belmont Shore. He graduated from the Los Angeles Culinary Institute in 1999 and has cooked for The Reef in Long Beach and Hyatt Hotels, among others.
Bixby Knolls Welcomes New Mexican Restaurant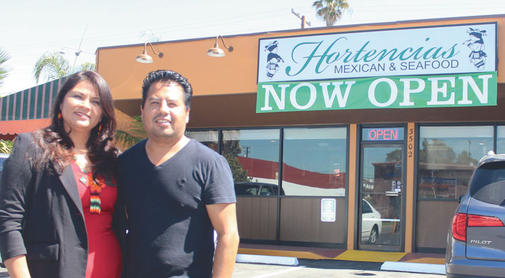 Hortencia and Martin Montion opened Hortencia's Mexican & Seafood on September 12. This is the couple's second location, with the first opening near Lake Arrowhead two years ago. (Photograph by the Business Journal's Brandon Richardson)
Hortencia's Mexican & Seafood quietly opened its doors for dinner on September 12 at 3502 Atlantic Ave. The restaurant is the second for Martin and Hortencia Montion, who opened their first location, Hortencia's At The Cliffhanger, two years ago near Lake Arrowhead. The couple moved to Los Alamitos in January to open their second location and stumbled upon the Bixby Knolls spot. "It's really nice," Hortencia said. "We like it – the area, the parking." The site is the former home of Baja Sonora, which permanently closed in April due to the property needing approximately $90,000 in improvements, according to Baja Sonora co-owner Mary Sophiea. Before opening Hortencia's, the parking lot was repaved, the restaurant was painted and new decor and furniture were installed, Martin said. Some of the restaurant's specialties include fajitas, fish and shrimp plates, and breakfast menudo. Hortencia said the tilapia plate, served whole with rice, beans and tortillas, is quickly becoming a customer favorite. The restaurant is open 9 a.m. to 8 p.m. on weekdays and 8 a.m. to 9 p.m. on weekends.
Other New Bixby Businesses
Also in Bixby Knolls, Ambitious Ales brewery is anticipated to open in late October at 4019 Atlantic Ave., according to Bixby Knolls Business Improvement Association Executive Director Blair Cohn. Additionally, Bella Pizza at 4085 Atlantic Ave. is being sold and will become Pow Wow Pizza, Cohn said. Pow Wow will be locally owned by chef Maurice Yim, who works at Mar'sel at the Terranea Resort in Rancho Palos Verdes.
Old Gold Boutique Coming To Retro Row
Old Gold Boutique, an online store for curated vintage clothing, is celebrating the grand opening of its first brick-and-mortar store on October 5. Located at 2146 E. 4th St. on Retro Row, the concept was conceived by Huntington Beach-native Bridgett Thomson and Long Beach designer Dan Rossiter. "I've always been interested in fashion, especially vintage pieces that work perfectly with one's everyday wardrobe. From a young age I collected finds that didn't even fit, purely to have beauty in my closet," Thomson stated. "It's been a passion of mine to give those used pieces a new life, but to be opening Old Gold's doors in this town and amazing community that Dan and I care so deeply about is just a dream come true."
The 800-square-foot boutique will offer a curated mix of clothing from the 1960s and '70s, as well as an Old Gold clothing brand and home goods. The store will be open Tuesday through Sunday from 11 a.m. to 6 p.m., and on Mondays by appointment.
Logistics Company Leasing Activity Continues To Increase Throughout The Region
Leasing activity by logistics companies increased 37% from 2013 to 2017 in the Greater Los Angeles, Orange County and Inland Empire regions, with 2018 on track to "eclipse" last year's activity, according to a report by CBRE.
Some third-party logistics (3PL) companies have transformed into fourth-party logistics (4PL), which combines warehousing, distribution and transportation management to fulfill online orders. 3PL firms only handle the transportation of goods to customers. "For shippers and e-commerce companies, 4PLs offer the ability to work smarter and more efficiently without the increased cost of purchasing services from multiple logistics service firms," the report states. "The rise of 4PL services is expected to speed up over the coming years in response to the increase of online purchases and higher consumer expectations putting pressure on supply chains." 4PL firms are currently the most active users in terms of logistic company leasing, the report notes.
Los Angeles Area Rent Increases Continue
Rent growth in the Los Angeles metropolitan area was 3.6% in August year-over-year, according to a monthly multi-family report by real estate analytics firm Yardi Matrix monthly. The forecasted rent growth for 2018 is 4.3%. The occupancy rate as of July was 96.9% in the L.A. area. Of the 30 metro areas surveyed, 21 reported year-over-year rent increases of more than 1.5%, the report stated.
See's Candies Los Altos Reopens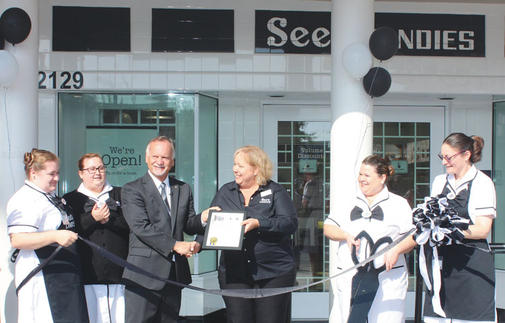 Fourth District Councilmember Daryl Supernaw attended the grand re-opening of See's Candies at 2129 N. Bellflower Blvd. on September 21. The store closed May 14 for renovations and reopened with nearly twice as much space on the sales floor. Tote bags filled with treats were handed out to customers in celebration of the occasion. Prior to opening, a line of more than 100 patrons stretched around the building. Pictured from left: Dakota Taylor, sales associate; Sarah Johns, sales associate; Supernaw; Mary Beth Berry, district sales manager; Julie Moorman, shop manager; Erin Carrington, assistant manager. (Photograph by the Business Journal's Brandon Richardson)