Councilmember Claims State Housing Bill Is An "Attack" On Local Processes
In the midst of a statewide housing crisis, Long Beach Councilmembers Al Austin and Stacy Mungo are asking their colleagues to oppose Senate Bill (SB) 50, a bill that aims to encourage the development of new housing. Their request appears on the May 7 council agenda, and claims that SB 50 removes local control from the development process.
"This is another attack by Sacramento on our local democratic processes. SB 50 undermines the decade-long community process to address Long Beach's future population growth through our recently adopted Land Use Element," Mungo said in an e-mail to the Business Journal. "If other cities haven't planned or aren't taking on their fair share, then the state should look at solutions for them instead of penalizing everyone with a one-size-fits-all approach that kills neighborhood planning."
Under the bill introduced by Sen. Scott Wiener, cities would have to "grant an equitable communities incentive" within jobs-rich and transit-rich areas. This includes allowing four- to five-story apartment buildings within one-half mile of fixed rail lines and one-quarter mile of high-use bus stops. Additionally, townhomes and small apartments (duplexes, triplexes and fourplexes) near job centers and high-performing schools would be allowed regardless of transit access. Other transit-oriented or job-rich area incentives include waivers for minimum parking requirements, maximum controls on density and floor plan specifications.
For approval, developments would need to comply with local government standards related to architectural design, demolition, impact fees and community benefit agreements. The bill would also create inclusionary housing requirements as follows:
Projects with one to 10 units: no affordability requirement.
Projects with 11-20 units: Developer may pay a fee in lieu of including affordable units.
Projects with 21-200 units: 15% of units must be low income, 8% must be very-low income or 6% extremely low income.
Properties with 201-350 units: 17% low income, 10% very-low income or 8% extremely low income.
Properties with 351 or more units: 25% low income, 15% very-low income or 11% extremely low income.
SB 50 allows communities in disadvantaged and vulnerable areas to delay implementation until July 2020. However, if such a community opts to pursue a community-led planning process at the neighborhood level that encourages multi-family development, implementation wouldn't be required until January 1, 2025.
In an online post, Wiener said SB 50 would help "California close its 3.5 million home deficit in a way that doesn't lead to more sprawl and increased carbon emissions." He added that the bill has the support of a growing coalition of affordable housing, labor, environmental, senior, student, disability rights and business organizations, as well as local officials statewide.
In 2018, the city council opposed Wiener's SB 827, a more aggressive version of the current bill. Last month, SB 50 passed the senate housing, and governance and finance committees, and is currently under review by the appropriations committee. The bill must pass the senate by the end of the month and the full legislature by mid-September.
During a phone call with the Business Journal, Austin reiterated that, if passed, SB 50 would negate Long Beach's Land Use Element, which was passed by the city council in March last year after community-wide input and many heated debates. Austin said that the "one-size-fits-all approach" would drastically change the character of existing Long Beach neighborhoods.
Austin acknowledged that many cities throughout the state are not meeting their regional housing needs assessment (RHNA) requirements, either because they are unwilling or unable to do so. For cities unwilling to take steps to increase housing production and meet state mandated goals, he said he agrees that a bill such as SB 50 is needed. For small cities unable to meet RHNA goals due to a lack of resources, Austin said he would like to see other assistance put in place. If resources and assistance for cities in need were included in the legislation, as well as an exemption for cities that have taken steps to encourage housing, Austin said he would reconsider his position on SB 50.
"I support building new housing. I support building more affordable housing. I support building housing along transit corridors," Austin said. "But the City of Long Beach went through a painstaking process . . . to develop a Land Use Element. We expended a lot of staff time and hours, and there was a lot of community input on the process. SB 50 would pretty much eliminate that."
Cannabis Cultivator Drops Big Bucks On State-Of-The-Art Facility
Seven Points Management, a cannabis cultivation company based in Long Beach, has completed one phase of its $50 million buildout at 3030 Walnut Ave. and has begun the grow process for its first plants, according to COO Richard Lambertus.
Massage chair manufacturer Human Touch previously occupied the 98,000-square-foot facility, which served as its corporate headquarters and distribution center. SPM's renovation of the industrial buildings includes the addition of a second floor, bringing the total square footage to approximately 180,000. Once buildout is complete, the facility will include 26 flower rooms, 12 bed rooms, 16 dry and cure rooms, and two trim rooms.
"Working with the city has been really quite phenomenal, to be honest," Lambertus said. "We've provided them feedback on different processes related to licensing and they've been responsive."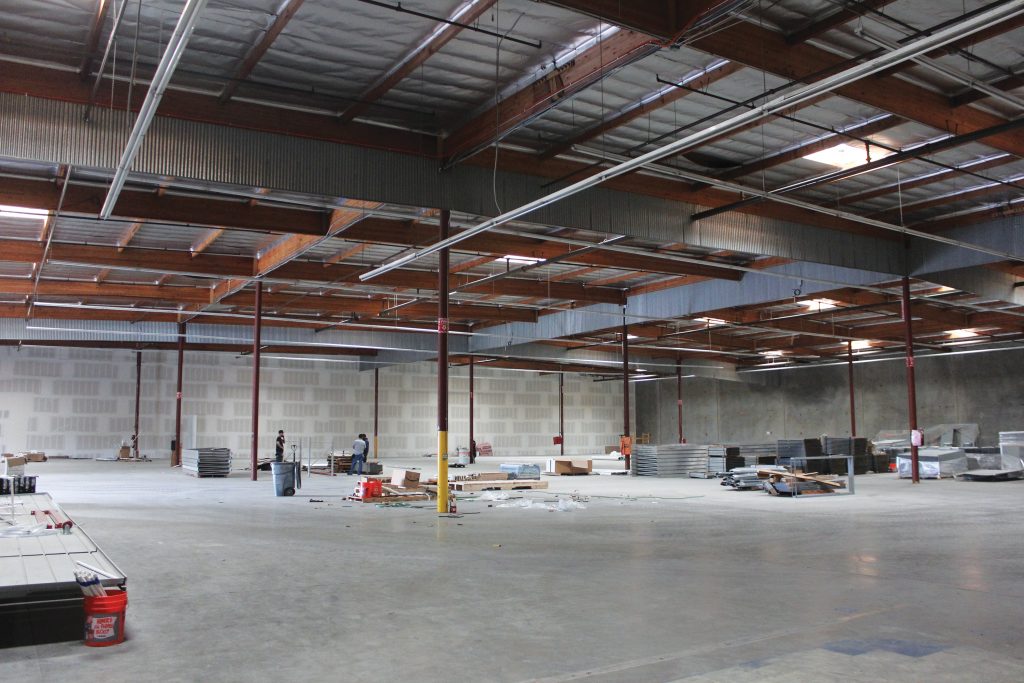 Peak production at the facility is expected to reach 100 pounds of marijuana per day, which has an approximate value of $200,000. Ultimately, Lambertus said the goal is for the facility to also house marijuana testing, manufacturing and distribution operations, in addition to cultivation. Lambertus estimates SPM will pay around $500,000 in taxes per year to the city on its cultivation operation alone.
The high cost of construction on the front end ensures savings over time, according to Lambertus. The expensive water and air systems used by SPM are 40% more efficient than alternative systems, he explained. When fully operational, the facility will have the capability of generating 20,000 amps of electricity, which could power nearly 400 homes for one month. Lambertus is unsure how much water the facility will use but estimates around 30,000 gallons per day, about 50% of which will be reclaimed and reused. The facility will operate 24 hours per day with between 300 and 400 employees once fully operational.
"Long Beach is the right place to invest – it has great infrastructure in place and a long history with cannabis, being that a lot of the '90s rap community came out of here," Lambertus said. "One of the nice things Long Beach did is it put in an equity program, which is fair to people who have been impacted by marijuana laws, as well as being easy for organizations like us to comply with."
Dialysis Clinic Sells For $8.42 Million
San Ramon-based real estate developer and investor Meridian sold a 9,200-square foot dialysis clinic in Long Beach for $8.42 million, the company announced last month. Located at 1090 Atlantic Ave. across the street from Dignity Health's St. Mary Medical Center, the building is occupied by a DaVita Kidney Care clinic. Meridian purchased three existing buildings on the site in January 2018 to build the clinic.
"Due to the increase in multi-family development and the population surge in the area, we felt this downtown location was a perfect opportunity for our client to operate an outpatient facility that would provide a life-saving treatment to the growing community," Meridian Executive Vice President Mike Conn said in a press release.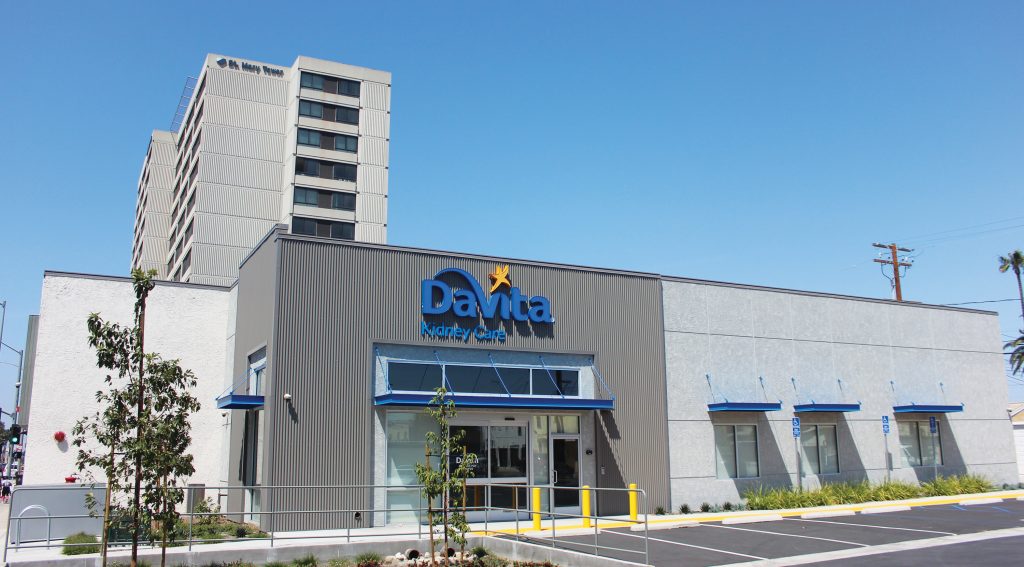 Nearly 7,000 residential units are under construction or planned citywide. Much of the housing development is located in or near the downtown core. Additionally, more than two million square feet of retail, office and industrial space is under construction citywide.
Rahul Chhajed and Michael Moreno of Costa Mesa-based Matthews Real Estate Investment Services represented the buyer, a private investor based in Berkeley, in the transaction. Meridian represented itself.
Owners Of Vacant Lots Could Face New Fees
The Long Beach City Council is considering a request for city staff to look into implementing a vacant commercial property fee. According to the May 7 council agenda item, "sales tax revenues continue to exceed projections, and overall commercial vacancy rates remain low. However, there are some commercial corridors where certain retail properties have remained vacant for years, resulting in blighted conditions and depressed neighborhood economic activity." The item notes that Washington, D.C., New York, Boston, Oakland and San Francisco have implemented fees on vacant properties to combat chronically empty storefronts, with exemptions for those undergoing renovations or an entitlement process with the city. The agenda item requests city staff to report back to the council within 120 days and is sponsored by Vice Mayor Dee Andrews and Councilmembers Austin, Richardson and Uranga.
Council To Consider Zoning Amendments
The Long Beach City Council is considering an ordinance amending Title 21, which pertains to citywide zoning regulations, during its May 7 meeting.
Proposed Title 21 amendments include:
Updating the definition for townhouses and eliminating zoning restrictions on side-by-side units.
Deleting references to commercial zoning districts no longer in use.
Eliminating size restrictions for single-family garages, and updating lot coverage and floor area calculations in single-family districts.
Defining the timeline for planning commission land use decision appeals.
Updating roofing material requirements for residential districts.
Revising screening requirements for mechanical equipment in low-density residential districts.
Providing guidelines to determine curb cut closures and requiring underground utilities in new projects.
Updating school siting requirements to reflect the city's adopted mobility element.
Eliminating restrictions on the maximum number of zoning code amendments per year.
Current regulations only allow for front- and rear-unit designs within duplex zones. According to Long Beach Development Services Community Information Officer Rick de la Torre, the amendment simply "provides more flexibility in design and construction to the property owner." He added that the change would not impact single-family zones, which allow for only one primary dwelling unit.
According to the agenda item, Title 21 has not been comprehensively updated in more than 30 years, causing internal conflicts among city departments.
"New development standards and policies will enable the city to assist developers, architects,
landscape architects, urban designers and professional planners in making informed decisions
when developing site plans," the item reads. "Additionally, by eliminating incongruencies, vagaries and outdated code elements, city staff can provide consistent review and allow for greater code flexibility and more modern standards."
If approved by the city council, the ordinance would require approval from the California Coastal Commission for properties within the coastal zone.
Industrial Real Estate Remains Strong In First Quarter
The Los Angeles and Long Beach industrial real estate market continues to experience low vacancy and increasing asking rents, according to Lee & Associates' first quarter report. Vacancy rates increased from 1.4% in the fourth quarter of 2018 to 1.5% in the first quarter of this year. Average asking rent is $1.02 per square foot, up two cents from the previous quarter. While rents are increasing, average sales price decreased $6.14 quarter-over-quarter to $179.92 per square foot. Total sales during first quarter of 2019 were $153.96 million, compared to $176.83 million the previous quarter. Approximately 122,652-square-feet of space was absorbed during the first quarter and more than one million square feet of space is under construction. The most notable lease in Long Beach during the first quarter was 105,004 square feet at 3600 E. Burnet St. The leased building is still under construction as part of Pacific Industrial's three-building development project at 2300 Redondo Ave. The building was leased for $1.07 per square foot.