Development News
Douglas Park Hotel Nears Completion
The Hampton Inn and Homewood Suites dual hotel is nearing completion on the southwest corner of Lakewood Boulevard and Cover Street in Douglas Park. The project consists of 241 guest rooms, meeting space, a fitness center and a recreation area. According to the project's developer, Nexus Development, the hotel is scheduled for completion mid-September and will be managed by Evolution Hospitality, which also manages the Queen Mary Hotel.

Hampton Inn and Homewood Suites dual hotel is nearing completion in Douglas Park. (Photograph by the Business Journal's Larry Duncan) 
AES To Break Ground On New Power Plant
The AES Corporation announced it will hold a groundbreaking ceremony this Friday, July 21, for its $1.2 billion, 1,040-megawatt electricity generator and battery storage facility. The project is designed to replace the current plant on Studebaker Road, which will include the removal of the long-standing smokestacks. The new generator is scheduled to be online by the second quarter of 2020. Construction on the storage battery facility is scheduled for 2019. Demolition of the current facility is not slated until 2021. The groundbreaking ceremony is by invitation only due to space limitations. For more information, visit www.renewaesalamitos.com.
Stephen O'Kane, president of AES Alamitos Energy, LLC, sent the Business Journal the following statement: "We're excited to move forward to the construction phase of this important project and look forward to working with the community every step of the way. We'd like to thank the Long Beach community for its support of this project, which will not only provide electrical reliability critical to Long Beach and Southern California, but also generate jobs and economic growth while helping California meets environmental goals."


The AES plant on Studebaker Road in Southeast Long Beach before and after. (Provided by AES)
Multifamily Development Up For Approval
The Long Beach Planning Commission is considering the approval of a site plan review and lot merger for the construction of a seven-story multifamily residential building. Located at 320 Alamitos Ave., the project includes 77 residential units and a four-level, 105-stall parking garage. The commission meets at 5 p.m. this Thursday, July 20, at city hall.
New Dog Park In Alamitos Beach
Construction has begun on a dog park (photo at right) in the Alamitos Beach neighborhood. The project is located on the southeast corner of Broadway and Cherry Avenue in Bixby Park. According to 2nd District Councilmember Jeannine Pearce, the dog park is part of an overall plan to improve public safety at Bixby Park. The project features separate sections for large and small dogs, and it is scheduled for completion within 90 days.
Real Estate News
Planning Commission Votes To Recommend Granny Flat Code Change To Council
At its July 6 meeting, the Long Beach Planning Commission voted unanimously to recommend the city council approve a zoning code amendment to the Long Beach Municipal Code regarding accessory dwelling units, commonly referred to as granny flats.
Last year, California Gov. Jerry Brown signed two bills pertaining to granny flats that went into effect on January 1. These bills reduced local government agencies regulatory authority if a proposed granny flat meets certain state standards and also streamlined the review process. To keep in compliance with the state, the Long Beach City Council requested city staff to prepare the draft ordinance.
The proposed ordinance focuses on the maximum size of the unit, parking requirements and setbacks. The proposal adopts the state mandates for setbacks, which require no additional setbacks for existing structures other than any required to achieve life safety standards, and a five-foot side and rear setback when the unit is located above a garage. In addition to state requirements, city staff included a requirement for a side yard setback that is the same as the zoning district or five feet, whichever is less. Staff's proposed rear setback is five feet for detached structures.
Accessory dwelling units outside of the coastal zone or parking impacted areas do not have a requirement to provide additional parking. However, those within the coastal zone and parking impacted areas are required to provide one space if the unit is 640 square feet or less, and two spaces if it is greater than 640 square feet.
Commissioner Jane Templin made a motion to accept the recommendation as presented, including a maximum size of 1,200 square feet or 50% of the primary dwelling size. However, Commissioner Richard Lewis requested a friendly amendment to reduce the maximum size of the unit to 800 square feet or 50% of the primary dwelling size. Templin countered the amendment with a 1,000-square-foot maximum or 50% of the primary dwelling size, whichever is smaller, and Lewis agreed.
Stepp Commercial Completes Multimillion-Dollar Sale
Principal Robert Stepp and Vice President Michael Toveg of Stepp Commercial represented the seller, Long Beach-based Northpoint Realty, and the buyer, VMG Properties from Santa Monica, in the $2.16 million sale of a multifamily residential complex. "This property was purchased as a value-add opportunity, and the buyer is planning on making significant renovations to improve the property," Stepp said. "As the Long Beach market continues to strengthen, the demand for well-located, improved rental units increases." The nine-unit property is located at 2320 E. 6th St. and consists of eight two-bedroom units and one one-bedroom unit. The sale breaks down to $240,000 per unit in the two-story building, which was built in 1961.
Downtown Real Estate Update
Recent office and retail leases by Toliver Morris, president of William Morris Commercial, included the following:
• AlTech Electronics – 211 E. Ocean Blvd., 5,481 square feet, new to downtown.
• Merch Traffic – 435 E. 4th St., 2,008 square feet, new to downtown.
• Blackstone Games – 100 W. Broadway, 5,727 square feet, new to downtown.
Recent retail leases by Catherine Morris, retail specialist at William Morris Commercial, including the following:
• Long Beach Creamery – 222 E. Broadway, 1,650 square feet, new to downtown.
• Waters Edge Winery – 217 Pine Ave., 4,600 square feet, new to downtown.
• Burgerim – 295 E. 3rd St., 2,010 square feet, new to downtown.
• Trademark Brewing – 233 E. Anaheim St., 17,461 square feet, new to downtown.
• Pizza Press – 301 E. Ocean Blvd., 2,800 square feet, new to downtown.
Update On Bixby Knolls New Business
• 4121 Atlantic Ave. – Edgar & James: A Curated Collection By Goodwill celebrated its grand opening on July 14.
• 4236 Atlantic Ave. – Cheese Addiction is gearing up to open.
• 3630 Atlantic Ave. – Liberation Brewing has begun its building improvements and will get a Pow Wow mural and begin its interior build-out.
• 3900 Atlantic Ave. – West Bistro is remodeling and getting a new food concept.
• 4251 Long Beach Blvd. – Owners of the former Hof's Hut property are seeking a new restaurant concept.
• 4047 Long Beach Blvd. – Summerjax is heavy into their refurbishing of the Killingsworth building.
Tesoro Leases Space In Downtown
Tesoro Refining & Marketing has leased 17,858 square feet of office space at Shoreline Square Tower in Downtown Long Beach. According to a company spokesperson, about 60 employees work in the space, with a mixture of refining and marketing employees.
City Council Actions
City Council To Consider A Housing Development Appeal
At tonight's (July 18) meeting, the Long Beach City Council will consider an appeal by Warren Blesofsky representing Long Beach Citizens for Fair Development. The appeal was filed against the development of a seven-story, 142-unit mixed-use residential development at 500 W. Broadway. In the appeal, Blesofsky claimed the environmental impact report does not adequately address potential impacts of the development. Staff recommendation on the item is to deny the appeal.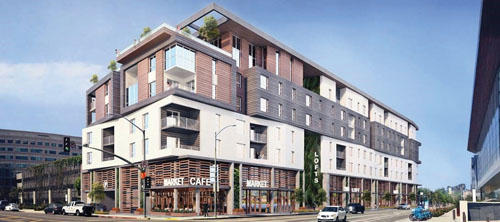 500 W. Broadway mixed-use project.
City Council To Consider Two Medical Marijuana Location Appeals
The Long Beach City Council, at tonight's meeting, is considering the denial appeals of two medical marijuana dispensaries. Long Beach Cannabis Club's business license application for 5752 E. 2nd St. in Naples was denied for being within 1,000 feet of a beach and 600 feet from a public park. EZ Greens LLC's business license application for 1355 W. Willow St. was denied for being located within an area zoned exclusively for residential use. Staff recommendation on each item is to deny the appeals.