Satellite Launch Hub: Third Firm Signs Douglas Park Lease
Aerospace manufacturer and small satellite launch service provider Rocket Lab has leased an 87,605-square-foot building at Sares-Regis Group's final Douglas Park development, Pacific Pointe Northwest, according to Larry Lukanish, senior vice president of commercial development and investment for Sares-Regis. Currently based in Huntington Beach, Rocket Lab is relocating its corporate headquarters to the Long Beach facility located at 3550 Carson St. Rocket Lab is the third satellite launch company to move into Douglas Park, with the first being Virgin Galactic – now Virgin Orbit – in 2015. The news of Rocket Lab's relocation comes just two months after Mayor Robert Garcia announced a Douglas Park lease by SpinLaunch, which was previously based in Sunnyvale. Pacific Pointe Northwest is a four-building development totaling nearly 400,000 square feet of industrial and office space. Construction of the project is expected to be completed by the end of the year. While no other leases have been signed, Lukanish said there are "a few interested parties."
City Council To Consider Updated Land Use PEIR Approval
During its December 3 meeting, the Long Beach City Council will vote on whether or not to certify the Program Environmental Impact Report (PEIR), adopt the General Plan Land Use Element (LUE) and Urban Design Element (UDE), and repeal the General Plan's Scenic Routes Element, which the new documents would replace. On March 6, 2018, after more than 10 years and heated public debate over allowed building heights in certain areas, the Long Beach City Council voted to confirm the LUE and Urban UDE placetype and height maps, directing city staff to update the PEIR. Following the 2018 vote, the LUE and UDE texts were updated to reflect changes requested by the council, "to correct minor errors [such as grammar, typos and formatting] and to address environmental impacts arising from the environmental review process," according to a staff report. If certified, the amendments to the Long Beach General Plan would be submitted to the California Coastal Commission for approval.
Commission To Vote On Planned Industrial Development
During its November 7 meeting, the Long Beach Planning Commission voted unanimously to approve the site plan review and local coastal development permit for the construction of two concrete tilt-up industrial buildings with surface parking at 300 Studebaker Rd. Commissioner Andy Perez recused himself from the vote and Commissioner Ron Cruz was absent. Approved plans for the 6.69-acre project site in Southeast Long Beach include a 91,700-square-foot building and a 47,500-square-foot building, as well as 168 surface parking spaces. Combined, the buildings will total 118,200 square feet of industrial space and 21,000 square feet of office area. The project meets city regulations requiring 30% on-site open space with the inclusion of 1.81 acres of open space across Studebaker Road on two parcels divided by Loynes Drive. Previously occupied by Loynes Tank Farm, the development site used to consist of two aboveground storage tanks filled with heavy fuel oil. The tanks were removed in 2010.
Commercial Real Estate To Remain Strong In 2020, Experts Say
Continuing the longest period of economic expansion in United States' history, national commercial real estate markets, including office, retail, industrial and multi-family, are expected to continue strong 2020 at a "tempered" rate, according to an outlook report released by CBRE.
"Next year will bring deceleration on a few fronts, but this still is an expanding economy and a flourishing property market benefiting from a robust job market, solid consumer confidence and low interest rates," Richard Barkham, CBRE's global chief economist and head of Americas research, stated. "We'll see resilience across asset classes such as office, retail and multi-family as demand continues to buoy those sectors. And we see transaction volumes and capitalization rates staying relatively stable."
According to the report, growth of office-using jobs will slow to 0.3% in 2020, down from 1.5% in 2018 and 2019, which will lead to new construction outpacing net absorption next year. This decrease will result in a slight increase to the national vacancy, and rent growth will slow to a 1.6% gain. However, CBRE projects the flexible-office sector to grow by 13% in 2020, with inventory to reach 87 million square feet, 2.1% of the country's office market.
The industrial market has experienced 38 quarters of positive net absorption, which might be difficult to sustain in 2020 due to historically low vacancy rates, the report notes. With the impact of national trade conflicts expected to be limited, rent growth is expected to increase by an average of 5% next year.
While CBRE predicts more consumer caution in 2020, the firm also expects rents and net absorption to increase slightly due to a lack of new retail construction. "Trends likely to gain momentum in 2020 include developers converting malls to mixed-use complexes, Generation Z boosting traffic at retail centers, and health and wellness uses taking more retail space," according to the report.
The multi-family market will likely slow down slightly as new supply outpaces demand and rent control legislation remains an industry concern. The report speculates vacancy to increase slightly to 4.5%, while rents decrease about 2.4%.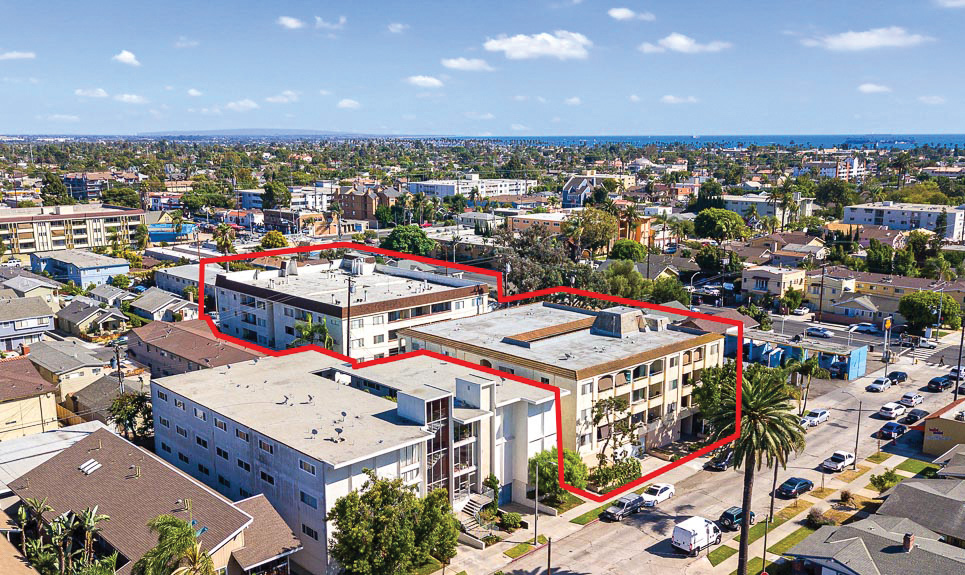 Belmont Heights Apartment Building Sells For $15 Million
Stepp Commercial Principal Robert Stepp and Senior Vice President Michael Toveg represented the buyer, Santa Monica-based Miramar Capital, in the nearly $15 million sale of two adjacent apartment properties totaling 48 units. Located at 425 Coronado Ave. and 424 Obispo Ave., the properties include a mix of two-bedroom, one-bedroom and studio units, as well as 48 parking spaces and a swimming pool between the buildings. "This was a rare opportunity for our client to own two large-scale adjacent apartment assets in a prime Belmont Heights location," Stepp stated. "These properties were owned by the seller for 30 years and present a value-add play for the new ownership to renovate and update the unit interiors and exterior to secure a stronger rental income and favorable cash-flow." The seller was a private investor based in Los Angeles.
Winter Homeless Shelter Now Open
Located in West Long Beach, a winter shelter provided by Long Beach-based nonprofit United States Veterans Initiative is expected to open December 7 and will operate through March 31, 2020. However, the site may open sooner if construction finishes ahead of schedule. The shelter will operate from 5 p.m. to 7 a.m. but may have extended hours during rainy weather. As a closed facility, participants must be transported to and from the shelter from designated pick-up and drop-off areas: 14th Street Park at 14th Street and Palmer Court near Long Beach Boulevard, and the Multi-Service Center, 1301 W. 12th St. Once checked in, participants will be required to remain at the shelter until 7 a.m. The shelter is part of the 2019-2020 Winter Shelter Program for Service Planning Area 8 (SPA 8).  SPA 8 consists of the southernmost portion of Los Angeles County. The first phase of the city's year-round shelter, Atlantic Avenue Bridge Housing Community, is expected to open by June 2020.