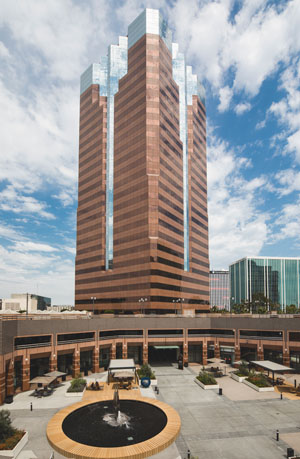 New, Expanded Leases At One World Trade Center Long Beach
In December, Los Angeles-based corporate housing provider Oakwood Worldwide (US), LP, finalized a lease agreement for 19,000 square feet of office space at One World Trade Center (1WTC) in Downtown Long Beach. The company is relocating its corporate headquarters from Los Angeles to Long Beach midyear, according to a 1WTC spokesperson. James Hooks and Seth Wellisch of CRESA handled the transaction.
Also at 1WTC, oil firm California Resource Corporation finalized a lease for 72,000 square feet on five floors to be occupied when the company vacates the Landmark Square office building later this year. Craig Kish of Newmark Knight Frank handled the transaction. Specialty's Cafe (represented by Scott Frazier of Lee & Associates) signed a lease for 3,500 square feet in December and plans an April opening in courtyard plaza. Lastly, two law firms, Ford Walker Haggerty and Behar (represented by Richard Merritt of KM Brokerage Services), and the Law Offices of Garcia & Artigliere (represented by Dave Coe of Davco Realty Services), renewed and expanded their leases. The property is represented by Jason Fine, Steve Solomon and Kristen Bowman of JLL.
These leases come on the heels of a $25 million investment in building upgrades and renovations by a venture comprised of Stillwater Investment Group, Greenlaw Partners and affiliates of Walton Street Capital. The venture acquired the 27-story, 575,000-square-foot tower in August 2015.
"1WTC is an iconic property that really defines Downtown Long Beach," Stillwater founder John Drachman stated in a prepared statement. "It has been exciting to bring a new look and top-of-the-line amenities to 1WTC to make it an ideal tenant location, and the leasing achieved to date confirms it. In today's market, Class A tenants require Class A amenities, and with all the improvements we have made to 1WTC, we feel it justifies the leasing success."
Improvements included a two-story, 36,360-square-foot 24 Hour Fitness Super Sport Club. The gym anchors the newly renovated outdoor courtyard, which features new seating, landscaping, shade structures and artwork. The building's interior also received improvements, including a modernized lobby with three common-area conference rooms.
"This is an exciting and dynamic downtown that is now realizing the benefit of significant investment from the new Long Beach Civic Center to the new Courthouse, as well as a multitude of new housing options," Drachman said. "We are excited to be at the center of the Downtown Long Beach evolution providing a corporate environment designed to lead the way."
271-Unit Residential Project Breaks Ground Downtown
Construction crews have broken ground on the Pacific-Pine residential project by developer Holland Partner Group. The project consists of 271 units – 11 of which are for lower-income residents – in two, eight-story buildings located at 635 Pine Ave. and 636 Pacific Ave. In the coming months, crews will dig down for the subterranean parking garage, which will consist of 341 parking stalls, Holland Development Director Ryan Guthrie stated in an e-mail to the Business Journal. Units range from studios to three bedrooms and finishes include stainless steel appliances, stone countertops, vinyl plank flooring, LED lighting and NEST thermostats. The first units are anticipated to be ready for occupancy in November 2020, according to Guthrie.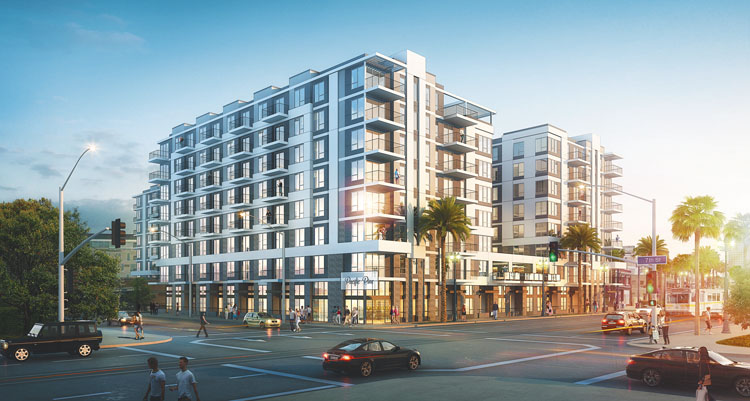 Aquarium Announces May 24 Opening For Pacific Visions Wing
Earlier this month, the Aquarium of the Pacific announced its Pacific Visions expansion is opening to the public on May 24. The new wing is the Aquarium's first major expansion since opening in 1998, and features the 300-seat immersive Honda Pacific Visions Theater, live-animal exhibits, an art gallery and exhibition space.
"The Aquarium is taking a bold, unconventional path with Pacific Visions. Rather than focusing on bigger exhibits and more spectacular animals, the new wing will turn the spotlight on the one species on our planet that is changing the future for all others – humans," Dr. Jerry Schubel, Aquarium president and CEO, stated. "Pacific Visions is the culmination of more than a decade of planning. It will challenge our visitors to examine human impact on our ocean planet and engage in the choices that will reduce that impact."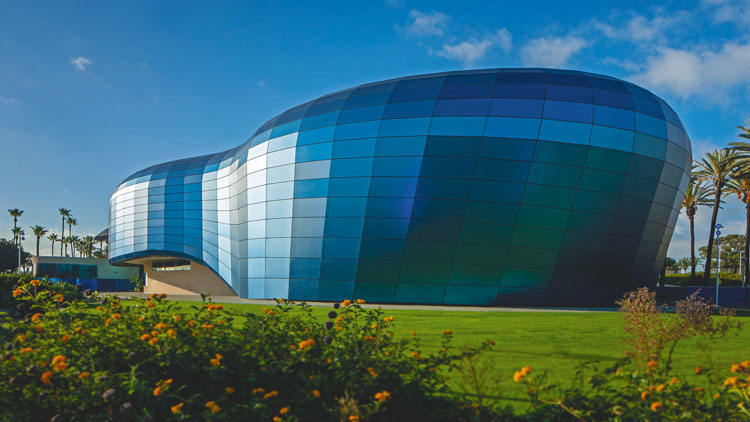 Programming within Pacific Visions will focus on environmental issues, such as climate change, extreme weather, sea level rise and water shortages. The inaugural art installation, designed by Germany-based design company Convivial Studio, uses a multi-channel video installation, special soundscapes and sculptural relief walls to immerse visitors in sea life, according to the announcement.
Theater content is being developed by the Aquarium and Cortina Productions, in partnership with leading scientists, filmmakers, storytellers and digital artists. The inaugural film "investigates human production and use of food, energy, and water as resources" and explores creative ways to manage those resources for the world's growing population.
"It's been an honor to work with scientists around the world, learning more about their research and utilizing their data sets in our art installation for Pacific Visions," Convivial's Paul Ferragut and Ann-Kristin Abel stated. "We were charged by the Aquarium to create an experience that would inspire visitors with wonder at the richness of marine life on our ocean planet, and we look forward to seeing how the public responds to the 'Coral World' and to the 'Plankton World.'"
The wing's 5,000-square-foot culmination gallery was designed by Bowman Change Inc. and Cortina, and features game tables, a 50-foot-long interactive wall, displays and live-animal exhibits. To go along with the expansion, a Pacific Visions app has been designed by Artifact Technologies to allow visitors to share their experiences via their mobile devices.
Gov. Newsom Seeks Major Housing Buildout In First State Budget Proposal
In his first budget proposal as governor of California, Gavin Newsom has called on the state to produce 3.5 million new housing units by 2025. Newsom's goal equates to 500,000 new units per year, which is 6.25 times more than the state currently produces, according to a statement by California Treasurer Fiona Ma. "Our collective efforts to end California's housing crisis just got a very big boost from Gov. Newsom in his proposed state budget [on January 10]," Ma stated. "Building more affordable housing is one of my top priorities. But let's not fool ourselves. More is needed. We need creative and innovative out-of-the-box thinking. And, of course, we need to move at warp speed." Newsom's $144 billion general fund budget proposal is a 4% increase over former Gov. Jerry Brown's final spending plan last year. After revisions based on up-to-date economic forecasts in the spring, the state legislature must approve the budget by today, June 15, as the state's fiscal year ends on June 30.
Epson Solution Center Opens In Long Beach
An Epson Certified Solution Center opened at sign and graphics company Grimco's Long Beach office at 2386 E. Artesia Blvd., Epson America Inc. announced on January 9. "We are excited to partner with Grimco and offer this new solution center for the local print services community," John Meyer, manager of wide format channel for Epson, stated in a press release. "Leveraging decades of expertise and experience in advanced print technologies, Epson is committed to providing customers with the best solutions that exceed customer expectations resulting in increased profit for the print service provider." The solution center offers a full suite of SureColor production equipment, print samples and applications, and comprehensive customer training. Epson America Inc. is based in Long Beach.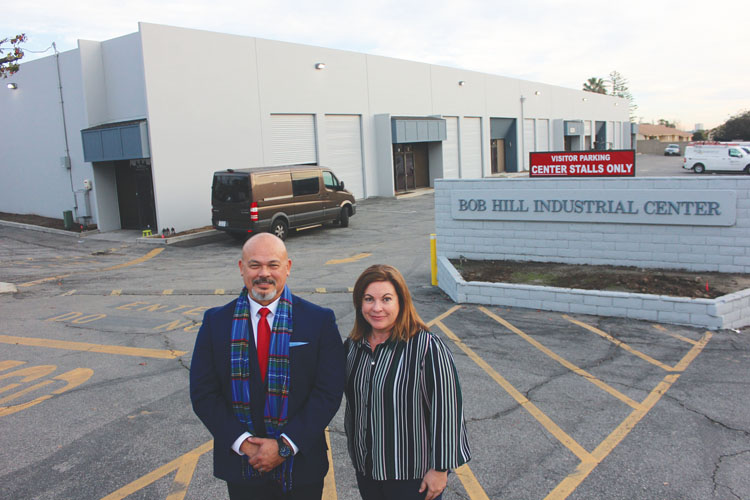 Recent Transactions
The following is a list of recent residential and commercial property transactions by the teams at Centennial Advisers, Coldwell Banker Commercial BLAIR WESTMAC (CBC), INCO Commercial and Marcus & Millichap's Bogie Investment Group. The descriptions were provided by representatives of their respective offices:
1112-1130 Locust Ave. – a 22,200-square-foot city-owned lot purchased by South Park Group to build 97 market-rate units with full amenities. CBC President Becky Blair represented the buyer.
1322 Coronado Ave. – California Holiday Investments LLC purchased this 4,967-square-foot office building from 1322 Coronado LLC for $1,325,000 million. Centennial agents Peter Pappageorge and Doug Shea were involved in the transaction.
1342 Coronado Ave. – SFC Properties 1 LLC purchased this 5,176-square-foot office building from Dene Properties LLC for $1.95 million. Centennial agents Pappageorge and Shea were involved in the transaction.
1390-1416 E. Burnett St., Signal Hill – Carmorry I LLC recently purchased the 35,162-square-foot, 22-unit Bob Hill Industrial Park for $6,050,000 from KRH Investment Properties LLC and Cheryl Hill Oakes, trustee of the Cheryl Hill Oakes Family Trust. Michael Hefner, executive vice president of Voit Commercial, represented both sides of the transaction. Carmorry I plans to invest more than $100,000 into the property, including new interior and exterior paint, landscaping and parking lot resurfacing beginning this month. Dunbar Real Estate Investment Management's Ross Mitchell and Stacey Priest are the contracted property managers for the site, while INCO Commercial's Jerry Ristrom and Christy Westphal are handling leasing.
1725 E. Broadway – Bogie Investment Group founder Steve "Bogie" Bogoyevac and Vice President of Investments Shane Young represented the seller in the $1,495,000 sale of this six-unit property. The sale included a fourplex building that faces Broadway and a duplex building that faces Appleton Street.
1828 E. 5th St. – a 10-unit apartment complex that sold for $2.47 million by CBC's multi-family team, including George Bustamante, Steve Warshauer and Austin Carr.
4350 N. Lakewood Blvd. – The Lalonde Family purchased a 8,309-square-foot multi-family property from Ellen Mathis for $2.6 million. Centennial agent Mark Beat was involved in the transaction.
627 Magnolia Ave. – CBC's Blair and Sheva Hosseinzadeh sold a 9,300-square-foot commercial property with fully leased retail for $3.25 million. A residential component may be added in the future.
800 Stanley Ave. – CBC's multi-family team sold a three-unit property in the Rose Park Historic District for $1,055,000.
901-915 E. Wardlow Rd. – CBC's John Eddy and Patrick Michel sold a 4,464-square-foot retail center, which includes one newly renovated apartment, for $790,000 to a private investor who plans to remodel and repurpose the building.
NOTE: Information about local transactions should be e-mailed to brandon_richardson@lbbj.com. Please provide complete information, including if it's a sale or lease, address, lessor/lessee, buyer/seller, type of property, transaction value., etc. Include a contact name and phone number.