High demand continues to be the trend for Long Beach's residential and industrial real estate markets, while office and retail space have remained relatively flat. Coupled with a lack of supply, particularly in the industrial and residential markets, prices continue to creep upward.
"We're not building enough housing. We calculated that Los Angeles County should be building about 35,000 units per year. It's building about 25,000 units," Richard Green, director of USC Lusk Center for Real Estate, said. "Vacancy rates for apartments are under 3% and we look at 5% as a normal market so, as a result, rents and prices are rising."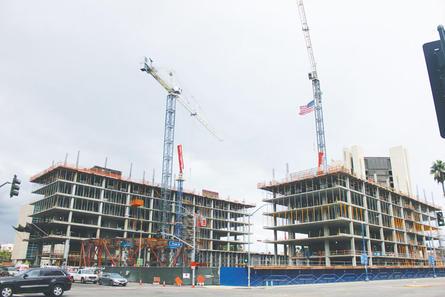 Construction continues on schedule for the $520 million civic center project. The public-private partnership between Plenary Edgemoor Civic Partners and the City of Long Beach is developing a new city hall (top left) and Port of Long Beach headquarters (top right) along Ocean Boulevard, in addition to a 36-story residential and hotel tower, new park, retail space and, pictured at right along Pacific Avenue, a new main library. (Photographs by the Business Journal's Brandon Richardson, above, and Samantha Mehlinger, below)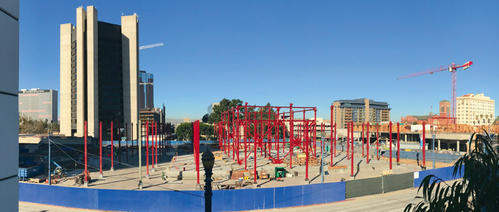 The housing crisis plaguing California has been a hot topic in Long Beach of late due to the city's proposals for the Land Use and Urban Design Elements as part of its General Plan. The proposal calls for increased density to allow for more housing units to help solve the shortage and to alleviate affordability issues.
Already the city has numerous residential developments underway, including two single-family neighborhoods, a 40-unit townhouse complex and numerous multifamily developments. According to city staff, about 1,850 new residential units are under construction or in the planning stages citywide.
"People have delayed leaving their parental homes for the housing market. We've seen, in the last three to four years, a pickup in kids moving out of their parents' house and starting their own household," Green said. "That means we need more units because there are more people looking to be in households on their own."
According to a report from the California Association of Realtors, the state's housing affordability dropped to its lowest level in 10 years, with only 28% of households able to afford the 3rd quarter median home price of $555,680. This is down from 31% of households during the 3rd quarter of 2016.
With unemployment in Long Beach at 5.3% as of September and the labor force up 2.4% from last year, Robert Kleinhenz, economist and executive director of economic research for Beacon Economics, said the city is adding jobs more quickly than much of Southern California and the state as a whole.
"So, for housing, it means that potentially we're seeing increases in jobs and incomes on the part of residents and in turn that's contributed to a nice increase to the median price of existing homes," Kleinhenz said. "Based on the numbers I pull from the DataQuick news website, the median price in Long Beach is up 8.8% year over year."
Kleinhenz added that a property's time on market for L.A. County is down to 19 days as of September, compared to 34 days the year prior. The decline in time on market is partially due to a sharp decrease in listings, which are down 14% for single-family homes and 27% for condominiums from September 2016 to September of this year.
Multi-family housing affordability continues to be a topic of discussion in Long Beach, as the city continues to experience significant rental rates. The sale of multi-family properties remains strong, with higher down payments and many sales occurring off market, according to local real estate experts.
The industrial real estate market is performing better than any other, with a vacancy rate in Long Beach below 1% and prices continuing to increase, particularly in the city's marijuana overlay zones. In the South Bay, Kleinhenz noted that industrial rental rates have increased 25.7%, while L.A. County as a whole increased only about 7%. However, Green said the office and retail real estate markets aren't performing quite as well.
"What's bad for retail is good for industrial because you need space for all the stuff that's being sold online," Green said. "So warehouse distribution centers, the demand for them is just amazing. That's a particularly important part of the Southern California economy. So that's doing great."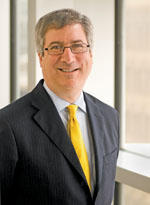 Richard Green
The major factor impacting the retail market is the changing landscape, namely stores having to deal with Internet sales. Local experts noted that overall the market has remained flat, with rates downtown around $2.50 per square foot and the suburban market between $2 and $2.25 per square foot. However, increased residential units means more consumers, which bodes well for local retailers and restaurants.
Office space performance is skewed, since creative space is doing well, while traditional space is not, Green explained. He said this is because companies are using less space per worker by utilizing creative space and allowing employees to work remotely, and companies need less storage space because files are saved digitally.
According to local experts, the office vacancy rates in Long Beach were flat, with 14.7% vacancy in the downtown market and 9.7% vacancy in the suburban market. Additionally, the downtown market saw a 1.7% increase in rental rates to $2.39 per square foot, while the suburban market remained at $2.24 per square foot.
According to Kleinhenz, the broad picture is that the county, the state and the local economy have effectively hit full employment, which is beneficial to all real estate markets. Because of this, he does not expect to see huge job gains in the next year or two. He said this should not be taken as a sign of looming recession, the view some hold about the current expansion coming to an end.
"There's no reason why the economy should dip into a recession after a fixed period of time," Kleinhenz said. "We saw that the economy has grown very slowly and steadily coming out of the Great Recession and, while it has been painfully slow at times, the fact of the matter is . . . there are really no signs of recession."