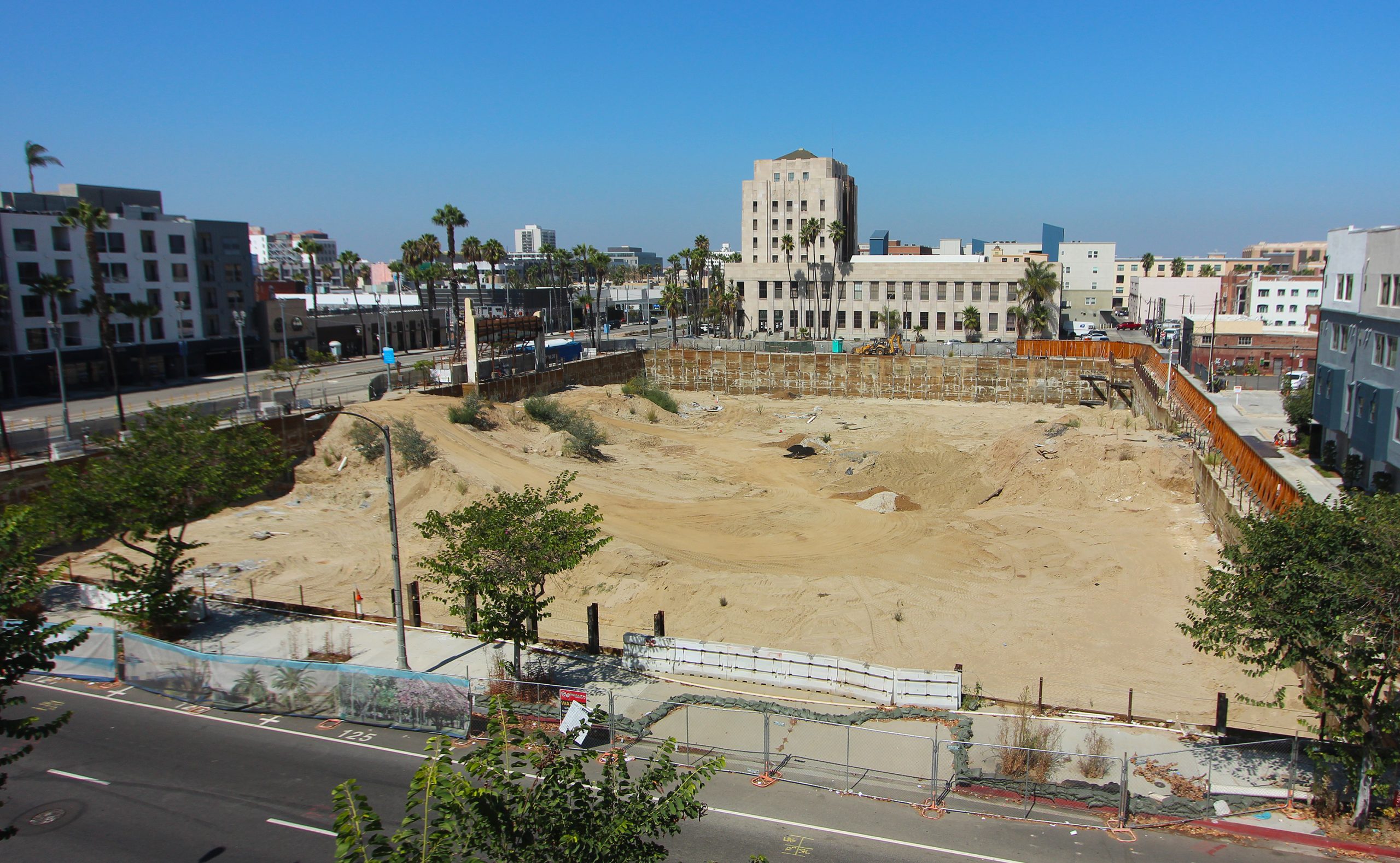 The massive Broadway Block residential development has been stalled for at least a couple months, according to a spokesperson from developer Onni Group.
A water main that runs through the construction site is the cause for the delay, as the process for moving it has proven trickier and more intensive than initially expected. The presence of the water main has halted the excavation process, leaving the site along Long Beach Boulevard between Broadway and Third Street seemingly deserted and reminiscent of a sci-fi movie crater in the heart of Downtown.
"We're optimistic we'll restart heavy construction before the end of the year," the spokesperson said.
In August, the Long Beach Planning Commission approved 32 additional units for the project, bringing the total to 432 in two buildings—a 23-story high-rise tower and a seven-story mid-rise building. The project was originally approved in 2018, with the then-developer partnership of Ratkovich Properties, Urbana and The Owl Company planning to include affordable units for Cal State Long Beach students. Onni has since abandoned those plans.
Additional units triggered the need for 39 additional parking stalls, which did not fit into existing plans. The initial staff recommendation would have waived the parking requirement but the commission opted for an amended plan that utilized tandem parking stalls—spaces that are twice as long as normal spaces allowing for two vehicles—and a 24-hour valet requirement, which brought the total number of spaces up to 540.
Along with the valet services, Long Beach Development Services Deputy Director Christopher Koontz said Onni has also committed to provide future residents and employees transit passes.
While the commission approved the plans over a month ago, Koontz said the city is still awaiting the final updated plan drawings.
"It will take us six to eight weeks to process the change," Koontz said. "However, they are free to continue their excavation and foundation work already in progress at such a time as they choose to proceed."