Breast, ovarian, cervical, lung and colon cancers are some of the most common cancers among women in the United States, according to local health experts. Some of these have proven screening processes to help catch early progression, but others are harder to spot until they are more advanced. In cases where someone has a family history of a certain type of cancer, genetic testing may be an option to screen for the presence of mutations linked to the disease.
"The women's cancers specifically that we think about, the two big ones are breast cancer and cervical cancer," Dr. Felix Nuñez, medical director of family medicine for Molina Healthcare of California, said. "The other one that we talk about that's not specific to women is colon cancer. That's actually the third most common cancer in the United States for men and women."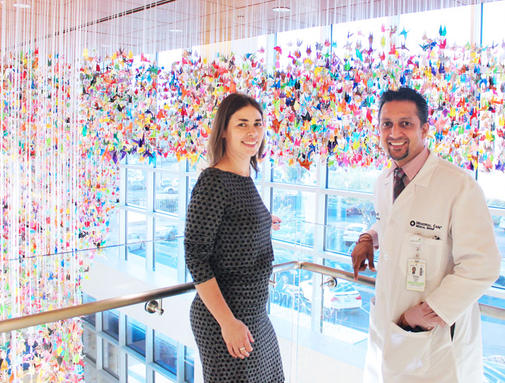 Karen Lappen, a genetic counselor, and Dr. Nilesh Vora, a hematologist-oncologist and the head of palliative care at Long Beach Memorial Medical Center, agree that some of the most common cancers affecting women are breast, ovarian, colon and lung cancer. They are pictured in the Todd Cancer Pavilion, where thousands of paper cranes made by community members are on display. (Photograph by the Business Journal's Brandon Richardson)
Dr. Nilesh Vora, a hematologist-oncologist and program director of palliative care at Long Beach Memorial Medical Center, said that, in addition to these, ovarian and lung cancers are also common in women. "Lung cancer has the highest fatality rate followed by ovarian, then breast cancer," he said.
Breast and ovarian cancers are both often linked to family histories of the disease, according to Vora.
Vora suggested that women conduct monthly self-breast exams to check for abnormalities. "I think it's really important for women to do monthly breast exams, because that is one of the most common ways that we find breast cancer, is on self-palpation of the breast mass," he explained.
There are different schools of thought on whether or not this is an effective tool to detect breast cancer. "No one will argue against people doing that on their own. But as far as recommending it or giving it a strong recommendation, there isn't 100 percent clarity on that, unfortunately," Nuñez said. "In my practice, I have taught the self-breast exam in part because I think it's always great for people to get involved in their health and become part of the solution to maintaining their good health. But the evidence isn't clear that that is actually going to prevent . . . a great number of breast cancers."
There is also some debate over when women should begin having mammograms. The United States Preventive Services Task Force, an organization that makes evidence-based recommendations for clinical testing, recommends regular mammograms for women ages 50 to 74. The American Cancer Society, however, suggests the screenings should begin at age 45.
"The problem is, if we start during universal testing on people, even at 40, we are going to pick up a lot of people who have what we call false positives," Nuñez said. "That means the test is positive when in fact they don't have cancer. That often will lead you down the line of going and having a biopsy. Anything invasive on your body has a risk, and a biopsy is not without risk."
Statistically, women aged 60 to 69 are the most likely to benefit from mammograms, Nuñez said. "That is, in that age group we are going to save the greatest number of lives from death if we get regular screenings in that age range," he explained.
More than 252,000 cases of breast cancer are diagnosed in the U.S. each year, and there are about 40,600 deaths from the disease annually, according to the American Cancer Society.
Cervical cancer is another common cancer in women that can be caught by regular screening. Women between the ages of 21 to 30 should receive pap tests – a test that can detect pre-cancerous or cancerous cells in the cervix – every three years, Nuñez said. "From 30 to 65, a pap smear with the HPV [human papillomavirus] test can be [done] every five years," he said. HPV is known to cause cervical cancer.
A vaccine is available for the most common strains of HPV, which cause about 50% of cervical cancers, according to Nuñez. That vaccine is recommended for ages 9 to 26 for females, according to the Centers for Disease Control (CDC). The CDC also recommends the vaccine for males ages 9 to 21, to reduce the risk of genital, rectal, mouth and other cancers.
"We are at the point where we are thinking about a future with the vaccine where we won't be seeing cervical cancer anymore, where it's possible that we could prevent this cancer altogether," Nuñez said. "It's pretty significant for us. Right now, what we're looking at statistics-wise is that over 12,000 women a year are diagnosed with cervical cancer. And on an annual basis, for cervical cancer in the United States, we are looking at about 4,200 deaths."
Ovarian cancer, another cancer specific to women, is harder to catch. "There is no really good test for ovarian cancer," Vora said. "It has never been proven to be cost effective to do CT scans or ultrasounds or even blood tests routinely looking for ovarian cancer. Therefore, when it's found, oftentimes it's presenting itself because of symptoms. And oftentimes, it presents itself at a higher [more advanced] stage."
Women who have a family history of ovarian cancer may wish to undergo genetic testing to see if they have a mutation linked to the cancer, Vora said. "If the known mutation is found, then it can often be recommended to have an oophorectomy – removal of your ovaries – to prevent the possibility of ovarian cancer," he said.
There are also genetic tests for mutations linked to breast cancer, according to Karen Lappen, a licensed certified genetic counselor at Long Beach Memorial Medical Center. Mutations of the BRCA1 and 2 genes, for instance, are known to increase the risk of both breast and ovarian cancer, Lappen said. According to Cancer.gov, these genes produce proteins to suppress tumors, and mutations can interfere with the suppression process.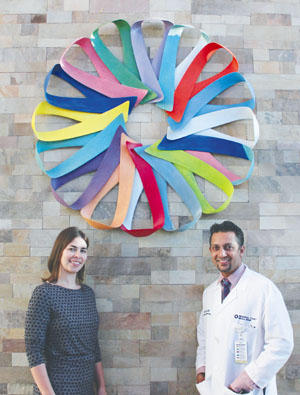 Karen Lappen, a genetic counselor, and Dr. Nilesh Vora, a hematologist-oncologist and the head of palliative care at Long Beach Memorial Medical Center, often work together to help female patients who have cancer or suspect they may be at risk for cancer. They are pictured under cancer awareness ribbons at the hospital's Todd Cancer Pavilion. (Photograph by the Business Journal's Brandon Richardson)
Genetic counselors meet with patients to discuss their personal and family histories of cancer to determine if they are at risk of a genetic abnormality. If the counselor feels that is the case, insurance may cover genetic testing to determine if the patient carries the mutation, Lappen explained. After a test is conducted, the counselor will advise the patient on how to proceed.
Women who have BRCA1 or 2 mutation may choose to have a preventive mastectomy to reduce their risk of cancer, according to Lappen. There are also two medications – tamoxifen and raloxifene – which have been proven to reduce a woman's risk of getting breast cancer by about 50%, she said.
Everyone, both men and women, over the age of 50 should be screened for colon cancer, according to Vora. "We have proven that colonoscopies can find polyps, which are sort of precancerous lesions, early, and can be life-saving," he said. More than 90% of colon cancer cases occur in persons over age 50, he noted. If someone has a family history of the disease, there are certain genetic mutations that can be tested for to assess their risk, he added.
Colon cancer is also linked to inflammatory conditions such as ulcerative colitis (a chronic bowel disease) and chronic constipation, Vora said. Alcohol consumption has been linked to colon cancer as well as breast cancer, he added.
Lung cancer is also common in women, but it is often asymptomatic, Vora said. "Eventually, when you have symptoms, they include cough or coughing up blood. Sometimes nonspecific symptoms like weight loss and pain can signal advanced disease." Smoking is one of the most common known causes of lung cancer, but it has also been linked to many other cancers, Vora noted.
In general, a healthy lifestyle may help prevent these cancers, according to Vora. "I just think that the idea of being healthy is such an important thing across the board," he said.