According to local nonprofits, health care organizations and the Long Beach Unified School District (LBUSD), some of the most common mental health issues among local youth include depression, anxiety, attention deficit disorder (ADD), attention deficit hyperactivity disorder (ADHD) and psychosomatic illnesses caused by trauma.
The signs and symptoms of mental health issues in children of all ages are at times deceiving, according to local experts. Symptoms often appear differently in children than adults. And to complicate matters, while a child's behavior might seem to be linked to an obvious condition – one might assume a hyperactive, distracted child has ADHD, for example – it is often actually a reaction to trauma or chaos in the child's personal life.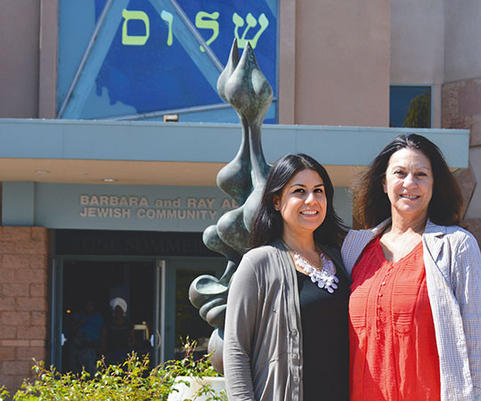 Jewish Family and Children's Services (JFCS) of Long Beach & West Orange County offers mental health clinical services for local children. The organization operates on a sliding scale to make its services available to as many people as possible, according to Debbie Freeman, director of clinical services. Freeman (right) is pictured at JFCS with Eva Kuncewicki, manager of community-based services. (Photograph by the Business Journal's Larry Duncan)
Often, school is the first place of intervention for children displaying signs of mental health issues, according to Dr. Tiffany Brown, assistant superintendent of school-based mental health for the Long Beach Unified School District.
"Because of the way that we get to know children during the hours that they spend time with us, school is a great referral source for recognizing when a student has some social/emotional needs or behavioral needs or corresponding mental health issues that go beyond what would be typical," Brown told the Business Journal. "Many times, a referral comes directly from a teacher to one of our counselors."
Sixty of LBUSD's 84 schools have mental health services on-site via partnerships with local nonprofits and health care organizations such as The Guidance Center and ChildNet. "We have a really wonderful partnership in Long Beach that we refer to as a school-based mental health collaborative, and that's a partnership between our school district, the Department of Mental Health and eight community-based mental health organizations," Brown explained.
Through this model, LBUSD helps about 1,500 students a year who are experiencing mental health problems. Participating schools are selected based on having a high percentage of students who qualify for free or reduced cost lunches, because this tends to correspond with the number of mental health referrals by school staff, Brown explained. These schools offer consultations on-site. "It just removes a lot of the barriers that would be there for families in getting to those services," she said.
"Almost across the board, it's exposure to trauma of all different types," Brown said of the most common mental health issues experienced by LBUSD students. "Sometimes that's not the recognized issue. Sometimes the issue looks like hyperactivity, it looks like high anxiety, it looks like extreme emotions or signs of what would typically be characterized as depression," she explained.
Brown continued, "But what we see in many ways is that the root of much of that is exposure to trauma, which could be something witnessed, something personally experienced, something experienced by a loved one, something that they've observed. We have many families who have had high exposure to traumatic events. And that affects you."
In a school district with about 80,000 students, Brown said there are teams at local schools contending with students who are suicidal on a daily basis. School employees are trained to recognize when a student may harm him or herself, or others, she noted. "All of our school counselors, school psychologists, and school administrators are trained in conducting what's called a threat assessment or an imminent danger assessment," she said.
"There is a step-by-step process you would go through, which is basically determining the legitimacy of the threat, if they have a plan, if they have a means to act it out," Brown explained. "Sometimes we do that process and there's no risk of threat. . . . Sometimes there's a high level of threat, and that's when we work with partner agencies, both mental health and law enforcement, as needed to access a more intense level of support for that student."
Francine Togneri, director of behavioral health services for ChildNet, said one of the biggest risk factors for children to start experiencing mental health issues is if their home environment is chaotic. This can include parental abandonment, divorce, substance abuse by a caregiver, domestic abuse and other traumas, she said.
Because ChildNet is a health provider for the Department of Mental Health, the children who are referred to them must meet a threshold of medical necessity, which means they need a higher level of care, Togneri noted. The organization annually serves 850 to 950 children through its mental health program. Common symptoms of those children include talk of suicide or wanting to kill others, having difficulty forming relationships with other children, inability to focus, and being noncompliant with directions from authority figures, she said.
Jewish Family and Children's Services (JFCS) of Long Beach & West Orange County also works with local schools to provide mental health services to students. Common problems seen by Debbie Freeman, director of clinical services and a licensed marriage and family therapist, include depression, anxiety, ADD and ADHD, and eating disorders.
"We see eating disorders – anorexia nervosa, bulimia, binge eating – and these can be really serious and even life threatening sometimes," Freeman said.
Occasionally, Freeman has seen epidemics of certain self-harm behaviors, like cutting, at local schools. "There can kind of be little epidemics at the school where a lot of the girls are cutting and it's kind of a hip thing to do," she said. "It can be attention seeking. It's behavior that can benefit from a mental health counselor."
According to Freeman, signs of mental health issues often present differently in boys and girls. "Typically, boys tend to act out and girls tend to act in. So aggression versus depression," she said.
Dr. Paul Kurkjian, medical director of the MemorialCare Center for Mental Health & Wellness at Community Hospital Long Beach and an on-call psychiatrist for Miller Children's & Women's Hospital Long Beach, is often called in when children are experiencing severe mental health-related issues.
"I tend to see the more severe cases. Post-traumatic stress disorder (PTSD) is one of the most common things we see in the hospital," Kurkjian said. "We get a lot of adolescent teenagers who have overdosed, and within a day or two they're admitting to their family that an uncle or an older man had molested or raped them when they were younger, and that's what led to the overdose. And the overdose kind of prompted them to disclose this information to the family."
These cases often occur during and after puberty, according to Kurkjian. "A lot of sexual behavior starts, substance abuse issues start. It's like a ticking time bomb waiting to happen with PTSD and substance abuse and sexual assaults and domestic violence."
Often, Kurkjian is called in to see children who are experiencing psychosomatic illnesses – issues like severe vomiting or headaches that are not caused by a physical ailment but by mental or emotional trauma. "Sometimes you have children who manifest bizarre pain disorders or vomiting . . . and they have done every sort of workup on them and can't discover anything wrong," he said. "And then you discover that there is some domestic violence going on at home or there is a lot of psychosocial chaos."
ADHD, ADD and anxiety are some of the most common mental health problems experienced by children, Kurkjian said. Autism is also increasing in frequency, he noted. While most children with an autism spectrum disorder do not require medication, he sees the more severe cases due to the nature of his hospital work. "I just tend to see the really severe cases of autism where they tend to have a lot of self-injurious behavior, aggressive behavior," he said. Typically, children begin manifesting symptoms of autism before the age of five, he noted.
Catching symptoms of mental issues early is key, mental health professionals agreed. "We want to try to catch these things not as young as possible but whenever the symptoms start appearing, because it can kind of calcify," Freeman said. "It can become a more severe way of coping with the world as the child goes into adolescence. And then it can become harder to transform."
"If they don't get the assistance they need, they aren't going to move through the developmental stages the way that someone would who doesn't have mental health issues," Togneri said.
"It's important to realize children aren't just miniature versions of adults. They have different developmental phases," Kurkjian said. "A lot of times children can't communicate their symptoms, so it's important to get a lot of information . . . from teachers and caregivers."