With hundreds of guests staying in each hotel room every year, and thousands traipsing through halls and common areas, it is easy to imagine the wear and tear inflicted annually at local hotels. In an industry as competitive as hospitality and tourism, it is important for hotels to maintain their spaces, including regular facility upgrades.
"All of the hotels in the city compete on both rate and occupancy. And not only do we compete with ourselves, but we compete with other markets as well," John Thompson, managing director of The Westin Long Beach, said. "So it's incumbent on us to have renovated products that support the overall mission and vision of the Long Beach Area Convention & Visitors Bureau and the city, who rely on tourism and conventions to keep people employed."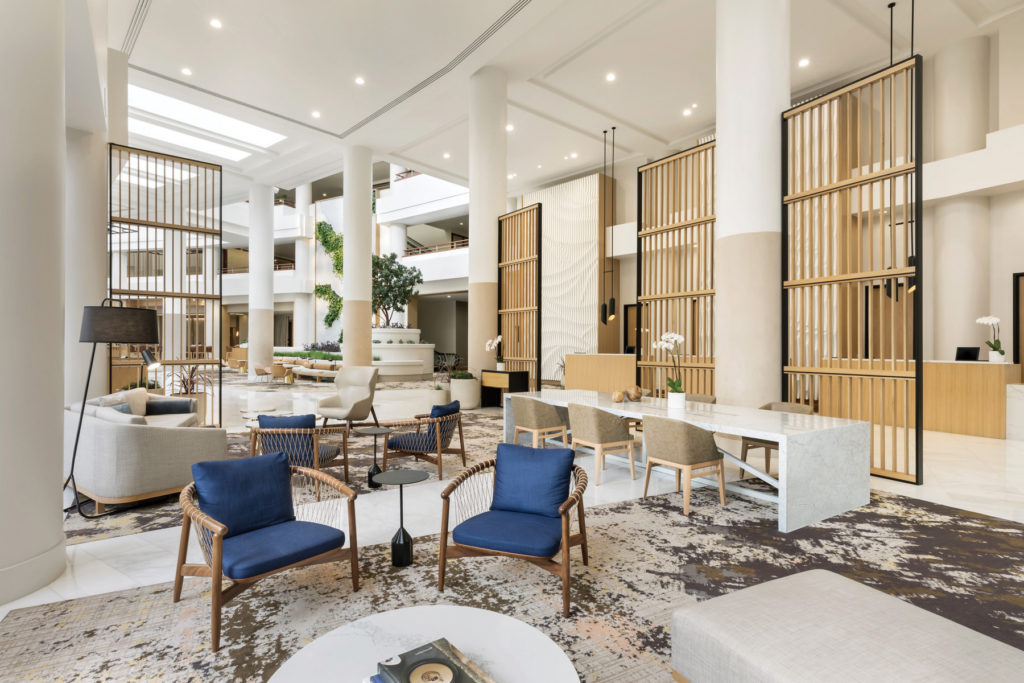 To that end, The Westin, a 469-room hotel in downtown, is in the midst of an approximately $26 million renovation of the entire hotel by R.D. Olson Construction. The first phase of renovations included all guestrooms, which received new mattresses, carpet, wallpaper, seating and decor. Room renovations were completed in April.
The lobby, which reopened in July, received new marble flooring, a new front desk, new reception and seating areas, fresh paint and new wood accents, as well as a garden wall, new furniture and artwork that gives a nod to Long Beach's coastal location. The ground floor restaurant was also fully redesigned and reopened as Navy Proof Food and Spirits. The final lobby renovation is the construction of a Bluestone Lane coffee kiosk, which is expected to open before the new year.
"There is an absolute tie into who we are and what we represent from a California coastal community overall. We want to allow our guests to rise and meet a better day through the holistic touch points of eating well, breathing well and working well," Thompson said. "All the components that, when you're traveling, you sometimes lose sight of. We want the space to be a center of calm in what can sometimes be a hectic travel day."
The final phase of The Westin's renovations, updating the hotel's 50,000 square feet of meeting space, will occur within the next two years, Thompson said. Meeting spaces, including one of the largest ballrooms in Long Beach, will be revamped with new carpet, wallpaper and furniture, as well as new air walls. Thompson noted that renovations are often done in tandem with other capital projects to enhance the guest experience, such as improvements to high-speed internet and including TV streaming services in guest rooms.
The 138-room Hyatt Centric The Pike Long Beach recently began a multi-million dollar full renovation, according to General Manager Jon Benson. Faux-wood flooring is being installed in all rooms, as well as new bed platforms, mattresses, nightstands, seating, 55-inch TVs, and lighting. Upgrades will also be made to in-room refrigerators, window coverings and all painted surfaces, Benson noted.
"Everything in the room will be basically new. Bathrooms are going to largely remain the same except for upgraded lighting," Benson said. "We have beautiful bathrooms in the property, so we just are enhancing the backlit mirror with a better lighting package, as that often is a big request, especially with female travelers who like better lighting for makeup and hair."
Corridors throughout the hotel are receiving new carpet, wall covering and lighting. Faux-wood flooring will be installed at the elevator landings, as will "cool" graphics to accentuate the renovation, Benson said. The rooftop pool area is being stripped to make way for a new deck, cabanas and furniture. The pool itself is also being resurfaced, Benson said. The rooftop and guest room renovations are expected to be completed in January and February, respectively, Benson added.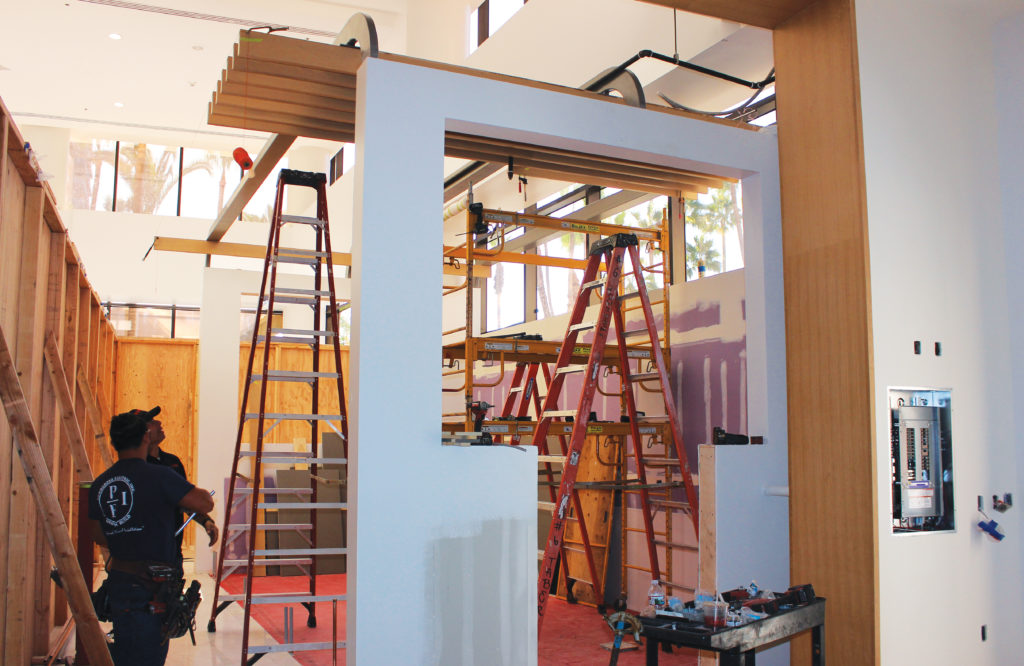 On the ground floor, Benson said the Bay Street Kitchen is going to be closed soon and transformed into a new market bar concept that has a "cool, trendy, local" feel for guests and Long Beach residents alike. The rest of the lobby will be renovated with new finishes and a redesigned and repositioned front desk. The current bar area will be converted to a multifunctional space for meetings or luncheons, Benson said. The buildout of the lobby and restaurant is expected to be completed by June. All other meeting spaces are also being spruced up with new flooring, wall coverings and lighting.
Ultimately, the goal of the renovation is to better connect the hotel to Long Beach and the port using nautical themes, Benson explained, adding that this is the first full renovation since Hyatt purchased the hotel from another operator. "We didn't fully invest in converting it to a Centric brand when we bought it," he said. "This is our opportunity to create its identity and really give it the proper character . . . that pays homage to Long Beach."
Karen Englund, general manager of Renaissance Long Beach Hotel in downtown, said there are plans for a lobby renovation beginning next year, which include a re-imagined restaurant space that will integrate with the Sip Bar and Lounge to provide an enhanced "meet and eat" space. Meeting space design and updates have become critical for hotels to review on a regular basis, Englund noted, adding that less traditional and more dynamic spaces are what customers are now looking for. Details of the Renaissance renovation are not yet available.
"Different hotel companies have different cycles, but generally every five to seven years there's a soft goods renovation and about every 10 years there is a hard goods renovation," Thompson said. "The busier the hotel is, the more wear and tear you get in these spaces. And so it's incumbent on hotels to keep them fresh and new from an attractability perspective."