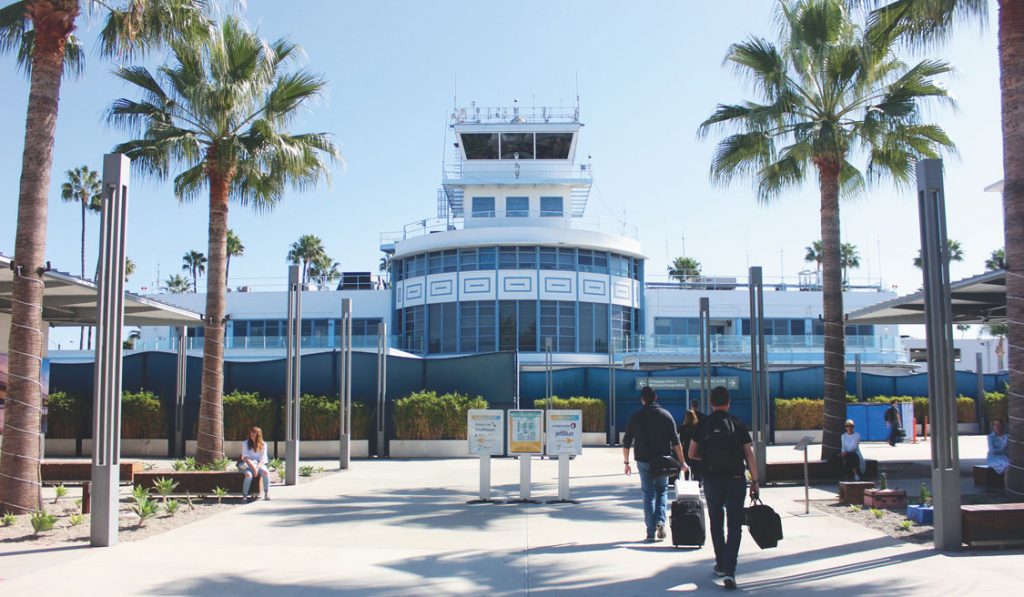 Major renovations to improve the passenger experience at the Long Beach Airport (LGB) are taking place over the course of the next two years. The city council set the process in motion with a $58.8 million design-build contract to Swinerton Builders in May 2018. According to LGB Interim Director Claudia Lewis, the Phase II Terminal Improvements Project is within budget and on track to be completed by 2021.
LGB Senior Civil Engineer Stephan Lum previously told the Business Journal that the terminal improvements include nine separate projects: a new ticketing hall, a new checked baggage inspection system (CBIS) area for the Transportation Security Administration, a consolidated baggage claim, an upgraded "meet-and-greet" plaza, pre-security restrooms and concessions, terminal renovations, roadway improvements and a consolidated rent-a-car lot.
Rental car offices and customer service are being relocated to the historic terminal, and a new surface parking lot for rental car storage is planned near the north baggage claim area. Removing the rental car trailer from its current location in the airport's surface parking lot enables the traffic loop approaching the terminal to be reconfigured to accommodate separate lanes for taxis and ridesharing services.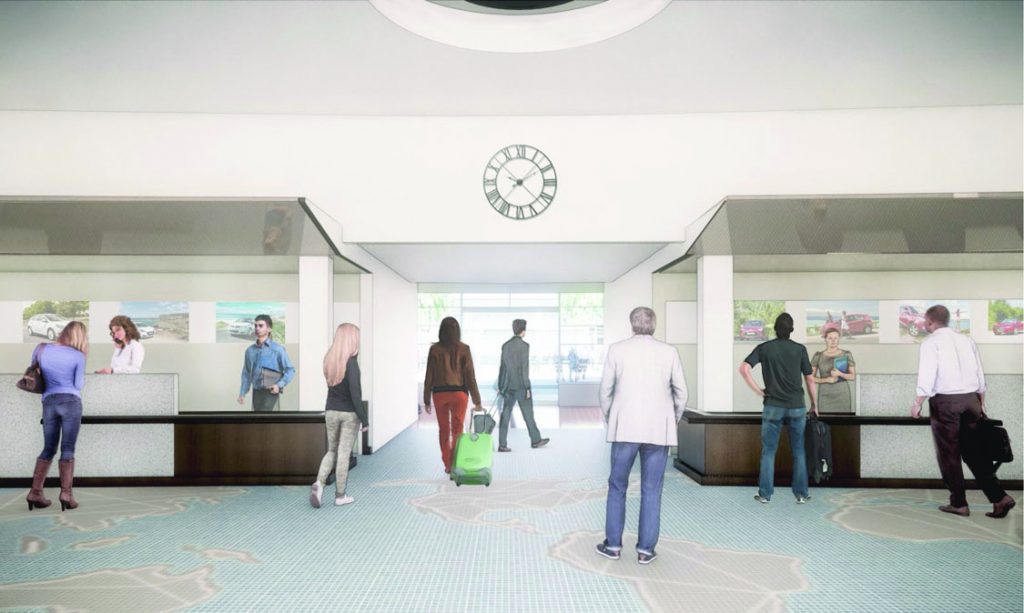 According to Lum, the new facilities and renovations are geared toward improving customers' experience at LGB. Built in the 1940s, the historic terminal is receiving a number of infrastructure improvements, as well as a seismic upgrade. Windows, automatic doors, lighting and electrical systems are all being modified, Lewis said, as are the restrooms, heating, ventilation and air conditioning. In addition, a long-shuttered entryway to the meet-and-greet plaza behind the terminal is to be reopened. New landscaping and hardscaping are planned for the plaza.
The north and south baggage claims are being consolidated into one area on the south side of the passenger terminal. Previously located behind the terminal, the new baggage inspection area is being integrated with baggage claim.
The ticketing lobby is still in the design phase, according to Lewis. "Once design is complete and we have all the necessary permits [and] approvals, construction will begin," she said. Lewis estimated that the CBIS building, baggage claim and ticketing lobby will be completed in summer 2020, with the remaining Phase II improvements to conclude in 2021.
The airport's runways are also benefiting from improvements. A $15.3 million grant from the Federal Aviation Administration was used to reconfigure and improve LGB's main general aviation runway last year. The renamed 8R-26L runway was shortened and narrowed to improve air traffic efficiency.
Lewis said that she and the airport staff are looking forward to this new chapter at LGB. "These improvements help the airport honor its history, while moving forward and ensuring that every passenger has the best experience possible," she said. "We believe these developments will be a benefit to all that are flying in and out of Long Beach."