On January 12, Housing Long Beach Executive Director Josh Butler refiled a petition to collect signatures to place a rent control ordinance on the November ballot. His initial filing, submitted to the city clerk late last year, was rejected because it was incomplete.
"Corporate development is changing what our city looks like. Rising rents are pricing out long-time residents and forcing them to leave," Butler said in an e-mail to the Business Journal. "That's why Long Beach families, renters in the community, local advocates and small business owners are coming together to demand new community-first policies that protect current residents."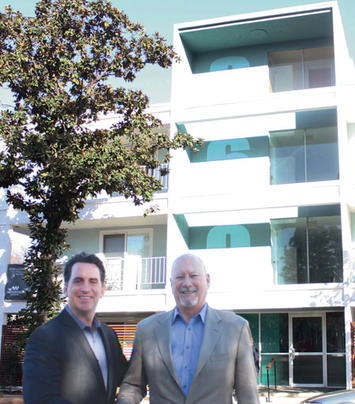 Stepp Commercial Principal Robert Stepp, left, and Phil Jones, partner at Coldwell Banker Coastal Alliance, are opposed to rent control and the current attempt to place an ordinance on the November ballot. The two are pictured at an apartment complex at 360 Lime Ave., which has recently been renovated by Waterford Residential LLC. (Photograph by the Business Journal's Brandon Richardson)
According to Long Beach City Clerk Monique DeLaGarza, the city attorney's office has 15 days from the time of submission to draft the ballot statement and summary. Once completed, Butler and his affiliates may begin collecting the 27,000 signatures required to place the measure on the ballot. As of January 23, the city attorney's office was still working to finalize the initiative.
During a phone call with the Business Journal on January 26, Long Beach City Attorney Charles Parkin said he would be giving the ordinance title and summary to the city clerk's office. The language would then be given to Butler, who must then place it at the top of his petition and given back to the city clerk for final format approval. If formatted correctly, Parkin said the process is quick and Butler would likely be collecting signatures beginning sometime next week, working toward the 27,000-signatures required to place the measure on the ballot.
Joani Weir, co-founder of Better Housing for Long Beach, claimed she witnessed people collecting signatures outside a local Walmart for multiple rent control-related items prior to January 23. She said she believes one of the petitions was for Butler's initiative.
"One of them was [an] initiative which [would] expand rent control on all residential property. Then they had another one they wouldn't show me," Weir said. "I asked for their boss's phone number and they refused to give it to me. I also asked for a copy of the initiatives and they refused to give them to me. They were hired from a company out of San Diego but refused to give me any contact information."
When asked if he or his affiliates were gathering signatures for the initiative prior to city approval, Butler said the allegations were false and that those making them are attempting to "undermine the democratic process."
In addition to the proposed ballot initiative, momentum for rent control in Long Beach is on the rise, as evident in the recent local screening of "City Rising," a documentary on the social consequences of gentrification in six California communities, including Long Beach. According to James Suazo, associate director of Building Healthy Communities: Long Beach, more than 300 people attended the event at the Art Theatre. After the screening a panel featuring local activists discussed and answered questions related to rent control and other social issues.
One of the most common arguments against rent control is the fact that many rent-controlled cities are some of the most expensive to live in.
"We don't believe that rent control works, or is the right solution," Mayor Robert Garcia said in a statement following a meeting with property owner and community activist Robert Fox. "Just look at rent-controlled cities like San Francisco, the most expensive market in the country."
In California, 15 cities currently have rent control ordinances, according to the California Department of Consumer Affairs. Among those cities are Berkeley, Beverly Hills, Los Angeles, San Francisco, Santa Monica and West Hollywood.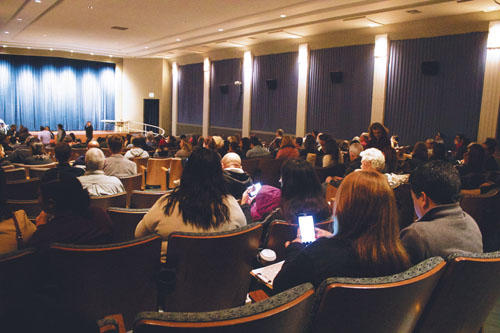 More than 300 people attended the screening of "City Rising," a documentary on the social consequences of gentrification, at the Long Beach Art Theater on January 24. A panel discussion following the screening included discussion on rent control. (Photo courtesy of Building Healthy Communities: Long Beach)
In addition to claims of high rental rates being caused by rent control, Stepp Commercial Principal Robert Stepp said these ordinances ultimately result in landlords being less willing to improve their properties, thereby decreasing the capital flowing into the city. He noted that property owners would also have to pay increased fees and would have difficulty evicting troublesome tenants.
Butler disagrees. "Our opponents need to learn the difference between correlation and causation," he said. "Opponents of rent control like to misrepresent the relationship between rent control measures and the process of gentrification without explaining underlying market factors such as rampant real estate speculation and unregulated development."
Rent control issues have been a statewide issue for some time, including a recent failed attempt at the state level to repeal the 1995 Costa-Hawkins Rental Housing Act. This would have allowed rent control to apply to single-family residences and new multi-family buildings. With the current push for an ordinance in Long Beach, the Pacific West Association of REALTORS® (PWR) released a statement opposing rent control, calling it a "flawed policy."
"The policy prescription of a government controlled price will harm the very people that were supposed to be helped," PWR Government Affairs Director Tim Shaw said in the statement. "We will continue to support smart policies to build affordable housing, as greater supply is ultimately the needed solution."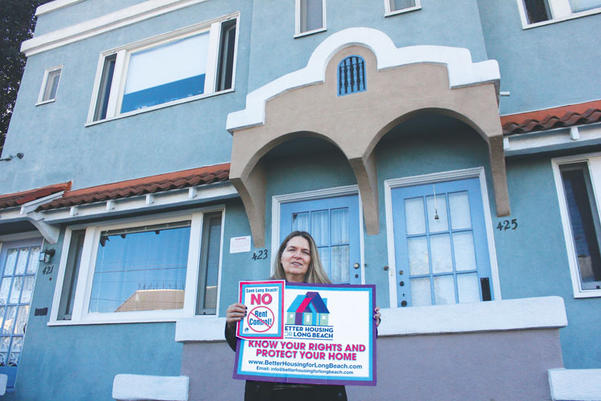 Better Housing For Long Beach Co-Founder Joani Weir and her group are fighting against a local activist's attempt to place a rent control ordinance on the November ballot. (Photograph by the Business Journal's Brandon Richardson)
Included in PWR's statement was the claim that Mayor Garcia and all current councilmembers made a written or verbal statement of opposition to rent control when running for office, in response to a PWR questionnaire that included a question about their position on this issue. Shaw explained that seven councilmembers responded to the question in writing saying they are opposed to rent control. He added that Councilmembers Lena Gonzalez and Roberto Uranga provided a "verbal commitment to oppose rent control."
The Business Journal reached out to each councilmember to see if their stance on rent control remains the same. Councilmembers Daryl Supernaw and Suzie Price stated that they remain opposed to rent control. Councilmember Roberto Uranga did not give a definitive no, stating that the fact that a rent control initiative is being proposed proves there are housing issues in the city but that he would prefer that they be solved by means other than rent control.
According to PWR, on its 2016 questionnaire, Councilmember Jeannine Pearce wrote, "No. I do not believe in rent control." However, in a January 24 social media post, Pearce wrote, "What I know is this system isn't working . . . I hope you sign the petition to have it on the ballot so we can have a meaningful conversation about what 'rent control' is."