When city staff invited Long Beach property owners and tenant advocates for a joint "tenant protections focus group" meeting in September 2018, it quickly became clear that there was little the two sides could agree on, as recalled by some of those present.
The meeting was part of a process kicked off last January by 1st District Councilmember Lena Gonzalez, who asked city staff to produce a progress report on the city's search for "revenue tools and incentives for the production of affordable and workforce housing" to include "policies that support tenants adopted in other cities."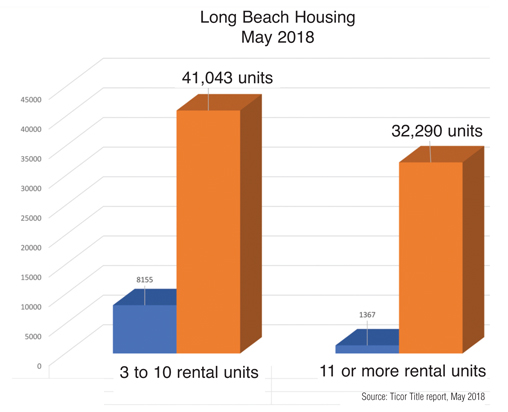 Now, city staff is planning to present the council with the results of their research, which "will include information on the stakeholder engagement process and proposed policy recommendations," according to Long Beach Development Services Community Information Officer Richard De La Torre. Although city staff have not released any further details on the report at this point, the one thing both stakeholder groups can agree on is that they don't have high hopes for the proposal and are unhappy with the city's process thus far.
The city council directed staff to research tenant assistance policies on January 16, 2018. As part of this process, city staff met separately with landlord and tenant advocates, and held two joint meetings with both groups.
"There was just not enough time that was allocated for these meetings to thoughtfully go through it and reach an agreement," Jorge Rivera, program director of Long Beach Residents Empowered, said about the stakeholder meetings. Parties on the other side of the aisle agree. "Our position on this whole thing is that they really haven't done enough research," Elaine Hutchison, owner of Long Beach-based property management company Paragon Equities, told the Business Journal.
Hutchison and fellow members of the Small Property Owners Association (SPOA) felt like property owners' perspectives were neglected throughout the process, according to the association's president, Keith Kennedy. Hutchison added, "They wanted to be able to say they did the outreach; it's not necessarily that they want our input." SPOA, a group of property owners holding 10 or fewer properties each, was formed in 2017.
After meeting with city staff, the group felt that the research was lacking any analysis of the effects certain tenant protections had on the communities that enacted them. "You can't really bring a policy recommendation forward, when the data that you're providing doesn't say whether it's successful or beneficial to the community," Coldwell Banker Coastal Alliance Broker Associate and property owner Brian Mathison, also a member of SPOA, told the Business Journal.
Mathison also noted that he had doubts about the accuracy of the information presented during the focus group meeting. In a copy of the presentation provided by SPOA lobbyist Mike Murchison, the City of Ventura is listed among 17 other cities that have adopted local regulations around the termination of tenancies. Mathison said his research showed no proof of any such ordinance in Ventura, information that the Business Journal confirmed with the Ventura City Attorney's Office.
Regardless of the process, it was unlikely that the two sides would find areas of agreement, Rivera pointed out. "I think, ideologically, we're on two different sides of the fence," Rivera said. After two meetings, the groups were unable to agree on a single one of the eight policy options presented by the city's development services department:
increased relocation assistance
just cause termination of tenancy
anti-retaliation policies
source of income anti-discrimination measures
legal information or assistance for tenants
seniors-only rental assistance
enhanced notice provisions
right of first refusal for tenants whose buildings were being sold by the owner.
Stricter eviction regulations, often referred to as "just cause" evictions, drew the ire of the landlord group. Regulations of that nature in other cities require landlords to provide tenants with a "just cause" before asking them to leave, such as failure to pay rent, violation of the lease or creating a nuisance. Murchison said such eviction regulations were a "non-starter" for property owners. "It's not even something that they would accept to have a conversation about. Doesn't matter if it's an investor, a syndicator or someone who owns two units," Murchison said. The primary issue, Murchison explained, was that just cause eviction policies place the burden of proof on the landlord, making it more difficult to evict "problem tenants."
Under current law, Long Beach landlords are not required to provide a reason for terminating a tenant's lease as long as the tenant is notified. Tenants who have occupied a unit for less than a year have the right to a 30-day notice, while tenants whose occupancy exceeds one year are entitled to a 60-day notice.
Alexei Hong, staff attorney at the tenant advocacy and eviction defense group BASTA's Long Beach office said Long Beach offers little in terms of assistance or protections to local tenants. "There are no real rights for tenants in Long Beach, unfortunately, that are being enforced by the court," Hong said.
Hong noted that state law protects tenants who file a complaint or lawsuit against their landlord or ask for the inspection of their unit through a public agency from retaliatory evictions. Still, she said, this defense against eviction rarely wins the support of jurors, who often decide it's best for the two parties to go their separate ways. "I just think of it as: I'm in a divorce court, trying to tell people that the divorced couple needs to live together," Hong said. "I think sometimes they don't realize that the person, if they lose, is going to have an eviction on their record for eight years."
The presentation also included an option that would expand an existing state law that prohibits discrimination based on a prospective tenant's source of income to include housing choice vouchers, commonly referred to as Section 8 assistance, as a protected income source. Other options discussed during the joint meetings were a right to legal information for tenants and an increase in relocation fees for tenants displaced by demolition or condo conversion. "The only thing we could agree on was some type of tenant relocation assistance program, and that's only in concept. We could not reach any sort of agreement with respect to the terms or the details," Rivera said.
SPOA opposes additional regulations. "We are not necessarily ones to support regulation for the market. I think it's one of the reasons why Long Beach has been a very affordable beach city for the State of California," Kennedy said about the limited tenant regulations in Long Beach. Hutchison added that the policy options discussed in the meeting could deter future real estate investment and construction in Long Beach. "What we're saying is: [if] you load up the city with all these policies, like relocation fees, what developer or even what owner is going to be able to withstand the burden that will place?"
SPOA members expressed concerns that the proposed policies were an alternative way of pushing rent control, a concept the group vehemently opposes and one that failed to garner enough signatures to be placed on the November 2018 ballot in Long Beach. Under current law, Long Beach landlords are free to raise rents at their discretion, but are required to notify tenants within 30 days for rent increases below 10% and 60 days for increases above 10%.
The city's September focus group presentation did not include rent control as a policy consideration. But Hutchison said she felt pressured to either sign onto some of the tenant protection policies presented or face another push for rent control down the line. "What we have heard various politicians say is: if you give us relocation fees, then we won't support rent control," Hutchison said.
SPOA members believe that Councilwoman Gonzalez's request for a report on tenant protection and assistance policies was sparked by a real estate boom in 2017, which they say led to a spike in evictions and lease terminations as investors sought to make a profit flipping older properties, especially in the city's 1st District. "The market's changed, so that the 2017 housing crisis is considerably less [severe] today. The free market took care of it and might finish the job if it's left alone," Steve Warshauer of Coldwell Banker Commercial BLAIR WESTMAC said.
Murchison argued that this activity was driven by "syndicators and investors," and not "the majority of property owners in Long Beach."
Data collected by the real estate analytics firm CoStar showed a property sale spike in the second quarter of 2017. After a subsequent dip in sales volume, property transactions continued to increase, but at a slower pace.
The effect of rising sales on the number of evictions in Long Beach is unclear. According to The Eviction Lab, an organization that provides city-level eviction data, at least three evictions occur in Long Beach per day. The organization's website notes that this number appears to be unusually low, likely as a result of state laws governing public access to eviction records. "Many eviction records are sealed at the end of a case in California," the lab's website states. "As a result, we cannot see if or when these evictions took place, creating an undercount."
Rental rates in Long Beach continue to increase while median household incomes, as estimated by the U.S. Census Bureau, have stagnated and even decreased when controlled for inflation. Kennedy said landlords don't have control over the income levels of their tenants, and that small property owners like himself and his fellow SPOA members would struggle to cover the additional costs created by policies such as increased tenant relocation fees. "I don't think that because we're housing providers, we should take on additional responsibility," Kennedy said.
Hong and other tenant advocates said they believe regulations are necessary to combat housing insecurity and protect tenants from evictions. "How is it possible that this is the one business that affects everybody, that is totally unregulated?" she asked.
Without any significant congruence between the policy desires of landlords and tenant advocates, it will be up to the city council to decide what level of tenant protections and assistance the City of Long Beach will implement. De La Torre said the report would be presented to the city council "in the near future."