Incident-level collision data released by the Long Beach Police Department (LBDP) show that calls for service related to traffic collisions on Broadway have increased in recent months, following a reconfiguration of the roadway. In January, police were called to the corridor five times and filed three reports related to traffic collisions. In February, police responded to four such calls, filing one report. In contrast, police received 11 collision-related calls for service in May – the first full month of use for the new street design – and 15 calls in June, 12 of which resulted in a report being filed.
LBPD data on calls for service and reports relating to traffic collisions noted 16 injuries and no traffic-related fatalities on Broadway between Alamitos and Redondo avenues this year. Of the 16 injuries, 10 occurred between April 17 and June 30, after the new road design debuted.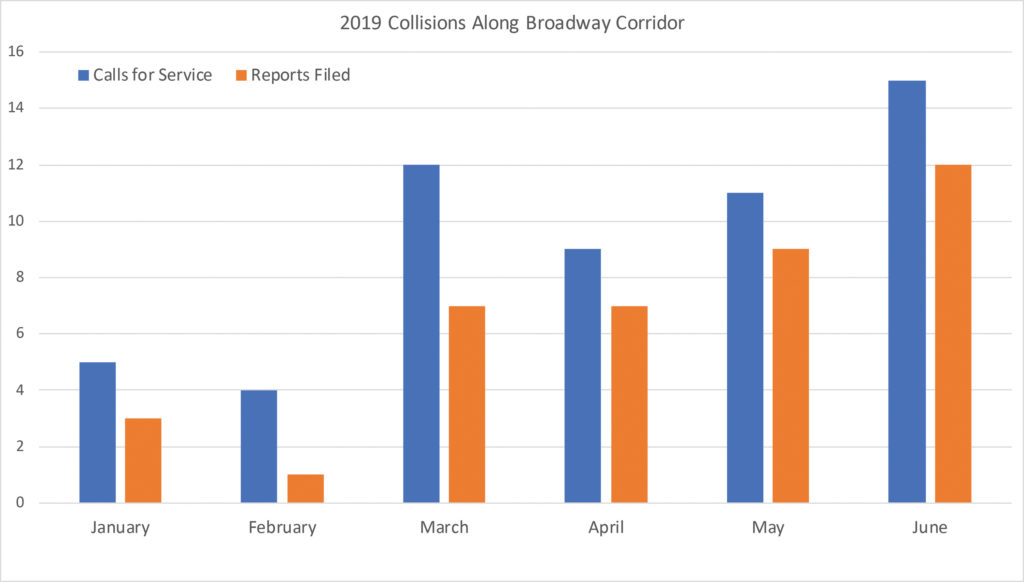 In a meeting with press at the end of July, public works staff stated that collisions for the period of mid-April to June 30 had been 20% lower than the five-year average for the same time period. However, to arrive at this conclusion, staff counted only collisions caused by vehicles going east to west or vice versa on Broadway, not those caused by vehicles crossing Broadway while going north or south. The dataset used by city staff also counted only 19 collisions within that timeframe, while incident-level data released by LBPD showed 30 calls for service and 24 reports filed by LBPD officers.
The Long Beach Business Journal has requested data for previous years for comparison and will provide an update as soon as additional data has been released by the LBPD.
The reconfiguration of Broadway has drawn criticism from residents and local businesses, who have bemoaned a lack of parking and loading zones as well as what they see as an increased risk of collisions. On the other hand, there are many in the cycling community, as well as some residents, who have lauded the new layout, citing greater safety for pedestrians and cyclists. The thoroughfare has been reduced from two lanes to one lane in each direction, with parking and bike lanes occupying the remaining road space.
The new road layout came online on April 17. This means that collision data released by the LBPD reflects less than three months of use for the new design, a limited timeframe as Jennifer Carey, an executive assistant with the Long Beach Public Works Department pointed out. "Typically we like to give ourselves six months to gather that data and find out what the normal is."
The new layout is part of the city's Vision Zero plan, Carey said. Vision Zero is a multinational effort to eliminate traffic fatalities through traffic management and public infrastructure design.
The city finds itself in a bind: businesses and residents have asked for more parking, but changes to increase parking space – such as reducing buffer zones around driveways – would reduce visibility for drivers exiting onto the street. "What we don't want to do is make any changes that could possibly take it back and make it more dangerous for bicyclists or pedestrians," Carey said. "But we also want to do as much as we can to add some parking into the corridor."
Now, the city is planning to gather more feedback from residents and local businesses. "The community is coming to us with concerns," Carey said. "We don't want that to fall on deaf ears." But, she noted, "at this time, we don't have any plans for [the redesign] to be reversed."
Editor's Note: This story has been updated to include a visualization of incident-level data provided by the Long Beach Police Department.