Although a woman's reproductive health care needs depend upon her age and other health factors, locally based Obstetrician-gynecologists (OB-GYNs) agree that annual checkups are necessary to monitor overall health and catch problems early.
The United States Preventive Services Task Force, an independent group of volunteer experts that issues evidence-based recommendations for clinical testing, recommends that women between the ages of 21 to 65 go in for pap smears (which test for cervical cancer) every three years. Women between the ages of 30 to 65 can opt to go in every five years if in addition to a pap smear they get tested for the presence of the human papillomavirus, which causes cervical cancer.
Unfortunately, these recommendations lead some women to believe they only need to visit their OB-GYN every three years, which experts say isn't often enough to monitor overall reproductive health.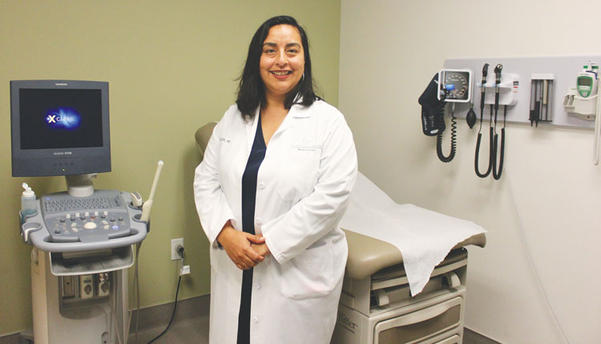 Dr. Kathy Wilson, an obstetrician-gynecologist with HealthCare Partners in Long Beach, said that yearly checkups to monitor various aspects of reproductive health care are important for women of all ages. Some women think they only need to schedule appointments every three years for a pap test, but other factors that influence reproductive health, like endocrine levels and STDs, should also be monitored and tested for annually, she explained. (Photograph by the Business Journal's Brandon Richardson)
"For many women, reproductive health is actually the only kind of health care they access on a regular basis," Sue Dunlap, president and CEO of Planned Parenthood Los Angeles, told the Business Journal via e-mail. "Nine out of 10 women of reproductive age will use birth control, whether for preventing pregnancy or treating medical conditions like endometriosis or irregular periods. Women need routine pap tests and exams to screen for cervical cancer – because early detection is critical to successful treatment."
Chlamydia screening alone is enough to warrant an annual screening, according to Dr. Lisa Agustines, chief of OB-GYN at Kaiser Permanente South Bay Medical Center. "A lot of women really underestimate the importance of having regular exams, especially for screening for sexually transmitted infections such as chlamydia," she said. "Chlamydia screening is actually needed every year."
Chlamydia, bacteria that is sexually transmitted, often presents no symptoms until the infection causes serious complications, according to Agustines. "It can lie dormant for a long time, and you might not notice that you have any symptoms until it's in very advanced stages by getting pelvic inflammatory disease," she explained. "The incidence of infertility, ectopic pregnancy, problems getting pregnant [and] damage to your pelvic organs after having untreated chlamydia is very, very high."
Rates of chlamydia and syphilis infections are increasing in California and in other areas of the country, according to Dr. Jennifer McNulty, a physician specializing in maternal and fetal medicine who trains residents in OB-GYN at Miller Children's & Women's Hospital Long Beach through a University of California, Irvine program.
Dr. Kathy Wilson, a Long Beach-based OB-GYN with HealthCare Partners, also concurred that women should have yearly checkups. "We recommend that from the time they are of reproductive age they should see an OB-GYN at least once a year," she said, adding that reproductive age is marked by the start of menstruation.
"Depending on their age, they have different needs," Wilson said. "Like between 13 to 18 years of age, we really address leading a healthy lifestyle [and] making sure we're trying to be as preventative as possible to avoid problems later in life. Also, making sure they understand what it is to have a regular cycle [and] that skipping periods is not OK."
Women who skip periods may have irregular endocrine levels, a hormone released by the thyroid, which could indicate hyper- or hypothyroidism, Wilson explained. Checking endocrine levels should be part of reproductive health check-ups for women between the ages of 20 and 30, she said.
Missed or irregular periods can also be caused by a number of health problems such as metabolic syndrome, weight gain, or polycystic ovarian syndrome. The latter condition causes cysts to grow on the ovaries and could lead to hormonal imbalances and infertility issues, among other complications, according to the Mayo Clinic.
McNulty said that medical care providers like OB-GYNs should regularly discuss their patients' reproductive life plans with them. "That plan might be [that they have] no desire to be pregnant in the next year. Or it might be, yes . . . I am thinking about conceiving in the next year. And that really then should guide the conversation," she said. "For women whose short-term plans are that they wish to get pregnant, they should have pre-conception counseling with that focus prior to conceiving."
This is a topic of concern for McNulty because in Los Angeles County, chronic medical conditions that can cause pregnancy complications are on the rise. The Los Angeles County Public Health Department released a report in January that analyzed the health indicators of women in the county by ethnicity and poverty level. It found that only about 20% of all women receive pre-conception counseling before they become pregnant, McNulty noted.
"Part of the problem is that almost half of pregnancies in L.A. County and in California are unintended," McNulty said. The biggest risk factor for unintended pregnancy is poverty, she added. "Those women have significant barriers to accessing good reproductive planning services. And those are women who may have transportation difficulties, who may have frequent changes in insurance status, who may have a partner who is not supportive of getting such services. And there may be cultural and language barriers as well." She added, "Women may not be able to take time off of work to go to an appointment."
Dunlap highlighted some of the ethnic disparities when it comes to reproductive health indicators and access. "Planned Parenthood's new national survey shows that too many women aren't getting their recommended cancer screenings – especially Black and Latina women," Dunlap said. "Women of color in the U.S. face more barriers to accessing health care than white women, and so are less likely to get preventive screenings, more likely to have their cancer discovered at later stages, and more likely to experience worse health outcomes when it comes to breast and cervical cancer because of these barriers."
Preconception appointments allow doctors to discuss lifestyle choices, such as frequency of drinking and smoking, and give advice on what supplements to take for a healthy pregnancy, McNulty said. "Folic acid is a supplement that's recommended by the Centers for Disease Control for all women of reproductive age who could get pregnant, intentionally or unintentionally, because consumption of folic acid . . . reduces the risk of a type of birth defect called a neural tube defect, which is often spina bifida," she explained, referring to a condition that causes incomplete closure of the fetus's spinal column.
During pregnancy, women without health complications should schedule monthly visits with their OB-GYN, according to Kaiser's Agustines. Ideally, they should begin these appointments by their tenth week of pregnancy, she said. "We really want to start prenatal care early, because there are a lot of time-sensitive tests that we do to screen for aneuploidy conditions like Down syndrome and to screen for things like neural tube defects," she explained. Aneuploidy is a condition in which human cells have excess chromosomes.
Even if a woman is unsure as to whether or not she will keep her pregnancy, she should still seek early care, according to Agustines. "If you were unsure and then you decide that you are going to keep the pregnancy but now you're       like 11 weeks, it gets much harder to get all the testing done that we would want had you decided earlier," she explained.
After pregnancy, women should schedule an appointment to screen for post-partum depression, urinary incontinence and pelvic floor disorders, Agustines noted. "Also, it's important to address if there were any issues that came up during pregnancy, for example, gestational diabetes or high blood pressure," she added.
Wilson noted that more women are waiting until later in life, beyond the age of 35, to have children. "The older you are, the harder it is going to be for you to get pregnant. I don't think people really realize that," she said.
Wilson pointed out that it is still important for women to have annual checkups during and after menopause. "One of the big misconceptions that is actually important to get across is that women who are starting to have irregular periods between 47 and usually 52 years of age are going through menopause even though they still get periods," she said. Symptoms of menopause such as irritability and trouble sleeping sometimes make women feel as though something is wrong with them, even though it is a normal process, she explained. For women whose quality of life is affected by these symptoms, hormone replacement therapy is an option to help them get through it, she said.
"I think sexual function needs to be addressed. I think that's a huge gap in women's health care because I don't think people feel comfortable talking about that necessarily," Wilson said of menopausal women. "Unless you have a good rapport with your patient, they won't open up      to you about that. And that's unfortunate."
Most reproductive health care services are covered by insurance. "Thanks to the Affordable Care Act, women's preventive services like breast and cervical cancer screenings, STI screenings, and well-woman visits are required to be covered by insurance without a copay," Dunlap said.
However, actions by the government can change insurance coverage and access to these services. "Insurance plans were also required to cover birth control without charging a copay, but President Trump recently signed an executive order that eliminates this guarantee. This means that employers can decide whether or not a woman can have birth control covered by her health insurance. Thankfully, California has legislation in place to protect most women in our state from this new rule," Dunlap said.
Dunlap explained that nearly nine in 10 women of reproductive age will use contraception, "whether it's for family planning or treating endometriosis, polycystic ovarian syndrome (which is prevalent among women of color), fibroids, and menstrual regulation." She added that, prior to the enactment of the Affordable Care Act, one in three women "struggled to afford prescription birth control."
McNulty noted that contraception has been politicized. "For a woman between the ages of let's say 20 to 40, asking and respecting her choice about whether to use contraception or not and what form of contraception is best for her and best fits her needs and preferences, is probably one of the most fundamentally important medical decisions that she will make in those years," she said.
Still, Californians are less impacted by the political pressures that are brought to bear on women's reproductive health issues, McNulty observed. This pressure is often driven by debate over abortion services.
"I would say that abortion care is a very important part of women's reproductive health, insofar as almost one in four women in the United States will have an abortion in her lifetime before she becomes 45 years of age," McNulty said. About one in 20 women will have an abortion before they reach the age of 20, while one in five will have an abortion by their mid-20s, she said. "Abortion care is a very important part of women's reproductive health in terms of it being safe and available. And so that is an area that, as you know, in 2017 continues to be a big challenge."
Dunlap reflected, "Recent political rhetoric has distracted some people from what's really important: getting those in need the health care they need and deserve. Patients don't come to us to make political statements, they come for help." She added, "And they often come in their most vulnerable moments – whether they are scared they may have an STD, or that the lump they felt in their breast is cancerous, or that they are unexpectedly pregnant. We may be the only health care professionals they feel comfortable talking to."